NFTs have burst into our lives at full pelt, giving creators a new opportunity to fairly monetize their artworks and turning a huge number of people into big admirers of whimsical kitties and arrogant apes. But what marketplace should you choose for buying and selling NFTs efficiently and securely?
You've almost certainly come across mentions of non-fungible tokens (NFTs) all over the internet lately. Widely recognized in 2020, the NFT market has continued to grow, reaching a value of $20.48 billion. The technology that was originally intended to support artists now attracts celebrities, sportsmen, gamers and even huge corporations.
Now there are numerous NFT marketplaces where you can sell and buy these unique tokens. Given the wide variety of available options, it can be difficult to choose the platform that will cater best to your interests and, most importantly, will be 100% secure and reliable.
In this article we will examine the concept of NFT marketplaces, get to know the way they work, and provide you with a list of top platforms so that you find the best one for you.
What are NFTs once again?
NFTs are digital representations of assets from the physical world (e.g. works of art, real estate, and wine) or the virtual world (e.g. digital art, video clips, and GIFs). NFTs are one-of-a-kind, meaning that a token cannot be replaced with another one, unlike the way fungible tokens such as Bitcoin or Ether work.
The process of creating a non-fungible token is called minting. To mint an NFT, you need to upload a file representing your asset and fill in the metadata containing information about the creator and all the relevant details about the piece.
You can trade, purchase, sell, showcase and collect NFTs. Some tokens are sold for jaw-dropping prices. For example, Pak's "The Merge" was sold for $91.8 million,making it the most expensive NFT at the moment. The good news is that the majority of non-fungible tokens are sold for less than $200, meaning that this market welcomes NFT enthusiasts on any budget.
Before diving further into the article, let's refresh your knowledge about the industries that embrace NFTs — Alexander Gordeychick, a business analyst, prepared an overview of the most prominent NFT use cases in our video:
What are NFT marketplaces and how do they work?
NFT marketplaces are special trading platforms where users put their tokens on sale or enrich their collections. These platforms look very similar to traditional eCommerce marketplaces and allow you to range the tokens by price, type, or author, or to save the most interesting NFTs to your favorites. There are two options for NFT trading: to sell a token for a fixed price or at an auction.
NFT trading platforms run on blockchain, as it is the only technology capable of creating tokens and ensuring the immutability of transactions. Every action performed on blockchain is securely recorded, so it is easy to check the history of transactions and track each token up to its creation, thereby ensuring that you buy an authentic work.
To enhance their reliability, some platforms also request supporting documentation to eliminate cases of minting an asset that doesn't belong to the creator of an NFT.
Smart contracts also play a vital role in the smooth and effective functioning of NFT marketplaces. They ensure that all conditions for a transaction are met, otherwise it is simply rejected.
How to use an NFT marketplace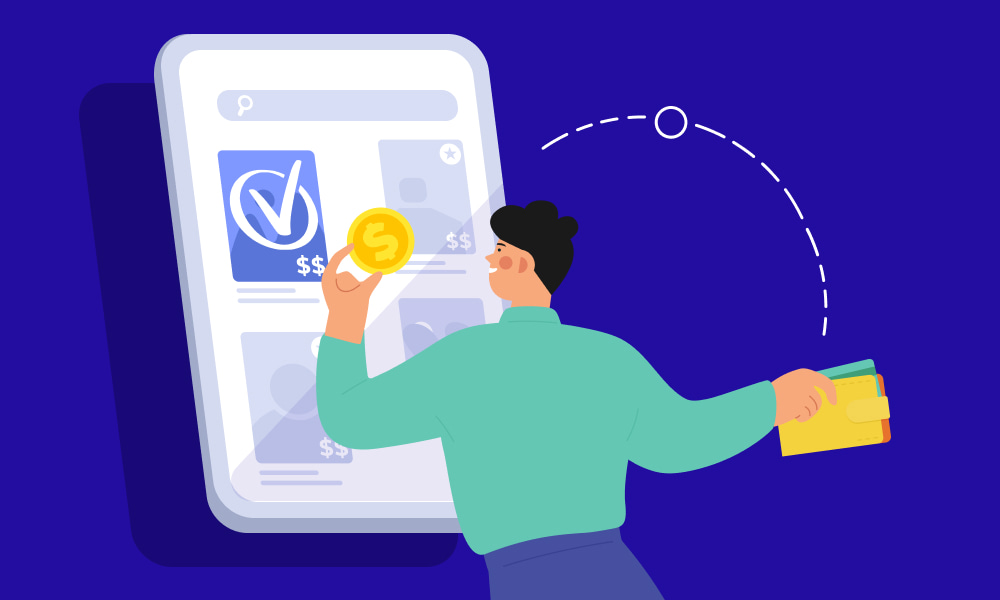 Before starting to use an NFT marketplace, pay attention to these fundamentals:
Crypto wallet — it is important to have a wallet compatible with the marketplace. Luckily, the majority of platforms support multiple wallets. Also, keep in mind that a crypto wallet is not only for making transactions but also for storing the keys to your assets. That's why you should choose your wallet wisely and take serious security measures, such as turning on two-factor authentication.
Cryptocurrency — your wallet should have some coins for you to be able to buy, list or mint NFTs. But first of all you need to find out what cryptocurrencies are supported by a marketplace.
User account — you can't do anything on an NFT marketplace until you create an account. You need to connect the wallet to the platform so that you can set up the account. Once you have one, you will be allowed to participate in transactions and mint NFTs.
When you've finished dealing with these essentials, you can start navigating the platform: checking for available NFTs, or minting your own ones and putting them up for sale.
Need a thorough guide on how to sell and buy NFT? Here it is!
What about NFT marketplace gas fees?
Minting an NFT, accepting a bid, transferring ownership to someone else, and buying an NFT come with recurring gas fees.
Gas fees are measured in gwei, and the price varies depending on the blockchain and its network load and can increase if you want a faster transaction. At the time of writing, an average recurring gas fee on the Ethereum-based marketplaces, such as OpenSea and Foundation, is $21.05. Meanwhile the transaction fee on Flow marketplaces (NBA Top Shot, xtingles ) is 0.000001 FLOW, which is less than a dollar.
You also need to pay a one-off gas fee when creating an account on a marketplace to initialize your crypto-wallet. The cost may be up to $300, depending on the marketplace.
Some NFT marketplaces, like OpenSea and Rarible, offer lazy minting. There are two ways to execute lazy minting: a gas fee can be deferred until the token is sold and then the marketplace redeems the cost, or the fee is added to the price of an NFT and it is the buyer who pays it.
What's more, Polygon and Immutable X protocols, and Bitgert blockchain function with no (or very low) gas fees.
What are the benefits of NFT marketplaces?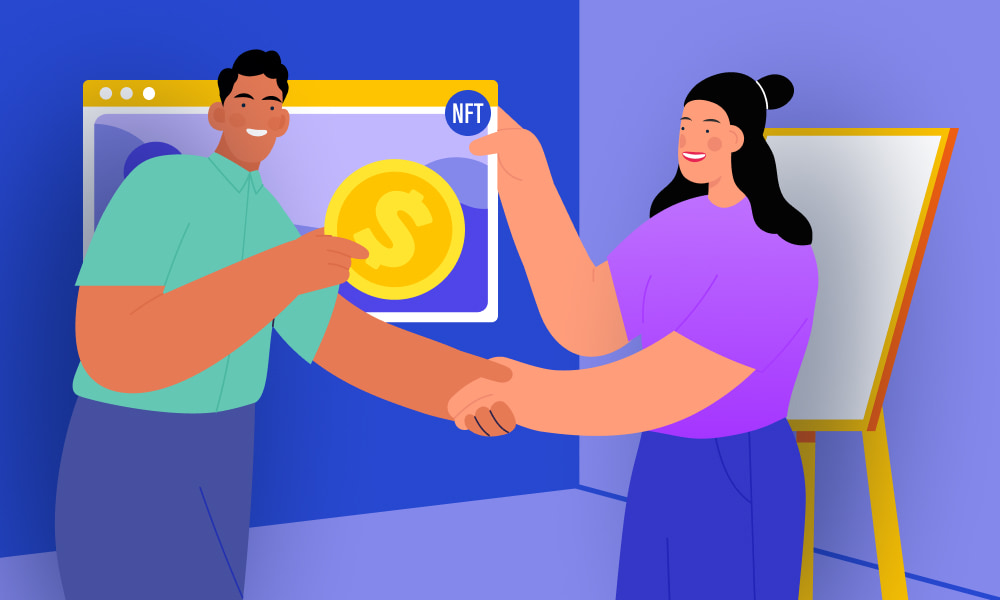 NFT marketplaces are attracting more and more users willing to establish a collection of digital assets. A mind-blowing sum of $44.2 billion was spent on the NFT platforms in 2021, and there are several aspects that secured this success:
The structure of most NFT marketplaces is familiar since their design is quite like that of traditional eCommerce platforms. It makes it easy to navigate through the categories, look for tokens' descriptions and find the details of deals. Some marketplaces also feature blogs where they cover the current trends and provide statistics and advice.
By trading their artworks on NFT marketplaces, creators can capitalize on their works and receive money not only from the initial sale but also gain rewards from every resale. The average NFT royalty ranges from 5-10% of the price of a deal. The payments are automatically redirected to the creator upon each subsequent sale in the secondary market.
All the information about an NFT is available in its metadata, including the history of owners and prices. Therefore, when buying on an NFT marketplace you can be sure of the authenticity of the token and estimate its liquidity.
NFT marketplaces gather a community of enthusiasts and creators expanding overall interest in non-fungible tokens. Such open discussions about NFTs help to speed up the growth of the market, bringing in new people and ideas.
What types of NFT marketplaces are out there?
Some NFT marketplaces, like OpenSea, can host a large variety of NFTs of different types while others cater only to a specific category, like video or ASMR. Let's take a look at the examples:
Multiple categories — OpenSea, Rarible, Binance NFT, Zora
Art — Nifty Gateway, SuperRare, Foundation, KnownOrigin
Music — Zeptagram, AirNFTs
Sports — NBA Top Shot, Sorare
Game assets — Axie Infinity, Venly
Tweets — Valuables
ASMR — xtingles
Also, NFT marketplaces are divided into streamlined and augmented. Streamlined platforms support a broader range of NFTs and offer more limited, generic services, while augmented ones primarily specialize in niche NFTs and provide a more personalized experience.
Streamlined NFT marketplaces are more flexible — they accept both credit cards and crypto payments in Bitcoin, Ethereum, and other tokens. They offer minimal additional services and generally have a huge user base.
Meanwhile, augmented marketplaces offer more advanced services such as minting, marketing, curation, pricing recommendations and portfolio trackers. All this entails higher transaction fees and setup costs.
OpenSea and Rarible are among the most hyped streamlined platforms, while NBA Top Shot (memorable sports moments) and SuperRare (upmarket digital art) rank first in the list of augmented NFT platforms.
Meet xtingles — a heaven for ASMR lovers powered by the Flow blockchain
Top 5 NFT marketplaces to choose from
There are plenty of NFT marketplaces, catering for any taste. Currently the most popular ones include OpenSea, Rarible, SuperRare, Foundation, and NBA TopShot. Let's examine each one to understand the key aspects responsible for their popularity.
OpenSea
OpenSea is the largest and most versatile NFT trading platform. You can sell or buy more than 200 types of assets on it — artworks, game items, sports collectibles, virtual worlds, and even censorship-resistant domain names.
In 2022 the average daily trading volume of the marketplace is more than $260 million. OpenSea hosts a number of top NFT projects such as Gods Unchained, Axie Infinity, SuperRare, Cryptopunks, and CryptoKitties.
OpenSea has recently launched a new protocol called Seaport. The protocol significantly enhances efficiency and security of the operations and also opens new buying options. Now users can browse for NFT features (ex. specific background color, facial expression of a character) instead of a collection.
Besides, Seaport unlocks the possibility to bundle different assets and exchange them for a desired NFT. For example, if a token you want to buy costs 40 ETH, you can get it for a 25 ETH NFT plus 15 ETH on top. In addition, users can now leave tips.
Rarible
Rarible lists a wide range of NFTs — from memes, music, and domain names to game and metaverse objects. Yet it mostly focuses on art. The most prominent collections displayed on Rarible include BoredApeYachtClub, Azuki, and Arcade Land.
The marketplace supports several blockchains and accepts NFTs developed on Ethereum, Flow, Tezos, and Polygon. Rarible is compatible with different crypto wallets, such as MetaMask and Coinbase, and you can even use a credit or debit card to pay for a token.
SuperRare
SuperRare focuses on unique digital artworks. The marketplace exhibits only the works of the selected digital artists, which guarantees best quality and exclusiveness. SuperRare evaluates artist applications by examining the applicant's social media, style, and involvement in the platform's community. The average price for an NFT sold on the platform is $5,500.
Foundation
Foundation is an invite-only NFT platform that likewise concentrates on digital art. To mint an NFT you must get an invite code from a member who has already sold at least one NFT on Foundation. The marketplace has hosted notable NFT auctions, one example being the sale of the Nyan Cat animation. The average price for a token sold on Foundation is $3,855.
NBA Top Shot
NBA Top Shot is an NFT marketplace for basketball fans.The platform allows users to buy, sell and collect NBA NFTs that represent videos of the biggest moments of the games. Moments are minted in "Packs" of varying rarity — Common, Rare, Legendary, and Ultimate Rare.
NFTs showcasing LeBron James, Luka Doncic and Zion Williamson are the most sought-after on the NBA platform. The most expensive "Moment" was sold for $280,000 and featured LeBron James' dunk.
In addition, Dapper Labs, the founders of the marketplace, has collaborated with the UFC and created the UFC Strike platform, a brother to NBA Top Shot.
Key factors to consider when looking for the best NFT marketplace
There are a number of factors you need to take into account when choosing the marketplace most suitable for you, including:
Digital wallet compatibility — make sure the marketplace you choose supports multiple crypto wallets and payment options, so that it is easy and convenient for you to participate in transactions.
Security — choose an NFT marketplace that offers adequate security measures so that you are protected from fraudulent activities. This must include two-factor authentication (2FA) and advanced encryption. What's more, a marketplace should insist that you come up with a strong and reliable password, preferably stored in a physical form, and opt for a hardware wallet.
Intuitive navigation — it is in the best interests of an NFT marketplace to ensure that both sellers and buyers easily navigate through the many categories and collections. All the important information such as the list of available NFTs, their price, the number of bids, owners, and history must be clearly displayed.
Gas fees — a marketplace should work towards reducing the inconvenience of gas fees: by shrinking the price, offering lazy minting, or utilizing zero gas fee protocols like Immutable X.
Marketplace ratings — users' reviews and platform analytics are great sources of information which you should examine before choosing an NFT marketplace. The best platforms will have all the data publicly available. You can find this information on resources such as DappRadar and Statista, or you can check the reports on the marketplaces' sites.
Type of marketplace — decide on your intentions — whether to collect NFTs from various categories, or to look for a specific type — and then choose from the marketplaces that best match your needs.
Overview of best blockchains for NFT marketplace development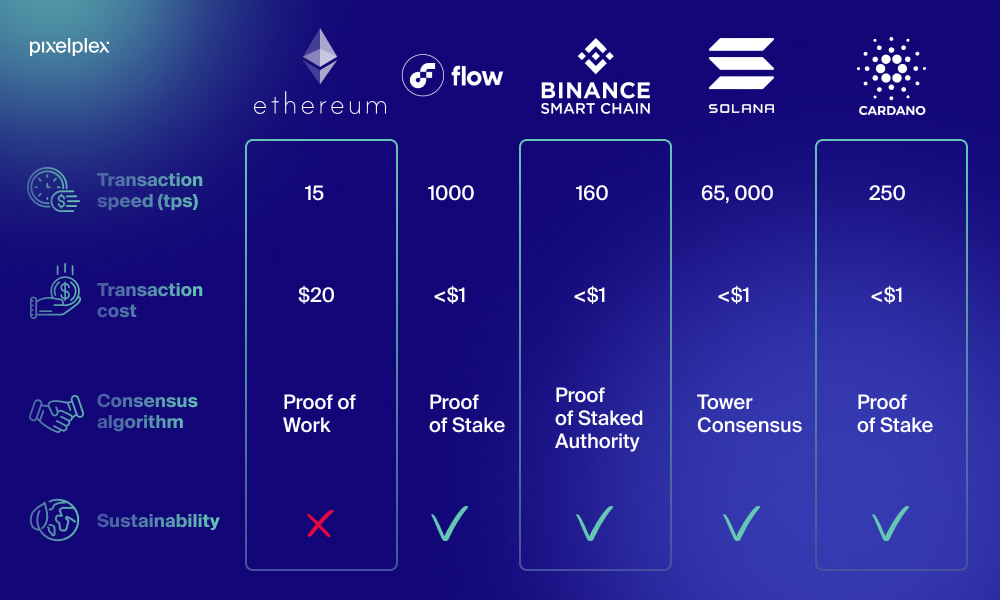 At the moment the majority of NFT marketplaces are built on Ethereum. However, new options appear — Flow, Binance Smart Chain, Cardano, and Solana are among the blockchains competing to be chosen for the next big NFT marketplace.
Let's take a look at the features that top blockchains can offer to an NFT marketplace.
Ethereum
OpenSea, Foundation, KnowOrigin and many more leading marketplaces run on Ethereum. What's more, top token standards — ERC-721 for non-fungible tokens and ERC-1155 for semi-fungible tokens — are also developed on Ethereum.
Developers value Ethereum highly due to its stability and network size. The blockchain can work with hundreds of nodes and millions of users. To enhance the transaction speed, Ethereum is in the process of switching from the Proof of Work consensus mechanism to Proof of Stake, making it possible to process 15 transactions per second (tps), with the potential to reach 100,000 tps.
Change of consensus will also improve Ethereum's sustainability issue — currently it uses 109.77 TWh annually, an amount comparable to that of the Netherlands. Once the transition to Proof of Stake is complete, the energy use will drop by 99.95%.
What consensus algorithms exist and how do they differ? Find the answers in this article
Flow
The Flow blockchain powers such NFT marketplaces as NBA Top Shot, xtingles, and VIV3. In the near future OpenSea will operate on Flow as well. The reasons why projects opt for this blockchain are its low transaction fees — 0.001 FLOW ( $0.05) to create a new account and 0.000001 FLOW to conduct a transaction — and its fast transaction speed, which is 1,000 tps.
What's more, thanks to the Proof of Stake consensus mechanism, Flow is one of the most environmentally-friendly blockchains — it consumes only 0.18 GWh annually.
Binance Smart Chain
Among the NFT marketplaces based on Binance Smart Chain are BakerySwap, AirNFTs, and Binance NFT. Interestingly, Binance Smart Chain is based on Ethereum software and protocols yet it is a completely separate network. The blockchain has its own non-fungible token standard — BEP20.
Binance Smart Chain works on the Proof of Staked Authority consensus that contributes to the fast transaction speed of 160 tps. Due to the fact that Binance Smart Chain is under the auspices of Binance exchange it is very credible. Binance also verifies the validators on the network, ensuring that the blockchain is secure and reliable. The average gas fee for Binance Smart Chain is 7.077 gwei, which is less than a dollar.
Solana
NFT marketplaces built on Solana include Magic Eden, Solanart, and Solsea. Solana leverages the Tower Consensus which is a mix of Proof of Stake with Proof of History. This innovative combination allows the blockchain to process up to 65,000 transactions per second.
Solana is among the blockchains with the lowest transaction cost — $0.00025 per transaction. Solana's energy consumption is also a low one requiring only 0.00051 kWh for a transaction.
Cardano
CNFT, Galaxy of Art, and JPG Store are NFT marketplaces built on Cardano. The blockchain operates on the Proof of Stake consensus algorithm, which contributes to a fast transaction speed — 250 tps — and an average transaction fee of less than $0.4. Cardano's energy use is 0.5479 kWh per transaction, making it one of the most sustainable networks.
Get more insights into what blockchain will be most suitable for your marketplace in our blog article
Is it profitable to build an NFT marketplace?
As more and more people find value in non-fungible tokens, pouring thousands of dollars into popular NFT trading platforms, it looks like a very good idea to set up an NFT marketplace of your own.
Don't be afraid of introducing novel concepts and building niche marketplaces — people really appreciate unique and fresh ideas. With the more sophisticated blockchain networks and protocols (for instance, Solana and Cardano) that have appeared in recent years you can create a next-level platform that has high chances to reach the top ranking positions.
To create a truly successful NFT marketplace you need a team of experienced blockchain developers, who will not only build the architecture but guide you through all stages of development, help you to analyze the market trends and ensure the marketplace is 100% tamper-proof and secure.
Thinking about building your own NFT marketplace? Here is our detailed guide
Conclusion
As more individuals and even big companies are starting to take note of non-fungible tokens, NFT marketplaces are becoming very popular. Now you can find marketplaces to suit any taste — some listing exclusive niche NFTs, others gathering hundreds of categories under one roof.
When choosing an NFT marketplace, remember that a good platform should be intuitive, secure, transparent, and preferably compatible with a range of blockchains and crypto-wallets.
Why not create an NFT marketplace of your own? The PixelPlex team has solid experience in building blockchain-based solutions, and we are eager to create more. Contact us and share your vision of a top NFT marketplace.