The old saying "my home is my castle" has taken on an extra layer of meaning as numerous enthusiasts have started to both create metaverse real estate and invest in it. So is it something that you should also care about?
Although plenty of skepticism and concern surround the metaverse, people across the globe have woken up to its promise and begun to create their own digital property and invest in virtual lands and buildings.
Crucially, according to Metametric Solutions, a metaverse analytics firm, metaverse real estate sales are expected to skyrocket to $1 billion in 2022 while Goldman Sachs and Morgan Stanley predict that the metaverse has the potential to become an $8 trillion opportunity.
Clearly, the metaverse gold rush is on. The question is whether you should welcome it or just observe how things will unfold.
Well, now sit back, relax, have a cup of tea or coffee, and read this article to find out everything you need to know about real estate in the metaverse, its benefits, prospects, and underlying risks, as well as learning where and how you can purchase a virtual property.
Here is everything you need to know about the metaverse
What exactly is digital real estate?
When asked about what digital real estate is, even the most knowledgeable and tech-savvy experts get confused.
Basically, digital real estate consists of designated parts of code that are located in an interactive web experience and are used to create the so-called virtual plots of land within a particular metaverse platform. These plots of land can later be obtained in the form of non-fungible tokens (NFTs) that encapsulate the ownership rights.
At the moment, the majority of all virtual land platforms are predicated on the Ethereum blockchain. However, this is not the only option, as some other blockchain platforms are being embraced for metaverse development too, such as Solana and Polkadot.
Where can metaverse real estate be used? Overview of top 5 use cases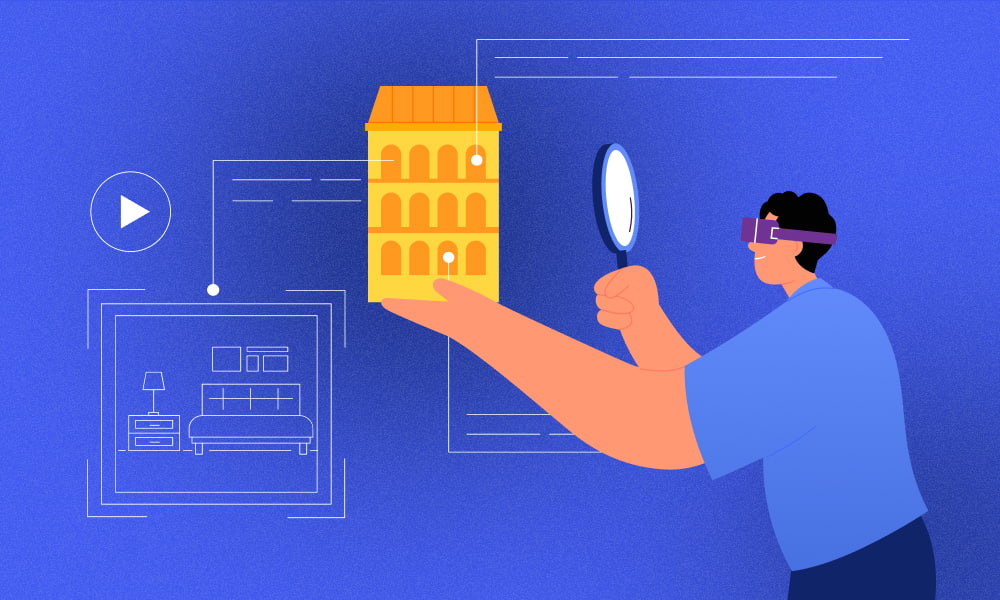 The virtual land in the metaverse can be literally anything as it is easily customized. You can obtain a plot of land on which you may put buildings, gardens, mansions, bars, restaurants, swimming pools, mountains, rivers, tennis courts — and the list goes on.
Importantly, real estate in the metaverse offers a bunch of revenue streams and opportunities. If you think that it is only about investing and building — then you'll be surprised to discover that there is so much more to this domain.
So, for example, landowners can exploit their virtual property via multiple use cases, including advertising, events organization, virtual offices, flipping, brokering, renting, and managing.
#1 Advertising
Just like in real life, you can rent out your plot of virtual land for advertising purposes. If your property is located in a popular area and highly visible to other metaverse users, brands might reach out to you to advertise their products and services on your virtual land or building.
Believe it or not, this is already happening. World-renowned brands like Coca-Cola, Samsung, and Volkswagen have set their sights on this groundbreaking opportunity and invested in virtual billboards.
#2 Events organization
Once you have obtained a plot of digital land, you can throw parties, organize concerts, and conduct conferences and business meetups there.
You can charge fees for entry to your events, come up with a design idea, choose special effects, and invite anyone you want.
A-list celebrities and bands such as Paris Hilton, Justin Bieber, and BTS have already forged ahead and begun hosting virtual parties in the meta world. However, it's fair to say that Snoop Dogg has been one of the most active users in the metaverse. He even built a mansion inside The Sandbox platform, from where he has been hosting private parties and concerts.
#3 Virtual offices
Digital real estate has also become a big draw for corporations and medium businesses looking to open virtual offices.
According to the survey conducted by FlexJobs, 65% of respondents wanted to work remotely full-time after the pandemic while another 33% prioritized a hybrid work arrangement, with all willing to socialize virtually. So what can we make of this?
First of all, it means that employees need to look for new ways to engage their employers and offer them a wide range of communication opportunities. In these cases digital real estate can be viewed as an effective solution.
In metaverse-powered virtual offices, users can interact with one another, combining the comfort of their homes with leveraging the power of advanced technology. Workers can socialize, attend daily meetings and conferences, conduct professional workshops, and simply enjoy communicating with each other during a virtual cup of coffee.
Companies the world over have started constructing virtual office spaces, PricewaterhouseCoopers and Prager Métis to name just two.
Find out what it takes to build a metaverse project
#4 Flipping and brokering
If your skills involve executing financial operations with actual real estate, you will be delighted to learn that your services will enjoy popularity in the digital real estate domain too.
In the metaverse, you can deal with real estate flipping, which means buying virtual plots of land and then selling them for a higher price. Alternatively, you can get involved in brokering activity by connecting buyers and sellers of virtual real estate, as well as providing them with professional consulting services and charging fees.
#5 Renting and managing
With digital real estate you can become a virtual landlord. For example, you can purchase a virtual house, do it up, and rent it to those metaverse users. Remember that location matters. To generate more income from metaverse real estate lending, your property should be located in a popular area with lots of shops and facilities. The better the surrounding infrastructure, the higher fees you can charge for your digital property.
Another prominent use case that you can profit from is the management of digital real estate. If you possess relevant skills and qualifications, you can opt for managing metaverse real estate property belonging to others. Study your client's wishes and requirements, map out a business strategy, and think of ways to empower the client to make the most of their virtual estate or land. For example, you can propose renting out the property for entertainment purposes or business events.
The metaverse is a promising niche for not only real estate but other industries as well. Check out the video above to learn how the metaverse is applied in various business domains, from gaming to eCommerce.
What are the benefits of investing in digital real estate?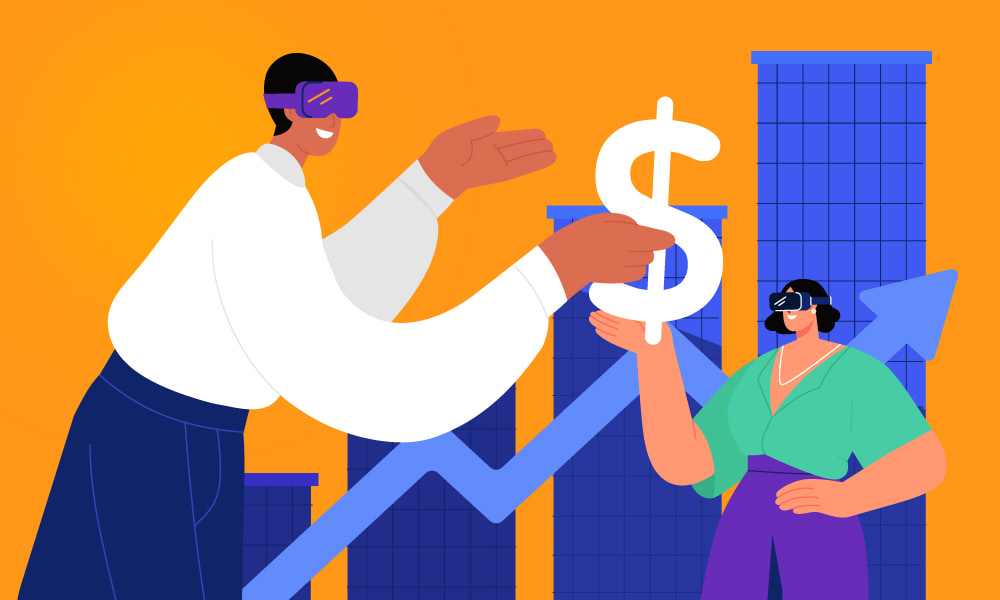 Despite the fact that metaverse real estate is still a bit of a terra incognita that requires exhaustive research and consideration, it still can offer distinct benefits to audacious investors. Let's take a closer look at some of the plus points below.
Prospective revenue source
Digital real estate can help you drive ROI, so long as the virtual plot of land or building you have invested in grows in value and you do your best to make it look appealing. Chiefly, you should always be on the lookout for novel marketing strategies for your property and generate ideas about how and where it can be applied.
Easy access
Another great advantage of metaverse-enabled real estate is that it is inclusive and available to everyone who wants to engage in this realm and to be proud to be called a metaverse investor. At the moment, anyone can overcome regulatory hurdles that might appear in traditional real estate and start investing in metaverse lands or tiny parcels.
No bureaucracy
Digital real estate allows you to easily establish a business in a new format. Once you have purchased a virtual land or house, you are free to come up with an idea and turn it into a metaverse business, whether it's to open a restaurant, office space, a concert hall, or an amusement park.
The best thing about this is that you will not need to deal with any paperwork or the other mundane activities integral to the real world.
Portfolio diversification
If you are an experienced investor, you should be well aware of the importance of portfolio diversification. With a digital real estate project in your arsenal, you are very likely to be ahead of the curve. Given that the technology is here to stay, you can investigate virtual land straightaway while you think of concepts and ideas that you would love to embody in your project.
Good scalability capacity
Digital real estate boasts a rather impressive growth potential. Just like any other traditional business, your metaverse real estate can grow into something bigger and help you derive greater benefit from it — just so long as you ensure high engagement rates, map out an exhaustive business plan, and keep abreast of the latest metaverse trends that can potentially prove a hit with users.
Get insights into this VR real estate platform used for generating 360° virtual tours
What are the cons and risks of digital real estate?
Though it is easy to get excited about digital real estate, even its proponents admit that it is still a very risky venture.
There is no guarantee that the entire metaverse concept will remain popular in the future, and no one can predict what value a plot of digital land will hold in the years to come. Furthermore, compared to traditional real estate that you can touch or stand on, the virtual property could disappear if the underlying metaverse platform is deleted. So you might lose everything in a blink of an eye.
What's more, legal considerations in digital real estate remain fundamental too. You may be very happy with the idea that you are not accountable to any authority in the digital space. But imagine being in a dispute over your virtual property and having no regulatory body that could potentially help you out and solve your problem?
Currently, smart contracts which are encapsulated in NFTs are responsible for defining the right to own and trade digital property. However, as the metaverse keeps evolving and gets more complex, users might experience legal complications.
Last but not least, there has been speculation about whether there will be enough virtual lands for everyone who wishes to purchase them. Decentraland, for example, offers only a limited number of 90,000 parcels of land, with each of them being approximately 50×50 feet in size.
Conversely, other domain experts believe that the frenzied hype around digital real estate could contribute to an overabundance of digital lands, resulting in loss of value over time.
These divided opinions are enough to make anyone think twice before investing in metaverse real estate and to instead take a more objective view of its potential.
But in spite of all its risks and obvious implications, digital real estate will in all likelihood be a hot and much-desired innovation, attracting a crowd of new enthusiasts.
In the words of Reeve Collins, BLOCKv and SmartMedia Technologies co-founder,
"The sheer number of possibilities that the metaverse might be able to offer may outweigh the risk for investors who want to be sure that they're among the first to own land in the digital space."
Overview of the most popular digital real estate platforms
There was a time when virtual reality was a figment of our rich imagination. But it is already here and inviting us to come on board.
So now let's check out the most popular metaverse virtual land projects that allow all enthusiasts to fully immerse in new dimensions.
Decentraland
Launched in 2017, Decentraland is an Ethereum-based decentralized VR platform that aims to establish a global network where users will easily interact in a shared virtual world. It is also considered to be the longest-running metaverse project.
The platform enables its devotees to sell, trade, and buy digital real estate. It also offers opportunities to engage in metaverse games in the virtual space.
Decentraland makes use of its own native cryptocurrency called MANA. It is used for purchasing LAND and other virtual goods and services within the platform.
The Sandbox
The Sandbox metaverse comprises more than 166,000 virtual lands. It is predicated on the Ethereum blockchain and empowers all users, regardless of their skills and experience, to create, trade, and monetize their virtual real estate.
The platform possesses its own native token SAND, which is responsible for facilitating the entire economy within the space.
Somnium Space
An open-space platform, Somnium Space has been developed with the core purpose of allowing metaverse evangelists to buy digital plots of land and houses. It is available via PCs and mobile devices, though it also offers fans a rich spread of experiences with the help of VR headsets.
Somnium Space possesses its own crypto called CUBE. This is used for paying for lands and events taking place on the metaverse platform.
Cryptovoxels
Cryptovoxels is an NFT-powered virtual world that allows its users to enjoy extraordinary experiences. It is based on Ethereum and is divided into several land parcels that players can purchase.
In contrast to other metaverse platforms, Cryptovoxels does not have its own crypto or token. ETH is the currency primarily used to obtain lands, goods, and services in virtual space.
Bit.Country
Powered by the Polkadot blockchain, Bit.Country makes it possible for everyone to create a transparent and inclusive metaverse environment. It also has a native token — NUUM — which is commonly referred to as the "fuel that powers the whole ecosystem."
Need help with the development of a Polkadot-based application? We have you covered
Guide on how to buy real estate in the metaverse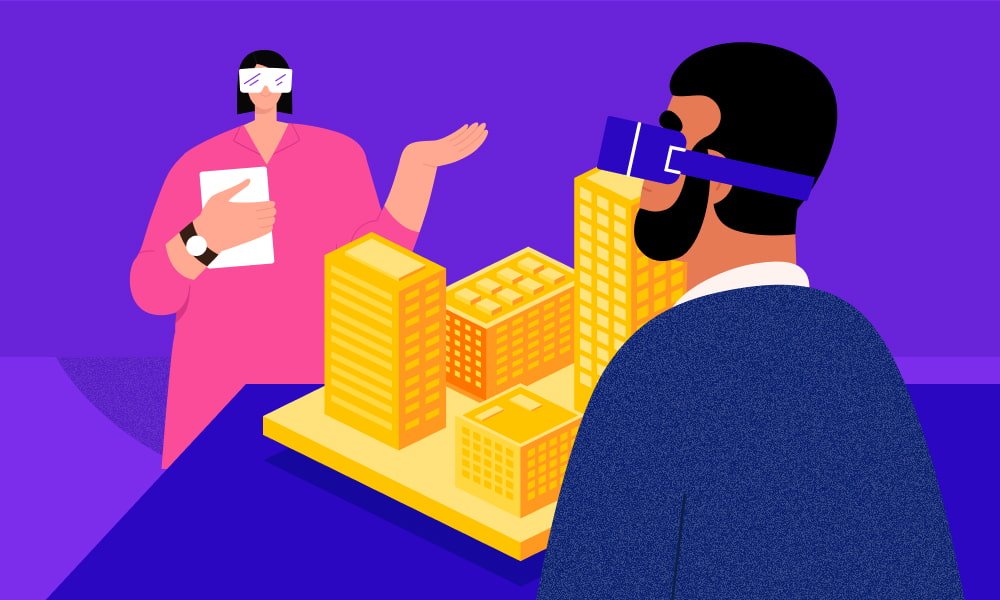 If you have set your sights on digital real estate and have finally decided to give it a go, you should be aware of what it takes to buy it. Let's look into the key steps below.
Step one — sign up with a metaverse platform
First of all, you will need to decide on the metaverse platform where you want to buy a digital plot of land. At present there are few metaverse platforms available, so you will have to choose from the existing ones, such as Decentraland and The Sandbox. However, many more metaverse projects are underway, and it's likely that they will come with even more interesting features and opportunities.
Step two — search for available plots of land
Once you have logged in, you can get down to finding digital plots of land that are available for sale. See where they are located, how much they are worth, and try to predict whether they will be still valued in the future.
Step three — connect your wallet
Once you are ready to buy digital real estate, the platform will ask you to link your digital wallet. It is essential that you have ensured that your wallet is fully compatible with the platform where you are buying your digital property. You must also fund the wallet with the cryptocurrency that is accepted by the platform (e.g. Decentraland accepts payments in its native tokens, MANA).
Step four — conduct a transaction
Once you are done with the aforementioned steps, you can finally buy the desired plot of land. It will be safely stored in the form of a non-fungible token in the digital wallet that you can access 24/7.
The future of metaverse digital real estate
No one now doubts that the future is digital. Many more exciting technologies will present themselves to us, opening up new opportunities and taking us to new heights.
At the moment, though, it is digital real estate that has been in the limelight and attracted the attention of numerous investors and entrepreneurs. Its popularity can be attributed to its diverse nature and the revenue opportunities that it offers. As things stand, the technology can be leveraged in a range of use cases, including advertising, renting, flipping, brokering, and events organization. And the list is likely to mushroom in the future.
Even so, metaverse real estate is regarded as a highly speculative and risky investment. Therefore you would be wise to conduct extensive research, objectively assess all underlying risks, and estimate whether you really need (and want) to invest in digital real estate.
If you are finding it a challenge to kickstart your metaverse project, you can always rely on our PixelPlex development team. We will carefully analyze your needs and requirements, draw up an actionable roadmap, choose clear targets, and ideate on and deliver the most viable metaverse solution. Don't stand on the sidelines — start your move to the digital future today!