For many medical centers that aim to deliver exceptional services and offer maximum convenience to their patients, designing efficient patient scheduling software is essential. However, what does it take to develop one, and which aspects should be prioritized?
In the healthcare sector, optimizing patient scheduling goes beyond merely assigning time slots. It is also about enhancing the patient experience, efficiently allocating resources, and improving the quality of care.
In pursuit of this delicate balance, many healthcare businesses are pivoting towards digital transformation. As experts in crafting bespoke solutions, we could not simply watch from the sidelines. That's why we eagerly stepped up to the challenge and assisted our client in developing Doctime, a sophisticated patient scheduling software.
This article delves into our hands-on experience, offering insights into the intricacies of designing a patient scheduling system that remains robust amidst the ever-evolving demands of healthcare. We will examine the innovative strategies we applied, highlight the indispensable features of a top-tier patient scheduling system, and furnish a detailed guide on its development process.
Let's start!
What is patient scheduling software and why is it important?
Patient scheduling software is a digital tool used by healthcare providers to effectively and conveniently manage and organize patient appointments.
Its adoption among healthcare establishments is gaining momentum due to the numerous advantages it offers, such as:
Greater process efficiency. Streamlined appointment management minimizes booking errors, ensuring a smoother process for both staff and patients.
Improved patient experience. Features like user-friendly online booking and timely reminders can significantly reduce wait times and elevate patient satisfaction.
Efficient resource utilization. By aligning patient flow with staff and equipment availability, the software ensures optimal use of resources.
Unified data source. The software's ability to seamlessly integrate with other hospital systems offers a consolidated and comprehensive view of patient data.
Boosted staff productivity. Automated booking processes free up staff, allowing them to dedicate more time to other essential tasks.
Reduced operational costs. By decreasing the number of no-shows and ensuring optimal resource allocation, operational costs are reduced, potentially leading to increased revenue.
Informed reporting. The software provides invaluable insights into peak periods and noticeable patient trends, aiding in informed decision-making.
Discover how PixelPlex healthcare software development services can revolutionize patient care
Insights into Doctime — advanced patient scheduling software developed by PixelPlex
Our client, a forward-looking healthcare startup, was concerned with some problems pertinent to scheduling medical appointments. Among these were frequent patient no-shows and a lack of digital tools — factors that impeded medical centers from optimizing their efficiency and profitability.
Recognizing these pressing challenges, they reached out to our seasoned software development team. The mission was clear: to design a cohesive patient scheduling system that could seamlessly integrate operations across medical centers and simplify the booking experience for both healthcare professionals and patients.
Committed to delivering excellence, PixelPlex software developers engineered a patient scheduling solution that elevates user experience while significantly reducing missed appointments. This tool offers medical centers a streamlined approach to bookings and provides patients with easy online scheduling options and enticing reward systems.
Having gathered invaluable experience from this project, we are now eager to share essential insights into how to create top-tier patient scheduling software that will propel your business towards success and guarantee user satisfaction.
The key constituents of patient scheduling software
The core objective of patient scheduling software is to enable seamless and effective communication between medical centers and patients, with a simultaneous focus on meeting the distinct needs of each party involved.
Considering this, an efficient patient scheduling solution should include:
Admin panel for medical centers
User panel for patients
Additionally, there are essential features that must be embedded:
Smooth integration with existing software used by medical centers
Inclusion of a bank payment system to facilitate transactions within the scheduling platform
A comprehensive loyalty program functionality to engage and retain patients
Now, let's delve deeper into each component and understand its pivotal role.
Admin panel for medical centers
Patient scheduling software must feature a robust admin panel to empower medical centers to centralize and optimize functions crucial to their operations. This encompasses areas like inventory management, collating patient feedback, and overseeing financial reporting.
An admin panel also serves multiple functions that facilitate effective and efficient management of patient appointments and related processes such as:
Managing and viewing patient appointments
Editing and providing information about doctors and their qualifications
Creating and handling doctors' working schedules
Managing medical services' pricing
Editing and adding the info about a medical center
User panel for patients
At its core, the user panel is crafted to bolster patient autonomy and streamline the scheduling process for both patients and medical establishments. It grants patients instantaneous access to available slots, empowering them to select timings aligned with their preferences. Plus, this intuitive interface allows patients to:
Manage appointments, making cancellations or rescheduling straightforward without requiring medical staff involvement
Curate a "Favorites" list, adding or removing clinics, services, or doctors
Update their personal profiles, adding or removing personal details as needed
Securely manage their credit card details, including adding or deleting information
Learn how our cross-platform app development services can elevate your patient experience
Integration with medical centers' existing software
In our specific project, we anticipated that many, if not the majority, of medical centers might already be accustomed to their existing software systems. Therefore, a new scheduling solution should integrate seamlessly with them to avoid the disruption of other processes.
In situations like these, patient scheduling software must be compatible with medical centers' current software to ensure a smooth data flow and maintain consistency across platforms. This integration eliminates the need for manual data entry, reducing errors and making operations more efficient. By linking with systems such as electronic health records (EHR) or billing software, it guarantees real-time updates and comprehensive patient care.
Overall, the integration of patient scheduling software with existing legacy systems fulfills the following objectives:
Improves operational efficiency
Elevates the quality of patient care
Fosters a harmonized digital healthcare environment
Incorporation of a bank payment system into the patient scheduling platform
When some patients fail to arrive for their scheduled appointments, medical centers not only lose money but, more importantly, other patients miss out on timely medical assistance.
To address this, our developers equipped Doctime with a prepayment module, which offers significant advantages:
Revenue assurance: Prepayments ensure the medical center receives compensation even if a patient cancels or does not attend their appointment, mitigating revenue loss.
Reduction in no-shows: An upfront financial commitment means patients are more likely to honor their appointments, thereby decreasing the incidence of missed or forgotten visits.
Furthermore, by integrating a payment system into the patient scheduling software, the check-in process can be expedited. Patients won't need to manage billing post-appointment, ensuring a more seamless and convenient experience.
Thus, integrating a payment module into patient scheduling software not only offers financial stability for medical centers but also boosts operational efficiency and improves the patient experience.
Development of a fully-fledged loyalty program functionality
Incorporating a comprehensive loyalty program functionality into patient scheduling software can substantially enhance a healthcare provider's offerings. Such integration not only positions providers advantageously in a competitive landscape but also deepens the rapport with patients, underpinning sustained growth.
By embedding this loyalty program functionality within patient scheduling software, businesses can reap several benefits:
Increased patient retention: Rewarding patients encourages repeat visits.
Extended client base: Satisfied patients are more likely to refer friends and family.
Tailored services: Use feedback to refine and optimize healthcare offerings.
Competitive advantage: Stand out in the healthcare market with unique incentives.
Strengthened relationships: Foster trust and loyalty with rewarding engagements.
Explore how our development team delivered this top-notch blockchain-powered engagement and loyalty platform for football clubs and their fans
Features to implement in patient scheduling software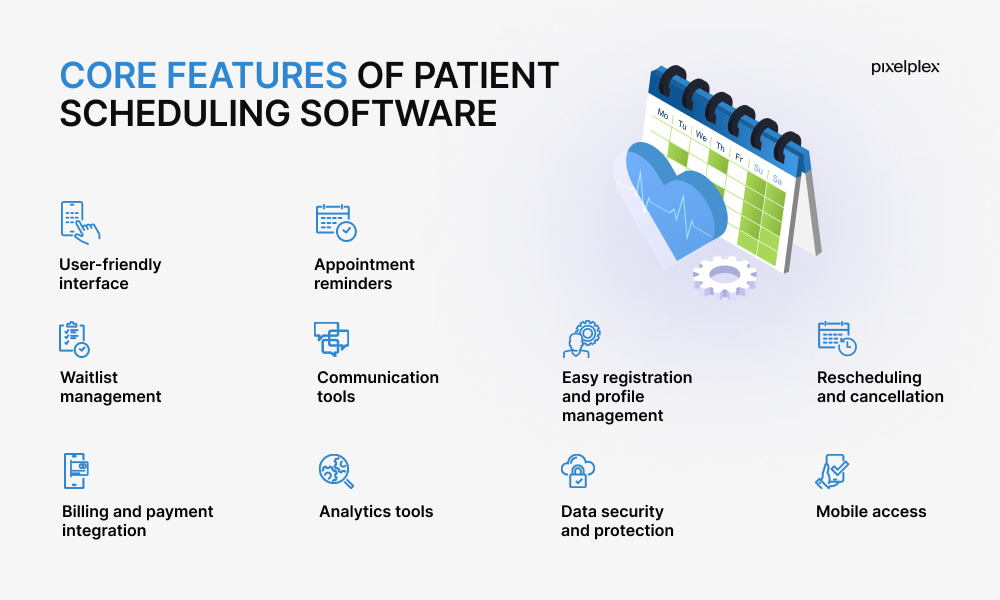 Effective patient scheduling software should strike a balance, providing functionalities that address the needs of both medical centers and their patients.
Though the feature set of each patient scheduling software varies based on its unique requirements, there are universal elements that our software experts deem essential.
Based on our experience with developing Doctime, our team strongly recommends integrating the following pivotal features to optimize functionality and user experience.
User-friendly interface is essential, offering a clean, intuitive UI that makes it easy for both clinics and their patients to navigate the platform.
Appointment reminders in the form of automated notifications via email, SMS, or app are crucial to reduce no-shows.
Waitlist management ensures that if a desired slot is unavailable, patients can opt to be waitlisted and be notified if an earlier appointment becomes available.
Easy registration and profile management features allow for 24/7/365 registration and authorization and provide the ability to create a family profile and make bookings for any family member.
Rescheduling and cancellation capabilities provide easy options for patients to modify or cancel their appointments.
Billing and payment integration enables patients to attach a credit card only once and use it to pay for visits to all clinics.
Analytics tools are invaluable as they provide medical centers with insights into patient flow, peak times, cancellation rates, and other vital metrics.
Communication tools, like the integrated chat system, enable patients to communicate directly with healthcare providers or administrative staff.
Data security and protection are paramount, ensuring HIPAA or other relevant regional compliance to safeguard patient data.
Mobile access, through a dedicated app or responsive web design, facilitates booking and management on the go.
How to create patient scheduling software: PixelPlex's step-by-step guide
Before diving into the development of Doctime patient scheduling software, our dedicated team of consultants and developers convened to discuss and outline the steps necessary for delivering a top-notch solution.
After thorough research and numerous meetings and discovery sessions, we crafted and adhered to a comprehensive methodology. This approach enabled us to engineer a solution that not only met but also surpassed our client's expectations.
Below, we will detail the phases and procedures that a business should consider when aiming to develop a successful patient scheduling solution.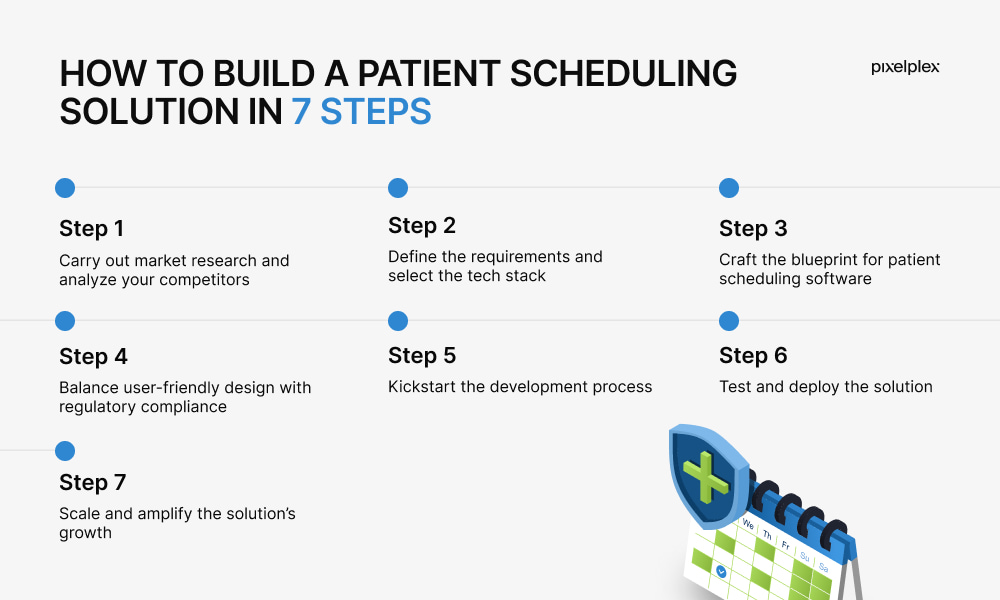 Step 1. Carry out market research and analyze your competitors
Before you start developing patient scheduling software, you will need to delve deep into the market to identify existing gaps in current software solutions. This not only helps understand where improvements can be made but also makes it possible to tailor the software to meet the specific needs of medical centers and their patients. Besides, comprehensive market research can unveil emerging trends, preferences, and pain points of potential users.
As well as this, by studying competitors and their offerings, you will gain a comprehensive view of the market landscape, allowing for the creation of a product that stands out and offers unique value propositions.
Step 2. Define the requirements and select the tech stack
Another foundational step is to clearly outline the software's requirements. This means referencing market findings to pinpoint essential features like appointment booking, reminders, and billing processes. Plus, don't forget to establish distinct user roles such as admins, doctors, and patients, ensuring each user has a seamless experience tailored to their needs.
Alongside this, determining whether the software will be web-based, a mobile application, or a blend of both will guide the choice of programming languages, frameworks, and databases. This structured approach ensures that the software is not only functional but also scalable and resilient.
Step 3. Craft the blueprint for patient scheduling software
Initiating the development of patient scheduling software involves first constructing a foundational wireframe that outlines the software's basic interface. This preliminary design transforms into a comprehensive prototype, detailing the anticipated journey and interactions of the user.
Drawing from this prototype, the minimum viable product (MVP) is then developed, capturing the core functionalities and serving as an initial version for user engagement and feedback.
Step 4. Balance user-friendly design with regulatory compliance
Once you have a basic idea of the software's structure and functionality, you need to refine its design for both aesthetics and user experience. An engaging and intuitive design plays a vital role in facilitating ease of use for its primary users — medical centers and their patients.
While the visual design emphasizes aesthetics and user experience, the backend and functional features of the software must undergo rigorous checks for adherence to health regulations and data protection standards. This dual approach ensures that while the platform remains engaging for users, it is also compliant with essential guidelines.
Explore our full-stack UI/UX design services to transform your user experience from ordinary to extraordinary
Step 5. Kickstart the development process
The engineering of patient scheduling software starts with backend development, which lays the foundation through database setups, server configurations, and application logic.
Once this foundation is robust, the focus shifts to the front end, crafting an intuitive user interface and ensuring a seamless user experience. If the software is web-based, it is essential to guarantee responsiveness across various screen sizes.
As a final touch to enhance functionality and adaptability, the software seamlessly integrates with essential third-party tools. These integrations can provide additional features such as payment gateways, communication channels, or analytics dashboards, adding significant value and efficiency to the scheduling platform.
Step 6. Test and deploy the solution
As the patient scheduling software nears completion, it undergoes rigorous quality assurance testing to ensure impeccable functionality. This involves unit tests for individual components and integration tests to verify that all segments operate harmoniously. In addition, user acceptance testing will allow you to gather feedback directly from potential users to refine any user experience nuances.
Once confident in the software's reliability, select the most suitable hosting solution, seamlessly transitioning the software into its live environment, and guaranteeing that every facet operates as envisioned.
Check out how we created Patientory — a blockchain-powered mobile health application for managing health data and providing incentives to improve health outcomes
Step 7. Scale and amplify the solution's growth
As the user base grows, the software must evolve to accommodate the increasing demand. This could involve introducing new features or enhancing the solution's performance.
From a marketing perspective, outreach to healthcare providers, participation in medical events, and online advertising are crucial.
Remember, cooperating and communicating with healthcare professionals and IT experts ensures the software stays relevant and efficient.
Closing thoughts
Designing top-tier patient scheduling software requires a mix of technological finesse, user-centric considerations, and a pulse on the ever-evolving healthcare sector.
If you got inspired by this success story and wish to bring your own software vision to fruition, then reach out to PixelPlex's custom software development company, where we translate ideas into impactful digital solutions.
Get in touch with us today and let's create the next big innovation together.