In the ever-evolving travel and hospitality industry, businesses are striving to provide the best service to their customers. Now concierge apps have arrived — a new solution that can assist them with this goal.
As American entrepreneur and businessman James Cash Penney once said, courteous treatment will make a customer a walking advertisement. The hospitality industry is currently one of the most competitive markets, which is why businesses regularly search for new ways to improve their customer service and attract more clients to their business.
At present, concierge apps are a relatively new advancement in the hospitality industry. Judging by the stats, the concierge service market is growing very quickly. According to Grand View Research, the market size of global concierge services was valued at $537,6M in 2018 and is expected to reach a CAGR of 5,3% from 2019 to 2025.
But what exactly are concierge apps and what are their benefits? More importantly, what does it take to build a digital concierge service? Read on to find answers to these and many other questions on concierge apps.
What is a concierge app?
A concierge app is a mobile app that allows users to request different types of concierge services to enhance their comfort. Commonly used in the hospitality industry (hotels, resorts, restaurants, and travel agencies), mobile concierge apps can be viewed as a traveler's personal assistant that can help them quickly book lodging or a table in a restaurant, orchestrate hotel registration, or organize an excursion.
As for businesses, mobile concierge apps help significantly improve their service offering by delivering their services faster and more efficiently. For example, hotels can develop digital concierge solutions to streamline the registration process and provide travelers with real-time data on hotel facilities. Travel agencies for their part can build concierge service apps to assist travelers with tour selection and organization, and much more.
Low-code vs no-code app development platform: which one should you choose?
How do concierge apps work?
Concierge apps are responsible for providing relevant information to users and helping them organize any activity they want. For example, a concierge app can build a comprehensive itinerary for a traveler or simply provide answers to their questions.
Most commonly, a concierge app will follow a four-step process:
# 1 A client request like ordering a room or booking a table
# 2 Request processing and resolution, e.g. checking the availability of a specific room and then booking it
# 3 Feedback request from the client to understand areas for improvement
# 4 Results analysis and improvements based on client feedback and suggestions
What are the main types of concierge app?
Although the main purpose of any mobile concierge service is to assist users with their requests, concierge apps can be classified into three main categories: front desk, travel, and conference management.
Front-desk concierge apps are the actual digital concierge services that allow users to check in and check out, order room service, book tables, and use other services available in a hotel (SPA, excursions, and entertainments). These applications are like a replica of a human operating at the front desk of a hotel and they allow users to order a service in just a few clicks.
Travel concierge apps are aimed at enhancing travelers' experiences by allowing users to book flights, get recommendations on nearby restaurants, order sightseeing tours and entertainment, and provide relevant information on city sights.
Conference management apps are focused on simplifying conference and event management. They are used by event organizers to send conference agendas to their participants, issue reminders about upcoming conferences, handle catering services, and much more.
Check out ProCoffee — a convenient concierge service that allows users to order coffee online and take it away without waiting in a queue
What are the benefits of a concierge app?
To understand whether or not it is worth using a mobile concierge app, let's check out what benefits they can offer.
Cost-efficiency
Let's be honest: practically any business regularly searches for new tools and methods to reduce their costs while still offering an effective service. With concierge apps, there's no need to hire and train employees to handle those concierge requests and reply to client queries. This way businesses can significantly reduce the costs of staff hiring and training.
Access to client data
A concierge application is a great tool to understand your clients' needs and preferences. With the large amount of data collected by a digital concierge service, you can make more informed decisions and offer personalized experiences to your clients, being able to predict their needs and requests.
Client loyalty and increased engagement
Digital concierge services minimize waiting time and allow users to instantly find relevant information and answers to their questions. By delivering an efficient and hassle-free service, you will be able to build trust and loyalty among your clients. This way, a concierge app becomes a powerful tool to communicate your brand and increase customer engagement.
New revenue streams
Users generally prefer a single mobile app rather than multiple apps for different purposes. And a concierge app can become an all-in-one solution where users can find any service they need. Therefore, you can consider collaborating with third-party vendors (on-demand delivery services, taxi services, etc.), which would allow you not only to attract a larger audience but also benefit from new revenue sources.
Internal staff efficiency
By collecting and processing service requests, a mobile concierge service frees your employees from routine and time-consuming activities and allows them to focus on other essential aspects of customer service. Moreover, with direct access to client feedback, you can evaluate staff efficiency and optimize your internal processes.
Planning to build a cross-platform mobile app catering to multiple devices? Let's talk
What are the limitations of concierge apps?
Despite the tangible benefits offered by concierge apps, there are a few things that slow down their wider adoption. These include the reluctance of hotels and travel businesses to build mobile apps and the complexities associated with building a concierge service.
Currently, hotels and vacation rentals give priority to websites that are easy to navigate via mobile, which is why building a digital concierge app is not an investment priority.
Moreover, building an efficient concierge service requires careful planning and strategy development to take into account different operating systems, compatibility, and many other factors, which is why hoteliers tend to postpone the development of such apps.
What are the use cases for concierge apps?
At present, the most common use cases for concierge apps include hospitality, travel, entertainment, and healthcare. Let's deep-dive into each of these.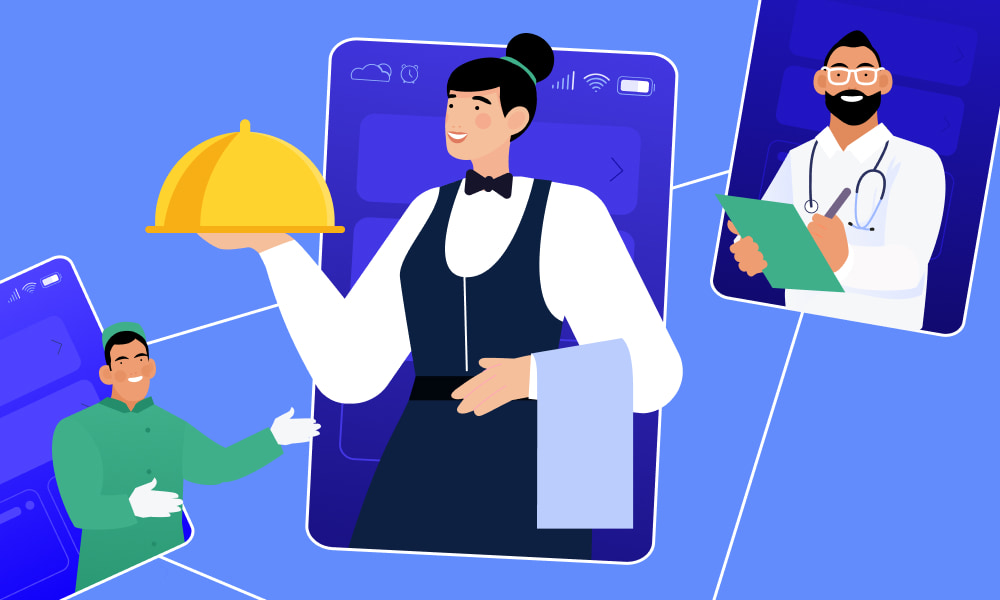 Hospitality
Hotels and resorts are the target audience for concierge services. Hotel concierge apps can be a handy solution for hotel guests who can check in and check out, request room service, order food and drinks, reserve a table, and manage transfers, all via a single app.
Travel
A travel concierge app can simplify the entire journey process for visitors, from booking a trip to receiving instant information about local attractions. These apps can be viewed as personal travel agents that can advise on a destination and entertainment based on the user's previous choices.
Entertainment
Concierge apps can serve the needs of entertainment agencies and companies holding exhibitions, concerts, parties, etc. Such apps will provide information about upcoming events, help users book tickets to specific events, and provide relevant updates and answers to users' questions.
Healthcare
Healthcare concierge apps can ensure a more personalized service by matching physicians to patients, enabling patients to easily schedule an appointment, and minimizing waiting time in clinics.
Meet Patientory — a cutting-edge mobile health application that provides users with a personalized care plan and monitors their health stats
Other verticals where a concierge app can be beneficial include business, education, and lifestyle.
What are the best real-life examples of concierge apps?
Currently, the best examples of concierge apps include:
Hilton Honors
ALICE Guest Services
Marriott Bonvoy
HotelTonight
Ritz-Carlton Hotel
Let's briefly check out each of them.
Hilton Honors
With more than 580 hotels across 6 continents, the popular hotel chain was among the first to join the hotel digitization trend. The company introduced its Hilton Honors app, which allows guests to perform hotel booking and room selection, make reservations with affiliate restaurants, book a ride with an Uber taxi, and much more.
ALICE Guest Services
ALICE Guest Services is software designed specifically for hotel guests to contact staff and order the concierge services they want. The app is focused on hotels that want to improve the customer experience and offer their services to guests through a single application.
Marriott Bonvoy
Marriott Bonvoy is a mobile concierge app that allows users to book more than 7,000 hotels across 30 brands, including Marriott Hotels, Renaissance Hotels, Delta Hotels, The Ritz-Carlton, and other renowned brands. Visitors can request anything they need in a hotel, chat directly with staff to ask questions or receive recommendations, and earn points in a loyalty program, all from a single app.
HotelTonight
Another great example of hotel concierge apps is HotelTonight. It empowers users to book hotel rooms for last-minute prices while delivering recommendations on shopping, dining, and sightseeing. HotelTonight is also equipped with a personal travel concierge — a real person who can help users plan their trips, book restaurant reservations, and request different services or information.
Ritz-Carlton Hotel
The Ritz-Carlton Hotel Company has built a mobile app to provide digital services to their guests at all their 80+ hotels. The application provides users with everything they need from check-in and check-out to exclusive in-hotel content and offers.
Introduce yourself to VResorts — a VR-based platform for hotel and resort owners to showcase their locations through 360-degree virtual tours
How to create a concierge app
To build a concierge app you need to follow a 4-step process:
Step # 1. Product discovery and research
Step # 2. Feature identification and prioritization
Step # 3. Technology stack selection
Step # 4. Application development and testing
Let's briefly discuss each of these steps.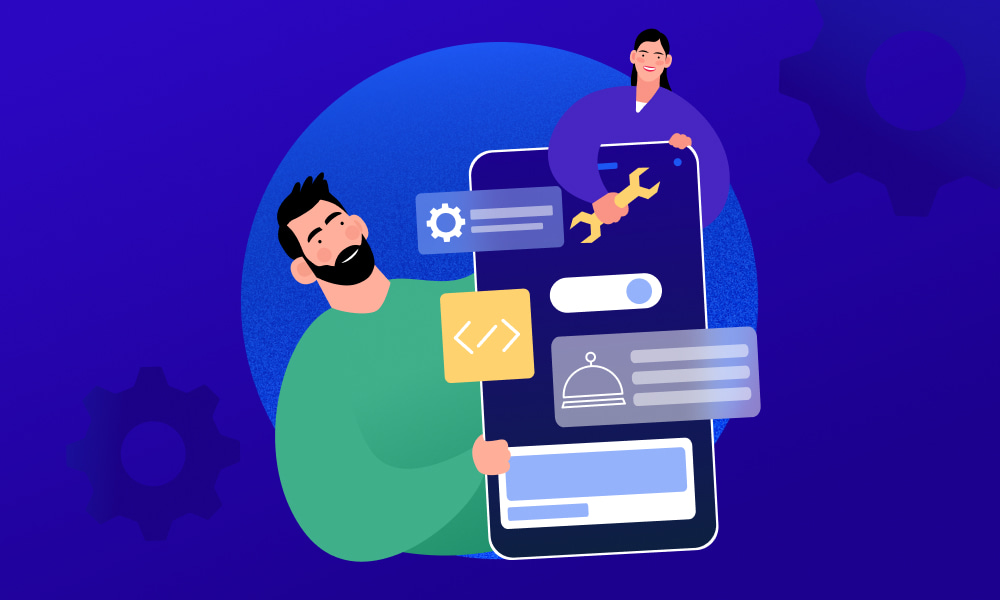 Product discovery and research
You will need to define the scope for the project and develop a roadmap. This stage also includes UI/UX design and the creation of a prototype that provides a clear vision of the project.
Product discovery usually takes about 4-6 weeks and you can either do your own research or collaborate with third-party technology consultants.
Feature identification and prioritization
A concierge app should have specific functionality that will satisfy your target audience. Your goal is to identify and prioritize these features.
Generally, your feature list will be divided into key features (e.g. the ability to request a service) that would go into the MVP release, and advanced features — the so-called nice-to-have features (e.g. automated check-ins and check-outs) that usually go into subsequent releases.
What are the must-have features for a concierge app?
A good concierge app should provide the following:
Registration and login to be able to use the app services
In-app search, enabling users to quickly find relevant information
Booking different services, from a room in a hotel to other services like meals, parking, etc. Ideally there should be different filters to simplify the booking process
Payment method, enabling users to instantly pay for the ordered services. Your concierge app should have several payment methods and meet all security protocols and data regulations
Direct chat or chatbots, enabling users to stay in touch with your organization anytime and instantly receive assistance
Admin panel, allowing you to track data, check out reservations, etc.
As for the advanced features, these may include:
Integrations with third-party services, which would allow you to enhance your existing service offering. You remember us talking about monetization opportunities through new revenue streams, right?
Automated check-ins and check-outs via NFC technology, which also allows users to open their room door and pay for services by phone
Navigation. You can add a navigation map with geofencing technology to your hotel or sightseeing tours so that users can access the shortest routes from point A to point B
One-touch functionality, allowing users to view a list of services with detailed information at the touch of a button, e.g. one-touch order placement
Tailored suggestions that leverage Big Data to track user behavior and offer personalized recommendations
Technology stack selection
Once you know exactly the scope of your future solution along with its required functionality, your goal is to select the most optimal tech stack.
Generally, the most basic toolset for an iOS-based concierge app would comprise:
Swift
Google Maps API
Apple MapKit
Core Location API
Core NFC API
MySQL database
As for an Android-based concierge app, you are likely to use the following list of technologies and tools:
Java
Kotlin
Google Maps API
Google Location Services API
Google Beacon API
MySQL database
In addition, you will need to consider what services to use for payment methods (e.g. Stripe, eWallets), push notifications (e.g. Twilio, Push.io), analytics (e.g. BigData, Google Analytics), database (e.g. PostgreSQL, MongoDB), and cloud environment (e.g. Google Cloud, AWS).
iOS or Android? That is the question. Check out our "iOS vs Android Development" article for a detailed comparison
Application development and testing
When everything is settled, the actual development process begins. Here the most obvious yet important advice would be to hire an experienced mobile app development team that can take care of scalability, security and usability, and fix all relevant issues.
Should you invest in a concierge app?
The development of a concierge app is a good opportunity to increase customer loyalty and attract new users to your services. Digitalization is a burning trend in the hospitality industry, with travel and hotel companies adjusting their business models to meet customer expectations. And digital concierge services in particular are gaining popularity among leading hospitality providers: in 2020-2024 the annual growth of concierge applications is expected to be 8,52%.
Although the hospitality industry was impacted more than any other by the coronavirus outbreak, the market is gradually revamping itself. Even in 2020, global hotel revenues managed to hit $198,6B.
In the post-pandemic world, businesses are focused more than ever on building solutions that provide for remote services and digitization. Moreover, the mobile apps market itself is growing at exponential rates. According to Statista, in 2023, mobile app global revenue will reach $935.2 billion. Considering all these indicators, developing a concierge app seems a reasonable investment.
Closing thoughts
As the travel and hospitality industry gradually recovers from the pandemic, businesses that want to stay competitive in the market need to focus on digitizing their services. They need to create new engagement techniques and embrace advanced solutions to stay on the same wavelength as their customers. And a concierge app is widely regarded as an effective solution to enhance customer service, improve staff efficiency, and create new revenue streams.
If you decide to build a mobile concierge app or plan to digitize your existing service offering, we recommend that you start by conducting research on your competitors and carefully drafting a plan for your future project.
And yep, you can contact our talented team of software and mobile app developers and consultants who will help you implement your idea and take care of all project-related issues.