The play to earn concept (P2E) has become a global sensation, offering both entertainment and income opportunities. However, the question is: how do these P2E games stay profitable while paying players to have fun?
According to the DappRadar x BGA Games Report, August 2023 witnessed a huge interest in play to earn gaming, with a daily count of 712,611 unique active wallets. In this regard, the possibility of the global play-to-earn games market reaching a size of $2845.1 million  by 2028 is entirely plausible.
Over the years, the play-to-earn game concept has spawned numerous similar alternatives, catering to a wide and diverse range of audiences. Now we have move to earn, learn to earn, even sleep to earn — it seems like game developers are ready to give us money just for existing.
But how do these games generate revenue for themselves? PixelPlex is well-versed in the intricacies of P2E concept monetization, thanks to our successful delivery of Circularr — a recycle to earn project.
Read on to find what monetization strategies P2E games use and discover the key aspects all play to earn projects should consider when working out their revenue model.
How is the play to earn game concept different from traditional games?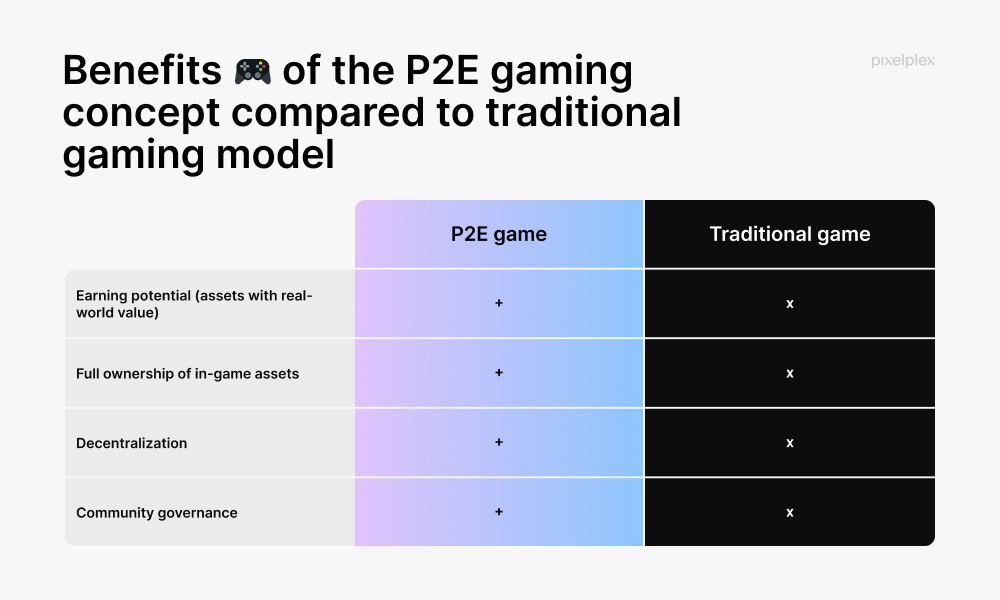 There are several aspects that significantly differentiate play to earn game concepts from traditional games. These are:
Earning potential
P2E players have the opportunity to earn money in the form of crypto tokens, which they can either convert into cash or use for various payments. In contrast, traditional games lack any financial incentives, and in-game currency cannot be transferred to the real world.
Full ownership of in-game assets
Play to earn games often leverage blockchain technology and develop non-fungible tokens (NFTs) to provide users with full ownership of in-game assets, such as characters, items, or land. This allows players to trade, sell, or use these assets outside of the game.
In the meantime, items gained in traditional games remain confined within the game's ecosystem. These items usually have no value beyond the game and cannot be traded or sold outside of its boundaries.
Decentralization
P2E games are mostly built on blockchain platforms, which are decentralized and offer high-level transparency. This contrasts with traditional games that are typically centralized, with game publishers having full control over the game's ecosystem.
Community governance
In certain P2E games, players have the opportunity to engage in decision-making through governance tokens and decentralized autonomous organizations (DAOs). This means that users can actively influence the game's development and alterations. Meanwhile, in traditional games, it's typically the development team that retains full decision-making authority.
Ever thought about creating your own DAO? Our detailed guide will be of great use to you
What are the monetization options for play to earn games?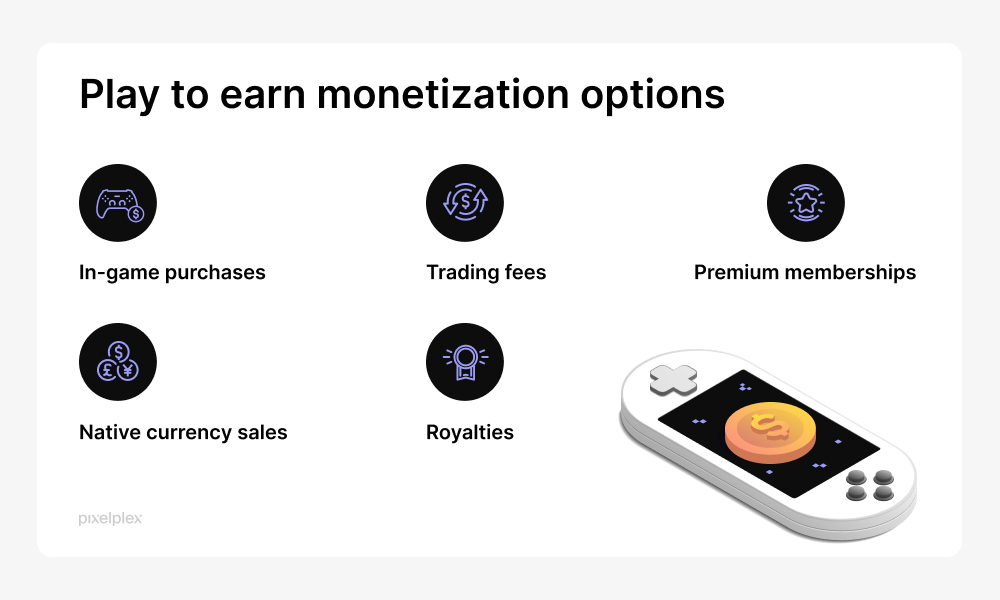 While working on Circularr, our blockchain specialists have performed an in-depth market analysis and identified several monetization options play to earn games can employ. These include in-game purchases, trading fees, premium memberships, native currency sales, and royalties.
Let's take a closer look at each option.
In-game purchases — play to earn games often offer in-game purchases, such as skins, special artifacts, or premium items. Players can buy them to enhance their gaming experience or customize their characters. The prices for these items may vary significantly, depending on scarcity and demand.
Trading fees — P2E games often have built-in NFT marketplaces where players can trade in-game assets. Developers may charge a fee on each transaction that occurs within these marketplaces, contributing to their revenue.
Premium memberships — some P2E games offer premium memberships or subscriptions that provide players with additional perks, such as faster progression or increased rewards. Players pay a regular fee for access to these benefits.
Sponsorship and partnership — play to earn game developers can partner with brands or organizations for in-game advertising, events, or collaborations. For instance, a fashion brand might introduce a limited-edition clothing line that players can wear in the game.
Native currency sales — some P2E games have a native currency, usually used for staking and governance. Games can provide players with the possibility to buy these tokens to have more impact on the game's decision-making process, for example.
Royalties — the P2E development team can earn a percentage of every secondary market transaction involving their NFTs.
What alternative play to earn game concepts are there and how do they make money?
Play to earn games gave rise to many similar concepts, including recycle to earn, move to earn, and watch to earn. Here is an overview of these three curious P2E alternatives and the ways they make a profit.
Recycle to earn
The recycle to earn game concept allows users to earn monetary rewards by recycling or returning recyclable materials, such as bottles, cans, paper, metal scrap, etc. It promotes both environmental sustainability and financial gain for individuals.
Circullar is an example of such a recycle to earn solution. This is a mobile application that rewards users with its native currency, the $CIRP token, in exchange for plastic bottles. When a user collects a certain amount of tokens, they can trade them for Circullar's partners' special offers. Plus, users can trade their tokens via liquidity pools.
In addition to distributing $CIRP as a reward, Circularr plans to enable users to stake tokens and make purchases without the need to convert them into the user's local currency.
Tokenomics and monetization
PixelPlex has been deeply involved in the development of Circularr's tokenomics strategy as the client reached out to our blockchain developers for experienced assistance.
Together with the client, we defined the type of $CIRP: it is a deflationary token with a total supply of 8.3 billion tokens.
Our blockchain consultants also outlined the optimal rules of the tokenomics: 50% of Circularr's profit will be used to buy back $CIRP, 45% will go to the revenue share system and 5% will be burned, i. e. removed from the circulation forever.
Circularr intends to raise $1,680,750 from the initial sale of $CIRP tokens via private and public sales. Additional revenue streams encompass fees from advertising, traceability verifications, sponsorships, and NFT marketplace transactions, in addition to income generated from paid reward placements.
Get familiar with our 7-step guide on designing a resilient project tokenomics
Move to earn
The move to earn gaming concept encourages users to integrate more physical activity into their daily lives by gamifying exercise routines and rewarding them for their efforts. This innovative approach introduces a dynamic and engaging way for individuals to stay active while enjoying the benefits of play to earn rewards.
Calo is a perfect example of a move to earn application. To participate in the game, users need to purchase an NFT Sneaker on Calo's marketplace and select the activity they want to engage in: walking or running. Then they can start exercising and earning Calo's native tokens: FIT and CALO.
Tokenomics and monetization
FIT tokens have no maximum supply limit, while CALO' s total supply is 500 million tokens.
The scarcity of the tokens will be maintained by burning the tokens when minting new NFT Sneakers, leveling the NFTs up, paying gas fees, etc.
Calo primarily generates revenue by selling NFT Sneakers and performance-enhancing items like Mana and Stones. Plus, users have to pay transaction fees when making transactions with Calo's native tokens and NFTs.
Watch to earn
Watch to earn is another P2E alternative, with players earning rewards by watching advertisements or sponsored content, completing surveys, and engaging with promotional materials.
XCAD Network is a browser extension that follows exactly the watch to earn concept. The solution partners with YouTube content creators and enables them to launch their own Creator tokens. These tokens are then distributed between users as a reward for watching the videos.
Users can spend the earned tokens to influence the future creator's content or there is an option to cash the tokens out.
Apart from the Creator's tokens, the solution has its native XCAD token that serves as a medium of exchange and is used for governance and staking.
Tokenomics and monetization
There are 42,821,727 XCAD tokens currently on the market, with a maximum supply of 200 million tokens. It is a deflationary token, meaning that some portion will be removed from circulation, ensuring scarcity and demand.
As stated above, users can participate in their favorite YouTuber content creation. The greater the number of Creator tokens they possess, the more sway their suggestions carry. In this regard, XCAD Network offers fans the option to purchase extra tokens to enhance their influence.
In addition, XCAD Network has its own marketplace where users can purchase NFT moments — memorable video parts converted into NFTs.
Other revenue streams include premium membership commission fees, taxes on converting Creator's tokens into XCAD tokens, interest from YouTubers' sales of NFTs, and more.
What to explore more P2E alternatives? Don't miss our article then
What to consider when creating a monetization strategy for a play to earn game?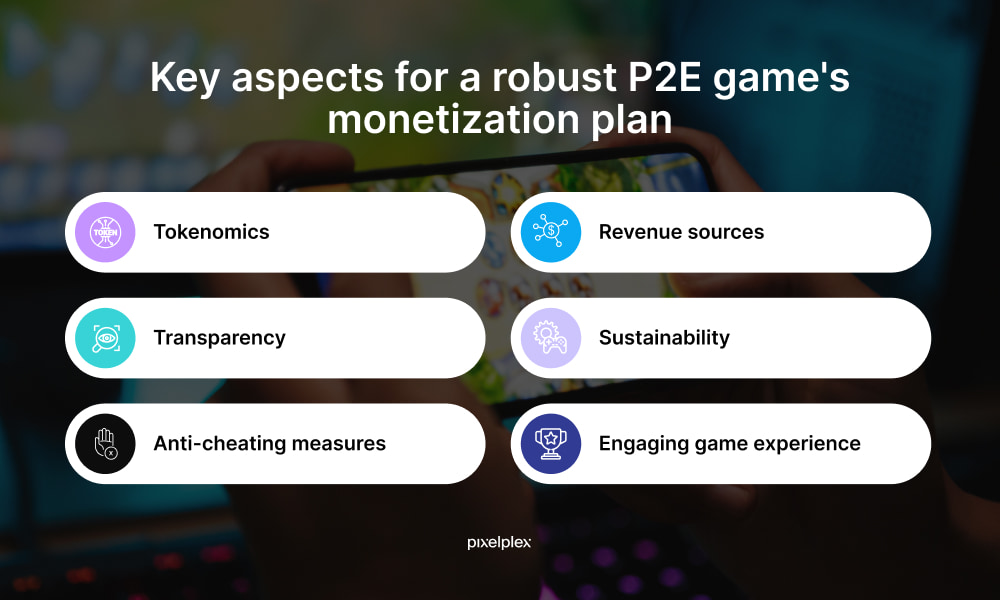 When developing a play-to-earn game concept, it's crucial to be particularly mindful of your monetization strategy to avoid situations where you end up giving away more money than you actually earn from the project.
Drawing from our experience in delivering a recycle to earn application, we've identified crucial aspects you should consider:
Tokenomics
You should work out an economic model that ensures the scarcity and utility of the in-game tokens. To do that, research the token inflation rates of similar P2E projects and familiarize yourself with burn mechanisms and staking opportunities.
Additionally, decide on the ways of the initial token distribution. You might consider launching airdrops to attract new users or initiating token pre-sales at discounted prices. These strategic choices can have a significant impact on the game's economy and its attractiveness to players and investors alike.
Encourage players to hold onto their in-game assets by enabling staking that is rewarding by interests and in-game benefits.
Learn how to develop an efficient tokenomics for your crypto game
Transparency
Be transparent about how monetization works in your game. Players should have a clear understanding of the value they gain in exchange for the effort they invest. Additionally, provide precise information on how users can claim their rewards and the available options for spending the earnings.
Anti-cheating measures
Implement robust anti-cheating measures to maintain the fairness of the game's economy and competition. Pay special attention to detecting and addressing bots since they can significantly spoil other players' experience and even discourage them from continuing gaming.
Revenue sources
Work out a comprehensive monetization strategy that involves various revenue sources, such as in-game purchases, transaction fees, add placement, and premium memberships rather than rely on a single income stream.
However, make sure your interests are in line with those of your players. For instance, steer clear of scenarios where purchasing new items becomes an absolute requirement for advancement, or where an excessive number of unskippable ads consumes a substantial portion of the overall game time.
Sustainability
Plan for the long term. Ensure that the monetization strategy will both allow you to make a profit and regularly upgrade the quality of your game.
Engaging game experience
A captivating gaming experience is of significant importance to the success of your monetization strategy. If users get tired of your game easily, it will negatively impact player retention and overall revenue generation. Therefore, it's essential to continuously enhance gameplay, introduce engaging content, and respond to player feedback to ensure a thriving and profitable play to earn game ecosystem.
Ever thought about creating a metaverse game or establishing your business presence in this digital realm? See how our metaverse consulting services can be of use
Conclusion
The play to earn game concept revolutionizes the traditional gaming landscape by introducing a novel approach where players not only enjoy the gaming experience but also have the opportunity to earn real-world rewards and assets. Now gamers have a rich selection of P2E alternatives that engage and incentivize them in unique ways.
To sustain such a gaming model, you need a strong tokenomics and a carefully crafted monetization strategy. These elements are essential for long-term viability, effective player motivation, and the generation of revenue for the development team and investors.
Need assistance with creating a reliable tokenomics for your blockchain project? Look no further — PixelPlex's blockchain consultants are ready to offer you expert guidance and ongoing support to make sure your tokenomics is both solid and sustainable.