Play-to-earn games have shaken up the entire gaming industry and emerged as a win-win solution for both players and game developers. If you are still a noob in this space and do not know how it works, now is the time to catch up and become a game-changer.
It comes as no surprise that gaming has been one of the most dynamic, flexible, and flourishing sectors. To illustrate this, Statista claims that the global gaming market is expected to hit $268.8 billion annually in 2025.
Gaming has always been receptive to change, and it quickly embraced the novel and advanced play-to-earn (P2E) gaming concept that leverages the power of blockchain, crypto, and non-fungible tokens, as well as getting along with the metaverse. Already, many cool P2E games have been introduced to the gaming landscape, with Axie Infinity and Decentraland being the most outstanding examples.
If you feel like developing a P2E game too but do not know where to start, we have you covered. Check out this article to find out more about play-to-earn games, how they help make money, and what it takes to build them.
GLHF.
What is a play-to-earn game and how does it actually work?
A play-to-earn game is the latest trend in the gaming industry that champions the idea of an open ecosystem where both players and game developers can make their contributions to the gaming space while reaping financial benefits.
The majority of all existing play-to-earn games center around aspects such as PvP battles, action, strategizing, adventure, and racing, meaning that the advanced gaming model can cater to the interests and likes of pretty much anyone.
Deep dive into the concept of the play-to-earn game by watching the video below. In it, our business analyst explains the popularity of play-to-earn games, talks about their future, and discusses play-to-earn model alternatives.
How to make money with play-to-earn games
In P2E games, players are rewarded for their wins and achievements with special prizes. These can be non-fungible tokens that can be sold on internal trading platforms or secondary NFT marketplaces, and/or cryptos that can be exported to a crypto wallet and exchanged for real money (hence the name play-to-earn).
In general, the value of a financial reward in a P2E crypto game depends on your gaming experience, involvement, time spent playing the game, popularity, ratings, and, chiefly, the demand for the in-game NFT assets or cryptos.
See how our PixelPlex team can assist you in NFT development
Looking into the key advantages of play-to-earn games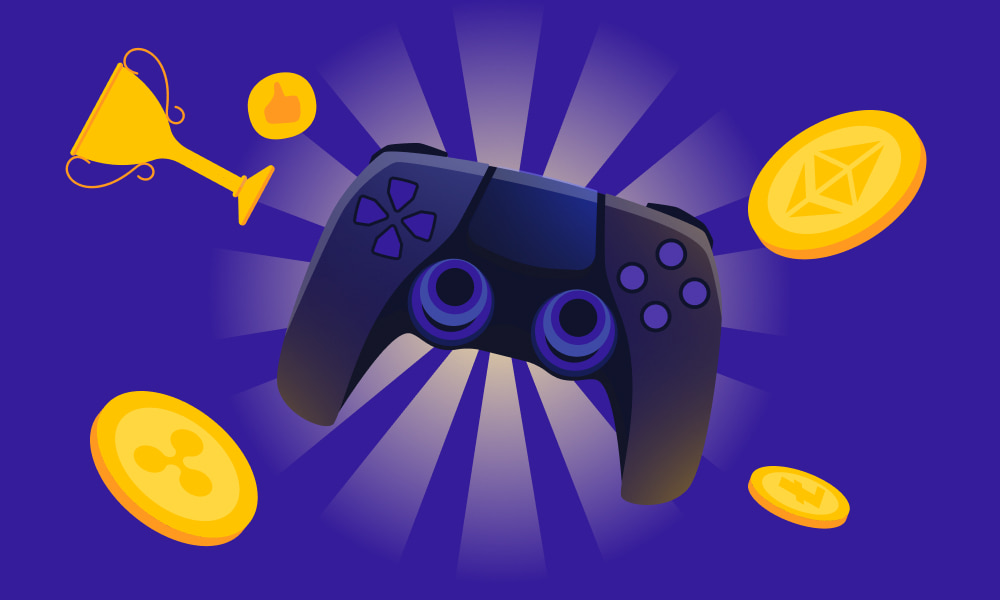 P2E games have been very successful so far and have brought about substantial boons to gamers and developers alike. Now let's consider the benefits of P2E games in greater detail.
P2E games provide the chance to earn money
Undeniably, the greatest thing about play-to-earn games is that they provide players with a chance not only to unwind and immerse themselves in a virtual world, but also yield revenue from their remarkable achievements and results in the game. Essentially, it is not just about making money, as gamers have the chance to take part in virtual economies, and sell, buy, and trade the gained crypto assets and NFTs on global platforms.
P2E games foster the creation of a global gaming community
Despite their novelty, play-to-earn crypto games already boast big international communities that span the globe. Axie Infinity, for instance, recorded around 8.3 million one-time active players as of December 1st, 2021, which is quite staggering.
This phenomenon can be explained by the fact that P2E games encourage gamers to unite and work together towards a common goal, which is to complete a certain in-game mission and share a reward afterwards. As a result, gaming fans are motivated to create more extensive social environments which welcome many more contributors.
P2E games offer a decent level of security to the gaming industry
Given that play-to-earn games are predicated on blockchain technology, all the data is safely stored throughout a decentralized network that is enormously hard to crack. Importantly, blockchain enables effective data encryption mechanisms which add up to an extra level of protection.
All in all, players and entrepreneurs will enjoy cooperating in a secure blockchain-powered gaming ecosystem without having to worry about the security of their gaming experience.
Another prominent aspect worth highlighting is that P2E games also make use of smart contracts. These help handle all transactions occurring within P2E gaming and guarantee that the game runs smoothly.
Need a reliable smart contract development partner? We have you covered
Understanding the limitations of play-to-earn games
For every plus there is a minus — and such is the case with the play-to-earn gaming model. Without any further ado, let's move on to consider some of the main challenges of P2E games and discover whether it is possible to overcome them.
P2E games are not that cheap to enter
One of the biggest downsides of P2E games is that one will need to have large amounts of money so as to engage in some of the existing games. Axie Infinity, for example, requires players to purchase monsters in order to participate in various missions and quests. These are rather expensive and not affordable to everyone — but you will be unable to play the game without them.
Consequently, the high entry price may serve as a huge obstacle to the wider adoption of P2E games and discourage many other enthusiasts to embrace them.
The good news is that game developers are interested in attracting more players to the P2E concept. Therefore, they are looking to create P2E crypto games that are affordable to anyone.
The value of in-game NFTs may fluctuate
You might feel delighted once you have earned an in-game non-fungible token or crypto. However, do not forget that even if an NFT costs a fortune today, it doesn't mean that the price will remain the same tomorrow. A major setback with NFTs and crypto is that their value tends to fluctuate for a number of reasons, and no one can predict how things will unfold in the future.
Therefore, when P2E gamers hope to generate substantial revenue from games, they might end up disappointed if the market price of their NFT or crypto goes down.
There are scams in the P2E gaming domain
If you decide to enroll in or invest in a play-to-earn game, beware of scams and rugs. Unfortunately, some people are not shy of illegal activity and are ready to go to great lengths to get what they want.
An anonymous game development team, doubtful giveaways, and big promises should be regarded as red flags. Remember that the NFT realm is abundant in scams and frauds. Thus if you fail to double-check the authenticity and reliability of a P2E game, you run the risk of getting into a load of trouble.
Luckily, there exist different platforms and solutions that may come in handy when you need to check the authenticity of your NFT. CheckNFT.io, for instance, is one of the most convenient and sophisticated tools for analyzing and comparing non-fungible tokens.
How do play-to-earn games relate to the metaverse?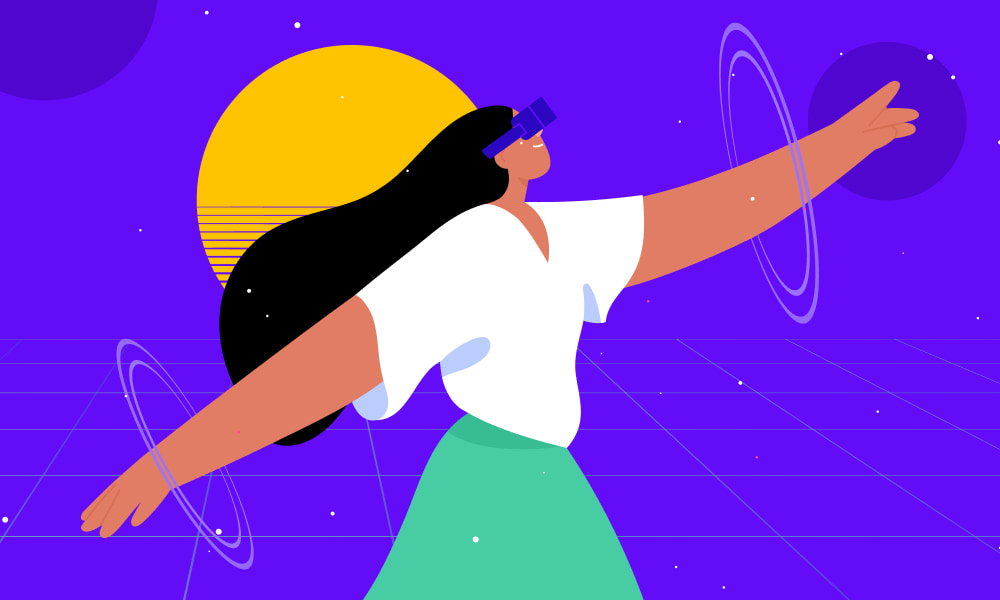 The P2E gaming model and the metaverse seem to be good companions. The latter offers a cool and immersive environment where gamers can both win money and enjoy extraordinary experiences, filled with 3D graphics and virtual and augmented reality.
In the metaverse, P2E gamers can not only earn money but also enjoy socializing and interacting with fellow gamers as if they were next to each other on virtual plots of land, or at specific locations such as virtual battlefields, arenas, and playgrounds.
P2E game developers, for their part, can incorporate tailored ads in the metaverse space and make a profit from this activity. It is also possible to sell or rent virtual lands and buildings in the metaverse to different gaming communities where they will host their events and put on novel gaming performances.
Are you on the way to exploring the metaverse? We have the pleasure to accompany you
Overview of the top play-to-earn games on the market
As of now, a lot of amazing play-to-earn crypto games have emerged, and it is likely that we will see many more ground-breaking projects in the future. For now, let's delve into the most prominent P2E games available and discover what makes them so special and so sought-after.
Axie Infinity
Based on the Ethereum blockchain, Axie Infinity is without doubt one of the most popular P2E games. It empowers its users to create and breed Axies, monster-like pets, that can be used in battles.
Axie Infinity comes with two in-game currencies. These are Smooth Love Potion (SLP) which can be converted into fiat currency, and the Axie Infinity Token (AXS) which serves as an in-game means of payment.
Silks
Silks is an extraordinary play-to-earn metaverse game that is poised to deliver a groundbreaking gaming experience. It links into the domain of real-world horse racing. Each digital horse is a derivative NFT that helps its holders track the lineage, training, and racing performance of real horses and generate rewards based on their results.
The entire concept of a virtual horse racing esport has gained a lot of traction, and Silks is not the only game in this category. Other examples include Zed Run, Pegaxy, and DeRace.
Splinterlands
Splinterlands is an innovative play-to-earn CCG (Customizable Card Game) based on the Hive blockchain. This strategic NFT card game boasts around 260,000 daily users and possesses more than 500 cards.
Being free to try, Splinterlands allows its players to make substantial rewards by engaging in various activities within the game. It is currently played in more than 140 countries and is available in 12 languages.
Alien Worlds
Alien Worlds is a WAX-powered P2E game featuring a metaverse consisting of six worlds, each of them represented as a separate NFT with 500 plots of land. The game provides its players with the opportunity to colonize planets, set up a government and economy, and explore other distant planets.
All players can be rewarded with Trilium, which is the in-game currency, transfer it to the Binance Smart Chain, and receive more Trilium via the staking approach.
Farmers World
Farmers World is a highly engaging farming P2E NFT game running on the Worldwide Asset Exchange blockchain. Its players select suitable tools, make use of different resources, purchase land, build farms on it, and savor extraordinary opportunities in an advanced farming ecosystem. The game focuses mainly on NFT collections and encourages farmers to accomplish certain tasks so as to reap rewards. As well as this, all gamers can engage in mining and crafting with the help of NFT cards.
See how our gaming solutions engage players in exciting alternative worlds
Things to consider when developing a play-to-earn business model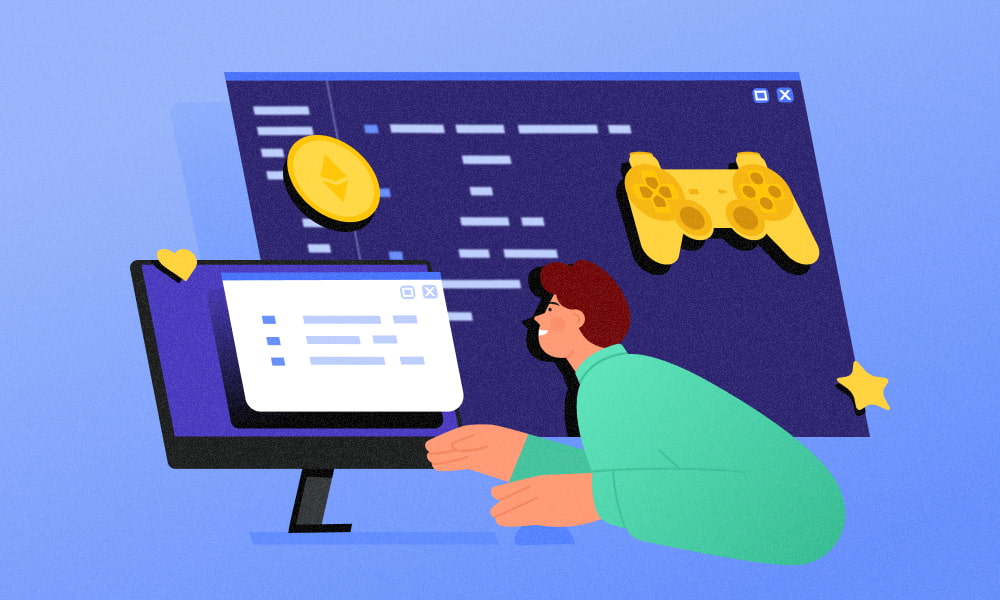 If you have set your sights on either designing or investing in a P2E game, you need to give due consideration to numerous aspects such as a business model, token economy, blockchain platform, compliance with participants' likes, and game design. Let's delve into each of these aspects and understand why it is so important.
Sustainable and scalable business model
First of all, remember that a P2E gaming model should be sustainable, meaning that all users are supposed to be real personas — not just bots seeking to reap the in-game rewards.
As well as this, provided that a P2E crypto game gets more popular and attracts more users, it is supposed to be highly scalable and flexible. Game developers and analysts will need to come up with new revenue streams and opportunities so as to provide due maintenance to the existing business model and keep both new and old users engaged.
Elaborate tokenomics model
Tokenomics is responsible for translating the idea and value of the game. The core element of the P2E tokenomics concept is a well-balanced monetary policy covering NFTs, cryptos, and other internal tokens.
Notably, game developers need to work out a special governance token. This will enable P2E game participants to vote on any changes and proposals for how to improve the game and make it stronger.
Developing a comprehensive tokenomics model can be challenging. But our blockchain experts know what it takes to deliver one that is robust and effective. For example, we helped Proleague — an esports startup — to create monetization mechanisms and an effective token economy that comprises gamers, viewers, referees, team organizers, league organizers, and an esports betting company. This has allowed the client to create a stable economy within the system and establish new revenue streams.
Suitable blockchain platform
Given that play-to-earn crypto games are underpinned by and highly reliant on blockchain technology, it is vitally important to identify the most appropriate platform.
As of today, there are multiple blockchains available on the market, each of them offering its own set of features and capabilities. When considering which blockchain to choose, take a close look at parameters such as transaction speed, consensus mechanism, sustainability, transaction fees, and support for NFTs.
We have outlined a detailed comparison of ten popular blockchains. Check it out and decide which one will be a perfect match for your next project
Compliance with the interests of all participants
A P2E game should preferably cater to the overlapping interests of all participants, including developers, gamers, and investors. All of them should be provided with proper motivation so as to remain loyal to the game and keep on promoting it further.
To meet the needs of everyone who wishes to join the game, it is important that a P2E model offers a multi-layer user structure that will introduce different roles. So, for example, a P2E gaming model may enable gamers to embrace either a play-for-fun (P4F) or play-to-earn (P2E) role while investors may opt for becoming game governors, managers, supporters, or speculators.
Attractive and engaging design
You know the good old "don't judge a book by its cover" saying. Still and all, to catch the eye and etch into the heart, a P2E game should boast an excellent and attractive design. If a play-to-earn crypto game looks nice and is easily navigable, it is bound to hit it off with multiple players and investors and come out on top.
But a good design should not come at the expense of well-structured game logic. If the business model and tokenomics design are not of high quality, even the most outstanding game design will not guarantee the success and mass adoption of a P2E game.
Make your solution shine bright with our full-stack UX/UI design services
Round-up: does the future of play-to-earn crypto games look bright?
It is quite challenging to predict the long-term success of P2E games as they still have a long way to go and need certain improvements before going mainstream.
But even now the cutting-edge gaming trend looks rather impressive and can offer real benefits to developers, players, and investors. It empowers all parties to peacefully coexist, effectively communicate within global communities and ecosystems, participate in virtual economies, and enjoy rewarding experiences. Plus, provided that P2E games evolve in parallel with the metaverse, we have yet to see many more exclusive projects that will contribute to the transformation of the entire gaming domain.
If you have been enthusiastic about play-to-earn crypto gaming but do not know where to start, we are here to help you out. Our blockchain experts at PixelPlex will do their best to create a P2E game that will meet your requirements and expectations, work out a comprehensive tokenomics model, and assist you in developing and implementing in-game non-fungible tokens.
Drop us a line to see how we can transform your nascent idea into a fully-fledged solution.
Good Game!