Play-to-earn games make the dream of earning money while having fun a reality. Are there any other game mechanics with players being rewarded for entertaining themselves?
The gaming industry has been growing at an enormous speed in recent years, resulting in a market size of $198 billion in 2021 and the potential to grow to $339 billion in 2027.
The COVID-19 pandemic has definitely had a lot to do with this boom — 55% of US gamers said that their gaming time increased during lockdown. However, in post-COVID times the gaming industry is still successfully managing to retain gamers' attention, with new engaging game mechanics appearing on a regular basis.
Play-to-earn (P2E) is a vivid example of a novel gaming concept that attracted not only avid gamers but also people who had never previously been interested in gaming. For example, Axie Infinity, one of the most popular P2E games, can boast 766,804 active players as of July 2022. But why is the play-to-earn concept so appealing?
In this article, we will examine the phenomenon of P2E's popularity, see what have-fun-and-earn alternatives have sprung up along the way, and analyze what aspects are key for a thriving blockchain-based game.
If you need a brief explanation of play-to-earn games, check out the video below. You will find there many useful insights about the play-to-earn model and its alternatives.
What are P2E games?
Play-to-earn games give players the opportunity to generate real money as they acquire in-game achievements and artifacts. A player wins the battle or completes a quest and is rewarded with NFTs that can be later sold on special marketplaces, or crypto that can be cashed out.
The value of rewards in P2E games is based on one's gaming experience, time spent playing the game, and the game's popularity and ratings.
However, play-to-earn games require initial investment: players need to purchase characters and specific items. For example, to start playing Axie Infinity, you need a team of three Axies, in-game characters, that will cost you around $300.
At the moment Axie Infinity, Alien Worlds, Gods Unchained, Sprinterlands, and CryptoKitties are the top P2E games.
Want to know how to build a P2E game? Read our article
Why are play-to-earn games so popular?
Play-to-earn games are very attractive to so many people because they offer the possibility of making real money, transfering in-game assets and are not subjected to a centralized authority. These benefits have resulted in rapid growth in the industry's market size — it is projected to reach $2 billion by 2028.
Let's take a closer look at P2E games' benefits:
Ability to earn real money
Who wouldn't like to generate income while having fun? This is exactly the wish that P2E games fulfill. In some cases, players even manage to make a living off the revenue stream from play-to-earn games.
The Philippines is a country where P2E games provide a substantial chunk of many citizens' incomes. For example, Filipinos make up 40% of the total number of Axie Infinity players, and the majority of people start playing the game not for entertainment but for the opportunity to gain money.
No centralization
In traditional gaming, players have no control over the game's logic. When developers decide to change something, the only option is to accept it or leave the game. Sometimes the changes can affect the whole gaming experience, with heroes getting nerfed and hard-to-get items deleted. P2E games, though, run on blockchain which is a community-driven technology, so no changes can be made without the consent of the majority of users.
Ability to transfer in-game items
No matter how much effort players put into bagging achievements, no artifacts can be used outside the game. Thus, if you lose the account or the game gets shut down, all your precious items and achievements will be lost. With play-to-earn games, artifacts are NFTs and coins are crypto. It means that gamers can transfer all gained items to their wallets and manage them as they wish: collect, sell or exchange — the assets will be safe even if something happens to the game itself.
Ever heard of GameFi? It is high time to learn more about this mix of blockchain and gaming
What are play-to-earn alternatives?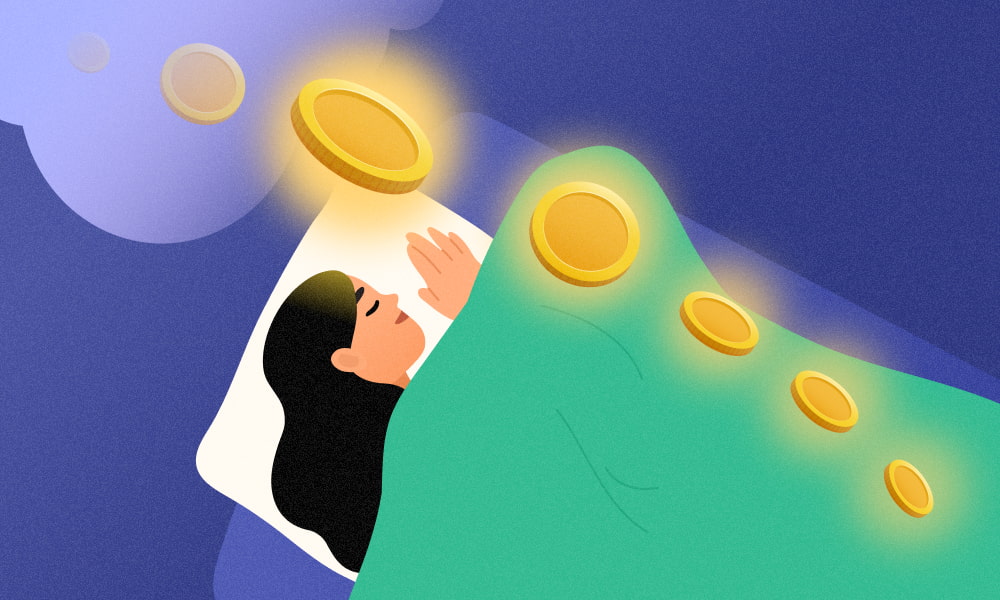 The success of P2E games gave the green light to many have-fun-and-earn alternatives such as move-to-earn, exercise-to-earn, learn-to-earn, sleep-to-earn and even sex-to-earn. Let's take a closer look at each of these concepts and understand how they operate.
Move-to-earn
Move-to-earn (M2E) games make players move in order to generate income. The more active the user is, the more valuable rewards they get. These are usually tokens that can be used in the game itself, for gear upgrade for example, or exchanged for crypto or fiat money.
Move-to-earn games utilize GPS tracking to gather data on players' physical activity and can be integrated with smart watches for improved accuracy.
The most popular M2E game is STEPN. It is a Solana-based app that incentivizes users for  walking, jogging, or running with native GST and GMT tokens which can be used for in-game purposes or cashed out.
To start the game, you need to buy a sneaker NFT depending on your fitness level: Walker,
Jogger, Runner or Trainer. There is an option to buy a specific sneaker or a shoebox with a random sneaker. At the time of writing, the floor price for a sneaker is 1.18 SOL.
Once you are equipped with a sneaker and have enabled a GPS tracker, you can start moving and earning alongside 5,636 daily active users (as of July 2022).
Genopets is another example of a move-to-earn NFT game, yet this one spreads massive fantasy vibes. The game motivates users to increase their daily number of steps by linking it to the evolution of the in-game pet.
Unlike other M2E games, you don't need to invest any money to start playing. Users get a free NFT magical creature, Genopet, and help it grow and develop based on the real-world decisions of the owner. When Genopets are mature, they can participate in PvP battles the winners of which get native game tokens $GENE and $KI. The tokens can be used for upgrading the Genopet or cashed out.
Genopets collects players' biometric data — heart rate, sleeping time, and physical activity — via several data capture devices, including Google Fit, Fitbit, Oura, and more to track players' progress and distribute fair rewards.
Exercise-to-earn
Similar to M2E games, exercise-to-earn motivates people to engage in physical activities. But here it is not just walking but swimming, dancing, cycling, working out and more.
WIRTUAL is one of the successful exercise-to-earn applications, boasting a community of 120,000 users. There is a substantial selection of activities users can participate in to earn the app's token $WIRTUAL: running, walking, swimming, cycling, dancing, and working out.
To receive tokens, users need to enable automatic results submission. The physical activity data is collected by the Strava, Fitbit, Garmin, Apple Health and Huawei Health fitness devices and applications.
In addition, users can customize their in-game avatars by obtaining NFT wearables with $WIRTUAL tokens.
Another way of engaging people to participate in sports activities more actively is by introducing challenges. MetaGym works exactly on this basis. Players can choose to enter the game for free, but the earnings will be limited. Alternatively, they can buy or mint an NFT gaming avatar to unlock all MetaGym's rewards. Avatars differ according to the exercises users wish to perform: cardio, resistance or high intensity interval training.
By completing the challenges, players will be granted $MGCN governance tokens and $HRT utility tokens which can be used to level up the avatar or exchanged for USDC.
Check out FitnessChain App — a blockchain-based solution helping users stay motivated on their fitness journey
Sleep-to-earn
Good news for sleepy-heads — blockchain developers are now working hard to bring the concept of earning while sleeping a reality. Here we'll examine the functionality of the two most promising sleep-to-earn projects: SleeFi and Sleep Future.
SleeFi is an Avalanche blockchain-based application that incentivises users for sleeping well. All you need to do is buy a bed NFT, set the wake-up time and go get some actual sleep. The closer the real-life wake-up time is to the time users choose in the app, the more tokens they get. There are two types of tokens: SLGT, used for governance activities, and SLFT, used for digital bed improvement or cashing out.
The app will track the length and quality of sleep with the help of Health App (iOS) and Google Fit (Android). The solution is also compatible with Apple Watch, TicWatch Pro, Fossil Gen 5 or 6, and soon with SleeFi's own wearable device.
Sleep Future also allows users to monetize their sleep. It is a blockchain sleep wellness ecosystem rewarding quality sleepers with $SLEEPEE tokens. To accurately collect the information about users' sleep quality, Sleep Future released its own monitoring app supported both by iOS and Android devices. And apart from the virtual experience, users can visit offline Sleep Future centers in Singapore and Malaysia.
Sex-to-earn
If you were a bit confused by move and sleep-to-earn concepts, just wait until we tell you about sex-to-earn.
A blockchain startup SEXN offers users to get rewards for making love. Users will be able to earn $SOT (Sex Orgasm Token) and $SST (Sexual Stamina Token) by engaging in sexual activities and turning on one of the modes: coitus, masturbation, sadism & masochism, or super mode.
To start the game, users need to obtain one of the NFTs listed on the SEXN marketplace. The NFT is directly connected with the prefered mode. For example, if you have a Masturbation Toy NFT, you can enable the masturbation mode only.
SEXN is working on its own wearable device to ensure the accuracy of collected biometric data such as heart and respiratory rate. Also, users will be able to connect the app with their smart watches or wristbands. This information will be used to differentiate between different activities: masturbating, achieving coitus, etc. and distribute the tokens accordingly.
Once all technical aspects are set up and a user is in that mood, they will need to remember to smash the "Start" button and proceed with lovemaking and…earning 🙂
Learn-to-earn
Learn-to-earn is a blockchain-based concept which makes the learning process financially rewarding.
The mechanics are as follows: users register in an app or sign in on a platform where they can learn different subjects and topics. Then comes a test, where good marks are accompanied by a reward in crypto.
For example, on Coinbase users can find out about the blockchain and crypto technologies with the help of animated videos and articles. Each learning module ends with a quiz and once that's been completed, good learners receive crypto tokens.
Binance also allows learning-and-earning with its courses on blockchain and crypto trading. Once a user successfully completes the module, they receive a token voucher valid for 14 days from the day of distribution.
What to consider when building an alternative play-to-earn game?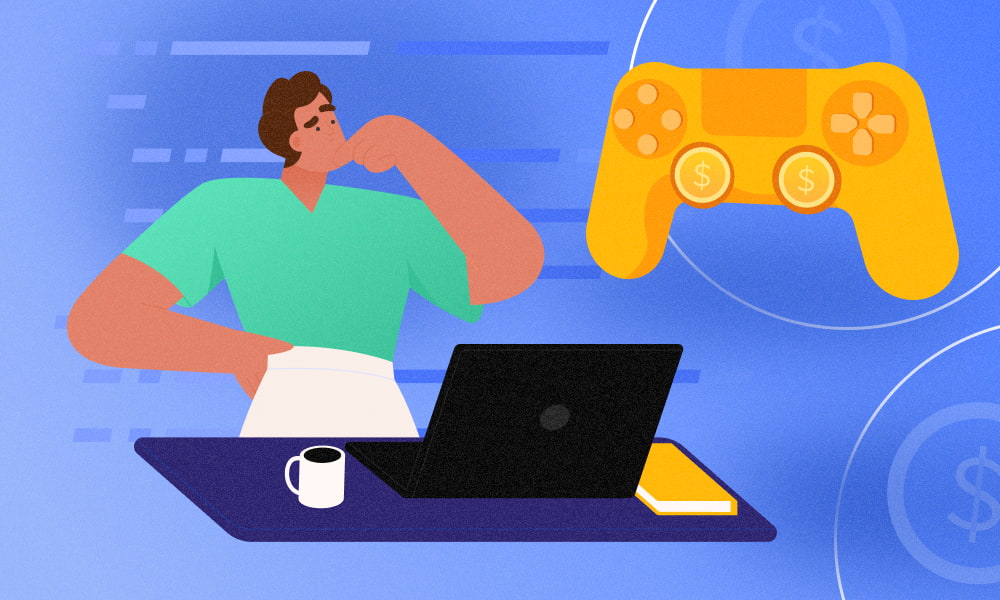 If you decided to create a have-fun-and-earn game, it is important to do a thorough research and decide on several key aspects:
Idea
There are already quite a lot of interesting blockchain games on the market, so you need to be really creative with your game's idea. Analyze your competitors and the market situation in general, and work out a precise and well-grounded strategy of customer engagement.
Scalability
To make sure your blockchain game develops smoothly as the user base grows, you should think about how it will scale in advance. So choose the blockchain platform that the game will run on very wisely.
Sustainability
Come up with a straightforward strategy on how your game will fulfill the needs of all players be it developers, gamers, or investors, and work out how you will ensure that the game is not flooded by bots and other fraudsters.
Security
Depending on your game mechanics, you may need to collect sensitive personal data. Examine the possible weak spots of the future game and make sure you have a reliable strategy on how to prevent data leakage and security breaches. Don't forget about the holy trinity: KYC, AML and 2FA.
Tokenomics
Comprehensive and reliable tokenomics with clear policies covering crypto and NFT is a core aspect of your future game. You will need to develop two types of tokens — the one users earn and burn for in-game progress, and the one used in governance activities.
Compatibility
Determine what devices and apps will be necessary to track and evaluate users' activities/progress. It is the accuracy of the recorded data that will determine the reward rate that users obtain.
Design
Even the most awesome game will be left unnoticed if its visuals are poor, so your game's UI/UX design should be of excellent quality and comfortable both for experienced gamers and those who rarely play.
The list is quite a long one, with each aspect requiring precision and high level expertise. Our advice is to seek assistance from well-versed blockchain consultants who will provide you with valuable insights and suggest a roadmap for a frictionless development process.
Wondering what blockchain to choose for your project? We have the article just for you
Conclusion
Play-to-earn games have made quite a fuss in the gaming industry, grabbing attention of seasoned players and creating a stream of newbies. The concept of monetizing one's pastime really comes to the liking of many people, motivating developers to come up with P2E alternatives that will cater to the tastes of different people.
That's the reason behind the many new have-fun-to-earn concepts which continue to pop up regularly, from move-to-earn, sleep-to-earn, and even sex-to-earn. Each game comes with its own perks yet all share the main one — the possibility to make money while entertaining.
Have you come up with a cool P2E alternative? We are all ears!  With 80+ blockchain projects on our account, our team knows exactly how to make your ideas become a reality.
Drop us a line and let's build something awesome together.