You decided to launch a crypto project — and the question is, how successful will it be? The answer is that your project's future will largely depend on how well you develop tokenomics and which token distribution method you choose.
It's the active users who make a blockchain-based system work. Token holders propose and vote for or against solutions about platform improvements, make payments, invest, and earn rewards. They do all this with the help of native tokens.
If users lose interest in participating in your project or they don't think it's a good idea to buy, hold or stake your tokens, the network will simply come to a standstill. That is why a correct and well-thought-out token allocation model is a must in any crypto-related project.
Read on to find out which token distribution mechanisms exist, how they are used by successful projects, and which are the most effective.
And if you're a visual learner, our video provides a comprehensive and engaging explanation of these concepts, making it easier than ever to grasp the diverse world of token distribution.
What models of token distribution are there?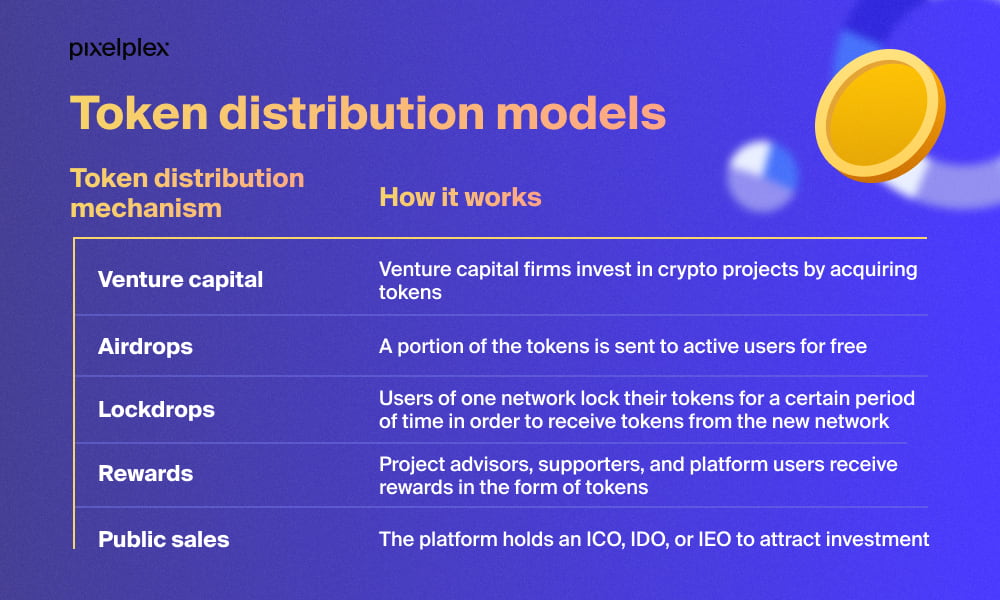 Token distribution is the way in which you allocate tokens between the different stakeholder groups. These are usually insiders, the project team, the community, and the general public.
Insiders are platform founders and advisors. The community consists of passionate project supporters, and the general public are investors.
These groups receive tokens through various token distribution mechanisms, namely venture capital, airdrops, lockdrops, rewards, and public sales. Let's take a closer look at each of these token allocation models.
Venture capital
The crypto industry is still very young and nearly every company in this area is a start-up. Nevertheless, the field is growing at the speed of light and start-ups quickly turn into solid companies. This is why venture capital firms are actively investing in crypto projects.
However, the investment model is different from standard venture capital fundraising. Instead of acquiring equity, venture capital firms buy tokens.
For example, in 2021, Solana Labs, the creator of the Solana blockchain and ecosystem, completed a private token sale of $314,15 million led by Andreessen Horowitz and Polychain Capital. The firms purchased tokens, and Solana Labs used the funds to launch an incubation studio to accelerate the development of dApps and platforms based on Solana.
Airdrops
An airdrop means that a small portion of the tokens are sent to the wallet addresses of active users for free or in exchange for some small action, such as a retweet or a subscription to a social media channel.
Project creators choose to airdrop their tokens in order to draw public attention to their newly created platforms. This method is usually a part of a marketing strategy. It also helps build a strong community that will later keep the platform running and afloat.
In this way, users will get a stake in the project, and you, as the platform creator, will raise awareness of the project and encourage the use of your new token.
Lockdrops
A lockdrop works differently from an airdrop. Before the release of new tokens, users of another network, say, Ethereum, lock their ETH for a certain period of time. Once that period is over, users receive tokens from the new network as well as get those previously locked tokens back. The more they lock and the longer the lock period lasts, the more new tokens they will receive.
Lockdrops are for those who are genuinely interested in the project, as they have to make a commitment not to use their tokens right away.
Rewards
Platform creators reserve a large portion of native tokens to grow the ecosystem. Token rewards are included in that portion as well. For their long-term commitment to the project, users can get staking and liquidity provision rewards and some platform prizes as well, especially if it's a crypto game.
Another category of people who can receive tokens is project advisors. Platform creators often reward them with tokens for the time, effort, and experience they contribute to a project.
Public sales
Initial Coin Offering (ICO), Initial Exchange Offering (IEO), and Initial DEX Offering (IDO) are the three most common types of token sales. While the popularity of ICOs has declined due to the upsurge of scams, IEOs and IDOs are still on the rise when it comes to crypto project funding.
IEO has spawned several notable projects such as Polygon and Elrond. Raven Protocol, in turn, became the first blockchain project to successfully complete an IDO.
It's worth noting that platforms also hold back a percentage of tokens for their core team and developers. Tokens can be held by the company to cover further operating expenses as well.
Effective token distribution: five blockchains and examples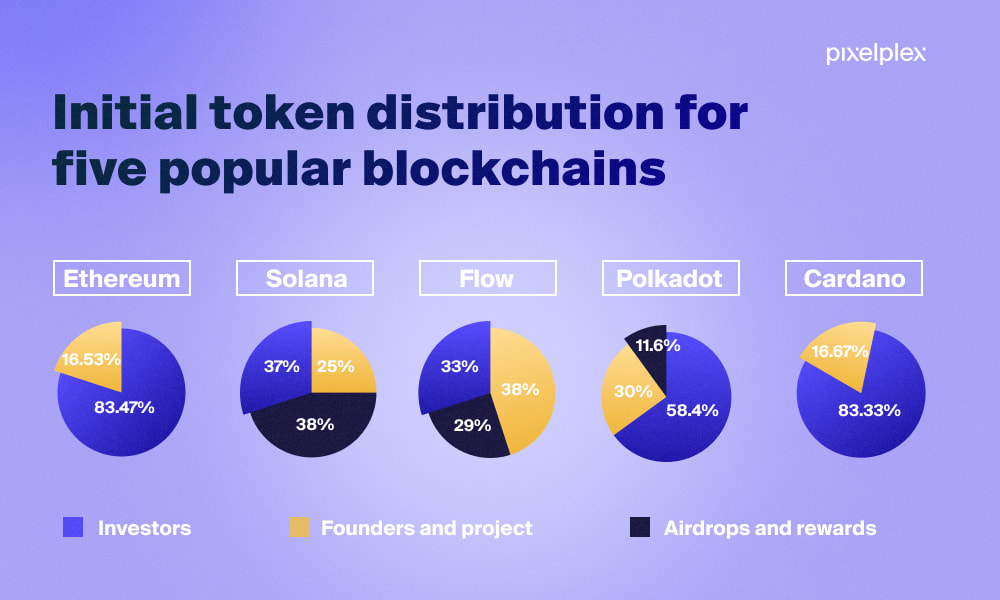 Source: Messari.io
Let's take a look at how five popular and successful blockchain platforms — Ethereum, Solana, Flow, Polkadot, and Cardano — allocated their tokens during the initial token distribution.
1. Ethereum
Ether (ETH), Ethereum's token, is used to pay for gas and is also a cryptocurrency. With the transition to the Proof of Stake consensus mechanism, it is now possible to stake a token in order to participate in block production and receive staking rewards.
Previously, Ethereum was running with the Proof of Work mechanism that implied mining: at that time miners validated blocks and received rewards in ETH.
ETH's initial supply amounted to over 72 million tokens, 83,47% of which were purchased by investors, and 16,53% were distributed to the project founders and creators. The initial sale held back in 2014 helped the Ethereum Foundation raise over 31,000 BTC, equivalent to $18,3 million at the time.
The Ethereum Merge and migration to the PoS consensus algorithm explained right here
2. Solana
The Solana blockchain launched its SOL token in 2020. SOL has two main use cases: staking and transaction fees.
The first 500 million SOL tokens were distributed through auctions and private sales and went through five funding rounds that raised over $25 million in total. 38% of the initial token supply was allocated in the form of airdrops and rewards, investors received 37%, and 25% was held by the project founders.
Launched not so long ago, SOL quickly made it into the top 10 crypto tokens and remains there to this day. As of October 12, 2022, its circulating supply is more than 357 million tokens.
3. Flow
Compared to the industry veteran Ethereum, Flow is also a newcomer in the blockchain world. Flow's genesis block was created in June 2020, with the initial supply of 1,25 billion FLOW tokens.
Apart from being a cryptocurrency, the FLOW token is also used for staking on the network and paying transaction fees.
The tokens were initially allocated in the following way: 29% through rewards and airdrops, 33% to investors, and 38% held by founders and the team. Within this, we know that 20% went to Dapper Labs, the company behind the Flow blockchain, and 18% was allocated to the developers.
Find out what the difference is between the Flow and Ethereum blockchains
4. Polkadot
Just like Solana and Flow, Polkadot was launched in 2020. These three blockchain toddlers have already made their mark on blockchain history.
Polkadot has its native DOT token that serves several purposes: making payments, participating in network governance, and bonding for smooth parachain creation.
The initial supply of DOT tokens was 1 billion and it went through four rounds of funding — one private and three public. The first ICO took place in 2017 and raised $80 million. The last one was held in 2020 and generated $42,76 million.
As a result of these, investors received 58,4% of the initial token supply, the founders held 30%, and the rest, 11,6%, was allocated through rewards and airdrops.
5. Cardano
Cardano's initial token distribution took place in five funding rounds between 2015 and 2017. During those five public sales, Cardano managed to raise almost $80 million.
The initial supply was 31,1 billion ADA tokens, 83,33% of which was purchased by investors and 16,67% held by the project and its founders.
These days, the ADA token is ranked within the top 10 cryptocurrencies and has a circulating supply of 34,28 billion.
Looking at these five examples of notable blockchain projects that continue to grow and develop, we can see the following token distribution trends:
Two projects launching one after another in 2015 and 2017 — Ethereum and Cardano — allocated their tokens in very similar proportions. The ratio was 83:17, where 83% went to investors and 17% to the creators of the platform. Both of these blockchains provide the infrastructure for blockchain-powered apps. Interestingly, Cardano was founded by Charles Hoskinson, the co-founder of Ethereum.
Three blockchains — Solana, Flow, and Polkadot — allocated around 30% of their initial token supply to platform founders and the projects.
Solana and Flow distributed a similar portion of their tokens to investors, 38% and 33% respectively.
Token distribution trends are obviously changing. The competition in the blockchain industry is growing, and new projects have to make an effort to attract public attention. This is why newly created crypto projects are now distributing between 12% and 40% of their initial token supply through airdrops and rewards.
Want to know more about how to design good tokenomics? We explain the process right here
Closing thoughts
Crypto project creators shouldn't underestimate the importance of a well-designed token distribution model. When creating one, many factors have to be taken into account, including the project's industry, business goals, and target audience.
In addition to this, you will need to create a long-term plan for how you will issue new tokens, who will receive them, how exactly they will be distributed, and what will help you retain active users and keep your platform up and running.
Luckily, our PixelPlex blockchain consultants can help you with this. They will analyze your idea, provide a deeply researched analysis of your business case, and offer you the most appropriate solution. Drop us a line and be sure that your tokenomics and token distribution mechanism are effective and beneficial for both your company and your future users.