As the real world gradually merges with the virtual one, Apple has rolled out Vision Pro, a device designed to provide exceptional mixed-reality experiences. But experts believe it has much more to offer, and they are placing big bets on it. So what's so special about this innovation?
As the AR/VR market grows towards a projected $248.16 billion by 2030, the number of game-changing AR/VR innovations has been on the rise.
Apple has also been at the forefront of many tech trends and has offered its own range of AR/VR products, with Vision Pro being the most recent technological breakthrough.
While Apple Vision Pro may seem at first glance to be just another AR/VR headset, some specific details have marked it out and made it highly anticipated by both individual users and businesses worldwide.
Read on to find out more about the Apple Vision Pro headset and its key features, characteristics, applications, and future prospects, and discover where and how it can be used.
What is Apple Vision Pro?
Apple Vision Pro is a wearable mixed-reality headset, whose primary purpose, as stated by Apple CEO Tim Cook, is to "introduce users to spatial computing". The device made its debut at the annual Worldwide Developers Conference in June 2023 and will be available for purchase in early 2024 with a price tag of $3,499.
What makes Vision Pro noteworthy is that Apple does not label it a headset despite its appearance and the way it is worn on the head. Similarly, Apple does not categorize it as either an AR or VR device. Instead, the company refers to it as a new spatial computing device capable of blending digital content with the physical world and transforming users' surroundings into an infinite canvas.
How does the Apple headset work?
Once a user wears Vision Pro on their head and powers it up, they will see all their apps displayed on the screen. These apps can be activated using methods such as eye tracking, voice commands, and simple finger gestures like tapping, double-tapping, pinching and holding, zooming in and out, and rotating.
Thanks to the integrated passthrough functionality, users can maintain awareness of their real-world environment while their apps are open on a virtual screen. In addition, a smart breakthrough mechanism is activated when another person enters the user's field of content, providing a notification that someone is approaching.
To provide an augmented reality experience, Vision Pro utilizes exterior and interior cameras to project the surroundings as an accurate digital image of the user's real environment. For the virtual reality component, the cameras are disabled, isolating the user from their surroundings and enabling them to see only what is displayed on the Vision Pro screens.
Notably, the EyeSight functionality allows users to display their eyes through the lens when they wish to, thus facilitating more natural interactions with the people around them.
Discover how PixelPlex successfully delivered an advanced VR real estate platform and seamlessly integrated it with VR headset software
Vision Pro technical characteristics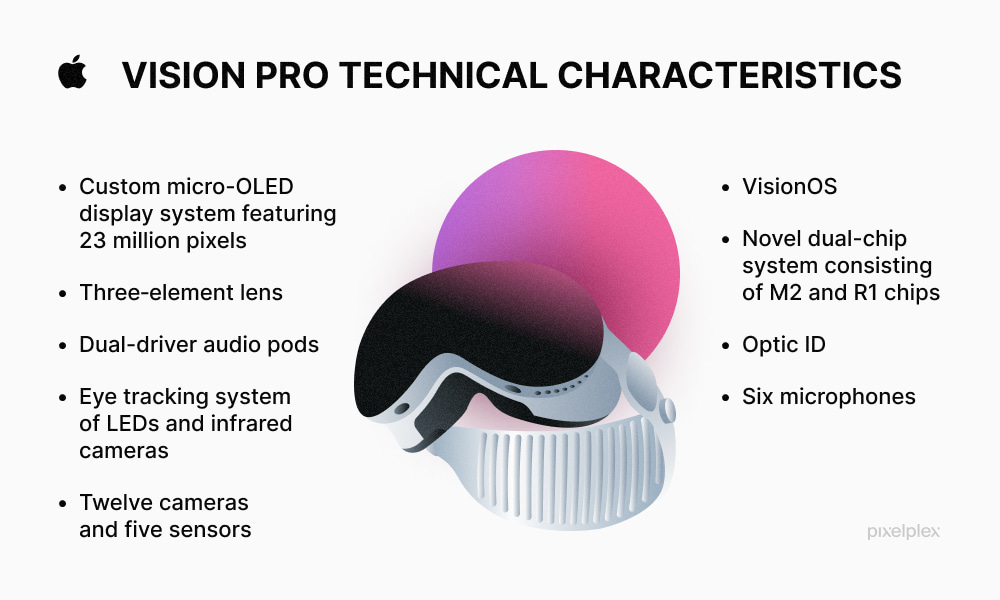 Apple Vision Pro combines a highly sophisticated array of tech elements that synergistically complement each other to create unprecedented experiences. These include:
Custom micro-OLED display system featuring 23 million pixels and delivering over 4K resolution to each eye.
Three‑element lens creating a feeling of a display that is everywhere a user looks.
Dual-driver audio pods delivering personalized sound while letting users hear what's around them.
Eye tracking system of LEDs and infrared cameras providing ultraprecise input with no controllers and allowing users to accurately select elements just by looking at them.
Twelve cameras and five sensors for monitoring hand gestures and input and forward imaging as well as mapping the external environment.
VisionOS, Apple's first spatial operating system, orchestrating powerful digital experiences and providing a dedicated App Store where users can download apps for the device.
Novel dual-chip system consisting of the M2 chip that runs visionOS and efficiently delivers sophisticated graphics, and the brand-new R1 chip, which processes input data from the cameras, sensors, and microphones and streams images to the displays within 12 milliseconds.
Optic ID serving as a user authentication system that scans the iris with infrared lights and a camera.
Six microphones for making phone and video calls and giving voice commands.
How is Apple Vision Pro different from other AR/VR headsets?
What makes Apple Vision Pro different from other AR/VR headsets like Meta Quest is that it does not leverage any additional controller accessories. Its advanced underlying technology enables it to track users' eye movements, recognize hand gestures, and respond to voice commands.
The Apple headset also boasts an impressive design and unique technological features that distinguish it from other devices.
Plus, while other AR/VR devices are primarily focused on gaming and entertainment, Apple Vision Pro is more ambitious and aims to upend spatial computing. It also excels in assisting users in remote work environments and enhancing video conferencing experiences.
What are the most prominent Vision Pro features?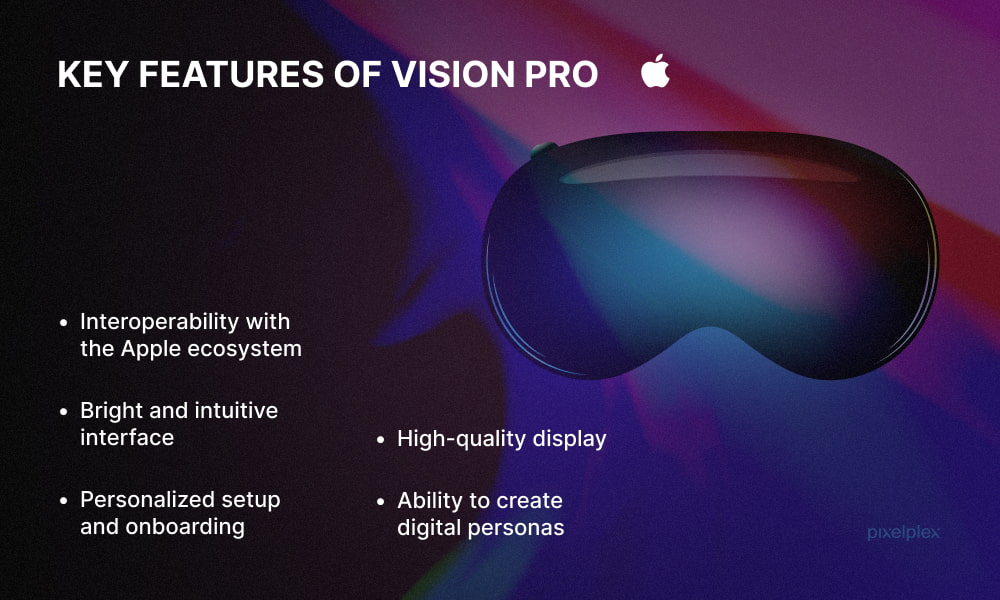 Apple Vision Pro brings lots of appealing features, with its most notable strengths being interoperability with the Apple ecosystem, a bright and intuitive interface, personalized setup and onboarding, a high-quality display, and the ability to create digital personas.
Let's explore each one in greater detail.
Interoperability with the Apple ecosystem
The Vision Pro headset can seamlessly integrate with other Apple products, including the iPhone, iPad, Apple Watch, and Mac. It can even serve as a high-end display for the latter, helping users enjoy convenient content sharing across their Apple devices.
Notably, Apple has initiated updates of its core applications for visionOS and also provided APIs for developers, highlighting its commitment to continuous improvement and support for Vision Pro.
Looking for a reliable partner for full-cycle iOS development? Contact PixelPlex for professional assistance
Bright and intuitive interface
Though Apple Vision Pro has not yet entered mass production and has only been tested by a small group of individuals, those who have tried it admit that the device's interface is completely intuitive and very simple. There is no need for additional hardware to manage their apps on virtual screens — users can interact with the interface using its advanced eye-tracking function and their fingers.
In fact, the interface of Vision Pro bears a resemblance to that of the iPhone, allowing users to open and manage all their apps and tabs in a virtual environment. Plus, the interface adjusts shadows based on users' lighting conditions, ensuring adaptability and visual comfort.
Personalized setup and onboarding
One of the most exciting features of Vision Pro is its fast and customizable setup, intended to provide the most comfortable headset experience.
While the device is being worn, it scans the user's eyes. Users who wear Apple glasses will need to scan them as well to enjoy experiences provided by Vision Pro at full throttle. Notably, Apple has partnered with Zeiss, a leading manufacturer of optical systems and optoelectronics, to create specialized magnetic correction lenses for the Vision Pro headset that can be customized to match a user's individual vision.
As well as this, the device scans the user's face to adjust the Light Seal detail based on individual face shapes. Light Seal is needed to block out light and ensure the optimal performance of Vision Pro. Apple also has plans to release Light Seals and headbands in various sizes over time.
High-quality display
Vision Pro's displays offer a higher pixel count than a 4K television, delivering stunning, vibrant, and colorful visuals with exceptional resolution. This enhancement takes AR and VR experiences to new heights, immersing users in environments that are incredibly vivid and lively and leaving them awestruck.
Ability to create digital personas
Apple Vision Pro owners can scan their faces and generate near-photorealistic digital representations of themselves while using various video chat applications like Facetime, Zoom, Google Meet, and Discord. These digital personas are not traditional avatars found in the metaverse. Instead, they are video images that closely resemble the user. This feature enhances communication by allowing users to establish more authentic connections with others and facilitates efficient collaboration with colleagues.
However, those who had the opportunity to test this functionality did point out that it requires some enhancements, and it is possible that Apple is already working on addressing those concerns.
Check out how our developers engineered this hospitality virtual tour solution and provided its smooth integration with the Oculus Go headset
What are the current limitations of Vision Pro?
Just like any other nascent innovation, Vision Pro is not perfect and comes with certain limitations. These include limited battery life, health concerns, price, and availability.
Limited battery lifespan
To maintain a relatively lightweight design, Apple made the decision to exclude the battery from the Vision Pro headset. Instead, the device relies on an external battery pack for power, and as a result, the battery life of Vision Pro is limited to approximately 2 hours per single charge.
Health concerns
Even though Vision Pro is equipped with high-end chips that are said to prevent nausea and motion sickness, it is still debatable whether prolonged usage might cause eye strain, headaches, and a general feeling of discomfort, especially for individuals susceptible to such ailments.
Price and availability
The price of Apple Vision Pro, which is set at $3,499, is relatively high. This means that not everyone who is interested in using the headset will be able to afford it, making Apple's spatial computing revolution accessible primarily to wealthy individuals. Moreover, Android users may find it less relevant, given that Vision Pro's ecosystem seamlessly integrates only with other Apple devices.
Where and how can Apple Vision Pro be used?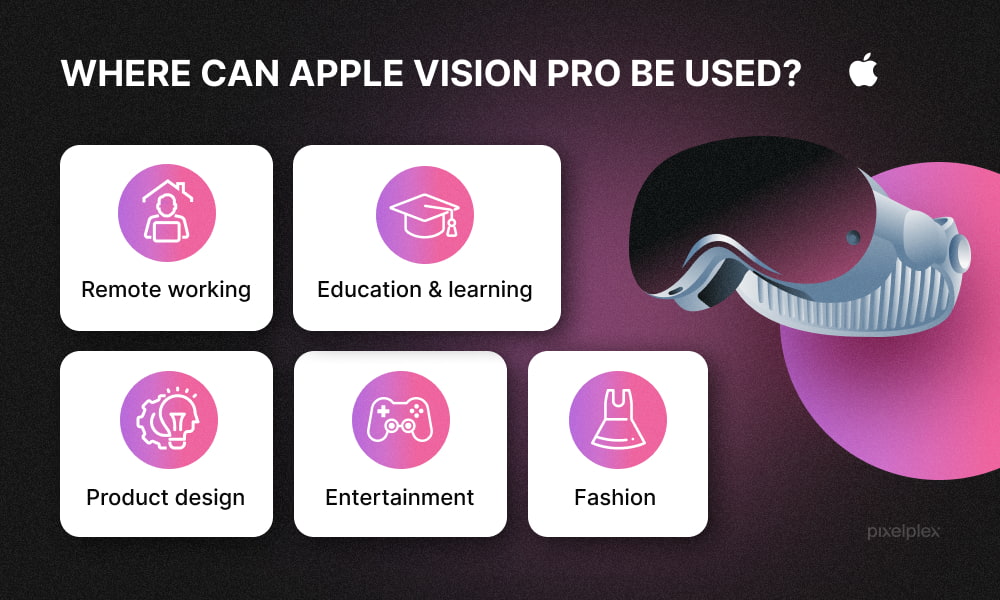 Vision Pro is expected to be useful in areas such as remote working, product design, education and learning, fashion, and entertainment. Once it becomes widely available through mass production, it holds the potential to gain recognition in other domains as well.
Now let's consider the most significant use cases of Vision Pro in greater detail.
Remote working
One of the main use cases for Apple Vision Pro is remote working and collaboration. The device allows users to personalize their workspace according to their individual needs, thereby enhancing their productivity. Furthermore, it provides an immersive working environment where users can manipulate and interact with various files and applications represented as enlarged 3D models.
Moreover, Vision Pro has the potential to revolutionize video calls by enabling users to scan their faces and create digital avatars, resulting in more immersive and realistic meetings. The Apple headset also facilitates collaborative work by offering a digital canvas where all users can brainstorm and contribute their ideas in a shared space, which is particularly convenient for designers and architects.
Product design
It is evident that in the foreseeable future, the role of designers will extend beyond crafting attractive and user-friendly interfaces. Instead, they will be tasked with designing immersive and lifelike experiences and journeys as the use of AR/VR technology increases.
With Vision Pro and the documentation and guidelines offered by Apple, designers have the opportunity to reimagine their design techniques. They can learn and apply strategies for creating captivating and user-friendly experiences, experiment with new visual effects, and evaluate user responses to them.
See how PixelPlex UX/UI designers can turn your product ideas into unmatched user experiences
Education & learning
Vision Pro has the potential to benefit the educational sector by facilitating better communication and collaboration.
Students can use the device to engage with sophisticated interactive elements and control them using gestures, voice commands, and eye contact. Additionally, Apple Vision Pro can be personalized to meet each student's specific needs, allowing learners to adjust the level of realism and interaction.
For educators, Vision Pro provides opportunities to deliver dynamic lessons, enhance student engagement, and foster a collaborative learning environment.
Fashion
While it has become common for world-renowned luxury brands to experiment with AR and VR capabilities and host fashion shows in the metaverse, Vision Pro empowers them to explore new avenues and possibilities.
The device allows users to transport themselves to breathtaking virtual runway shows, making them feel as if they are part of the event from the comfort of their own homes. Designers will be able to create, test, and demonstrate clothing items in the digital space before initiating physical production, resulting in time and resource savings.
It has even been reported that web3 brands like the Institute of Digital Fashion and The Fabricant are already exploring the capabilities of Vision Pro with the help of Unity, a real-time 3D development platform that Apple has integrated into the device.
Take a look at how the fashion industry stands to benefit from AR/VR technology
Entertainment
The high-resolution displays of Apple Vision Pro make it possible for users to literally immerse themselves and enjoy a full-blown, IMAX-like experience of their favorite movies and cartoons. When wearing Vision Pro, a user can even feel as if they are in the same room as the characters and can walk right up to them or be approached by them.
Notably, Disney has already set its sights on Vision Pro and partnered with Apple to enhance the viewing experience of its streaming service, Disney+. This collaboration aims to introduce awe-inspiring immersive experiences with the help of this sophisticated device.
What does the future of Apple Vision Pro look like?
The Apple Vision Pro headset has made waves with the tech community and enthusiasts worldwide and is widely anticipated to be released to the broader market in 2024. The headset represents Apple's entry into a totally new technological realm — and it is pretty likely that the company will work hard to roll out subsequent versions of Vision Pro in the near future, more sophisticated in their design and functionality and enriched with more features compared to the first generation.
What is evident is that Vision Pro is another significant hardware product by Apple — and for Apple. As it undergoes further scaling and refinements, it has the potential to shape the landscape of virtual computing. Moreover, it will empower metaverse and AR/VR developers to create more advanced applications and solutions for our rapidly evolving digital world.
Closing thoughts
The Apple Vision Pro headset represents a significant milestone in the field of augmented and virtual reality. With its groundbreaking technology and exceptional capabilities, the device opens up a plethora of possibilities for businesses and enthusiasts alike, introducing new avenues for immersive experiences and interactive content.
If you are eager to be among the first to take advantage of Vision Pro's potential and seize its remarkable opportunities, get in touch with our experienced AR/VR developers. We will assist you in creating cutting-edge applications, games, and simulations that utilize this revolutionary device, while also designing intuitive and visually stunning interfaces that are sure to resonate with your users.
Our extensive expertise in metaverse development and consulting also enables us to construct and integrate metaverse solutions with Vision Pro, resulting in unparalleled immersive and virtual commerce experiences.
Don't miss out on harnessing the power of the Vision Pro headset and transforming your digital reality. Let's innovate together today.