With the advance of virtual and augmented reality in the fashion industry, it looks like we will soon enjoy a bit of a sci-fi touch dealing with outfits and make-up. The experience promised is going to spark interest even in ardent shopping haters, while fashion fans will be granted more joy and pleasure from such an experience.
eCommerce has been steadily growing over the past few years. It got its heyday with the Covid-19 outbreak. Now, almost three years later, online shopping is still flourishing, while eCommerce sales worldwide are projected to reach nearly $6 trillion in 2023 and top $7 trillion by 2025.
Even so, fashion is unlikely to become 100% touch-free as many people still enjoy visiting physical malls where they can browse and try on real clothes and just have plain fun.
Yet, it is difficult to imagine it as a long-term trend given the convenience and popularity of online shopping. That's why fashion retailers need to consider these aspects and be able to combine both offline and online shopping opportunities — and, luckily, AR/VR can assist them in attaining this objective.
Fashion retailers can use in-store augmented & virtual reality tools to cater to this kinesthetic audience while making shopping more immersive, enjoyable, and instagrammable. Increased engagement rates translate into higher brand loyalty levels and bigger sales. So it makes perfect sense for fashion brands to integrate augmented and virtual reality elements into their infrastructure.
In this article, we explore AR and VR use cases in fashion to give you an idea of what your future in-store and out-of-store experiences may look like.
Augmented vs virtual reality: what's the difference?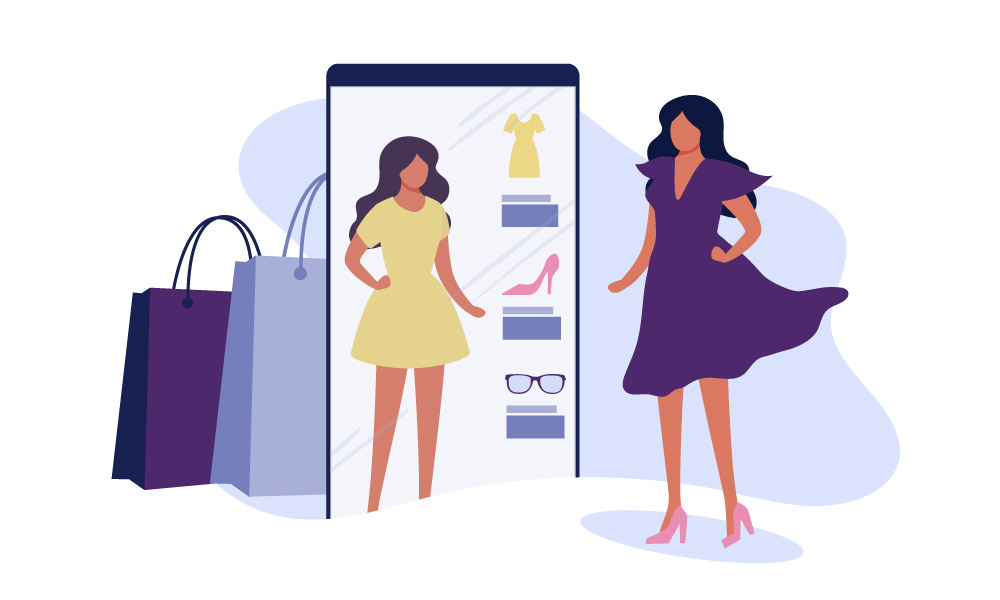 Before diving deeper, let's start with the basics by looking at how augmented reality (AR) and virtual reality (VR) differ from each other.
Augmented reality (AR) is a technology that enhances (i.e. augments) the real-life environment by adding a digital layer to it. The simplest example is a QR code that makes goods and places 'talk' to us. There are also shopping apps that let customers know more about the product or see how an item of clothing would look on them.
With AR's help, you can transform your phone or tablet into a magic 3D mirror that offers an amazing variety of new looks and can even take a funny selfie. There are also AR mirror photo booths that can serve as a new-gen fitting room. Sometimes you don't even have to install an app to have your environment augmented: you just open a URL, point your cam at an object, and see the added digital content.
Virtual reality (VR) is a reality simulator. It's not an additional layer, but a completely parallel universe. You experience an illusion of being somewhere else: it could be any place or point in time. These days VR headsets are making rapid headway in business and commerce — unsurprisingly, as they do things that look like magic. There are plenty of marketing use-cases. For instance, potential customers can have a virtual tour around the house they want to buy, or attend a 3D event, or step inside a product presentation.
How augmented and virtual reality upgrade fashion shopping
As we know, traditional shopping for clothes can be a tiresome experience. You have to drag yourself to a mall or a department store, find a place to park, and spend hours searching for the item you need. Then, you wait in line in the dressing-room area just to find out that the color or size is wrong. You have to visit several shops to find alternative garments and compare their prices and characteristics. No wonder many people welcome effortless e-shopping, which they can do from the comfort of their homes or even offices.
On the downside, when you shop online you cannot touch the product or try it on. As a result, many of us own a lot of clothes we never use because they feel bad, or look cheap, or don't fit our body type, or don't match the rest of our wardrobe. It's inevitable, when so many online retailers use photos which persuade us to buy but don't always give us a true-to-life image of a garment.
AR and VR shopping tools can deal with this problem. Apart from adding a 'wow' factor to our shopping experience, they steer us towards consuming the right goods. This approach has the potential to completely reconfigure product marketing and display, as well as customer service, warehousing, delivery, and other fashion retail processes. Businesses unable to adapt to this shift run the risk of having to close their stores — both offline and online.
How AR and VR techs benefit fashion retailers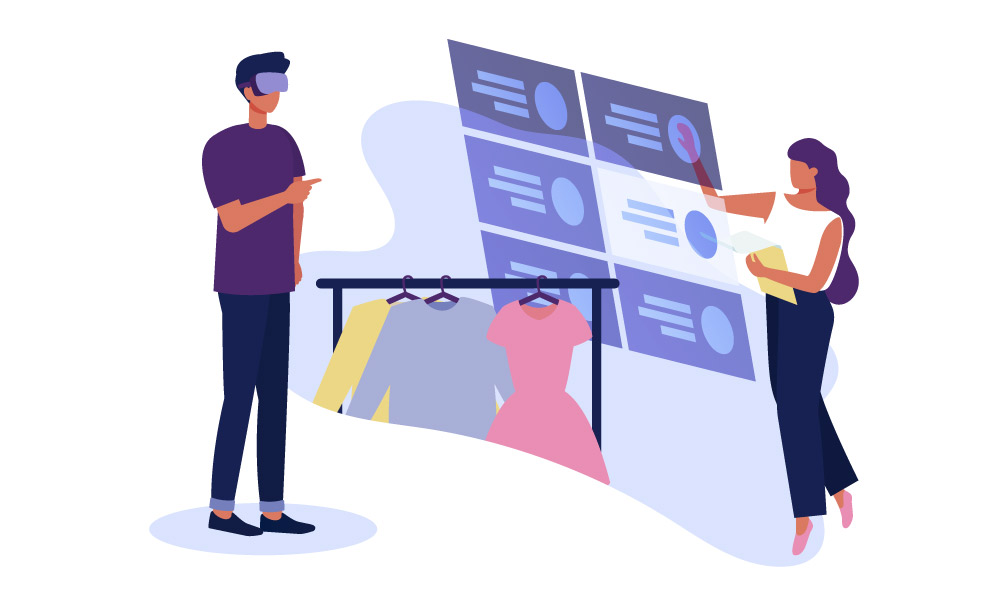 There are many points of leverage for AR and VR solutions in fashion retail, the most common being boosting customer engagement, fostering brand awareness, ensuring customer satisfaction and retention, reducing costs, and increasing sales.
Let's explore each benefit of AR/VR in fashion in greater detail.
Customer engagement
AR tools keep customers interested throughout the whole shopping process. Apart from offering digital try-ons, augmented reality apps can help us find outlets, spot suitable garments, apply funny filters and make-up, and much more.
Meanwhile, the capabilities of virtual reality and the metaverse allow customers to engage and immerse in totally new and exciting virtual dimensions and explore unique experiences there.
Fashion brands the world over have already embraced the metaverse to virtually connect with their customers, market their products, and conduct fashion shows, exhibitions, and other events. The list includes world-renowned brands such as Gucci, H&M, Burberry, and Vans.
See how our metaverse development and consulting services can help you sprint ahead of the pack
Brand awareness
Fashion companies can apply augmented and virtual reality solutions to boost their brand awareness levels.
For example, customers can use an AR app to scan the product and view the information about its unique features and advantages. Thus they are unlikely to overlook the important selling points that make the product stand apart, such as a hi-tech fabric with micro-perforation, or a water-proof outer layer, or eco-friendly cotton, or ethically produced mulberry silk.
Customer retention
A positive AR/VR shopping experience guarantees that a bigger percentage of customers will be back for another quality garment — and another dose of dopamine. They might well also recommend the augmented store/app to their real-world and social media friends. After all, everyone loves sharing great content.
Cost reduction
Many online retailers have developed a customer-friendly returns policy to make the purchase decision easier. In fashion, this marketing trick comes with extra costs, especially when a retailer covers all shipping expenses.
AR tools, though, let buyers examine a close-to-life image of the product, thus reducing the number of returns and the amount of money wasted by retailers on moving goods around.
VR, for its part, empowers fashion brands to save money on their runway shows. A real-life event is normally very expensive — but if it can be made virtual or at least augmented, all the costs will be considerably reduced.
Sales increase
AR shopping is engaging and offers a lot of extra features to play around with. This makes customers more proactive and curious. They add more clothes and accessories to their shopping cart and are less likely to have second thoughts and abandon them.
VR and metaverse, on the other hand, allow fashion brands to extend their customer base and even establish their global presence since literally anyone from any part of the world will be able to join a metaverse fashion show or exhibition.
Discover how the metaverse benefits the eCommerce sector
How AR and VR tools make the shopper's life better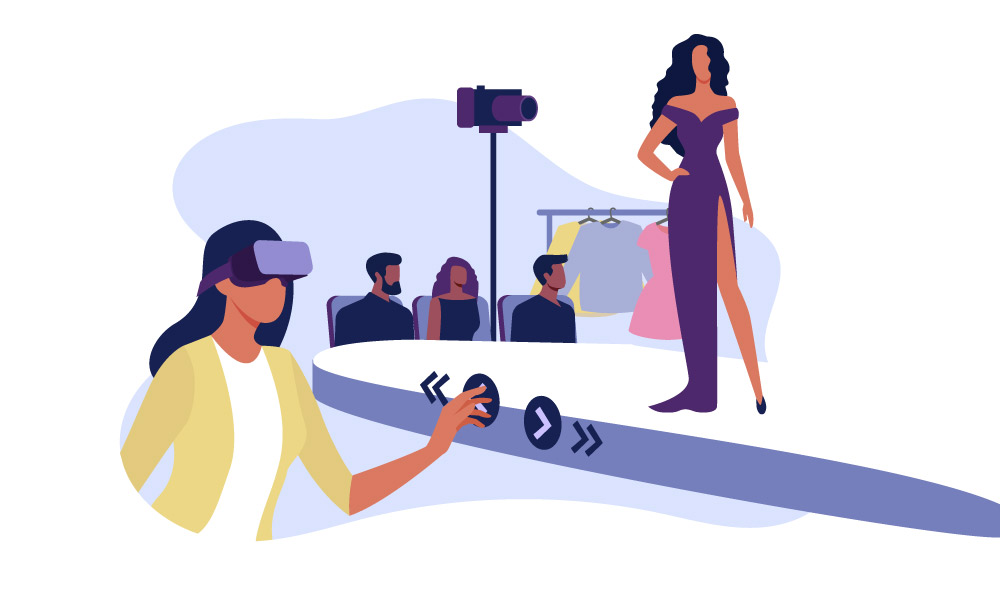 According to a recent PwC Global Consumer Insights Pulse Survey, around one-third of the VR users worldwide reported buying digital goods after testing them or browsing stores in VR while two in ten users utilized VR to obtain luxury goods.
The enthusiasm is understandable as AR/VR tools offer a wide range of exciting opportunities. Here are just some of them:
Try-before-you-buy feature
This great facility allows shoppers to avoid a discouraging dressing-room experience, save a lot of time, and try out a huge number of garments in different colors, patterns, and sizes. For those who hate the fuss and hassle of old-school shopping, a virtual dressing-room app is a game-changer.
Improving in-store navigation
Augmented reality tools make it easier for shoppers to find their way around a mall or store. Such guided shopping tours reduce uncertainty and confusion, as well as the amount of time the individual spends in the store. Meanwhile, the number of purchases goes up because in-store navigation has made shopping more precise. This feature can help you quickly find the items from your list.
Visiting a virtual show-room or a runway event
Unwilling to leave your couch? Augmented reality instruments make it possible to enjoy a catwalk view from a front-row seat or visit a virtual 3D showroom. It may be an exact copy of a real place or a totally digital environment. Anyway, you can combine the benefits of both formats and treat your senses to a novel experience.
Overcoming pre-purchase indecision
Doubts are natural when you have a choice. They can be frustrating, though.
But making an informed decision is as simple as aiming your smartphone at a garment and getting all the details you need. It's really convenient, especially if you are 'an interactive introvert' unwilling to approach a human sales-assistant for advice. You may also grow to love an app that shows how many people (including your Facebook friends) have liked the product you're eyeing up. For some people, peer pressure is a powerful purchasing driver.
Personalized shopping experience
Augmented reality apps could use your personal details to suggest the products you might love based on your recent purchase history. Again, this customer-centric approach makes targeting more precise, with all the attending benefits.
What's more, you can find the info you need faster: instead of browsing through a long list of specs on the retailers' website, you hover your cam over a specific part of the product and see what you need to know.
Designing customized goods
Before the advent of AR and VR, designing a customized outfit or an accessory took a lot of time and trouble. Customers who lacked creative vision could easily end up with a product that wasn't up to their expectations.
AR and VR solutions help to solve this problem, as they provide a customer with a virtual demo version of the product. They can see what their bag or pair of sneakers will look like in real life.
Making window shopping more fun
So far, window shopping has been all about staring. AR instruments can make this practice more interactive. People who are too shy to enter a store can still communicate with its window display to know more about the products, their specs, and prices.
Meanwhile, VR allows shoppers to immerse themselves in virtual worlds and connect directly with brands, view and walk around their showrooms, and attend special events and exhibitions.
Not only fashion: check out how virtual reality is used in employee training
Famous brands augmented: try-on apps, VR shows, and more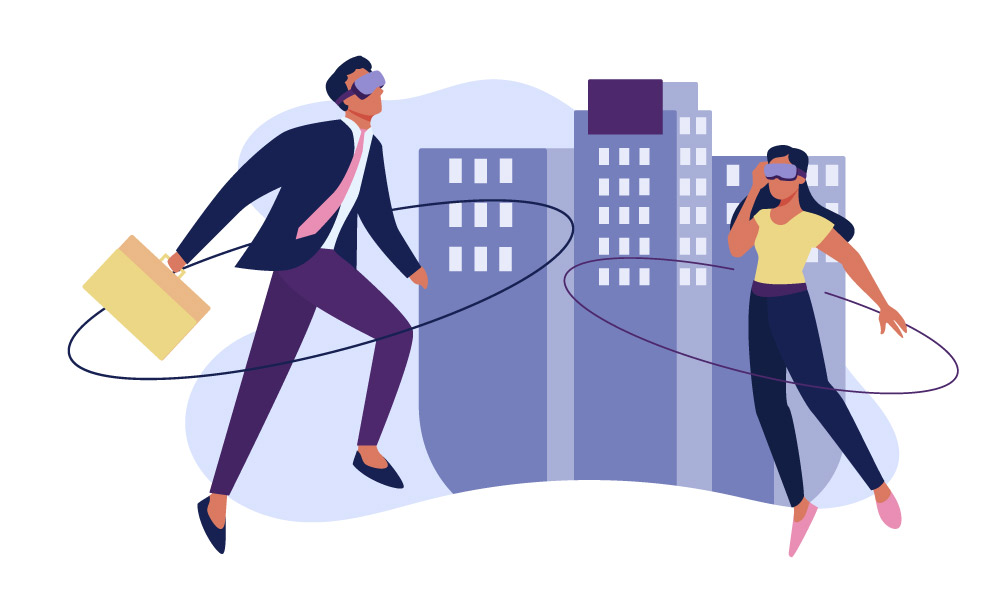 There are already many real-life examples of AR and VR being deployed for fashion retail purposes. Here is an incomplete list of the brands applying virtual and augmented reality tools for customer onboarding, engagement, and retention.
American Eagle
American Eagle has been extensively using augmented reality, offering its customers a vast array of cool shopping experiences. Recently, the company launched a resale campaign that features selected secondhand and vintage American Eagle clothing items. The collection is expected to be promoted via a shoppable augmented reality Snapchat lens, allowing Snapchat users to easily browse and view clothing in a virtual store right on their devices.
Zara
The leading Inditex brand disrupts the concept of window shopping with its 120 augmented reality displays. By holding your phone up to a special sensor, you can see a catalog model demonstrating a selected look. You can also buy a displayed item literally right through the window, by clicking on its image on the phone screen.
Beyond this, in Zara's Seoul-based store, customers can apply various lipsticks and powder brushes using a digital device equipped with AR filters.
Ralph Lauren
Back in 2021, Ralph Lauren announced a collaboration with Zepeto — a metaverse virtual game. Together they created a collection of clothes and a thematic virtual world. The users are able to try iconic Ralph Lauren looks, featuring over 50 unique items. In addition, the collection includes special items such as two limited edition skateboards.
Louis Vuitton
Louis Vuitton has been keeping up with tech trends, too. Back in 2021, the famous luxury brand turned 35 of its storefronts into magnetic shows, boasting virtual roller coasters, golden dinosaurs, and balloons, all attracting crowds of kids and adults. These work-of-art windows served no practical purpose, but they functioned really well on a deeper level by increasing brand appeal and customer loyalty.
In 2023, Louis Vuitton resorted to augmented reality again to virtually decorate world-renowned landmarks with artist Yayoi Kusama's famous dots.
H&M
H&M has been enthusiastic about leveraging AR/VR tools in its fashion campaigns.
In December 2022, the fast fashion giant partnered up with Snap to roll out augmented reality features on its mobile app that enable shoppers to try on and wear three unique garments using their cameras.
Apart from that, H&M also introduced virtual showrooms designed specifically for its Innovation Story Cherish Waste Collection where guests and press representatives can interact with each other and view the virtual garments.
Burberry
Burberry partnered up with Google to introduce a special feature that is activated from mobile web search results and lets customers integrate a company's product into their actual environment.
In addition, Burberry integrated a new augmented reality tool on its UK website to boost the sales of its signature Lola bag. AR technology simulates the in-store experience and enables Burberry's potential customers to position the bag in various live scenarios and view it from all sides.
Chanel
In 2019, Chanel organized an event called Augmented Reality Snow Globe to celebrate Christmas and engage with customers. For four days, a New York boutique hotel was turned into a festive semi-digital shopping area. Those outside the city could "attend" the event by downloading a special app or using a Snapchat lens. The show helped bring many existing and potential customers closer to the brand.
Apart from that, Chanel allows its customers to experiment with virtual try-ons on the official website. Users are encouraged to virtually apply a range of Chanel lipsticks, eyeshadows, and eyeliners, and even choose sunglasses.
Gucci
The famous luxury brand has launched Gucci Virtual 25 — a pair of colorful neon sneakers, which exist only on users' photos created with the help of AR technology. Yet, if purchased with the Gucci app, the sneakers can be used in Roblox games and the VRChat social network.
Plus, Gucci launched its own metaverse called Gucci Vault Land. This is set to become an experimental metaverse area where visitors will be able to set out on a journey through the history of the fashion label through games and NFTs.
TopShop
Topshop uses augmented reality fitting rooms for its stores. This means customers can skip a visit to a normal dressing room and instead try some new clothes without taking off the ones that they're wearing.
The fashion retailer has also set up a VR installation in its Oxford Circus flagship in London to create an immersive and shareable experience for its consumers.
L'Oreal
In 2018, L'Oreal acquired Modiface, an AR makeup app. The goal was to allow L'Oreal consumers to virtually try on various shades of makeup and hair color by applying new styles onto their faces via a mobile phone.
What's more, the cosmetics company is keen to bring its products to the metaverse to gain a competitive advantage and support startups working on AR, VR, or avatars.
Prada
The Prada Virtual Reality project is a set of videos available on popular platforms, including YouTube VR and VEER. The project takes the user on a tour around some of the most iconic Prada locations, such as Epicenter stores in Tokyo and the Fondazione Prada in Milan and Venice. The users can also take a look at some of Prada's collections, as well as to see how the shows are staged.
What does the future of AR and VR in fashion look like?
It is far from obvious that AR and VR technologies are now reshaping the world of fashion. Being once a tedious and mundane activity, shopping with AR and VR opens a new dimension for customers. With the worldwide fashion giants implementing the technologies, soon our perception of making purchases will be changed completely.
AR makeup and makeovers, VR catwalk shows, virtual fitting rooms, augmented clothing, and other exciting novelties will make shopping more of an entertainment, rather than a duty. This will facilitate the growth of customer interest in a brand, which will ultimately result in revenue boost.  Fun, curiosity, and convenience are the major drivers behind the AR & VR retail revolution.
Augmented and virtual reality are here to stay as they are meeting the new needs of retailers and buyers. When exploited to the full, they will make both customers and retailers a whole lot happier.