The virtual realm of the metaverse has brought more questions than answers. Some experts claim that it's an extended version of AR/VR while others view it as a completely new concept. So, what is the actual role of AR/VR in the metaverse?
The metaverse reality is a fast-growing trend that is already offering multiple opportunities for developers and investors. The world's biggest talents are joining together to build the digital infrastructure, tools, and technologies that will become the basis for the metaverse.
Growing interest in the metaverse has also resulted in a renewed focus on augmented reality (AR) and virtual reality (VR) technologies. It is estimated that the global AR and VR market will reach $300 billion by 2024, which means the future of AR/VR companies looks bright as well.
Can the metaverse exist without AR/VR technologies? Read on to find out. We will also discuss AR/VR real-life examples that are adding to the development of the metaverse while recommending ways to embrace it through AR/VR solutions.
What do you need to know about the metaverse?
The metaverse is a virtual space that allows people to interact with each other using a combination of software and physical hardware, such as a metaverse VR headset and controllers.
Visions for the metaverse may vary from company to company, yet the one thing they all agree on is that the metaverse is a network of real-time rendered 3D worlds where multiple users interact simultaneously. It is a simulation of the physical world where people can work, communicate, study, etc., leveraging their digital avatars.
Mark Zuckerberg, one of the current market leaders developing Meta virtual reality, believes that the metaverse will be the successor to the mobile Internet. According to Zuckerberg,
"We'll be able to feel present — like we're right there with people no matter how far apart we actually are."
The development of the metaverse is also highly influenced by advances in modern technologies, including artificial intelligence, blockchain, augmented and virtual reality, 3D reconstruction, and more. Combined, they become a great basis for the development of the metaverse.
As for market interest in the metaverse, it has already attracted many industry players, among which are Apple, Microsoft, Nvidia and Roblox. Each is focused on the development of solutions and infrastructure that will enable the deployment of future projects.
Still not sure what the metaverse is? Then browse this article to learn all about it
Does the metaverse actually need AR/VR?
As mentioned before, AR/VR technologies will be one of the cornerstones of metaverse reality. To deliver a truly unique experience, the metaverse will need to add immersive elements and deliver virtual environments that will ensure an entirely simulated experience in a digital world. And these are exactly what AR and VR technologies can do.
VR technologies will be used to deliver sensory experiences like being able to touch a specific object or move around within the virtual reality. AR technologies will add immersive elements to objects in the metaverse, for example, trying different clothes on your avatar. Combined, they will be able to deliver real communication in virtual space.
What kind of equipment will be necessary for the metaverse?
The metaverse is likely to be available through metaverse VR glasses and headsets. For example, Meta (aka Facebook) is currently working on a project codenamed "Project Cambria", which will deliver a high-end virtual and augmented reality headset. The device will include face and eye tracking to enable virtual avatars to mimic users' facial expressions while including sensors and algorithms that will help reconstruct the real world.
There are also many more VR headsets developed by market leaders, including HTC, Valve, HP, and Sony.
Along with VR headsets, companies are also investing in the development of AR glasses, viewing them as less expensive solutions for the metaverse. For example, Qualcomm is currently working on the development of methods for AR glasses to work with smartphones.
Want to know what technologies stand behind the metaverse and how to build one? Check out this article to find the answers
Why is VR important for the development of the metaverse?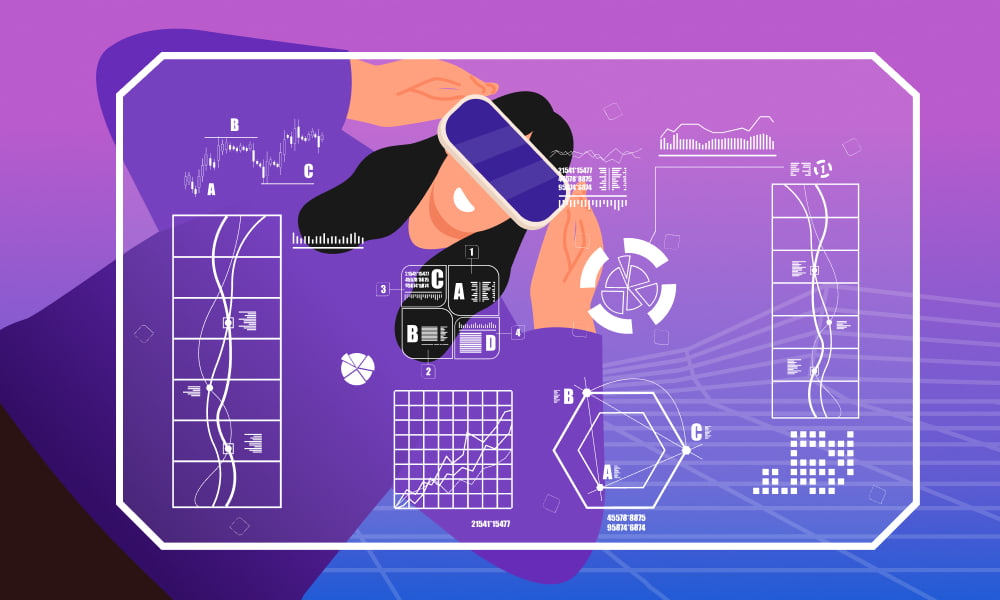 The metaverse promises to deliver a fully immersive and dynamic 3D environment. To do that it will need VR technologies that can ensure real telepresence. What does that mean in practice? It means that the line between surfing the internet and using VR will be blurred. If we take the example of remote working, VR will help provide users with a sense of real presence in a virtual meeting room.
By bridging VR and the metaverse, it will be possible to substantially change the way people visit work and school, watch concerts, go shopping, and play games. Metaverse VR headsets are likely to be used for various tasks that are usually performed with the help of smartphones, such as purchasing products or collaborating with colleagues.
VR real-life examples that can add to the development of the metaverse
Take a look below at a few examples of how VR technology is used in real life that reflect metaverse reality and could inspire your next project.
Fashion shows and events
Popular brands leverage VR technologies to create immersive virtual reality shopping experiences. For example, Tommy Hilfiger offers their customers a 360-degree experience fashion show through in-store virtual reality headsets.
In 2020, Balenciaga staged its autumn/winter collection as a VR runway show presented through Oculus Glasses. Demna Gvasalia, the creative director of Balenciaga, sent 30 members of the press a VR headset which showcased a full runway show of the brand's collection.
Charitable campaigns
Toms, a shoe company, in collaboration with VR production company Vrse, launched a Virtual Giving Trip — a donation campaign which allows people to donate a pair of shoes to children in need for every pair of shoes being purchased.
The VR headset lets them join a charitable trip and witness how children receive their shoes. With the help of VR headsets in Toms' stores, customers and partners can also virtually meet the recipients and see their homes and living conditions.
Entertainment
VR devices provide a wide range of metaverse use cases for the gaming and entertainment industry. These include watching concerts, visiting exhibitions, or even painting.
For example, the Tilt Brush app allows users to paint in 3D space with virtual reality using their rooms as their canvas. The app is supported by the majority of popular VR tools and devices, including VIVE, Oculus Quest, Windows Mixed Reality, etc.
Get to know VResorts — a VR hospitality virtual tour solution
VR and the metaverse: where is the line between them?
The terms VR and metaverse tend to be confused or used interchangeably. To make it very simple, VR is one of the key elements of the metaverse, which is a broader term. VR ensures real telepresence, helping people simplify communication in the virtual world.
The metaverse, on the other hand, pursues a more global mission, which is to connect people from all over the world through a virtual, shared, and multifunctional universe. It wants not only to enable virtual communication but to entirely change the way people connect with each other by bridging the physical and virtual worlds while ensuring transparency and security.
The role of AR in the development of the metaverse reality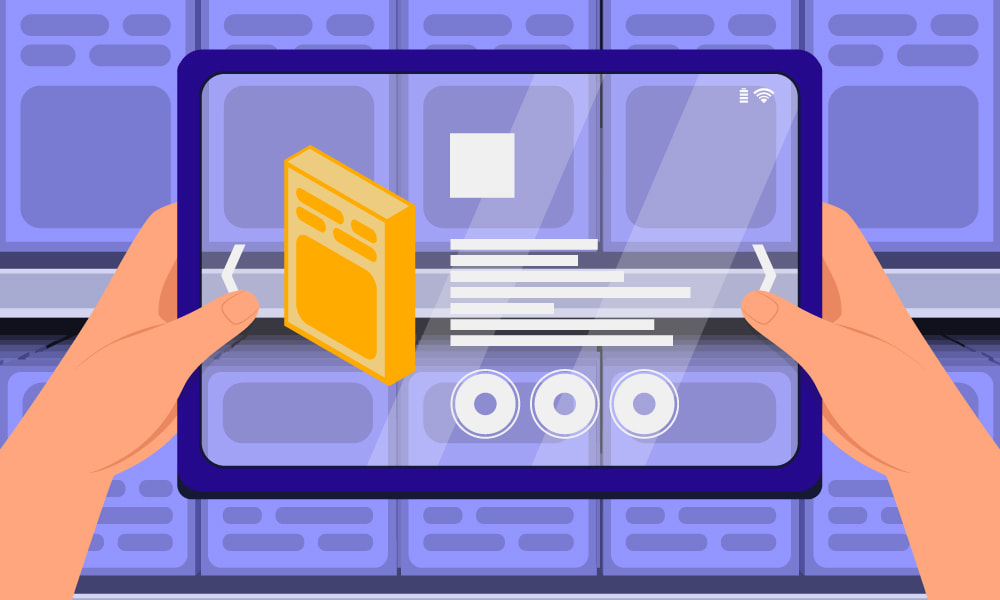 Augmented reality provides users with a live view of a physical environment and extends it with digital sensory input like graphics and video, etc. AR apps allow users to see the actual environment and make virtual changes to it using their smartphones and smart glasses.
Proponents of metaverse AR solutions claim that the metaverse will become the synthesis of the physical and digital worlds. No wonder companies like Niantic, the AR platform behind Pokemon Go, are valued at $9 billion by investors.
AR real-life examples that can add to the development of the metaverse
Many investors and developers are currently placing their bets on the AR metaverse. Below are some successful examples of AR being applied.
IKEA Place
IKEA Place is an augmented reality smartphone app that enables users to place IKEA furniture into their homes, thus helping them visualize how it will look in their setting. From beds and sofas to desks and coffee tables, 2000+ products are presented in 3D.
Along with placing IKEA furniture in a room, users can also capture the setting in the app and share it as an image or video with their friends. Then they can purchase the items they like best through their local IKEA website.
Pokemon Go
This list wouldn't be complete without the most talked about AR app that has grabbed the public's attention, keeping all of us addicted to our smartphones. Pokemon Go was first introduced in 2016 and quickly became a global phenomenon. In 2019, it surpassed one billion total downloads and in 2020, the game made $1.23 billion in revenue.
The main goal of the game is to "catch" game characters that can be found in the real world. And the use of AR helps ensure a more authentic and engaging experience for users.
BMW Individual AR app
BMW has developed an AR app that allows consumers to design a BMW Individual 7 Series vehicle according to their preferences. It features a life-size view of the car that can be pictured in any place, like in front of the user's garage, and provides multiple options to choose from.
The BMW Individual AR app enables users to walk around the virtual car and view all the necessary details, thus receiving actionable insights regarding future purchases.
Take a look at our project for BMW — iBeacon-enabled web and mobile IoT applications for workflow management
How can your business apply AR/VR technologies for the metaverse now?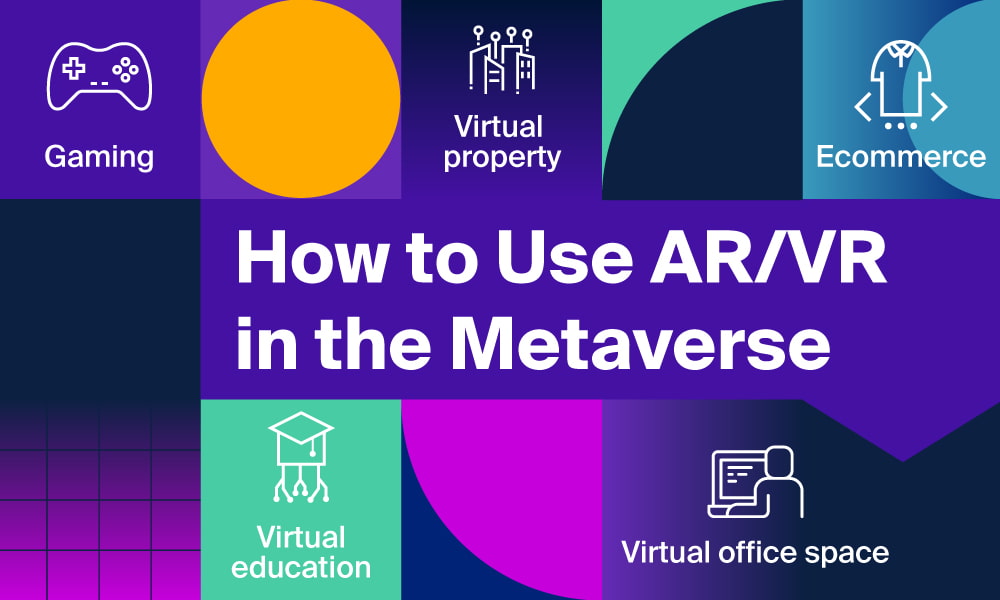 AR and VR technologies will undoubtedly form the major building blocks for the development of solutions for the metaverse. Virtual workplace and education, virtual real estate, gaming, and eCommerce are probably the most promising niches to pay attention to right now.
Virtual office space
Companies believe that metaverse reality will largely be driven by the virtual workplace. Modern workers do not want to be in the office in-person full time, which makes companies want to improve remote and hybrid work through the creation of digital spaces where you can work as some form of avatar.
This is where the metaverse is also heading — enabling people to work, build products, and share ideas in an interconnected network. Virtual reality meeting rooms enhanced by VR and AR technologies can make it possible.
It may be hard to imagine employees sitting in a virtual room all day. But many companies and startups like Gather and Teamflow began developing such solutions even before the word "metaverse" took off. Their concepts vary. Whereas Gather resembles an old-school video game with pixelated characters, Teamflow presents users as floating circles of videos moving around the office.
Both startups received serious investment. For example, Gather, launched in May 2020, managed to raise $77 million while Teamflow has raised $50 million since its January 2021 launch.
As for the industry's big players, Microsoft and Meta are currently ahead of the game. The first of these plans to integrate its VR/AR platform Mesh with Microsoft Teams to create immersive spaces while the latter built Horizon Workrooms to hold interactive meetings with the help of Oculus headsets.
Virtual education
Have you ever imagined visiting the Oval Office during a history lesson or viewing planets up close while learning astronomy? VR can make it possible for students in virtual classes.
Just like with virtual work, the metaverse creates extraordinary opportunities for online learning and training, enabling users to acquire new skills in a virtual environment.
The biggest strength of both VR and the metaverse is that it makes it possible for people at a distance to feel like they're physically near to each other, so it is likely that the metaverse will include virtual classes and learning groups.
And while the concept of the metaverse is still under development, companies and organizations are investing heavily in AR/VR-based software to improve virtual learning.
For example, the Optima Classical Academy, a charter school in the United States, has announced the establishment of a virtual school by August 2022. It will equip its students with Oculus headsets, thus enabling them to participate in virtual lessons. Students will be able to choose a specific course of studies as well as select lessons and tasks that will be scheduled as live VR lessons.
Check out the Treadwater app that applies AR to let users interact with printed characters
Virtual property
Virtual real estate is another prominent AR/VR application that companies and developers actively promote. Indeed, consumers are already involved in buying and selling properties in virtual realities.
For example, an AR-based game, Landlord Go, allows users to purchase and sell homes to make revenue. In 2020, there were already more than 90k players making virtual deals in the game.
You've probably also heard about the crazy sales that occur on Decentraland — the virtual world where people can buy and sell land, estates, etc. In 2021, a digital plot of land was sold to a Canadian investment company for $2.5 million.
Judging by the examples above, virtual property will become a very lucrative niche for both software developers and investors looking towards VR and the metaverse.
Gaming
VR software has been powering gaming platforms for a long time, providing players with a realistic experience through 3D images and VR headsets. And the advent of the metaverse will go even further by providing a fully immersive experience.
As for the popular games that apply VR to enhance user experience, we cannot but mention Fortnite — a VR game and event destination bundled into a single solution. It provides its players with the ability to enjoy the Battle Royal mode in virtual reality. In 2020, there were 350 million registered Fornite players and in the same year their total mobile revenue reached $1.1 billion.
Another interesting project is NeosVR — a game engine, an operating system, and a chat room with the ultimate goal of being the metaverse. It provides all the tools and resources needed for all types of project and includes support for VR devices.
eCommerce
The advances in AR/VR development have contributed to the creation of new opportunities for eCommerce brands, such as virtual try-ons and virtual fitting rooms.
VR technologies have transformed eCommerce from static product catalogs to interactive real-time experiences, enabling consumers to walk around the store and choose products without actually leaving their house.
Advances in metaverse development have led to even more impressive results, with many retailers and fashion brands jumping in. For example, Burberry, in collaboration with Elle Digital in Japan, allows its consumers to shop in a digital version of one of their stores.
In 2021, Charlotte Tilbury launched a fully functioning aspect of the metaverse — Virtual Beauty Gifting Wonderland. The project allows its visitors to receive virtual beauty consultations and shop with friends via an integrated video.
Learn about the most promising metaverse use cases across different industries
Ways to invest in the metaverse right now
Want to embrace trending technologies like AR/VR and the broader trend towards metaverse reality? We recommend you start with the following:
Consumer tech. To enter the metaverse, you could start with the development of products that will allow users to interact in the virtual world. For example, VR headsets can be overlaid with a smartphone camera. Communication and streaming platforms can also add to the development of virtual worlds.
Game development. Investing in metaverse gaming seems a safe choice, with this market currently at a high peak. Sandbox, Axie Infinity, Star Atlas and Decentraland are just a few popular examples. Axie Infinity alone generated approximately $1.3 billion in revenue over 2021.
Cybersecurity solutions. As a digitally connected world, the metaverse is likely to face vulnerabilities and cyberthreats. That is why it will need a secure infrastructure to ensure safe interaction for all its participants. This all provides ample opportunities for companies that develop cybersecurity solutions. Therefore, we recommend you to take this chance to jump on the bandwagon.
The future of the metaverse
The development of the metaverse is a challenging process that requires a solid and secure infrastructure. Interoperability is likely to be the key issue that may restrain the implementation of metaverse reality. For example, when a user wants to shop in the metaverse, they should be able to do it throughout the entire ecosystem, not just in a stand-alone game.
Data synchronization will be another challenge for companies since the metaverse will need to process large volumes of data while meeting the security needs of all users.
At the same time, despite the issues mentioned, VR and AR technologies can establish highly favorable conditions for creating the metaverse or similar projects. This is why tech giants like Microsoft and Meta are making considerable investments in these technologies.
Want to create a VR app or implement AR features to meet the growing demand in the metaverse market? Or perhaps you need advice on how to build a metaverse-like product? Contact our talented metaverse developers and consultants. With 450+ successful projects behind us, we can convert your ideas into groundbreaking projects.