Virtual and augmented reality are providing practical solutions to the challenges faced by the healthcare industry. But what does the future have in store for the adoption of these technologies in the medical field?
Virtual reality (VR) and augmented reality (AR) can both be thought of as innovative systems of vision that have changed the way we experience the world around us.
In 2020, the global virtual reality in healthcare market was estimated to be worth $885.7 million. The following year, however, saw a sharp increase, with the market projected to grow from $1,206.6 billion to $11,657.8 billion in 2028.
During the COVID-19 pandemic, the demand for virtual reality tools in healthcare skyrocketed, prompting a rush for better and more advanced healthcare devices. Unlike in other areas where AR/VR deployment appears to be more of an icing on the cake (most notably in entertainment), VR/AR technologies in healthcare have the potential to be invaluable for successful patient outcomes.
How can VR be used in healthcare?
Virtual reality is a field of applied research with very intriguing prospects. Healthcare has already plunged into this three-dimensional world, making a positive difference to both patients' lives and physicians' work, bridging the gap between theory and practice.
VR technology is currently being used in a wide range of healthcare settings and applications, including medical training for doctors and students, the treatment of patients, and raising awareness of people about a disease, medical condition or process.
Moreover, virtual reality allows the user to move around and interact with a fully computer-generated environment. Immersion and involvement are critical for successful therapy, yet they are sometimes overlooked, seen as having only a minor impact in the overall scheme of things.
How does AR fit healthcare?
Augmented reality is a visually stunning immersive technology that works by superimposing digital content on top of the actual environment.
AR technology has evolved into a creative tool with practical uses across a broad range of sectors, including healthcare — in particular due to the development of accessible and affordable hardware and advances in the creation of photo realistic and high quality content.
AR technologies have a clear advantage during procedures since the clinician can maintain their eyes on the patient and don't get absorbed in a virtual environment, although the lack of interaction with augmented objects does limit the reach of this technology in the medical field. Even so, as the technology advances the number of AR healthcare applications will surely expand accordingly.
Ever heard of XR? Read our article to discover what the technology is about
What is the current state and market potential of AR and VR in healthcare?
The pandemic caused the entire planet to go virtual. With an increasing number of startups entering the field and offering a variety of hardware and software that target various areas of healthcare, the scope of AR and VR applications is constantly expanding.
An analysis from MarketsandMarkets examined the expected growth of AR and VR in healthcare from 2017 to 2025 and has concluded that a combined annual growth rate of 30.7% can be expected. This indicates that AR and VR in healthcare aren't simply a flash in the pan: they're here to stay.
The North American market, valued at $477 million in 2018, is estimated to reach $5 billion by 2025. And that's no surprise, given that virtual reality will be used in the medical industry for physician training, therapy, and hospital management. Moreover, factors such as support for healthcare IT infrastructure, higher use of sophisticated technologies, major VC funding, the existence of a big number of AR/VR companies/startups in the US, and favorable government actions are all helping to drive growth in this region.
In Europe, the shortage of trained VR and AR specialists is a challenge, but the continent is catching up quickly, and countries such as France, Germany, the United Kingdom, Sweden, the Netherlands and Italy are set to offer significant growth potential for AR and VR in healthcare. The European Commission launched "The Virtual and Augmented Reality Industrial Coalition" in 2020 as part of its digital strategy, a forum for structured discussion between the European VR/AR ecosystem and policymakers.
In terms of AR and VR market segmentation, the market is divided into the following groups, based on the level of engagement with reality and the technologies employed:
Mobile AR
Monocular AR
Binocular AR
Fully Immersive VR
Semi-Immersive VR
Non-Immersive VR
As a result of technological progress and the benefits of their implementation in the healthcare system, each of these segments is expected to grow on a local and international scale in the coming years. Key industry companies such as Oculus VR, Google, Microsoft, 3D System Inc., Hologic Inc.are already pushing innovations forward.
Real-life applications of AR and VR in healthcare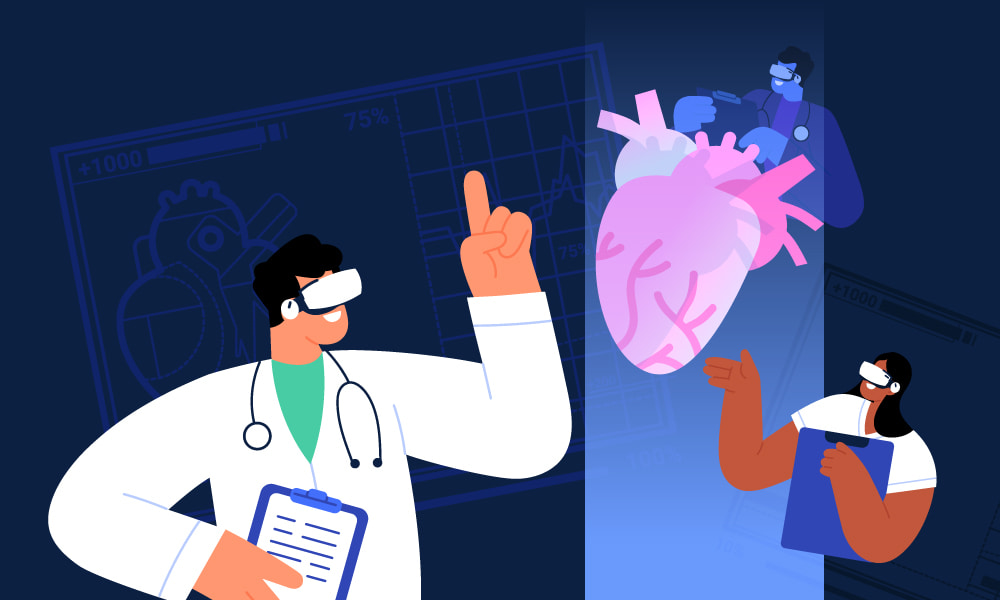 VR and AR technology in healthcare has been hailed as the future of medicine. As discussed, there are plenty of sound reasons to support this claim. Let's now delve into some of these compelling examples and look at their positive impacts.
Medical training and education
In the face of a global pandemic, the adoption of AR and VR technologies has proven to be a critical tool for improving medical education. While augmented and virtual reality do not replace traditional training in healthcare, they do provide a significant advantage.
Surgical training platforms like FundamentalVR have allowed surgeons to rehearse, practice, and perfect their surgical procedures in a controlled environment with tactile feedback provided by haptic elements. Although the company has developed a lot of virtual reality simulations, it also has AR technology based on Microsoft's HoloLens, enabling users to collaborate during simulations.
Microsoft's HoloLens device has also been tailored for use with the HoloAnatomy app, the first AR healthcare educational application providing students with a digitized, interactive anatomy curriculum. It uses mixed reality technology that assists the detailed and interactive study of human anatomy. By providing seamless access to the tiniest components of the human body, HoloAnatomy is of outstanding value to medical students and practitioners.
Learn more about AR and VR applications in education and training
In-hospital and remote surgery
During the projected period 2021-2031, the worldwide surgical robotics market is expected to rise at a robust CAGR of 10.2%. In terms of revenue, the surgical robots market generated $5.46 billion in 2020 and is expected to reach $16.77 billion by 2031.
Despite the inherent risks associated with human error and mechanical issues, robotic surgery represents a paradigm shift in minimally invasive surgery, one which has resulted in increased competitiveness. AngioDynamics, Titan Medical, CMR Surgical, Johnson & Johnson, Auris Health, and Medtronic, to mention a few, are competing with investors' favorite Vicarious Surgical.
The Vicarious Surgical robot-assisted surgery technology is intended to imitate the surgeon's upper-body joints, allowing them full access to the abdominal cavity with only a 1.5-cm incision.The camera moves in sync with the surgeon's head movements, creating a totally immersive experience.
The company offers technological advantages over conventional robotic platforms that to date have worked to improve the comfort of procedures for both patients and doctors.
Remote consultations and patient care
The immersion factor of AR/VR technologies has opened the door to encompass new treatment strategies. XRHealth was the first company to develop virtual reality clinics that give remote care to patients across the United States, and it is covered by most major health insurance companies including Medicare. Virtual support groups, where patients with comparable diseases can connect anonymously and remotely with expert physicians monitoring the group, represent one of the distinctive elements of VR therapy.
Karuna Labs is using evidence-based approaches to treat chronic pain through virtual reality simulations. The solutions offer patients at-home and local clinic programs that address chronic pain and help to "unlearn" it. Using a combination of physical and cognitive retraining, the brain is 're-taught' to see painful movements from a different perspective, sparing the body from feeling any further pain.
As part of a pilot study, patients undergoing surgery at St George's Hospital in London had the option of wearing a virtual reality headset prior to and during their procedure which would allow them to enjoy relaxing landscapes. The feedback was overwhelmingly positive. Wearing the headset improved the overall hospital experience for 100% of the participants, and 94% indicated it made them feel more relaxed. Furthermore, 80% stated they experienced less discomfort and 73% indicated they felt less worried after putting on the headset.
Improved diagnosis and treatment
Visual-driven technology such as X-rays and CT scans are common in the healthcare industry; they assist medical practitioners in detecting, diagnosing and treating patients by allowing them to look deep within their patients' bodies.
Augmented reality is building on these established technologies to create accurate and realistic 3D images that can be accessed and scrutinized by practitioners via augmented reality hardware.
These days, nurses and doctors can use augmented reality to improve vein detection. AR-driven technologies such as Accuvein use a portable, handheld device that houses a laser-based scanner, processing system, and digital laser projection. This allows practitioners not only to see a virtual real-time image of the underlying vasculature beneath the skin's surface, but helps them to detect veins more efficiently and provides advice on how to give intravenous injections with the least amount of discomfort to the patient.
Take a look at AIRA — a break-through tool for retina disease diagnosis
Improved physical therapy and rehabilitation
Time is of the essence for people who have survived traumatic injuries. The sooner they begin therapy, the greater the chance that they will restore lost functions.
For cases like these, Neuro Rehab VR uses a gamified approach to physical rehabilitation. The company develops VR training exercises with machine learning in collaboration with physicians and therapists, adapting each activity to the therapeutic needs of patients. The goal is to promote patient participation by making physical therapy more fun.
The fun factor becomes even more important when it's a case of VR's potential to aid functional development in children.
According to recent findings, researchers discovered that children with cerebral palsy experienced a significant improvement in their mobility after VR therapy. The study's authors suggested that this method should be combined with traditional rehabilitation techniques to improve outcomes.
Emergency navigation
Healthcare Apps can also benefit from augmented reality. For example, the AED4EU app, when used in conjunction with Layar reality browser, the first mobile augmented reality browser to hit the market, allows users to add locations where automated external defibrillators, or AEDs can be found.
As a result, augmented reality provides critical information to those in need — they simply have to reach for their phone.
VR as an empathy tool for doctors
Some hospital systems use virtual reality simulations to assist clinicians in establishing sympathetic relationships with their patients. Doctors can be more engaged with their patients' needs and better grasp what it's like to be in their patients' shoes by using VR as a tool for empathy.
In a study at the University of New England, virtual reality was used to simulate age-related disorders. According to the findings, VR enhanced students' comprehension of age-related health issues and boosted empathy for older people with visual and hearing loss or Alzheimer's disease.
Researchers at the University of Michigan tackled the empathy problem by using revolutionary virtual human technology called MPathic-VR. Students utilized the program to practice communication skills with a virtual human in real time, which proved to be very helpful when delivering difficult news.
Tools for building AR/VR based apps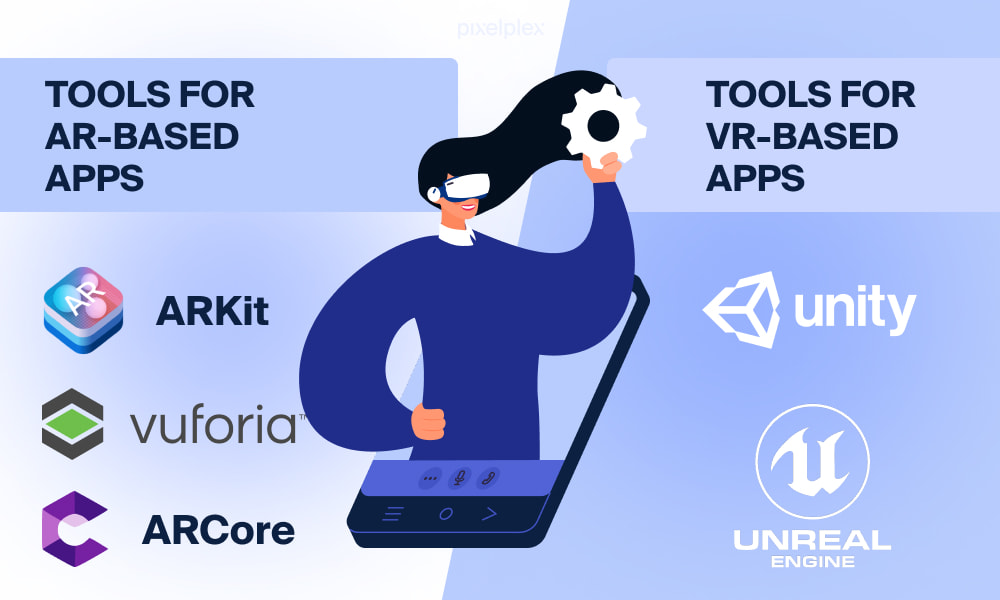 The architecture of VR applications in healthcare largely depends on their specific use in the industry. However, there are components that are always included in the general design:
a client VR application (with a VR visualization module)
a database (with 3D models, scenarios, and users)
a web administration panel that grants access to and control of both the app and the database
While a number of  technologies make it possible to build immersive mobile apps, there are a few tools that stand out:
ARKit & ARCore are frameworks that allow programmers to create augmented reality mobile apps for iOS and Android respectively, including augmented reality apps for healthcare. Thanks to ARKit and ARCore, mobile phones can sense their location in the physical environment. As a result you can show static or animated 3D models when the user's phone is in a specified position and environment.
Vuforia, which is also one of the most popular SDKs for developing Augmented Reality Apps, comes with features such as image and object recognition, extended tracking, and ground plane, while supporting both cloud and local storage.
When it comes to VR projects, Unity is one of the most powerful engines used to render the 3D elements superimposed in AR experiences. Its main benefit is that it enables developers to design experiences across a variety of platforms, including iOS, Android, Windows, Mac OS X, and Linux.
Unreal Engine is one more example. Just like Unity systems, Unreal Engine has a variety of tried-and-true virtual reality and augmented reality developer tools that are designed to handle any task.
What is webAR? Check out our detailed overview
Challenges in expanding VR programs in healthcare
In the context of COVID-19, much attention has been paid to 5G's potential to support telehealth services such as online doctor consultations, and to the advantages these services bring when social distancing is necessary or when patients are located far from healthcare facilities.
By combining 5G with other cutting-edge technologies, we will be able to alter many areas of patient care while also sparking the formation of a whole new healthcare ecosystem, one that will be more connected, intelligent, and resource efficient than any existing system. Access to 5G networks and 5G-enabled devices is the chief obstacle to the widespread use of AR and VR in healthcare. There are, however, other challenges to overcome too: general resource imbalances, as well as institutional, cultural, and technological restrictions, may cause certain organizations to fall further behind.
Apart from access to 5G networks, developing and establishing VR programs requires high-quality hardware, high-resolution monitors, efficient graphics cards, and accurate tracking systems. Other non-technological factors for the successful implementation of VR/AR technology depend on the training of end-users as well as forming a positive attitude towards the implementation of these technological tools.
What will affect the AR and VR app cost?
To determine the cost of an AR/VR app you need to:
acquire the relevant input data
conduct a business analysis
work out the UX/UI design and architecture
The other factors affecting the cost are:
Type of AR app: market-based, visual odometry-based, or location-based
Type of SDK and the supported platforms
Maturity level (minimum viable product or ready-to-market)
The specific number of features it will have
Linking the new VR/AR into existing systems
Total number of test projects
AI/ML implementation
Use of hardware and related expenses
Use of technologies and solutions that are in compliance with local laws and regulations
While all these will influence the price of your AR/VR software, the final figure will be determined by overall objectives.
What does the future hold for AR and VR in healthcare?
The stakes in the healthcare industry are the highest. After all, it's human life on the line. The deployment of the most advanced cutting-edge solutions is critical to the healthcare system's efficacy. More than any other industry, health care is open to new technologies, as a result of interest, involvement, and funding from the public sector.
However, 'Do No Harm' is one of the fundamentals of any healthcare philosophy. It's vital to come up with viable answers to a problem and keep them within reasonable limits to avoid any potential direct or indirect harm.
From developing the skills of the next generation of medical practitioners to enhancing the detection, diagnosis, and treatment of illnesses, augmented reality has the potential to have a positive impact across the healthcare sector. In the case of virtual reality applications, it's also worth mentioning that every VR solution for health care contributes to the study of VR's long-term effects, making it a win-win situation for everyone.
VR/AR technology is drastically changing the healthcare industry. If you want to explore this exciting field for yourself, PixelPlex developers will be your perfect companion. We have a wealth of relevant, hands-on experience. Share your ideas with us and prepare to immerse in a completely different world.