The recent pandemic presented something of a litmus test for governments worldwide. It forced governments to rethink the state's role and sent them on a digital transformation journey that would ensure both efficiency and scalability.
The COVID-19 pandemic boosted the importance of eGovernment and digital technologies for communication and collaboration among citizens, policymakers and the private sector. This transformation becomes most evident when we look at how government agencies have digitized their services and enhanced their online presence.
A recent review by the United Nations shows how the eGovernment development index (EGDI) has progressed among governments across the globe as they shift to the digitization of services. At the regional level, 35 of the 60 countries in the very high EGDI group are in Europe, 15 are in Asia, 8 are in the Americas, and 2 are in Oceania.
McKinsey, on the other hand, estimates that more than 60% of the work done by public administration officials to deliver services could be automated.
Read on to find out what digital transformation in government implies, what benefits and limitations are involved in the process, and what points to consider when making these changes.
What is digital transformation in government?
Digital transformation in government is the process of leveraging technology to improve government operations and create a better overall experience for citizens and businesses interacting with government offices. The process aims to build a more transparent, efficient, and responsive public sector that can satisfy citizens' national and local requirements.
Government digital transformation can take many forms, including replacing outdated systems or developing modern digital platforms. Both of these scenarios imply the implementation of the latest technologies. The most prominent tech that governments are using these days are:
Hybrid cloud computing: This refers to one or more public and private cloud services that function as separate but integrated entities, combining the public cloud's cost optimization, agility, and scalability with the management and compliance of the private cloud.
Data sharing: Many countries focus on providing access to public sector data, including open government data, geo-data (e.g. maps), and transportation data. Similarly, they also emphasize data sharing within the public sector. In addition, countries are building on their open data access policies and strategies to promote data access and sharing for AI.
Norway, for example, has established a national directory of data supplied by different public agencies. The directory provides an overview of the data that each agency possesses and also how it is shared across government, as well as datasets that are made publicly available.
AI/ML technology: Artificial intelligence and machine learning promise to make government services more agile, efficient, and user-friendly.
Additionally, AI and ML can also help deliver personalized services to citizens.  An example can be found in Finland. Using the AuroraAI service model, a network of different smart services and applications, organizations from various sectors of society will provide resources for future service needs and allow citizens to access high-quality, 24/7 digital services.
Explore our AI development services and see what we can offer your business
In recent years, a number of governments have made significant progress in digitizing services for citizens through these technologies. For example, the UK Government Digital Service successfully migrated departmental publishing onto the GOV.UK platform and digitized services, including passport and driver's license applications.
What's more, Estonia's tax-filing system has allowed around 98% of its residents to file all their tax declarations electronically.
What are the benefits of digital transformation for governments?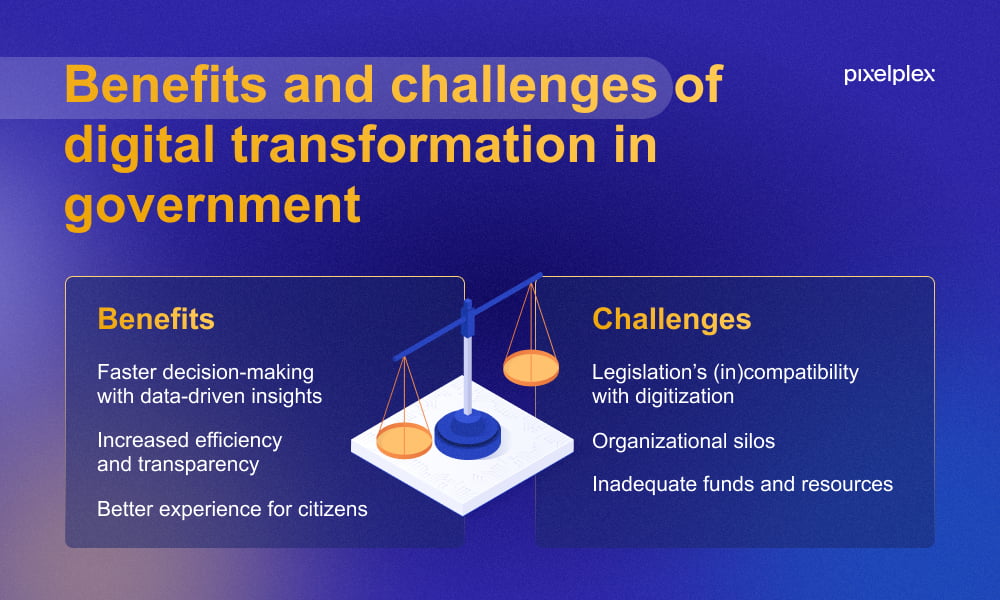 The benefits of digital transformation in government include faster decision-making with data-driven insights, increased efficiency and transparency, and a better experience for citizens. Let's take a closer look at each of them.
Faster decision-making with data-driven insights
Slow processes and overreliance on manual work are often the underlying causes of public sector inefficiency. By implementing modern software, governments can replace outdated manual processes with automated workflows and allow employees to focus on high-priority tasks.
Moreover, real-time access to documents and data means caseworkers can use mobile devices to check and update information. This ensures that data is not stored and forgotten about but is actively used to allow better decision-making at all levels.
Increased efficiency and transparency
Automated workflows increase transparency by automatically notifying citizens as each step of a government process is completed. Putting data in publicly searchable databases also saves government organizations time and money that would have been spent on responding to open data requests.
Document management automation can also eliminate repetitive tasks and streamline workflows, reducing the need for manual data entry.
Furthermore, thanks to centralized documents all departments can work together with the same information. As a result, data and information silos are eliminated, facilitating seamless interdepartmental collaboration.
Better experience for citizens
With digital savviness on the rise, more and more people now expect organizations in the public sector to deliver digital services in a virtual setting. By digitizing services such as license and permit renewals, government sectors improve both process efficiency and their reputation among people using their services.
Learn what digital transformation in enterprises is about and what benefits it brings
What are the challenges for digital transformation in government services?
Governmental agencies often experience some problems when modernizing their systems. These include the (in)compatibility of legislation, organizational silos, and inadequate allocation of funds and resources. We will now look more closely at these challenges.
Legislation and (in)compatibility with digitization
The dynamic nature of digital technologies can affect and cut across multiple governmental sectors. The regulatory approach is no longer solely determined by the sectoral authority specializing in telecommunications: data protection, consumer protection, and competition regulatory authorities all have responsibilities.
Meanwhile, the push to accelerate digital transformation has also uncovered challenges involving the legislation's compatibility with digitization efforts.
Managing this complex web of relationships requires a holistic view of digital policy. Denmark is paving the way. Specifically, the Agency for Digital Government reviews proposed legislation against seven principles and submits its findings to the Danish parliament before a bill is considered.
Organizational silos
Many governmental agencies operate in silos, with little cross-departmental communication and collaboration. Organizational silos are a constant concern because they affect every part of a successful digital transformation, from strategy to funding to implementation. Successful digital transformation requires coordinated efforts across diverse teams and agencies to deliver cross-silo digital initiatives.
Inadequate funds and resources
Undertaking digital transformation calls for significant financial and human resources. Insufficient budgets can be a symptom of siloed strategies and decision-making, but they can also result from the perception of technology expenditure as an operational rather than a strategic investment.
Even so, digital transformation does not really end with the implementation of new technology, and the problem is that governments do not always have a clear enough understanding of the objectives of the transformation to ensure that the right changes are made or the necessary funds are invested.
Turn to our IT consulting services IT consulting services to learn how to best navigate your digital transformation
5 key trends of digital transformation in government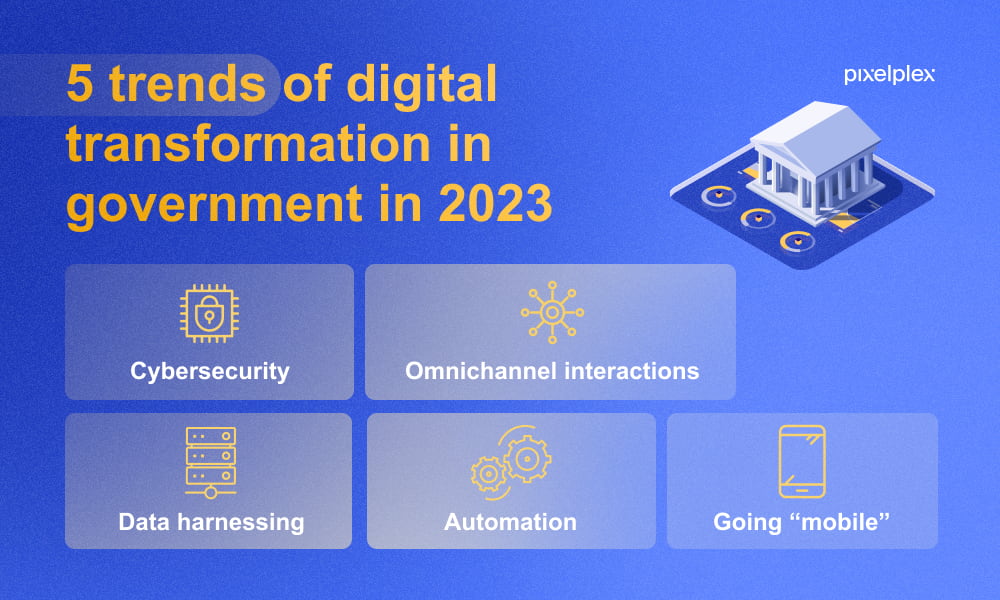 The following are some of the top digital transformation trends affecting various industries, including local, state, and federal government agencies.
Cybersecurity
Government organizations retain much more data than the private sector and frequently do so on less secure platforms. Hence government agencies need to be incredibly diligent in ramping up their security efforts.
Protecting your organization's information in a digitally connected world requires an understanding of your organization's immediate supply chain and also the extended supply chains of third-party vendors, customers, and service providers.
For example, the US Department of Homeland Security and its components lead in strengthening cybersecurity resilience across the nation and sectors. With a DevOps approach, the agency hopes to close gaps between contracting partners and agencies as they address cyber security liabilities in their IT equipment. This allows them to identify potential risks early on and take action before they become a problem.
Omnichannel interactions
A unified omnichannel experience paves the way for a seamless exchange of information between citizens and public services. Especially in the COVID-19 pandemic, the ability to unify experiences across various digital channels is a valuable tool for governments when it comes to tracking the needs of their citizens and handling critical emergencies.
Under circumstances like these, government agencies cannot focus on just one target audience group. Instead, the target pool is made up of the citizens, who of course come from diverse backgrounds.
A Total Experience (TX) approach becomes critical if governmental departments want to effectively coordinate among themselves and pool critical data to open up avenues for data-driven opportunities. Eliminating a 'one-size-fits-all' approach in favor of an omnichannel experience tailored to each citizen's specific demands will help build citizens' trust in public services.
Data harnessing
The United Kingdom will emerge as a clear leader when using data to fuel economic growth for example in programs such as the North Sea Transition Authority (NSTA) notably with respect to the data sharing they are doing with oil and gas companies. This is helping to transform the UK offshore energy industry.
The Department for Environment, Food & Rural Affairs (DEFRA) is also making globally game-changing moves in the agricultural sector in the matter of data, by using blockchain technology to track animal movements and working with farmers to optimize their crops through the use of data and drones.
The department believes that making this information resource more accessible will be crucial to unlocking its strategic objective of providing stakeholders with evidence and informing future decision-making. Better data will result in better decisions.
Automation
The internal process for documenting and preparing for public meetings often involves manually routing paper documents through weeks-long review and approval processes.
To this end, many municipal governments are implementing digital technologies to automate the management and tracking of government records. Napa County, California, for example, is adopting software to automate the processing of county documents related to financial disclosures for elected officials. As a result, they can focus on higher-priority work by replacing what was previously manual and time-consuming with a digital alternative.
Going "mobile"
The growth of mobile devices and apps presents new opportunities for the public sector. According to PEW research, nearly every person surveyed across 18 advanced economies reports owning a mobile phone. A median of 85% say they own a smartphone, while 11% own a mobile phone that is not a smartphone and only 3% do not own a phone.
The proliferation of mobile phones is thus narrowing the digital divide with respect to access to online services. And whereas eGovernment enables anytime access to public e-services, the mobile government provides "anytime, anywhere" services from any location.
Tips on how to successfully undergo digital transformation in government
Digital transformation in government is not a linear process, and of course no prototype can be developed. However, some points do need to be considered by any governmental institution willing to introduce changes.
Put security and flexibility first: Governments must deploy a technology infrastructure that balances security and privacy needs with flexible, scalable capabilities. This entails implementing a robust cybersecurity strategy, embracing highly secure tech like cloud and blockchain, and using agile and DevSecOps methodologies.
Prioritize citizens, their safety, and convenience: Solutions should be created with citizens' experience in mind. Accessibility should be anywhere, anytime, and from any device. Constituents don't care about organizational charts, nor do they want to hop from one agency's website to another when trying to find out who can help them. Instead, they want their transactions and answers sorted as quickly as possible.
Governments should also make sure that their new digitized services really enhance service delivery for citizens as well as save their time and nerves.
Collaborate with reliable IT companies with the latest tech: A priority in leading successful digital transformation is strengthening the partnership between governments and progressive IT companies. From legal and contractual snags to bandwidth issues, IT can help solve problems or swerve them altogether.
Moving into major technology domains requires shifting the overall focus. To succeed, you will need IT partners who can help you navigate new realms, including IT automation, risk and compliance analysis, IoT, and cybersecurity consulting.
Closing thoughts
If you run a reputable state institution, PixelPlex specialists can be your steadfast ally in this digital transformation journey. PixelPlex is home to a certified team that has handled hundreds of large high-risk projects, from IT consulting to development and maintenance.
We advocate a "better safe than sorry" approach. This means we never take chances with legacy systems — otherwise you risk being hit by severe efficiency and security issues. With blockchain, AI/ML, AR/VR, and big data among our signature techs, we can tailor a smooth iterative route through your entire IT lifecycle and build a clear project vision.
So think ahead, and reach out today!