Technology continues to reshape industries and human lives in our post-pandemic reality. The healthcare sector needs to quickly adapt and recognize that further progress is impossible without technological innovation.
The challenges of 2020 saw more and more healthcare organizations embracing the notion that every business is a digital business. While it's true that the healthcare sector has been evolving digitally, speed and scale are only now beginning to be ramped up. The numbers confirm it.
According to a recent report, 96% of healthcare executives surveyed said they would be in the cloud within three years, while 73% stated that their technology architecture is linked to the overall success of their organization. Moreover, a whopping 92% believe that their organization's capacity to generate value will increasingly be a by-product of the technology architecture.
Now it's time to explore how exactly the healthcare industry is undergoing innovative change and what technologies are driving digital transformation.
What is digital transformation in healthcare?
Digital transformation in healthcare is about the facilitation and automation of workflows with the help of various technologies. Its main goal is to enable healthcare organizations to streamline their daily processes, automate routine tasks, and enhance the security of patients' medical records.
In addition, the deployment of cutting-edge technology, techniques and processes for the healthcare sector will provide patients, healthcare professionals and healthcare organizations with lasting value and maximized benefits.
In fact, in 2023 digitally transformed enterprises are forecast to account for $53.3 trillion, signaling digital supremacy in the global economy.
Why is digital transformation important in healthcare?
A significant force for change is patient empowerment. Consumers increasingly take charge of their health decisions, and health organizations have spent the past few years trying to keep up with this acceleration in consumer agency.
IoT muscles into this trend as well: consumer adoption of wearable health monitoring devices is flourishing, with several million of us making use of them in our daily lives.
This "consumer-centric" approach became all the more important with the onset of the pandemic. Post-COVID-19, there's no looking back for consumer-facing technologies. The only way is forward.
As underlined by recent findings, most technology executives are happy to acknowledge this shift:
92% noted that improved consumer satisfaction and engagement are the top objectives their firms want to achieve through digital transformation
88% of digital investments focus on patient experience and engagement
80% of digital investments focus on IT/digital/cyber divisions
68% of digital investments focus on clinical care delivery
The consensus, however, remains that the best patient care possible can be achieved only through timely access to information. Digital technology, for instance, is facilitating greater real-time patient feedback. Compared to earlier non-digital alternatives, this one enables a quicker resolution of service users' problems.
What's more, by taking a "design-thinking" approach, health systems can reimagine all the processes involved, both clinical and nonclinical, and initiate planning according to the needs of different consumers and their access to healthcare services.
When it comes to the technologies used for the implementation of this digital transformation, the survey responses were clear:
76% reported investments in insights and analytics
68% reported investments in virtual health services
56% reported investments in cloud
Developing unified data and business intelligence (BI) capabilities is indeed a major priority, as it can provide a solid foundation for AI, predictive analytics, and real-time business analytics.
However, the weight should fall across the entire technology spectrum, not just the most cutting-edge areas. For example, better call center communication tools are a crucial investment, as are AI pilots.
Check out our portfolio of implemented healthcare projects
What benefits does digital transformation provide for healthcare?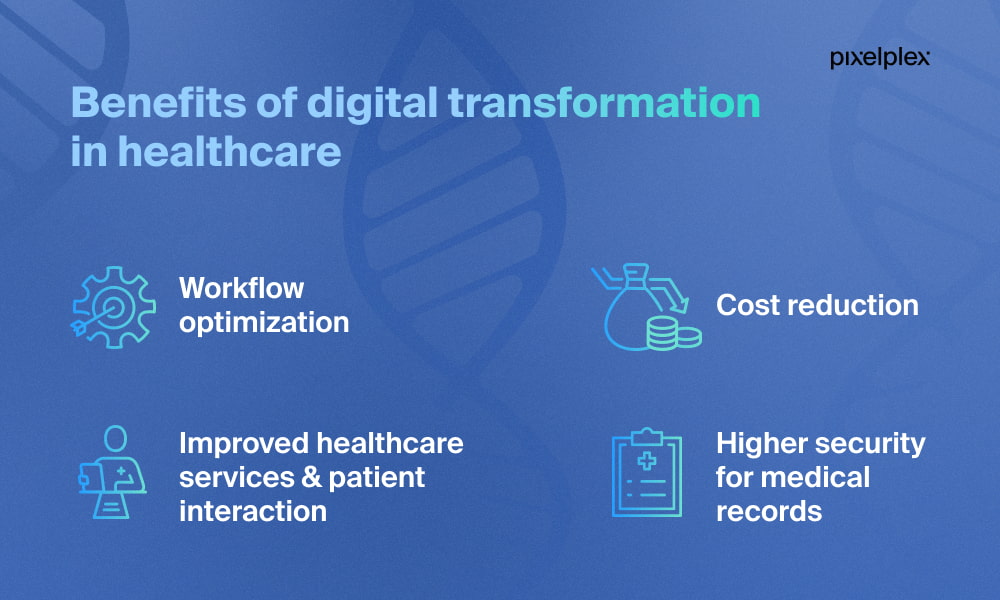 As we discussed above, digital transformation in healthcare can revolutionize every aspect of the industry, from patient-initiated planning all the way up to the high-level operations of healthcare organizations. Let's take a closer look at some major benefits.
Workflow optimization
Communication is vital for the healthcare industry. Digital transformation makes it possible for improved and seamless communication between all parties. Additionally, it can minimize the time spent on patient examinations, replace paper records with digital ones, and make accessing patient health records simpler and more efficient.
With constant access to patients' medical records and real-time coordination, healthcare institutions can provide better care and potentially save many more lives.
Cost reduction
By leveraging process automation, digital transformation enables healthcare institutions to provide affordable services and do away with unnecessary spending on traditional healthcare provision.
Improved healthcare services and patient interaction
Through the integration of diverse technologies, healthcare professionals and institutions can offer patients more individualized and effective care. The patient-oriented nature of the healthcare sector means it is essential to use cutting-edge techniques for accurate and timely diagnosis and treatment.
Moreover, digital transformation can enable better and more efficient online consultations with patients. This undoubtedly saves patients and doctors precious time.
Higher security for medical records
Digital transformation in healthcare allows for a secure database for encrypting, storing and accessing patients' private medical records and sharing them on-demand with healthcare professionals, laboratories and medical specialists.
What are the limitations of healthcare digital transformation?
Every industry has been significantly affected by digital transformation, and the healthcare industry, as we have seen, is no exception. However, when it comes to implementing the latest and most advanced technologies, the sector may be holding itself back due to the high risks and fear of modernization.
(ISC)², a leading cybersecurity professional organization, found in a recent survey that while the cybersecurity workforce gap narrowed for the second consecutive year, the global workforce must still grow by 65% if it's to defend critical assets adequately. More specifically, out of over 4,500 cybersecurity professionals, only 4% of respondents reported working in healthcare.
Cybersecurity issues are relevant to every new internet-connected technology. To this end, an organization's cybersecurity workforce must be available to ensure the safety of patient data.
Looking at the issue from the talent acquisition perspective, Deloitte's survey sheds light on two additional significant barriers:
#1 Data and KPI measurement
Data interoperability and API solutions are top priorities for the years to come. Interoperability can help achieve broader goals, including care coordination, value-based care, and health equity.
What's more, most survey respondents said they had created KPIs to measure their digital transformation initiatives and evolution. For instance, "the number of app downloads" was a KPI for patient uptake. However, now many organizations are measuring advanced metrics, like monthly active users and average session length, to assess engagement and satisfaction.
#2 Budget
Despite the budget being the primary constraint, two in three respondents expect digital transformation investments to increase as a percentage of the total IT budget in the next three years.
What areas in healthcare can be digitized?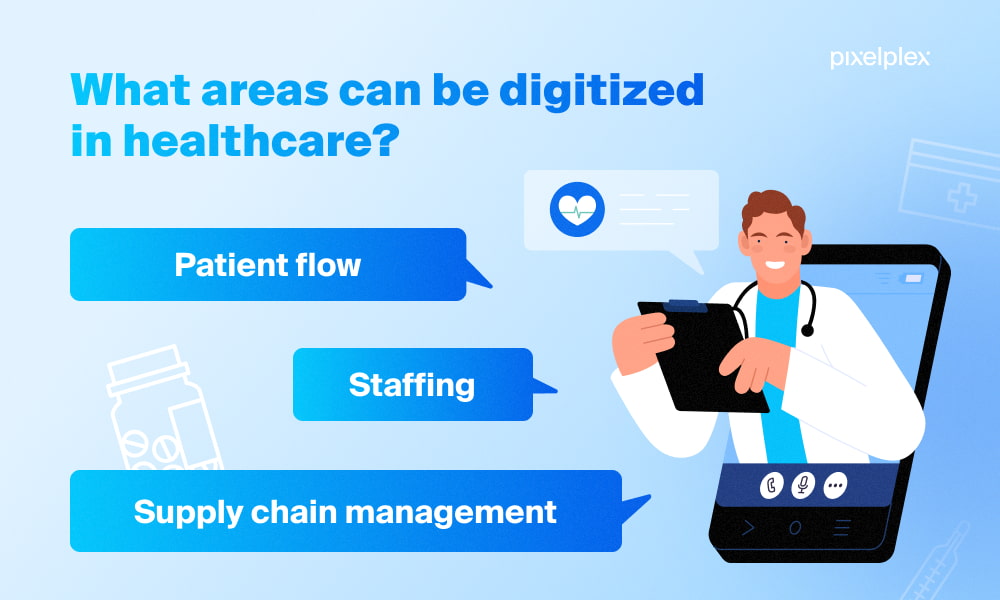 While we tend to focus on employing analytics to improve clinical decision-making, digital transformation has a substantial role in optimizing hospitals' operational decision-making. It improves the quality and efficiency of care and patients' access to it. So let's now discuss these key areas a bit more thoroughly.
Patient flow
To promptly deliver the proper treatment to the patients, hospitals must reliably assess patients' requirements and efficiently manage their resources. Providers are well-equipped to perform the first duty. However, they are typically unprepared to achieve the latter, which is made even harder in extreme contexts such as the pandemic's demand on hospital capacity.
As regards the operational aspect, leveraging algorithms to automate operational tasks has become ever more efficient. However, research reveals that cognitive-driven decision errors and behavioral biases may affect providers' operational decisions.
For example, in a series of tests involving clinicians and Amazon Mechanical Turk employees managing a virtual hospital unit, the research identified cognitive and environmental factors that cause systematic biases in decisions about admissions.
The findings show that better results might be obtained by breaking these judgments down into clinical and operational components. Mitigation strategies are suggested to help hospital units improve their capacity management.
Staffing
Digital technologies can also help with the supply side. For example, hospital administrators can use analytics to enhance the management of capacity, instead of depending on phone calls, texts and spreadsheets to make ad-hoc staffing decisions that frequently change at the last minute.
Healthcare institutions can use analytics to leverage the optimization of team staffing as well. Hospitals rely on providers to work together effectively as a team, with team members spanning a range of positions and levels of expertise. Accordingly, the composition of care teams significantly impacts performance.
There is a study of emergency department teams that collectively conducted more than 111,000 patient visits over the course of two years. The study indicates that the differences in hierarchy and skills across attending physicians, nurses and resident physicians lead to a variety of different effects with respect to team performance.
Supply chain management
It has been shown that across many industries, transforming the supply chain digitally can result in as much as a 50% reduction in process costs and a 20% increase in revenue. This applies to hospitals too.
Hospitals can save supply chain and inventory management-related expenses by automating the data collection, ordering, balancing, and payment processes for medical, surgical, and pharmaceutical goods.
Additionally, spurred on by the COVID-19 outbreak, hospital management is increasingly seeking methods to use data and technology to gain insight into inventory, pricing, lead times, and demand trends, in order to improve agility and resilience to demand- and supply-side shocks.
Find out more about this supply chain management solution that brings better transparency and higher security to transportation
What are digital healthcare trends?
In examining the fundamental pillars of digital transformation, it is also essential to have a clear picture of the digital healthcare trends landscape.
Digital-first
At Texas Children's Hospital in Houston, IT and business leaders have made significant efforts to enable online scheduling and check-in. In 2017 the hospital's leadership established an ­initiative to improve patient scheduling and access and accelerate digital transformation during the pandemic.
As a result, in 2021 more than one million appointments were made online, and more than 700,000 patients accessed scheduling and care via Epic's MyChart patient portal, leading to a 55% increase in users since 2019.
On-demand healthcare
When we hear of "on-demand", we think of consumers looking to cover their needs at their own convenience, in their own time, regardless of physical location. The healthcare industry is entering this cycle of digital innovation too, as patients gravitate towards on-demand healthcare to fit in with their busy schedules.
But on-demand healthcare is also driven by companies like Nomad Health, an online marketplace that connects physicians directly with medical facilities for short-term work. Physicians can then provide on-demand healthcare to clients in specific circumstances that match their talents, expertise, and schedule.
Wearables
Another digital transformation trend in healthcare involves companies collecting their health data from medical devices, including wearable technology.
Healthcare companies are being proactive by investing in wearable technology devices that can capture the essential medical information of patients in real-time and obtain a more accurate assessment of patients' health. As a result, the Wearable Technology Market was valued at $27.91 billion in 2020 and is expected to reach $74.03 billion by 2026. Some of the most common devices include:
Heart rate sensors
Exercise trackers
Sweat meters, used for people with diabetes to monitor blood sugar levels
Oximeters that monitor the amount of oxygen carried in the blood, commonly used by patients with respiratory illnesses
Patient portals
Another leading trend in the digital transformation of healthcare is patient portals. As the name suggests, they are online platforms that allow patients to access their health records, schedule appointments, chat with doctors, and see their test results online. Additionally, they can share these data with multiple healthcare providers, thus eliminating the need to manually transfer or share medical records.
FollowMyHealth, for instance, is a popular platform operating in the US market. The platform allows its users to maintain records of general medicines and specialist visits. Furthermore, they can contact and message doctors within the platform, while doctors can access connected patients' complete medical histories from a single location.
Learn more about Doctime, a convenient doctor scheduling platform that also offers patients exclusive discounts
Key technologies that enable digital healthcare transformation
Understanding and keeping up with the reality of digital transformation in healthcare can only be achieved through learning about the key technologies of this process as well as the requirements of a viable healthcare tech solution.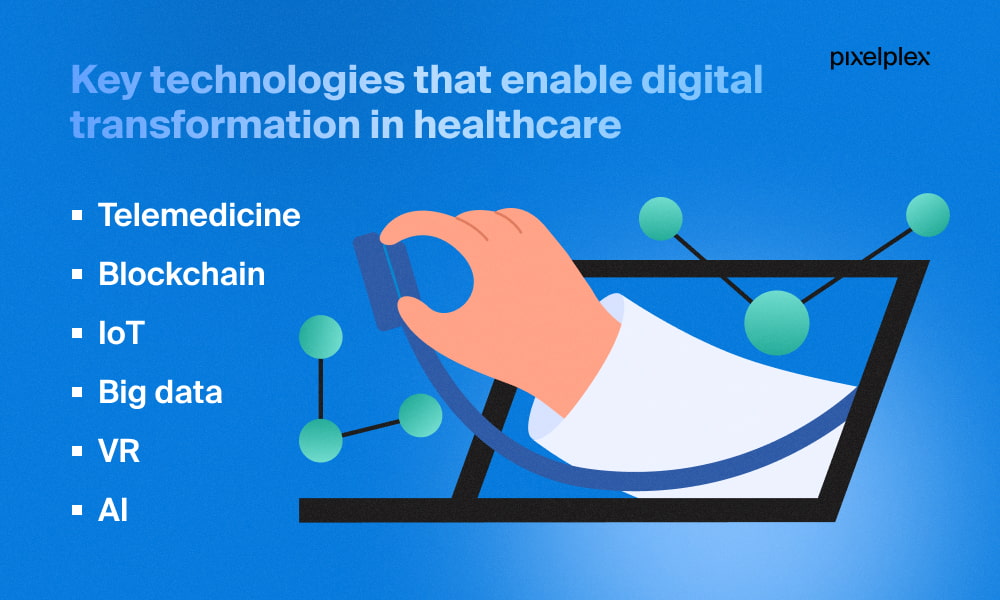 Telemedicine
Telemedicine solutions give customers on-demand access to medical personnel and allow virtual appointments between patients and doctors through voice or video call. They are especially important in isolated or rural areas where access to healthcare is patchy.
Furthermore, telemedicine also boosts accessibility for patients with mobility issues who need to communicate with their physicians.
Via wearable devices and IoT-based health sensors, telehealth technology can also manage high-risk patients and enable health professionals to track a patient's condition and activity remotely.
Blockchain
Blockchain technology shared across a network of computers allows customers to safely exchange financial information with suppliers without involving a third party, such as a bank.
In healthcare, blockchain has shown itself to be an effective tool for preventing data breaches, as well as for improving the accuracy of medical records and cutting costs.
The pharmaceutical and healthcare industries have already invested millions in the market, which attests to its effectiveness. As a result, the market is expected to attain a $121 billion valuation, with a promising CAGR of 68.3%, between 2022 and 2030.
Some countries, among them Australia and the UK, have started experimenting with blockchain technology to manage medical records and transactions between the parties involved. Thanks to a decentralized computer network that handles the blockchain while simultaneously registering every transaction, conflicting information is detected automatically.
This blockchain-powered app helps users monitor their health data and receive useful insights on how to improve their health
IoT
IoT-enabled devices are transforming the healthcare sector by redefining how consumers interact with healthcare solutions. This can be seen in remote monitoring, which unlocks the potential to keep patients healthy and safe while allowing physicians to provide better care.
In addition, since IoT has made interactions with doctors efficient and more manageable, it has improved patient satisfaction and engagement.
Remote patient health monitoring also reduces hospitalization and prevents readmissions. Furthermore, IoT can improve treatment results and lower healthcare expenditures, thereby benefiting every facet of the sector, from patients to hospitals, doctors, and insurance providers.
Big data
Big data is revolutionizing how we use, analyze and manage data across all industries. With emerging technologies like IoT, it has become easier than ever to collect essential healthcare data and convert it into valuable insights to provide better care.
Furthermore, big data facilitates strategic planning, from examining the results of patient checkups in different demographic groups to predicting and solving an issue before it's too late.
The management of big data in healthcare is amongst the most promising applications: it can be implemented to avoid preventable diseases, improve quality of life, save costs associated with treatment, and predict outbreaks of epidemics.
Virtual reality
Virtual reality creates a simulated environment where users can immerse themselves. Unlike traditional user interfaces, VR takes users inside a virtual experience instead of only displaying a screen, thus providing more personalized care.
From the clinic to medical rooms, VR technology in healthcare is expanding and is expected to continue to grow in the coming years. In addition to treating pain, VR technology is also used to tackle anxiety, PTSD, and strokes.
And that's just a fraction of VR's capabilities in the healthcare sector. Medical professionals can also use virtual reality simulations to practice complex surgery or plan future procedures.
From 2020 to 2025, the market for augmented and virtual reality in healthcare is anticipated to increase by $4.49 billion. The expansion is mainly attributable to the rising demand for healthcare services.
Artificial intelligence
Artificial intelligence (AI) is increasingly being used to improve the depth of data analytics capabilities and automate critical healthcare-related tasks.
From discovering connections between genetic codes to driving surgery-assisting robots, from assessing chronic diseases to conducting a risk assessment, AI is reinventing and reviving modern healthcare through machines that can predict, learn and act.
Learning algorithms can become more accurate and precise when interacting with training data, allowing professionals to gain unprecedented insights into care processes, treatment variations, patient outcomes and diagnostics.
AI represents medical innovation, and industry players are keen to invest millions in it. By 2025, the market for AI-powered solutions in the healthcare sector is forecast to reach $34 billion, meaning that this technology will affect practically every aspect of the industry.
Powered by AI, AIRA helps analyze the state of the retina and better diagnose pathologies. Check it out
How to set up digital transformation in healthcare
There's a specific way in which healthcare must approach digitization that prioritizes both the human side of healthcare decision-making and the technical infrastructure for a data-analytics-driven industry. Here are some of the guidelines.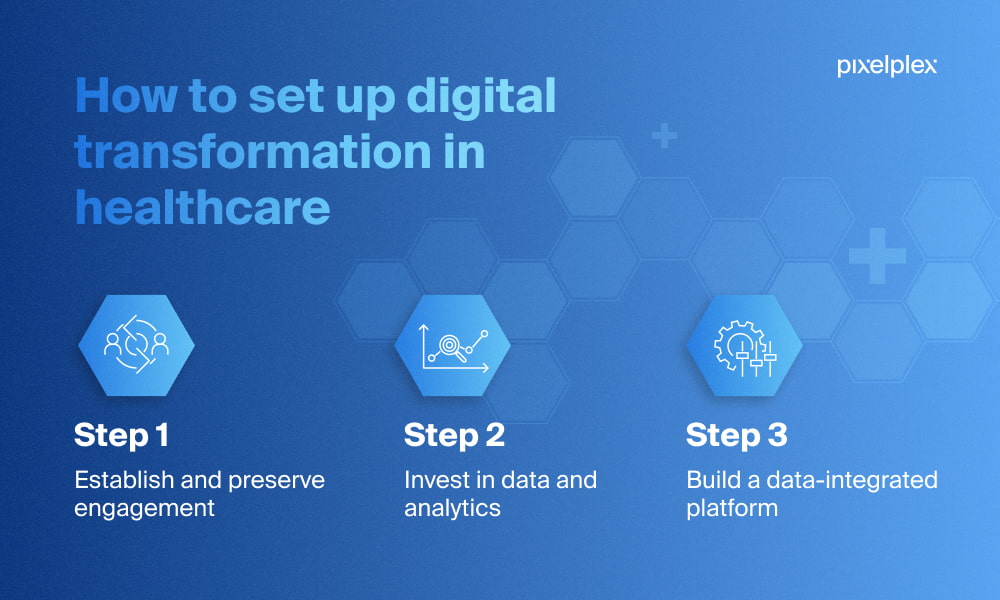 Step 1. Establish and preserve engagement
Healthcare must ensure that its data-driven and digital methods boost clinicians' sense of mastery, autonomy, and purpose. Data must enhance their pride in their expertise and responsibility rather than make them feel like they are being continually watched. These same concepts must eventually be applied to patients: data-driven and digital approaches must give patients a sense of control and autonomy over their health.
The human component of the data-driven approach in healthcare is just as important as technology and advanced analytics for the success of digitization.
Step 2. Invest in data and analytics
The question of whether a sophisticated AI model can compensate for the lack of data volume and features has been debated for a long time.
One school of thought believed complex models could compensate for the lack of data. However, a paper from a Google team found that simpler models with a lot of data outperform more complex models with fewer data. The results imply that the data will be crucial as AI models increasingly become commodified.
The healthcare sector must invest in amassing better patient data to provide tailored and precise care. However, AI model expertise alone cannot overcome the restrictions of poor data and insufficient data size.
Step 3. Build a data-integrated platform
Healthcare needs a modern, data-integrated platform that can handle digitization.
Scalability and interoperability — in other words, the ability of various IT systems or equipment to exchange and use data — should be kept in mind while developing the data collection system. Standardizing the input formats will help decrease or altogether remove the need for data cleaning and improve the quality of the inputs into algorithms.
Knowing the four levels of interoperability and the recognized interoperability standards will be helpful when it comes to setting up a system to facilitate sharing health information and data.
Long-term installation and replication of algorithmic tools across institutions will be more accessible if there is a consistent baseline data architecture and standardized data format.
Have more questions about potential transformation of your business or institution? Reach out our consultants to get answers
What is the future of digital healthcare?
As healthcare organizations started to compress their decade-long transformation agendas into two- to three-year plans, digital achievement gaps emerged. If they're to respond to a world that is drastically changing, today's leaders need to prioritize technology innovation.
The healthcare industry will continue to adopt new technologies to keep pace with the times and provide the best possible service to its patients. The introduction of technology will also remove the burden of paperwork for employees, freeing up resources so they can devote more time to working with patients. This will, naturally, have a positive impact on the quality of healthcare.
If you have an idea for a great application that will help transform the healthcare industry, you can delegate the task of creating it to our team. Our PixelPlex software developers have extensive experience in building effective custom solutions for this sector and will be very happy to help you with this. Let's make people's lives better together!