Ads are getting smarter, but customers are getting fed up with constant advertising messages. Beacon technology offers a less intrusive way to interact with customers and even provides meaningful assistance instead of pure brand promotion. How is that possible?
Since their introduction in 2013, mobile beacons have come a long way, and the technology continues to spread and evolve to this day. The market is expanding accordingly: as the Allied Market Research report states, global beacon market size was estimated at $3.28 billion in 2020 and is expected to grow to $103.94 billion in 2030 at a CAGR of 37.7%.
Initially, beacons were used to notify customers about goods sold in stores and real bargains. These days, the range of what they can do is much wider. Read on to find out more about what beacons are all about, what exactly they offer now and how they benefit both companies and their customers.
Let's get started!
What are beacons and what technology is behind them?
Beacons are wireless devices that use Bluetooth Low Energy (BLE) technology to constantly transmit signals to other bluetooth-enabled devices within a given distance. Beacons can be the same size as a Wi-Fi router or even smaller, and they send signals along with a certain amount of data: a text, an image or a short video.
The first protocol that became one of the beacon technology standards was introduced by Apple in 2013 and was called iBeacon. In 2015, Google launched Eddystone, Apple's iBeacon competitor. These two protocols work with both iOS and Android devices, so there are no incompatibility issues with smartphones or tablets using different operational systems.
How does a beacon work?
The way beacons work is very simple: they are installed in the store, configured, and tested, and then they are ready to go.
Let's say you're a shop owner who has decided to set a beacon up in your store to track the number of visitors you have and send them promotional info once they get close to your shop. You buy a beacon and your technical team sets up its parameters and chooses what data will be transmitted. Finally, you stick the device on the wall or some other place.
From now on, the beacon will be collecting data on and sending notifications to visitors who have:
✓ Enabled Bluetooth on their devices
✓ Downloaded your store's application
✓ Given their permission to receive data
The beacon will operate at a distance of around 70 meters from its installation site. Some beacons can reach up to 300 meters.
Beacon devices are usually powered by batteries. There are beacons that use USB or are built into lights so they will last longer, but battery-powered devices are still more popular as they can be placed anywhere, indoors and outdoors — in case you run an ice cream stall ? or decide to do a presentation of your tech solution outside of your office ?.
Check out how we implement mobile beacons and other IoT technologies at PixelPlex projects
What are the key benefits of beacon technology?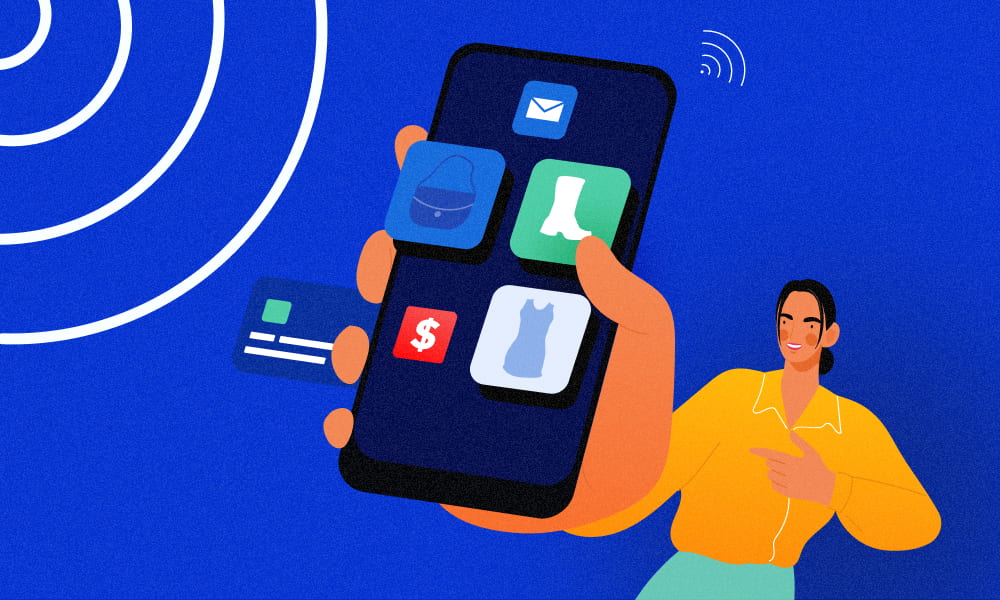 Beacon technology has clear advantages that benefit both businesses and their customers. Firstly, beacon devices are quite affordable and easy to use. Secondly, they help significantly enhance customer experience and engagement. Last but definitely not least — using beacons helps strengthen marketing strategy and its effectiveness.
Let's take a closer look at each of these points.
Reasonable prices
Prices for a single beacon device start at $15-25 and vary depending on their size and range. To determine which beacon will be most effective for your business needs, clearly outline what goals you want to achieve and then it won't be difficult to choose an appropriate device.
Ease of use
Beacons are easy to buy, set up, and use. At the very beginning, a technical specialist will install the device and configure its parameters according to your requirements, after which all the necessary information will be at your fingertips. You will be able to analyze, for example, how many customers come to you per day and how many actually purchase your goods.
It's important to note that beacons do not collect any personal information and do not receive any data from users' devices. They only detect that a mobile phone is within a certain range of the beacon and send a signal to it.
Improved user experience and better engagement
What you don't want to do is to make your customers uncomfortable and annoyed. What you want to do is provide them with truly useful and personalized notifications on great deals, discounts, and special offers as well as help clients find specific items in the store. Beacons can assist you with that.
Beacon technology will allow you to understand your customers' behavior and needs, and you will be able to fine-tune your ad campaigns accordingly.
In addition to this, beacons can literally guide your customers through their shopping journey. Carrefour, a large hypermarket chain, used beacon technology to do just that. Customers needed to download the Carrefour shopping app and then they could make a shopping list and the app showed the path on the store's map. Once they picked up a product, the application automatically updated its information and showed the customer where to head next.
The results were impressive: the hypermarket app's engagement rate increased by 400% and the number of app users grew by 600% in just seven months.
Find out more about Smart Mall — AI and iBeacon-powered solution for retail
Stronger and more personalized marketing
With mobile beacons, you can implement proximity marketing techniques and achieve better results with your promotional campaigns. This type of marketing is about targeting users with advertising content based on how close they are to a certain place, for example a company or store. In other words, beacons represent location technology that enables companies to detect and target their potential customers.
Beacons allow brands to deliver timely personalized messages in the form of texts, pictures, or small-screen videos, and thereby trigger an immediate action. For example, a person would see a message about a special offer or a newly-released product and would go to the store to have a look or maybe even buy it right away.
What are the limitations associated with mobile beacons?
Like any other technology or anything in this world (life is just like that), beacons also have their drawbacks. These are as follows:
You won't be able to reap benefits from this tech unless customers have downloaded an app and given their consent to receive your info
This situation has its pros and cons: on the one hand, you give your customers freedom of choice and your company won't look too intrusive in their eyes; on the other hand, there may be many potential clients who may not have the app (or don't want to download it) or choose not to receive your promotional materials.
It will be up to you to convince your visitors that your application and notifications are really useful for them.
You'll need to launch a mobile app (unless you already have one)
This comes with two challenges: first, you will need to invest in app development, and second, you will need to find a reliable software development company that will create an attractive and functional app for your brand.
You will kill two birds with one stone if you choose a developer who works with IoT solutions as well. They will not only create an app for your customers, but also help you install the beacon software and hardware so that you can start benefiting from the technology as quickly as possible.
What types of beacons are out there?
Beacons come in different sizes, cover shorter or longer distances, and serve many purposes. These are the main beacon types:
These are the size of a Wi-Fi router or smaller. This is the most widely used type of beacon, especially in retail and navigation.
These could be the size of a credit card or even smaller. They can be attached to assets or taken outside during events.
This is probably the largest beacon as it is used to track other beacons. It gathers information and stores it in the cloud so that employees can analyze it later.
These beacons literally look like USB flash drives and don't require batteries to power them. They are small, portable and easy to use. Companies install them for proximity marketing purposes and asset tracking.
These beacons can detect movement, so they are a great tool for learning about customer behavior.
Introduce yourself to Intel's IoT app that works with BLE devices and gathers motion and dynamic data
Are beacons compatible with both iPhones and Android-based phones?
Yes, they 100% are. All modern devices with enabled bluetooth, including Android and iPhones, can receive signals from beacons.
IOS-based devices can constantly receive signals and automatically wake up relevant applications, while with Android phones, users need to have their apps running in order to receive notifications through beacons.
What is the difference between beacons, geofencing, NFC, and Wi-Fi?
Beacons are not the only location technology capable of transmitting signals. Let's find out how they differ from other tech such as NFC, Wi-Fi, and geofencing.
Beacons vs NFC
Beacons are separate devices powered by batteries or connected somewhere as a USB stick. They cover a given distance and are able to send signals.
Meanwhile, NFC tags work without batteries and are activated when only a few centimeters away, not 70 or even 300 meters like beacons. NFC devices are also capable of sending and receiving data, but work only at the touch of a device. NFC is often used for payments, advertising, and learning customer behavior.
Beacons vs geofencing
Geofencing works in a very similar way to beacons. The differences are that beacons utilize Bluetooth Low Energy technology and work well indoors, while geofencing uses GPS or RFID signals and is more suitable for outdoor use.
In general, these two technologies detect mobile devices when they are nearby and target them with information such as text, ads, or an app notification.
Beacons vs Wi-Fi
Both beacons and Wi-Fi can be used to send promotional messages to individuals when they are in the area. Beacons usually require batteries and Wi-Fi doesn't.
Wi-Fi is also easier to set up and employees can do this without any special help, while beacons require some technical assistance. As for the price, beacons tend to be a bit cheaper or nearly the same price as a Wi-Fi router.
A bluetooth beacon is, however, better at detecting a customer's location and learning their behavior based on gathered data.
One more thing to note is that both of these technologies don't work unless the user's phone has Wi-Fi or bluetooth switched on.
Find out how we enabled homeowners to take control of all their devices with our smart app
What are beacons used for? Key use cases and examples
BLE beacons are widely used in marketing, navigation, asset tracking, and data collection. Let's learn more about these use cases and explore some real-life examples.
Beacons for navigation
Beacons can guide shoppers around your store or mall and thus provide them with a personalized experience and save them time looking for a specific product.
The Dubai Mall, a large shopping center with 1,300 stores, is obviously the place where you could either get lost or spend all day looking for the item you want. Beacons installed throughout the shopping mall transmit location information to shoppers' smartphones twice per second, helping them enjoy accurate navigation and locate stores faster.
Beacons for marketing
Marketing is an ideal use case for beacons, widely used in (but not limited to) retail. Macy's, a large American chain of high-end department stores, has been leveraging beacon technology all around the US since 2014, mostly for in-store marketing.
When customers enter the store, they open the Macy's app that will recognize which department they are shopping in at that moment, remind them what products they liked online, and show visitors where they can find them.
Customers also receive push notifications encouraging them to take a chance to win gift codes or other prizes.
Beacons for gathering data
A friendly reminder that beacons mobile technology does not collect personal data. Instead, it gathers information about visits. For example, how many visitors came to the store, who was new and who was returning, and how many times. It can also help in creating location heat maps: in which part of the store visitors spend the most time, which areas are ignored, and so on.
GasBuddy, a tech company that offers apps for finding real-time fuel prices at gas stations in the US, Canada, and Australia, distributed beacons in around 150,000 convenience stores at gas stations, not only to send customers promotional materials but also to gather behavioral information for business analysis.
Beacons became a serious tool that helped companies understand their clients more and improve their business.
Should your business invest in beacons?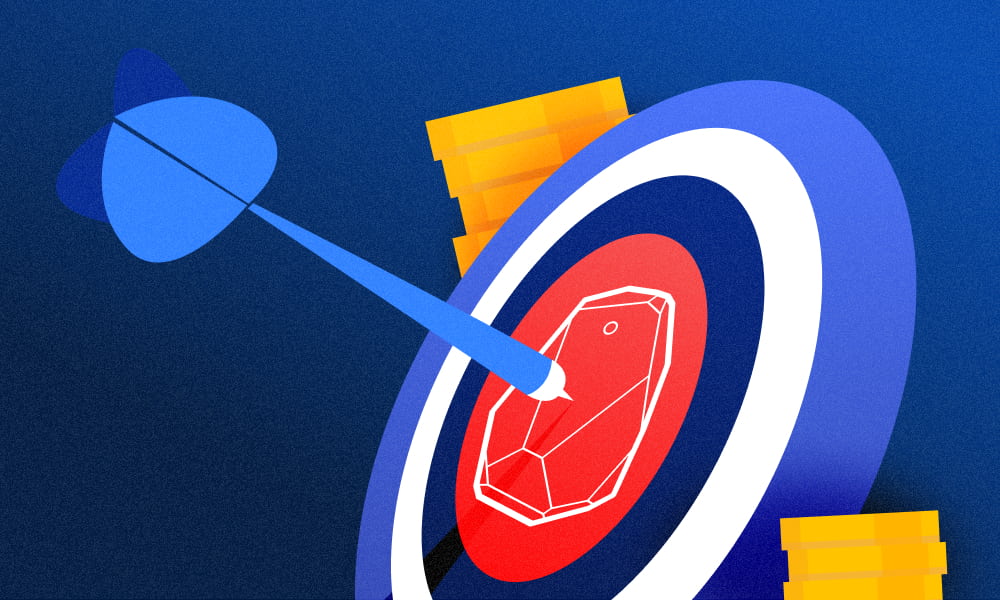 Advanced yet simple, BLE beacons are highly affordable devices that can benefit businesses of all sizes and industries, from retail and events to logistics and construction.
For example, stores and shopping malls can use them to track assets and analyze customer behavior: where visitors most often go and where they spend less time. Sports and events companies can utilize the tech for proximity marketing and navigation, especially at large venues.
Hotels can do the same. In addition, they can send visitors information about the best places to go in the city or invite them to relevant events during their stay.
There really is no limit to what beacons can do for your business, so it's definitely worth seriously exploring this technology. Before making an investment decision, you will need to analyze the various types of beacons, research similar use cases, decide what goals beacons will help you achieve, and hire technical specialists to install and configure them.
Don't forget that you will need a mobile application as well. Otherwise, your customers won't be able to see your notifications and you will fail to track important data.
Check out our mobile development portfolio to see what our team can do in practice
Closing thoughts
Beacon devices have proven to be a useful tool that serves multiple purposes, including asset tracking, data gathering, and proximity marketing. Whatever industry your business belongs to, beacons can be applied there.
All you need is a good partner who will help you analyze your business case and choose the most appropriate solution. In addition, you will need a mobile application that will help you attract more customers and enable you to send important notifications.
The good news is that we at PixelPlex are professionals at both IoT and mobile application development. You can contact us to implement beacon technology in your workflows, as well as delegating application development to our team. We will make sure that your app is visually appealing, fully functional, and easy for your customers to use.