If you tap "NFT" in the search tab of your App Store or Google Play, you'll be surprised by the number of NFT-based apps you find. But does this mean that NFTs are a good focus for mobile business exploration?
The market for non-fungible tokens or NFTs is still booming. At present, it is worth around $3 billion, even if it is cooling off a little. In the US alone, it is estimated that 23% of millennials collect NFTs.
We all know by now that the NFT space is highly volatile.  However, according to Mason Nystrom — a senior research analyst at Messari, a cryptocurrency analytics company —  the NFT industry may be in a better position than the recent crypto price movements suggest.
At present, the mobile NFT market seems to be a fresh area for blockchain startups to invest in. In fact, there are already a handful of NFT marketplaces, such as Binance, OpenSea, and Rarible, that are available as mobile apps.
In this article, we'll try to figure out whether the mobile NFT is a profitable niche for development.  We'll also take a look at the successful mobile projects that allow users to mint, buy, and sell NFTs, and we'll go on to talk about the best blockchains for developing NFT apps.
What are NFTs (once again)?
NFTs are digital assets that represent real-life physical objects, such as pieces of art, films, music, and game items. Basically, these are digitized physical or digital items that are sold to collectors and NFT enthusiasts. They are commonly bought with cryptocurrency, while the transactions are recorded on a blockchain.
Non-fungible tokens have brought multiple monetization opportunities for creators, enabling them to easily sell their work online while allowing them to verify and protect the scarcity and authenticity of their digital goods. What's more, creators can receive royalties from each resale of their NFTs.
Is it worth building an NFT app?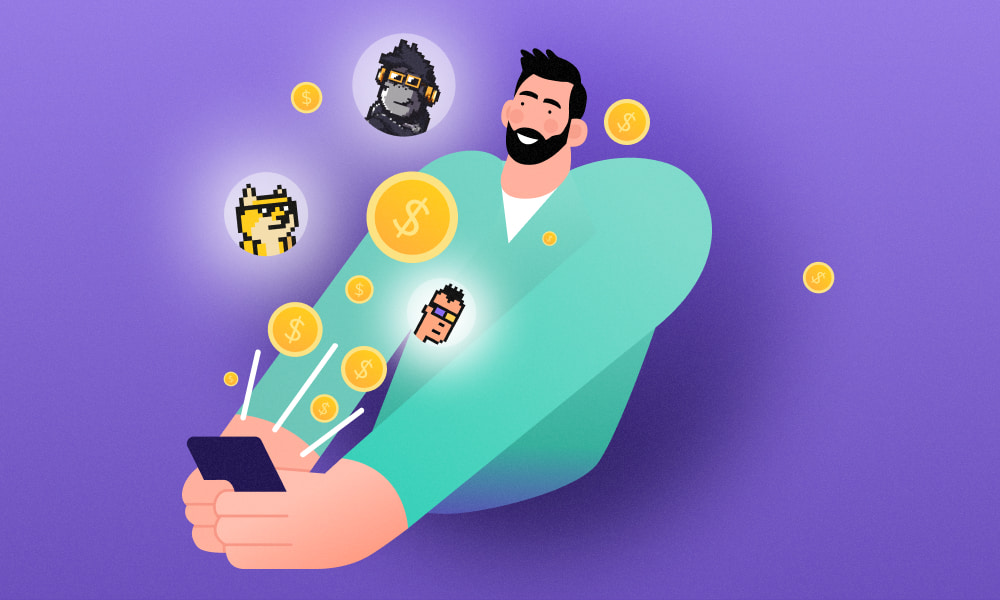 The proliferation of NFTs offered numerous opportunities for investors and developers who were able to start building NFT-based games and marketplaces. For example, OpenSea, one of the most popular NFT marketplaces, is currently worth $13 billion.
History has shown us that when something proves to be successful on a desktop, it then moves to mobile. OpenSea users started to demand a mobile app that would guarantee greater convenience and the option to manage NFTs on the go. Launched in 2021, the OpenSea mobile app has more than 1 million downloads; it is one of the top 3 mobile NFT marketplaces in 2022. It's only bettered by Binance mobile app, which boasts 10 million total downloads.
Another project that ignited the development of mobile NFT apps is VeVe. It is a mobile NFT marketplace for premium licensed digital collectibles. In November 2021, it released Disney Golden Moment NFT, which resulted in 39,000 downloads on the collection's drop day.
NFT apps empower users to buy and sell digital assets as well as track and manage their NFT collections from any place. As a result, they are likely to establish a strong presence in the mobile space.
How do NFT apps work?
NFT apps allow users to create avatars, browse digital collections, and buy and sell NFTs. Some of the best NFT apps enable users to mint NFTs — publishing non-fungible tokens on the blockchain to make them purchasable. In addition, some of the existing NFT apps, among them Crypto.com, combine the marketplace with a crypto exchange functionality, thus providing NFT enthusiasts with an all-in-one solution for the whole range of NFT-related activities.
Initially developed for desktop only, NFTs started to spread to mobile devices, thereby providing opportunities for users to manage their NFTs on the go.
Different NFT mobile apps support different payment options, including debit/credit cards and cryptocurrency. It is generally recommended that a mobile NFT app should provide multiple payment options and offer compatibility with various crypto wallets.
The success story we're really proud of — a data-driven BI service for analyzing NFTs. Check it out
Can you mint NFTs on mobile apps?
Since it doesn't matter how the digital asset is minted — as long as it is minted on the blockchain — NFT minting can be performed from any device, including mobile.
Those businesses that are planning to build a mobile app to buy and sell NFTs should make sure that it provides a setup for minting an NFT.
What are the top 3 apps for NFT minting?
Let's take a look at the best NFT apps that provide for NFT minting, paying attention to their core functionality.
# 1 NFTGo
NFTGo is currently the only provider that allows users to mint NFTs on all major blockchains, including Ethereum and Polygon. It is generally ranked among the top apps to buy NFTs.
To use the app, a user needs to purchase gems (in-app currency) that they can further leverage to buy or mint NFTs. The gems can be purchased through the App Store, so users don't need to have an existing crypto wallet. When the NFT is minted, a user can transfer it to other wallets and connect with different marketplaces like OpenSea and Rarible in order to sell their tokens.
# 2 NinjaFT
NinjaFT allows users to mint non-fungible tokens on the Binance Smart Chain. In contrast to NFTGo, the app has an in-built NFT creator, enabling users to make a digital piece of artwork on the go.
With NinjaFT, users can buy NFTs and add them to their collection. The app has a crypto wallet, so users can either store all their non-fungible tokens within the app or transfer them to another wallet.
# 3 Pixl
Pixl is another popular NFT app that has an in-built NFT minting functionality. What's special about it is that the app has an Instagram integration, meaning that artists who post their digital works on Instagram can easily turn their posts into NFTs. All NFTs created with the help of the app can go on to be sold on the most popular NFT marketplaces.
In addition, the Pixl app allows users to create NFT profiles, showcase their NFTs, and join NFT communities. When minting an NFT users can also claim a free Matic coin.
Find out about the possible solutions promising to make NFT mining more sustainable
Can you buy NFTs on mobile?
Currently, most mobile apps provide the functionality for buying NFTs with the help of a smartphone; it's one of the features that users most often ask for. Commonly, these apps partner with NFT marketplaces like Binance or Crypto.com.
However, in the case of OpenSea, one of the most popular marketplaces, users are not able to buy NFTs through its official app, even though that has been one of the most requested features.
What are the best NFT apps to buy and sell NFTs?
Blockchain enthusiasts around the world believe that the next phase of growth for NFTs will be accompanied by the development of NFT marketplace apps which allow users to buy and sell digital assets.
Let's take a deep dive into some of the most successful mobile NFT marketplaces and see what functionality they can offer.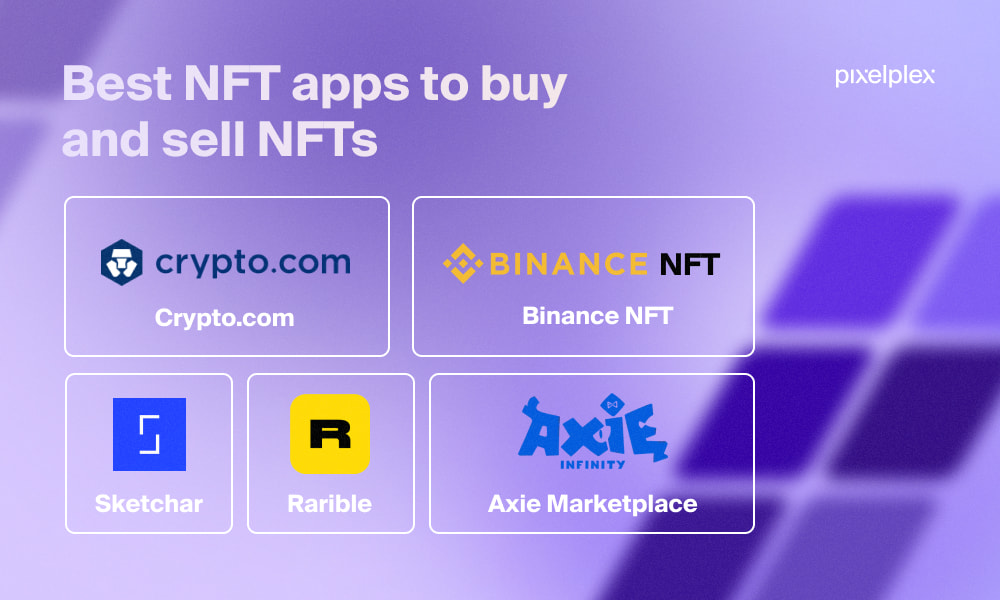 Crypto.com
Crypto.com is considered to be one of the best apps to buy NFTs. Initially built as a crypto exchange solution, Crypto.com hopped on the NFT bandwagon by launching an NFT marketplace. At present, it boasts 10 million users.
The Crypto.com NFT marketplace has the same look and feel as Crypto.com Exchange and offers a wide range of NFT categories, from art and music to gaming and sport.
Moreover, the marketplace doesn't have any transaction fees for users who purchase NFTs. It allows buyers to use either crypto or a credit/debit card to fund their purchases, making the entire process easy and convenient.
Binance
Binance NFT marketplace is another example of a popular app for buying and selling NFTs. Similar to Crypto.com, it started as a crypto exchange app and soon extended its service offering by launching an NFT marketplace.
Binance NFT platform can be accessed through both iOS and Android devices. It offers NFTs that are hosted on Ethereum and Binance Smart Chain and has a 1% transaction fee for the purchase. The platform doesn't accept a credit/debit card and accepts crypto payments only.
A distinctive feature of this mobile NFT marketplace is its "Mystery Box" — a functionality which allows users to purchase a "box" and receive a completely randomized NFT, thus empowering collectors and investors to obtain a rare asset for a lower price.
Sketchar
Sketchar is an NFT app focused specifically on digital art. The app allows both artists and regular users to create their own art and mint it as NFTs. It is equipped with AR-based training, which helps users learn how to draw. All the user needs to do is to hold their phone over the paper and look at the screen of their smartphone, where they will see the line art that needs to be followed.
Sketchar has its marketplace where creators can sell their NFTs. As for the app's limitations, there is at least one: it doesn't integrate with other marketplaces.
Rarible
Rarible is an efficient NFT mobile app that allows users to browse any Ethereum address and view any collection they want. It has emerged as one of the most popular NFT apps for viewing and trading NFTs on the go. At its launch, it already had more than 100K organic downloads.
The app showcases trending NFTs and enables users to create a customized news feed that displays the creators they follow. Also, Rarible app users have the opportunity to bookmark specific NFTs and sign up for notifications for selected drops.
Axie Marketplace
Axie Marketplace is a digital shop for Axie Infinity. It's a video game, with the gameplay being focused on Axies — the monster pets that users can breed and own. Available on both desktop and mobile, it's an easy-to-use solution for players who want to buy and sell in-game items, including skins, weapons and land.
The app displays newly listed collectibles together with the total trading volume in the last 24 hours, ensuring it is convenient for a user with an eye on a specific collectible to both decide on and make an investment.
We've collected the best NFT marketplaces in a single place. Check them out
What commission do NFT platforms take?
Whether you are planning to buy and sell NFTs through an NFT app, or you are intending to invest in the development of one, you should be aware of the associated fees.
First of all, users who want to buy or sell NFTs through a marketplace will have to pay a transaction fee. For example, OpenSea charges 2,5% per transaction, SuperRare asks 2% per transaction, and Rarible takes 2.5% on the buyer side and 2.5% on the seller side from each sale on the marketplace.
But that's not all. For app developers, there are also platform fees. For example, Apple App Store charges a 30% commission on apps and in-app purchases of digital goods; their subscription commission falls to 15% after a year. If developers make less than $1M per year in App Store sales, the commission is cut to 15% via the App Store Small Business Program.
As for the Google Play Store, its standard commission is the same as that of Apple's App Store. However, Google charges 15% in fees on the developer's first $1M in Play Store revenue each year. And the rate goes back to 30% after the $1M threshold is reached.
What are the best blockchains for developing NFT apps?
If you are planning to develop an NFT marketplace app, you need to choose the blockchain that best suits your NFT mobile app's purposes.
First of all, you are advised to check whether the platform requires smart contracts functionality, as this can complicate the entire development process. For example, Ethereum smart contracts are written using Solidity, which is widely known to be a complicated programming language. You will need to search for developers who have skills and expertise in it. You will also need to perform smart contract verification, and more besides.
What features to consider when choosing a blockchain for NFT app development?
When choosing the platform for your NFT app, we recommend you consider the following aspects:
Establishment year. Brand new platforms typically have a less developed toolset, including libraries and frameworks, as well as community support. The result might be unnecessary complexities during the app development.
Consensus mechanism. If you are planning to develop a sustainable solution, it is better to consider blockchains with energy-efficient consensus mechanisms, such as Proof of Stake. For instance, the Ethereum foundation estimated that their Proof of Work system consumes 5.13 gigawatts while the Proof of Stake system consumes only 2.62 megawatts. That's why Ethereum itself has decided to switch to Proof of Stake.
Supported crypto wallets. Prior to the development, you need to make sure that the chosen blockchain supports the crypto wallets you plan to use within your app. Some of the popular crypto wallets include MetaMask, Exodus and Trezor.
Transaction fees. Make sure that the selected blockchain has reasonable transaction fees. Otherwise, users will simply ignore your app and choose a solution with a more attractive offering.
You might like to also check the infographic below, which compares the most popular blockchains for mobile NFT-based projects.
Closing thoughts
The NFT space is still a profitable niche, which is why there exists a demand for apps that allow users to buy NFTs, create digital collectibles, and mint digital assets in an easy and convenient way.
The mobile NFT market is gaining popularity, so now is definitely the time to join the rush if you want to scoop the jackpot.
If you are looking for reliable mobile app specialists who can accompany you on your journey and also advise on your options for implementing blockchain, we're here to help.
More than 50 custom mobile projects, 80+ blockchain solutions, an 85% repeat client ratio, and 100% quality assurance — these are just a few of the achievements we're proud of. Let's talk — and we can see how our team can make a difference to your business.