Nothing exists without change, and the supply chain is no exception. The industry is embracing a fundamental digital transformation that will make it more robust, high-performing, and secure. Read on to see how.
The COVID-19 pandemic has compelled the supply chain domain to make a more rapid shift towards digital transformation, and it is expected that the entire digital supply chain market will reach $13.679 million by 2030, generating a CAGR of 13.2%.
To date, the tech world is abundant in sophisticated digital innovations and developments. Many of them have the capacity to address the most pressing pain points of the supply chain industry and take it to a whole new level.
Check out this article to find out more about digital transformation in the supply chain, the most popular tech trends to look out for in 2022 and beyond, and what it takes to deliver comprehensive and meaningful supply chain digitization in your own business.
What is digital transformation in the supply chain and why is it so important?
Supply chain digitization is about the transition from traditional legacy systems to more advanced digital tools. It encompasses modern technologies and solutions that have the potential to make the industry more efficient, agile, productive, and able to meet the ever-increasing challenges of the business environment.
Organizations making use of digital supply chains can handle their assets, employees, resources, and internal processes more effectively. They can also promote greater trust across all supply chain stakeholders, deepen customer engagement, boost ROI, reduce costs, and lower production and transportation risks.
Critically, the digital transformation of the supply chain leads to a far less detrimental impact on the environment. According to a study by IBM, around 80% of consumers state that sustainability is a decisive factor for them, and that they are ready to alter their purchasing habits to diminish their environmental impact. Thereby, it is wise for retailers to start adopting digital supply chains in order to stay on the same wavelength as their customers.
See how blockchain technology transforms supply chain management
The differences between digital and traditional supply chains
Compared to traditional supply chains, digital ones tend to also focus on customer needs and requirements, not just on provision and production issues. Essentially, digital supply chain management offers more flexibility and intelligence to successfully deal with pressing and common challenges inherent to supply chains.
On top of this, digital supply chains have numerous other advantages, the most outstanding being:
Better visibility into real-time data
Enhanced accountability
Opportunity to generate greater ROI
More informed decision making
Improved performance analysis
More agile and responsive to ever-changing market conditions
What are the main advantages of digital supply chains?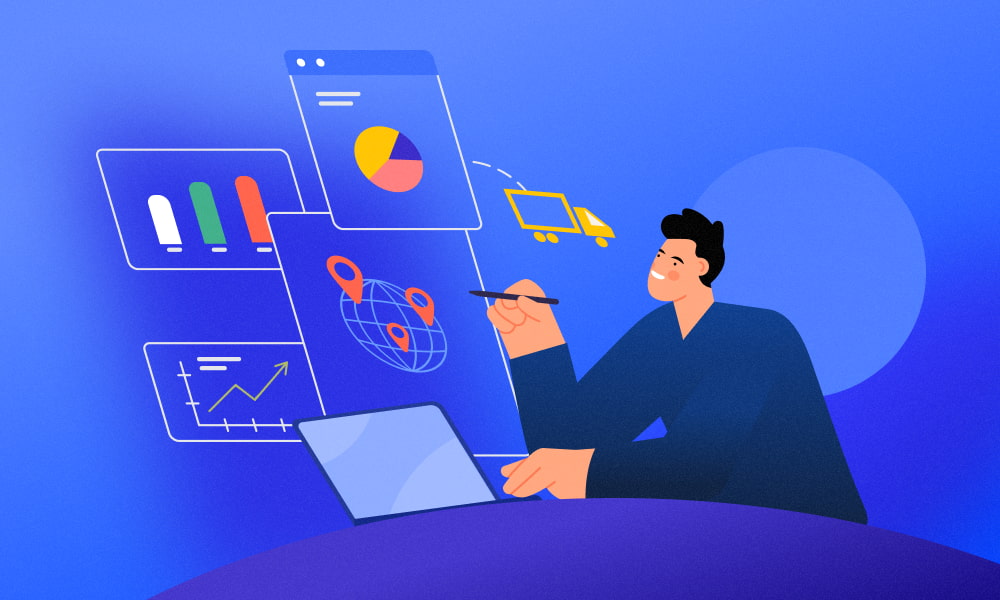 If implemented and leveraged correctly, digital transformation can allow the supply chain to enjoy a number of seemingly miraculous benefits and opportunities. Let's study them in greater detail.
Automation of multiple mundane processes
Once a supply chain undergoes a digital transformation, all processes and operations can be executed automatically, without any manual assistance. This helps achieve greater overall efficiency, boost employee performance and productivity, and do away with time-consuming activities.
In addition, because all data points are recorded in full, all stakeholders will have a better picture of real-time inventory and information tracking across the supply chain.
Another key aspect of automation is that it assists in defining the most suitable shipping mode, schedule, or carrier, while also taking care of details such as speed, time, and priority.
Better financial management
Digital supply chains have the power to considerably reduce wait times and facilitate the execution of orders, hence exerting a positive impact on productivity and management of financial resources.
Importantly, they provide relevant and holistic information about status and performance at a given point in time, which enables the optimization of processes such as operational logistics, resource management, and the flow of materials. Having these data at hand facilitates enhanced cash flow and cost control while allowing stakeholders to quickly spot any bottlenecks.
Plus, with a smart digital supply chain, an organization does not need to worry about running out of stock or ordering excessive goods, thus allowing businesses to plan and optimize their capital.
Enhanced planning and greater collaboration
Normally, traditional supply chains cannot identify potential troubles or forecast future eventualities. Digital ones, however, allow stakeholders to have better control and visibility into supply chain management data, and provide them with actionable insights that allow them to stay alert, anticipate any issues, and respond accordingly.
Digital supply chains also make it much easier to plan and handle different processes such as procurement, inventory and logistics management, and sourcing.
By making use of advanced digital technology, businesses can cooperate more efficiently with all stakeholders, including vendors, third-party service providers, and customers, and substantially enhance the working of the entire end-to-end value chain.
Increased customer satisfaction and engagement
You know all about the "put your customer first" approach which has become the mantra of all businesses that wish to thrive. Recently people have been eager to pay more for transparent and ethical business processes — and this tendency is bound to continue.
With digital supply chains, it is now possible to allow customers to experience an unprecedented level of transparency into the way their goods are delivered. Once they have made an order, they'll be able to see its end-to-end tracking history and the stages it has gone through. This will place more control over the order in the customer's hands, making them feel safer and giving them a more rewarding experience.
Technological innovation
Organizations that embrace digitization of their supply chain procedures tend to stay ahead of the curve and have a competitive edge over the market.
Crucially, the digital transformation of supply chain management contributes enormously to the acquisition and accumulation of new knowledge and tech skills among personnel. As a result, having tech-savvy specialists on board enables businesses to stay ahead and always be among the first to explore new horizons.
Discover how the supply chain leverages TradeLens — Maersk and IBM blockchain solution
Digital supply chain trends to look out for in 2022 and beyond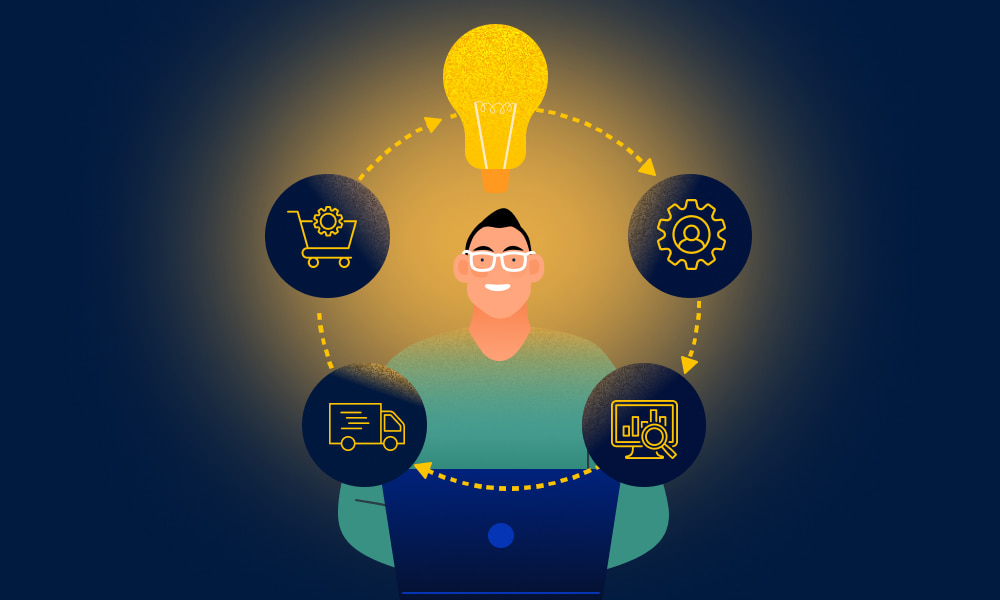 Technology is progressing by leaps and bounds and is gradually introducing the supply chain to even more sophisticated opportunities. Let's find out more about recent digital trends that the industry can successfully incorporate into its practices and processes.
Digital twins
The term 'supply chain digital twin' refers to a virtual simulation model of a real supply chain. This helps to analyze in detail the performance and efficiency of a supply chain and predict how it will function in the future.
Smart digital twin models provide real-time and actionable insights into both planned and accomplished work and sales orders, demand and supply, product life cycles, value chains, and more. These data are normally collected from multiple sources, including IoT devices, business or competitor websites, online listings, user experiences and online reviews, bills, invoices, different operational databases, and so on.
With digital twins, businesses can build a clearer picture of their internal and external operations, reimagine what the entire supply chain cycle could look like, and enhance communication across all stakeholders.
Democratization of technology
Innovations such as machine learning and artificial intelligence, low-code and no-code platforms, and big data put a lot of power into the hands of all participants in a supply chain network, without exception.
Technology democratization unlocks the potential of all employees, making them a vital part of the digital transformation effort. Workers can choose for themselves what aspect of their workflows to automate, thus empowering them to concentrate on more important tasks.
On top of this, employees start to think as technologists and innovators, learn new tools, and discover how to use them and apply them as a solution to different challenges.
Introduction of multiparty systems
The COVID-19 pandemic made enterprises rethink their supply chain communications and partnerships. And this is exactly when multiparty systems took the center stage.
Multiparty systems allow individuals and organizations to make use of shared data infrastructure, effectively work and share data within a unified ecosystem, and develop new business models. These systems comprise blockchain, distributed ledger and database, and tokenization.
With multiparty systems, supply chains stand to enjoy better resilience and flexibility, find new strategies to serve their customers and the market as a whole, and even lay the groundwork for new standards for their domains.
Challenges of digital supply chains and how to overcome them
Although the idea of digitizing supply chains is captivating, some organizations experience difficulties in doing it properly or find barriers to adopting change. Below, we will look into the most common challenges that prevent businesses from bringing about the digital transformation of supply chains, and discover how to resolve them.
Poor change management strategy
Some people fear change and innovation and may not be responsive to it at all, especially when it comes to totally upending the way they work.
Still and all, it is a well-known fact that those organizations with a comprehensive change management strategy are six times more likely to achieve their digital transformation goals. With a robust change management plan, businesses can nurture strong relationships with all workers and stakeholders and drive meaningful change.
Lack of competent digital transformation professionals
According to a study by KPMG, 54% of organizations admitted that they found it challenging to meet their digital transformation objectives due to the lack of competent tech staff with skills in solution design, software integrations, and data analytics.
To ensure the success of a digital transformation of your supply chain network, you need to take your time and look for a skilled software development team that will deliver a top result, or else provide specialized training for your staff (or both).
High initial investment costs
An important aspect that businesses should be aware of is that digital transformation does not come cheap. Once you have started, you may well notice new requirements gradually increasing the total bill.
It is advisable to outline your long-term goals and expectations and fathom out which particular benefits the digital transformation of your supply chains will bring. Also, think over which areas can work well without any transformation — thus you will manage to exclude unnecessary spending.
If you find it difficult to assess all outcomes yourself and wish to cut down on unnecessary spending, you will be better off if you partner up with professional consultants. They will provide a comprehensive overview of the transformation landscape and analyze the specifics of your internal supply chains to identify which areas need improvement.
Security concerns
Given that supply chains have to process large volumes of data, it is of the utmost importance that digital transformation offers uncompromisingly secure solutions and tools that will do no harm to all data.
The majority of digital transformation technologies and applications center around cloud computing and centralized systems which may be prone to cyber-attacks. In this case, you need to have a cybersecurity expert by your side to draw up an exhaustive backup plan that will help you successfully tackle any arising challenges.
Failed digital transformation strategy
By failing to prepare, you are preparing to fail. You need to have a predetermined detailed strategy at hand that will address key questions such as "Does your business have to embrace complex systems?" and "Which areas are in most dire need of improvement?"
A successful digital transformation strategy is one that comprises clearly communicated goals, decent executive sponsorship, and, chiefly, a strong focus on customers' needs and ever-increasing demands.
Technologies that make digital transformation in supply chains possible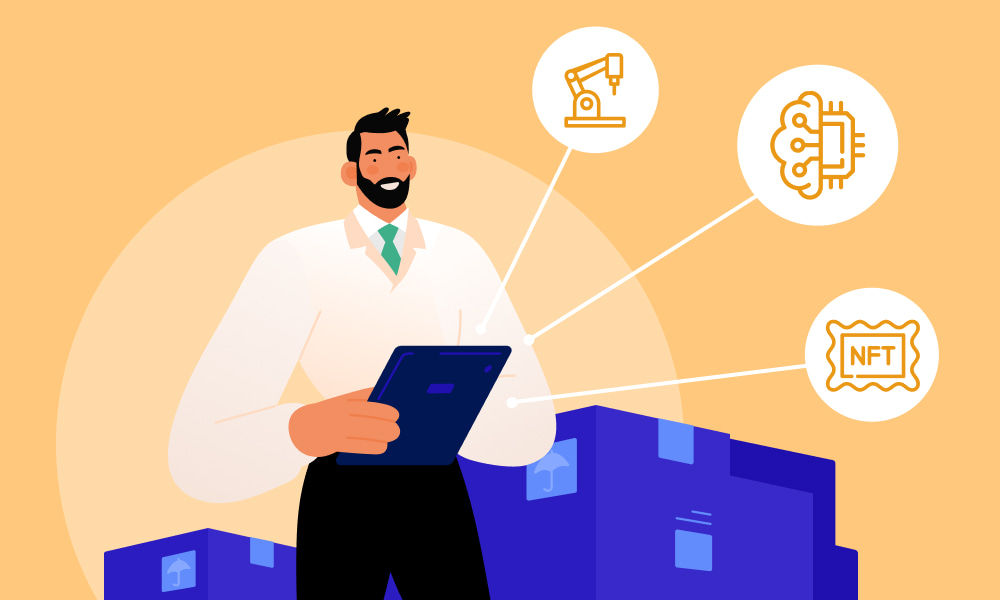 A number of cutting-edge technologies have emerged to help supply chains excel in digital transformation. See how they can be applied in supply chain processes and operations.
Artificial intelligence
Artificial intelligence has been a hit in the supply chain industry. It was estimated that around 40% of businesses believe that AI has the ability to develop more intelligent manufacturing and distribution centers. The technology also helps drive a better understanding and command of complex real-time inventory control dynamics, forecast future scenarios, and recommend the most viable actions and strategies.
In addition to this, AI can make supply chain processes more sustainable. The technology helps optimize logistics routes, significantly reducing gas consumption. It also facilitates more accurate demand forecasting, which enables minimized inventory levels and carbon emissions throughout the entire supply chain.
There is no doubt that artificial intelligence will keep progressing and developers will come up with many more ideas on how it can upgrade the supply chain. As of now, the most widespread use cases and applications of AI in the supply chain include:
Demand forecasting and inventory management
Predictive and descriptive analytics
Automated quality inspections
Warehouse management
Fraud detection
Supplier risk assessment
Computer vision for improving the quality assurance of finished goods
AI-powered bots for scanning inventory in real time
We develop AI solutions that make time-consuming routines a breeze
Blockchain
The usage of blockchain in supply chain management is gaining momentum. This technology enables the industry to enjoy unprecedented levels of transparency in all operations and fast, secure, and low-cost transactions.
Blockchain-enabled smart contracts have become an integral part of supply chains too. These are capable of facilitating instant payments once predefined conditions have been met.
Crucially, blockchain helps remove intermediaries from supply chain processes. For example, if an organization operates with multiple manufacturers and carriers from across the globe, it can rely on blockchain technology instead of costly third parties to control the provenance and track the history of all goods to make sure they are truly authentic.
An important thing to note is that blockchain also helps preserve the safety and quality of food. Together with IoT sensors, blockchain can record essential information (temperature and humidity) about the conditions under which the product is being delivered.
The technology also makes it possible to detect the source of foodborne illnesses in the supply chain and helps eliminate the issue asap. The world's largest corporations such as Walmart and Unilever have already implemented blockchain in their food tracking processes and seem to be satisfied with the result.
What's more, non-fungible tokens have made inroads into supply chains too. These days, NFTs are used in multiple supply chain directions, including digital certificates of product authenticity and real-time asset tracking.
Other blockchain use cases in the supply chain include:
Audit transparency
Digital certification
Logistics tracking
Counterfeit detection
Docflow digitization and automation
See how our smart contract development services can help your organization get ahead
Internet of Things
IoT has become a good companion to the supply chain too. The sophisticated technology can be leveraged in a variety of ways, from manufacturing to the delivery process, preventing any bottlenecks in supply chain networks.
All IoT tools and systems are quite easy to set up and operate. They facilitate asset monitoring and management and remove the need to enter updated data manually. Sensors, RFID tags, and special beacons allow all stakeholders to monitor all items and provide relevant and easily accessible information about them. With such actionable insights at hand, businesses can react much faster if something in the supply chain goes wrong.
Notably, a lot of organizations are rushing to integrate IoT sensors into their warehouses so as to trace the movement of all products and manufacturing units and the use of materials. These sensors can also be deployed on shelves to record and send updated inventory data to the management system. This will allow businesses to reduce costly and time-wasting mistakes to the barest minimum and boost greater efficiency in warehouse management.
Among the many applications of IoT in the supply chain, the following are particularly worthy of mentioning:
Fleet and resource management
Product allocation and management
Supply chain control and counterfeit detection
Customer segmentation
Connected vehicle monitoring
Get ahead with our full-cycle IoT development services
What other innovations foster the digitization of supply chain management?
Apart from artificial intelligence, blockchain, and IoT, many other cutting-edge technologies contribute to the advancement of the supply chain industry. They include 5G, cloud computing, and big data.
5G enables automation equipment and remote operations to connect wirelessly. The technology also assists in better maintenance prediction, more sophisticated asset tracking, and more convenient vehicle-to-vehicle communication.
Cloud computing has become part and parcel of supply chains. It is expected that the global cloud supply chain management market will hit $11 billion by 2023. By leveraging cloud computing in supply chain processes, organizations stand to enjoy benefits such as better information visibility, cost reduction, better communication and cooperation, and improved agility.
Big data helps organizations avert potential disruptions by making use of variable data, including traffic jams and weather conditions. It also contributes to the development of a robust supply management system, optimizes delivery routes, provides detailed insights into internal processes, and reduces overall costs.
Companies transforming the supply chain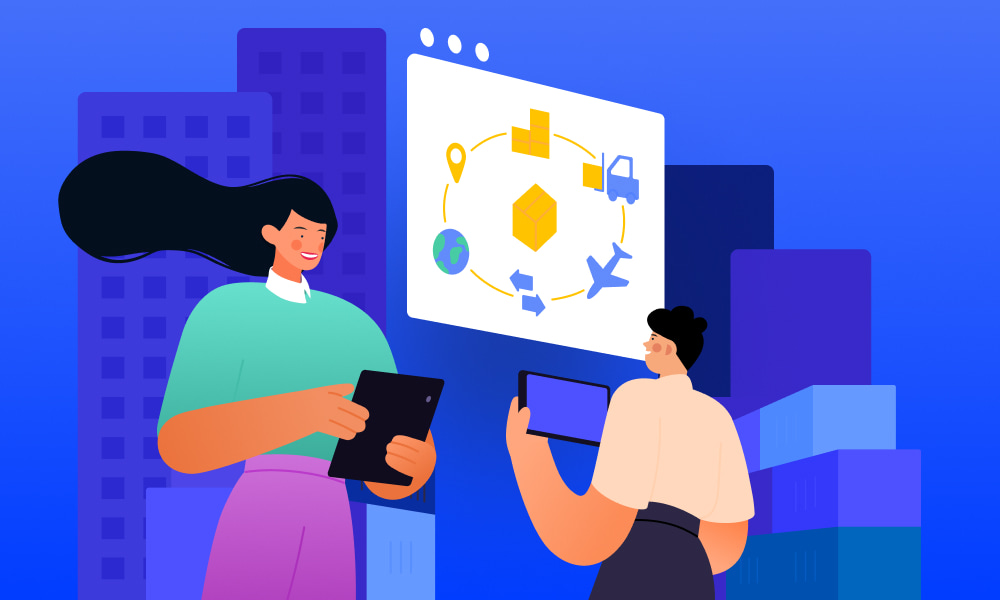 Companies across the globe are striving to empower businesses to undergo profound digital transformation and improve their supply chain processes. Let's take a look at some of the most outstanding examples.
Google
Back in 2021, Google Cloud introduced the groundbreaking innovation Supply Chain Twin, which allows organizations to develop sophisticated digital representations of their physical supply chains.
The solution is set to provide stakeholders with top visibility into suppliers and inventory data, customer experiences, weather conditions, and different risks. As well as this, Supply Chain Twin boasts other advantages such as alert-driven management, comprehensive analytics, and enhanced collaboration across teams.
PixelPlex
PixelPlex is an acclaimed software development services provider. The company predominantly leverages blockchain technology to help businesses upend their supply chain operations and make them more efficient and secure.
As of now, the most outstanding projects delivered by the PixelPlex team in the supply chain realm are as follows:
MECA — a Hyperledger-powered system for monitoring, analyzing, and managing the entire radioactive materials supply chain, including all movements and operations performed and the history of transfers between organizations.
Blockverify — a blockchain supply chain management solution with a built-in mechanism for counterfeit goods identification and brand protection.
Scargos — an end-to-end logistics solution for shippers, carriers, and drivers, consisting of the full set of tools needed to facilitate freight shipping, helping deliver loads on time, cutting down on overhead costs, and streamlining supply chain processes.
SAP
Eager to build a resilient supply chain and procurement network, SAP has long been providing solutions for supply chain management.
One of the most refined solutions developed by the firm is its SAP Business Network. This aims to harmonize disconnected supply chains into a single and integrated smart network where all participants can effectively communicate and collaborate.
IBM
IBM has been enthusiastic about assisting businesses in transforming their supply chains. It makes use of cutting-edge technologies like AI and blockchain to build more intelligent supply chains, drive product innovation, simplify supplier management, improve logistics performance, and much more.
In particular, IBM Supply Chain Control Tower has been specifically designed to help different organizations detect the impact of external events and forecast disruptions, respond faster to changes, and mitigate the upstream and downstream effects.
Microsoft
Microsoft's brainchild Dynamics 365 is used to improve end-to-end supply chain visibility, allow for flexible real-time planning, and seamlessly coordinate business processes.
As well as this, the company has been on the lookout for new partnerships that can help it to build many more trailblazing solutions for supply chains globally. As of now, Microsoft's ecosystem of partners comprises world-renowned companies such as Blue Yonder, aThingz, Cosmo Tech, ParkourSC, and ToolsGroup.
How to accelerate the digital transformation of the supply chain in your organization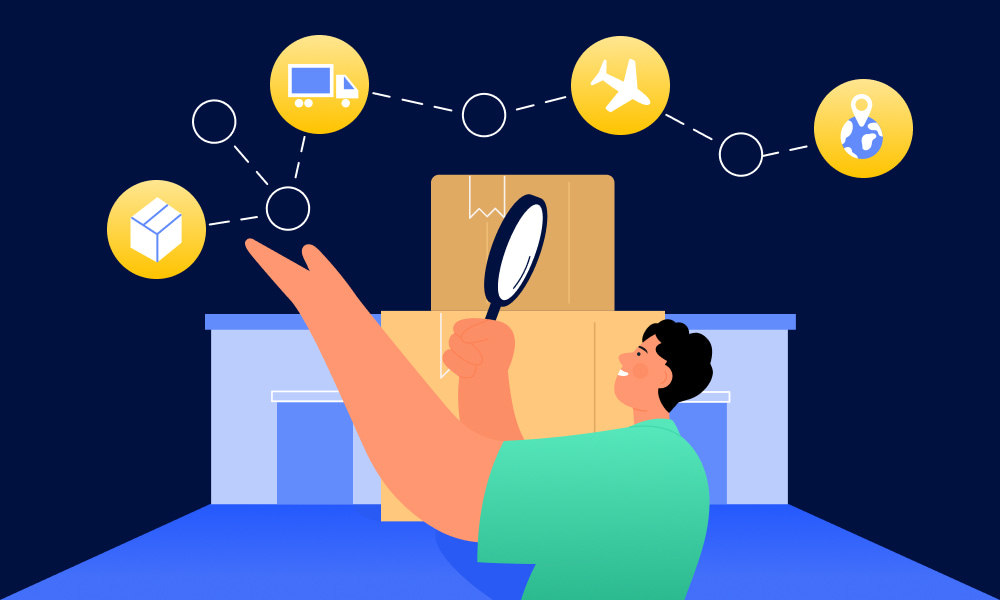 Let's put it straight: the digitization of the supply chain process will take time. But there are certain steps that can help you accelerate the transformation of your organization and ensure that you are moving in the right direction.
Step 1. Lay the groundwork and communicate your goals
It is essential that all participants support your ideas and are willing to embrace the change too. That is why, before commencing your digital transformation campaign, you need to clearly and honestly outline your objectives and aspirations with suppliers, vendors, and other stakeholders. You should also conduct an initial cross-functional survey among your staff and learn about their expectations.
Step 2. Assess your existing digital capabilities
Once you have objectively evaluated your current digital capabilities, you can build a clear digital target picture of where you need to bridge the gap and which existing digital tools can be utilized during the transformation campaign.
In addition to this, you need to interview your employees and other stakeholders to discuss their future roles and functions once new digital technologies are integrated into the process.
Step 3. Decide on the new technologies
This step can prove to be rather challenging. You will be better off if you partner up with experienced technology consultants who will give you a helping hand in identifying the most appropriate technologies to be incorporated into your supply chain operations and provide a detailed overview of how this or that technology will benefit your firm.
Digital tech consultants should also be able to identify long-term strategic requirements and objectives as well as pinpointing which pitfalls you might stumble into.
Step 4. Go digital and monitor your progress
You might feel a bit nervous starting your digital transformation, but you need to keep moving and eventually you will begin to enjoy the process. Do not forget to monitor progress along the way and ask all participants how they feel about the transformation. Collect their feedback to discover which areas still need improvement, and which skills and knowledge gaps they are eager to fill.
Chiefly, you need to keep in touch with your customers and react to their concerns and challenges immediately. It is probable that they will find it a bit hard to operate with digital supply chains — so your support is integral.
Round-up
The digital transformation of supply chains is crucial for all organizations that are keen to safeguard their long-term success, stay on the same wavelength as their customers, promote sustainability, drive greater efficiency, and outperform their competitors.
What's more, as the pace of digitization in all industries increases, we will discover many more groundbreaking solutions and tools that will make supply chain networks more effective and powerful.
If you no longer want to put off the digital revolution of your business, you can reach out to our PixelPlex digital experts for help. We specialize in delivering high-performing and secure blockchain, AI, and IoT solutions that will take your business to the next level and empower you to become a trendsetter in your domain.