A popular song declares "we don't need no education". Yet acquiring new knowledge and skills, whether at school or university, is crucial for our development and growth. Plus, when learning is combined with leading-edge technology, the outcome is even more profound.
Digital transformation has shaped every domain, and education is no exception.
Modern digital technologies and solutions are widespread in the education sector these days. Essentially, they can cater to and enhance different areas and aspects of educational processes while allowing both teachers and students to enjoy extraordinary learning experiences.
According to HolonIQ, the global EdTech market will hit $404 billion by 2025, which suggests we are set to see many more exciting technological innovations that will take education to a new level.
Check out this article to find out more about the impact and importance of digital transformation in education, the most promising technology trends, and see how students and educators alike can benefit from them.
The essence of digital transformation in education
Digital transformation in education is about implementing modern technologies and solutions in educational processes in order to enhance learning and teaching experiences for all parties involved. It opens up a world of endless possibilities and allows for simplified communication and collaboration between teachers and students.
In addition, digital technologies have the potential to improve internal administrative processes, safeguard better working conditions for students and teachers, promote greater security at campuses, and facilitate the control of students' health and well-being.
Discover how our IT consulting services help startups, SMEs, and large enterprises successfully undergo digital transformation
What are the key benefits of digital transformation in education?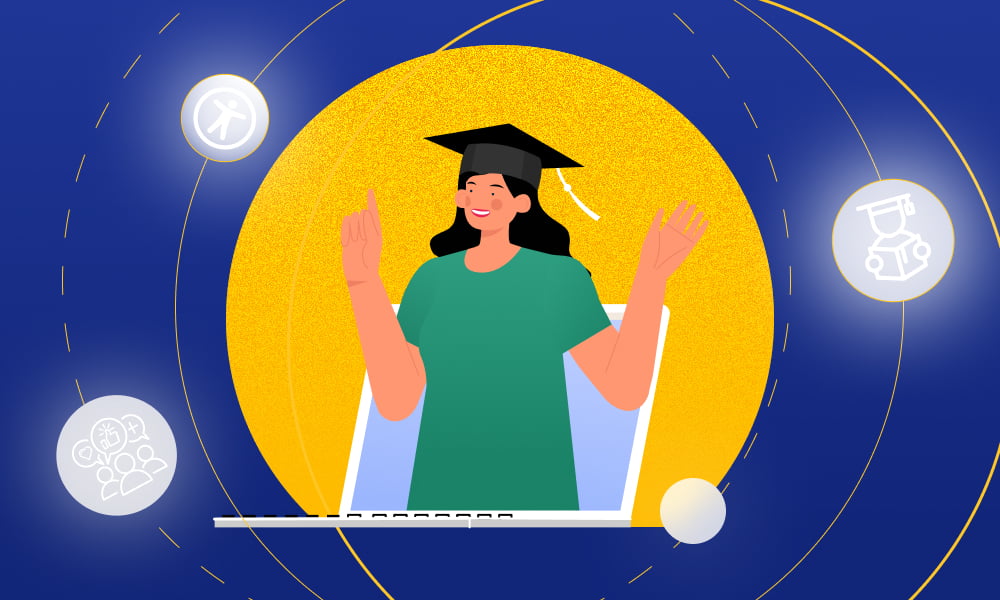 The digital transformation of educational processes can bring about a host of positive changes for students and educators, including accessibility and inclusion for everyone, personalized learning, greater engagement, improved safety, and clearer insights into student performance.
Accessibility and inclusion for everyone
With cutting-edge digital technologies, learners from any corner of the world can gain access to learning materials and resources or join an online course or a training program. The only thing they need is a stable internet connection.
Notably, technological advances such as text-to-speech and speech-to-text manage to eliminate the barriers for students with disabilities, thus enabling quite literally anyone to join the educational process.
Personalized learning
Around 59% of middle school students admit that digital educational tools have helped them to raise their grades and test scores.
By making use of digital technologies, students can learn new material at their own pace and adapt the lessons to their own preferences and cognitive skill sets.
In addition, specialized learning experience platforms give students the ability to combine learning materials from different sources and enjoy more personalized experiences.
Greater engagement
Teachers, for their part, can offer students more engaging ways of learning and absorbing new material. Interactive whiteboards, tablets, smart classes, projectors, chatbots, AR/VR, and AI-powered software will boost learning performance and save time on various managerial tasks.
What's more, teachers can also create and manage groups in a digital cooperative setting via learning platforms so that students can effectively exchange information, participate in discussions, and answer teachers' questions.
Improved safety and protection
By integrating IoT-enabled sensors, CCTV systems, IP cameras, and artificial intelligence, it is now possible to help maintain the safety and well-being of both educators and students.
Face recognition capabilities can allow for sophisticated tracking of an establishment's facilities, detecting suspicious people and/or activities.
Besides, novelties such as face mask detection and social distancing control systems as well as thermal screening will spot someone who is running a temperature or not keeping their distance and will issue an appropriate alert.
Clearer picture of student performance
A good deal of research has shown that parental involvement is crucial to children's successful performance at school. Technology, for its part, provides parents with more sophisticated ways of tracking kids' progress. These days there exist a number of tools and systems that automatically send parents progress and attendance reports on a regular basis.
But technology can go one step further: through making use of big data and analyzing students' overall performance, strengths, weaknesses, and preferences, a student can receive a comprehensive career guide, telling them which potential occupations will suit their interests and capabilities.
Challenges and limitations of digital transformation in education
Despite its multiple benefits, digital transformation in education does not come easy. There are certain obstacles, including a faulty long-term strategy, unwillingness to change, and lack of relevant skills that create barriers to a smooth transition from traditional methods of teaching and learning to more advanced ones.
Poorly defined long-term strategy
Once an educational establishment has decided to go digital but does not have a thorough step-by-step plan, it can face a lot of challenges and roadblocks.
As a rule, digital transformation starts with planning and drawing up an exhaustive, forward-looking strategy that foresees all eventualities and answers the chief questions such as:
What are you and your educational establishment planning to achieve with digital tools?
Does the existing legacy system allow you to successfully incorporate new digital technologies?
Are teachers and students adequately trained and prepared to embrace the change?
Will everyone have equal access to new models of learning?
Do you have the infrastructure budget needed to bring about changes, customizations, and replacements?
Unwillingness to change
Some educational establishments may find it difficult to alter the way they manage their internal processes as they might not be very willing to leave their comfort zone. Some educators may be used to their status quo and even fear that technology will replace them.
The point here is to persuade teachers that even the most sophisticated tech will never replace them — rather, it will help ease the burden of preparing materials and activities for their classes and make lessons more engaging and informative.
Insufficient tech knowledge and skills
The demand for tech-savvy professors is growing, and it is expected that around 3.5 million STEM jobs will need to be filled by 2025. Yet analysis, worryingly, suggests that millions (!) of these positions will remain vacant because not enough educators have relevant digital skills and knowledge.
The digital transformation of educational processes will not come off until educators have a thorough understanding of how to leverage digital tools and solutions in teaching and learning activities.
Therefore, teaching staff need to be regularly trained and updated with the digital skills that will allow them to educate, monitor, and motivate their students. Meanwhile, students too should be constantly helped to hone their digital skills.
Technologies that enable digital transformation in education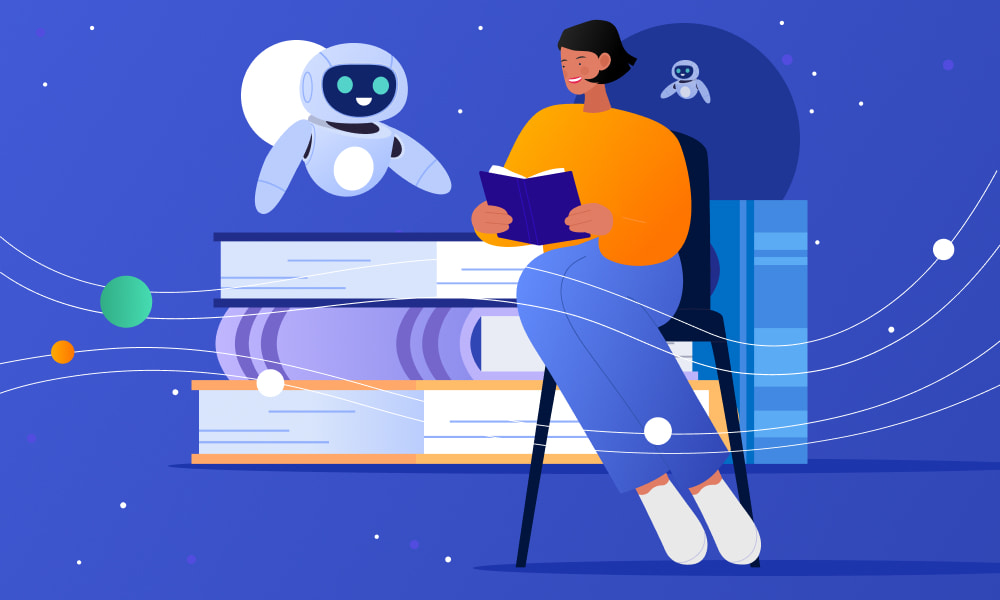 Given the increasing popularity of digital tools, the educational technology market is projected to expand to $342 billion by 2025.
Below we will look at the most profound tech trends such as artificial intelligence, chatbots, AR/VR, the metaverse, blockchain, and IoT, as well as their related use cases, and see how they can benefit the entire education sector.
Artificial intelligence
Artificial intelligence has made inroads into a wide range of educational processes, and it is expected that the global use of AI in education will hit $5.8 billion by 2025.
The sophisticated technology has been successfully leveraged to overhaul the way teachers do their job and students acquire new learning materials.
AI contributes enormously to the promotion of personalized learning by enabling students to make the most of adaptive learning software and different gamification techniques. It also has the capacity to highlight the areas that a student is not so good at and the topics they still need to master.
What's more, multiple AI-based tutoring programs such as Third Space Learning have already been successfully launched. They support students in learning the ropes of mathematics and writing (among other subjects), though they lack high-order thinking skills and creativity.
Another point worth mentioning is that AI can give teachers a leg up in automating grading for multiple-choice and fill-in-the-blank tests. This allows educators to focus on activities that require creativity and personal interaction with students.
See how our industry-certified AI engineers can help address your business hurdles
Chatbots
AI-enabled chatbots have become a go-to tool in the education sector, proving a hit not only with teachers and students but also with administrative staff.
Chatbot technologies perform a wide variety of tasks extremely capably and around the clock. Among the most popular issues they can deal with are answering routine questions, providing feedback to learners, assisting with undergraduate applicants, and counseling potential students on the admission process.
At present, a large number of universities across the globe, including Deakin University in Australia and Georgia State University are actively implementing AI chatbots into their processes. As well as this, outstanding corporations such as IBM, Amazon, and Drift have expressed avid interest in chatbot technology too and developed their own solutions that can be customized to address different educational aspects.
AR/VR
AR/VR in the education market is projected to reach $19.6 billion by 2023. They represent by far the most outstanding technologies that can be applied to a variety of educational activities.
AR/VR are widely regarded as valuable additions to the education scene because they offer extraordinary immersive experiences such as the ability to present information in advanced and captivating ways, and the potential to extend access to educational opportunities.
With high-performing AR/VR solutions, students are able to easily interact with virtual objects and their surroundings as well as other individuals. To date, plenty of AR/VR initiatives have been launched to assist students. For instance, there is the solution by Merge Cube that helps transform visual objects into 3D tactile items, or HoloAnatomy which enables medical students to have a better understanding of the human body using AR simulations.
AR/VR can also serve as a time machine, transporting students to different eras so that they can have a clearer sense of the most important world events. There are also VR initiatives like Bodyswaps that are aimed at helping students to practice job interviews and hone their soft skills.
In addition, AR/VR tools help teachers build 3D versions of classrooms where each student is represented as an avatar that can move around the classroom and interact with classmates. These virtual classes usually have a language translation function, meaning that the problem of language barriers can finally be solved.
Another prominent advantage of AR/VR in education is that the technology can cater to the needs of learners with disabilities. With these tools it is now possible to design sophisticated immersive environments that will enable students to change color contrast or font size, or to add an audio commentary.
In this article we have covered the full gamut of AR/VR applications and use cases in education. Check it out
Metaverse
The advances in AR/VR have laid the foundations for the wider adoption and development of the metaverse in the education sector. A large number of education professionals and analysts believe that the metaverse will exert a substantial influence on learning and come to be embraced globally, with the global metaverse education market projected to reach a value of $32.39 billion by 2028.
Thanks to the metaverse, students can explore extraordinary opportunities by immersing themselves in highly realistic environments. For example, medical students can almost literally enter the brain or other parts of the human body to better explore its structure and functioning.
Importantly, the metaverse can contribute to the development of safer learning environments. Educators will establish a degree of control over student interactions, which will enable them to substantially clamp down on bullying and also protect students from other unwelcome distractions.
It might still seem too early to speak about learning and teaching in the metaverse: yet Roblox has already introduced easy-to-install virtual classrooms where students can find historical roleplays, physics simulations, and creative building games.
Stay ahead of the curve with our metaverse development and consulting services
Blockchain
Expected to climb to over $39 billion in market size by 2025, blockchain technology has made its presence felt in a variety of industries, education being no exception.
Blockchain's immutable ledger can be used for safely storing and keeping student records that contain authentic information about attendance, completed courses, and results of particular exams or tests. Once the student's data has been entered onto the blockchain, falsifying or tampering with it will be impossible, and only authorized parties will be able to access it.
World-renowned universities such as the University of California at Berkeley, MIT, and Harvard University Division of Continuing Education have long been interested in utilizing blockchain to develop a reliable shared infrastructure standard for issuing, storing, displaying, and verifying academic credentials.
Beyond this, a large number of blockchain solutions have been launched to help institutions make their workflows more robust and ensure more effective and secure management and storage of data. These comprise Disciplina, Blockcerts, and Parchment.
In addition, teachers can also make use of blockchain-powered smart contracts to assist them in organizing their work. They can record a lesson into a blockchain, provide tasks for students, specify assignment parameters, and enable smart contracts to automatically verify the completion of a task and allow the student to proceed to the next one.
And there is more: non-fungible tokens have made inroads into the education domain too. These can make very serviceable substitutes for diplomas and certificates, and also verify academic achievements and exam results.
Find out more about the most prominent blockchain education use cases and applications
IoT
IoT in the education market is projected to hit $26.8 billion by 2028.
Cutting-edge IoT devices allow schools and universities to enhance the security of their campuses, keep track of and manage core resources, and significantly simplify access to information in the learning environment.
The multi-faceted nature of IoT devices allows each educational establishment to leverage the technology for its own purposes. Arizona State University, for instance, has set up smart sensors that rely on IoT data to inform the administration about energy use at its $300 million football arena redevelopment.
Among other IoT education use cases, the most outstanding ones are smart thermostats that regulate classroom temperature and smart sensors that are able to track each student's attendance and performance. Notably, IoT sensors can also be used to upgrade the efficiency of testing and grading and help find methods to increase classroom engagement.
Moreover, a large number of forward-looking schools have been leveraging IoT devices such as smartwatches to track student health and well-being metrics such as depression and blood oxygen level. If a wearable spots a change in the condition, it immediately notifies school administrators and parents.
Need a reliable IoT development partner? We have you covered
What it takes to deliver a meaningful digital transformation in education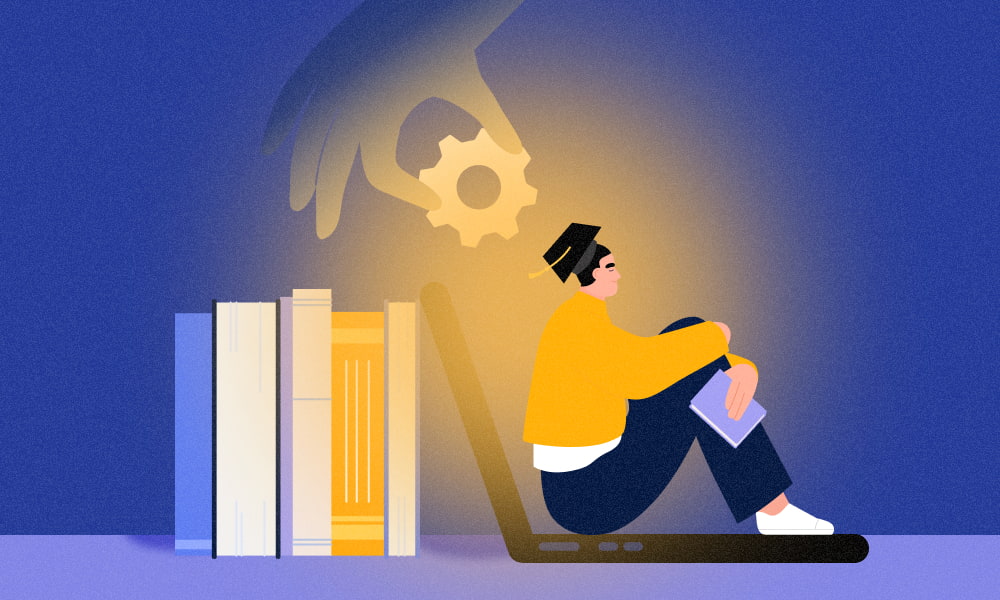 Many aspects need to be taken into consideration before implementing digital tools and solutions in educational processes.
To get everything right and secure long-term success, it is advisable to carry out a SWOT analysis, which stands for Strengths, Weaknesses, Opportunities, and Threats.
By relying on SWOT, educational establishments will be able to tick their boxes and have a clearer vision of how to proceed further. More specifically, a SWOT analysis will help educators and administrators to:
see where a school/university is most effective
pinpoint directions and areas that require improvement
identify strategic goals
examine the viability of the digital initiative
discover how students, educators, and administrators will benefit from the transformation
learn how to implement new tools in educational processes
It is also necessary to prepare both educators and students for the digital transformation in their learning and teaching processes. This can be done via special training, workshops, and sessions comprising thorough explanations of the benefits of digital tools and demonstrations of how to use them to their full potential.
Finally, to fully realize the digital transformation of educational processes, it's very important to look for a reliable tech partner who will take care of implementing the technology or delivering a high-performing solution.
Closing thoughts
Digital transformation in educational processes allows for greater accessibility, inclusion, and engagement and contributes to the development of more personalized learning approaches. It also provides a safer and more secure environment where students and teachers can seamlessly interact with each other.
Pioneering technologies such as artificial intelligence, augmented and virtual reality, the metaverse, blockchain, and IoT have been successfully leveraged in a variety of educational directions — and it is just a matter of time before we see many other game-changing tools that will elevate the entire education sector to a completely new level.
When you decide to give the technology a go — make sure to drop us a line. Since 2007, here at PixelPlex we have been helping businesses from a range of industries to undergo a fruitful digital transformation and to thrive. Our seasoned experts will do their best to design a solution that will deliver real value to your organization and enable you to be the leader in your sector.
Do not hesitate to contact us, let's start transforming your business today!