Finding ways to connect to the consumer directly has never been more critical. Even though the pandemic has hampered operations, the retail industry must accelerate digital transformation and tweak the customer journey to thrive. So how well is it succeeding?
In terms of market value, the Global Digital Transformation Market in Retail was valued at $143.55 billion in 2020. It is expected to reach $388.51 billion by 2026 and grow at a CAGR of 18.2% over the forecast period (2021-2026).
This growth imperative comes against a backdrop where technology blurs industry boundaries and opens new possibilities in every aspect of retail from marketing and procurement to sales, planning, and logistics. Of course, the capability existed before the pandemic, but its adoption has been massively accelerated, with 50% of consumers saying the way they use technology has changed for the better since the pandemic, while 37%  are shopping online for products they previously bought in stores.
In this article we will touch on the key drivers of digitalization in retail, discuss the key tools and technologies that enable digital transformation, evaluate digital retail trends, and provide some successful real-life examples.
What is digital transformation in the retail industry?
Digital transformation in retail enables a motivating omnichannel experience that responds to consumer behavior across all channels, given customers' desire for a personalized experience in the new normal where we now find ourselves.
The concept of retail digital transformation has been revolutionized more than ever since the pandemic. But, for retailers, digital transformation envisages going beyond gradual gains. It's not just about data intelligence, agility, customer centricity, new value propositions, and innovation: it's also about cutting costs, improving efficiencies, and streamlining procedures.
As more retailers implement digital procedures, competition rises, and the value of digitalization escalates.
What are the key drivers of digital transformation in retail?
Retail is one of the key industries shifting towards service-oriented models and automating tasks, processes, and operations. Let us take a closer look at the key drivers behind this process.
The uncertainty of the pandemic
The pandemic has made one thing clear: a variety of data-driven and IoT-enabled retail solutions will play a significant role — anything that enables the use of data to optimize business, make shoppers feel safe, protect workers, save/manage costs, and even potentially decide which retail stores to close.
The need for an immersive shopping experience
Retailers are now searching for ways to deliver an immersive shopping experience incorporating digital technology, from smart displays to beacons, to meet shoppers' desire for a personalized approach.
Retail supply chain issues
Retail supply chains are not digitized enough. According to a Deloitte supply chain executive survey, only 58% of shoppers are satisfied with their shopping experience. Retail supply chains need solutions that enable synchronized planning, intelligent supply, and dynamic fulfillment to deliver an omnichannel customer-driven landscape.
Data-driven marketing opportunities
Data-driven marketing and optimization opportunities are part of the digital marketing revolution, where connecting with customers throughout their life cycle is vital. A customer-centered approach means personal data must be handled in a way that makes sense for the consumer.  Retailers are now paying more attention to issues such as user privacy, personal data processing, and personal data protection.
Need assistance with retail software development? We're here to help
Why is digitalization a prerequisite for the retail industry?
Although the driving factors of retail digital transformation provide the foundation for understanding its necessity, we must now address the 'Why'. Below are the key reasons why digital transformation in retail is a must.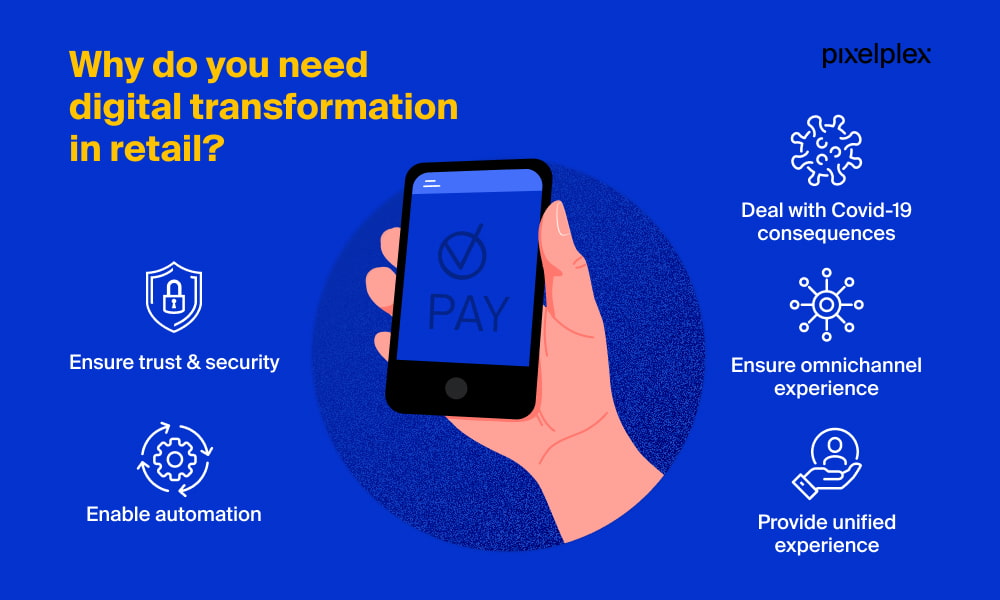 Valuing trust and security
When shopping on a website they are unfamiliar with, customers experience anxiety. Trust must be established online with clear product descriptions and accurate availability. ERP integration is one method of sharing real-time data about products, pricing, and shipping. If successfully implemented, eCommerce and ERP integration for B2B will streamline sales, increase data visibility, and improve the customer experience.
Automation is ubiquitous
Robots, drones, and automated checkout are changing retail. For example, delivery firms, restaurant chains and retailers are developing autonomous delivery, which can decrease package delivery costs by 86% if done securely and reliably at scale. Innovative companies that have warehouses in their supply chains, on the other hand, are using effective automation to reduce manual labor costs by 70%.
Customers demand unified experiences
Consumers use many channels, including web, mobile, and social media, and expect brands to be available across all channels at all times. As a result, engaging customers will only get more challenging for retailers with fragmented or poorly integrated platforms that do not offer a unified commerce strategy by connecting various channels through one platform.
A unified commerce platform can eliminate the complexity of disparate platforms and processes and enable data to travel wherever needed. The end result is a frictionless front-end shopping experience complemented by efficient back-end operations.
Covid-19 is transforming retail procedures
The Covid-19 pandemic is upending the status quo in a number of sectors, including the CPG (Consumer Packaged Goods) industry, which has been hesitant to adopt eCommerce and diversify supply chains.
With a near-universal rise in demand for essential goods and medical supplies, the CPG industry was caught off guard by rapid turnover and frequent out-of-stocks.
Most brands' production-to-delivery cycle is 12 to 16 weeks. However, the pandemic proved that this cycle must be reduced. CPG brands are discovering that it's imperative to invest in technologies, particularly CPG eCommerce, to improve supply chain management and digitally communicate with distributors, wholesalers, and retailers.
Retailers are also looking for ways to improve operational efficiency. They are introducing new or connecting existing business systems such as CRM, eCommerce, ERP, WHM, or PIM solutions.
Omnichannel, the way forward
The starting point is vital in a crisis, and as competition intensifies, retailers must also reevaluate their market position. Organizations that can quickly reinvent their omnichannel approach to provide a unique customer experience will recover faster from the pandemic.
Omnichannel retail digital transformation has created tools to remove doubt and confusion during purchase decisions. Currently, augmented reality is one of the most common technologies that shops utilize to help customers visualize products with cameras on mobile devices.
Moreover, new delivery models are already gaining popularity among the general public, with BOPIS (buy online, pick up in-store) expected to stay in demand long after the pandemic.
Fast-moving consumer goods (FMCG) are well-positioned to profit from these emerging client preferences. As customers become more comfortable with the concept, it won't be long until other retail sectors, including B2C and B2B, follow suit.
Check out why omnichannel commerce is a must for business and which technologies are needed to achieve it
Digital trends in retail
It is also critical to consider the digital trends that dominate the retail industry.
Increased number of internet and social media users
Given the strong correlation between economic affluence and internet access, connecting billions and trillions of users to the Internet is one of the most prominent opportunities for the retail industry. The expanding trend of accessing the Internet via wireless devices equipped with technologies, including 3G, 4G, and public Wi-Fi, has placed mobility at the core of the next big revolution for retail businesses.
Rising numbers of smartphone users and the growing use of m-commerce
The number of smartphone users worldwide today surpasses six billion and is expected to grow by several hundred million in the next few years. Since the first smartphones hit the market, the number of global smartphone users has steadily increased, topping three billion for the first time in 2019.
This growing trend is forecast to continue over the following years, with several hundred million new smartphone users joining the worldwide user population each year. With the increased usage of smartphones, it is projected that mobile commerce in the retail industry will develop rapidly.
Digital infrastructure
The fourth industrial revolution, or Industry 4.0, is defined by emerging technologies that blur lines between the digital and physical worlds. With robust analytics tools, including scenario analysis, predictive learning algorithms, and visualization, access to data redefines how companies perform.
Companies may now collect massive data sets from physical facilities and assets in real time, perform complex analytics to gain new insights, and make more effective decisions. As a result, the digital revolution is transforming how products are designed, developed, and delivered to customers, substantially affecting the retail value chain.
Key technologies and tools to enable digital transformation in retail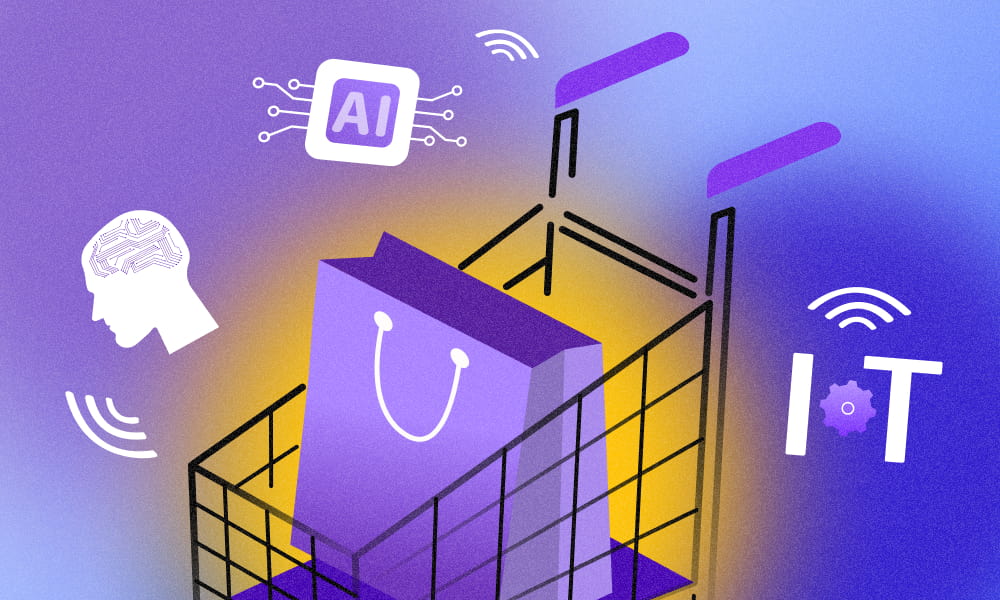 To win in the post-pandemic consumer landscape, retailers must go beyond traditional customer-centricity and deliver greater value with the right mix of well implemented and integrated technologies. By harnessing the emerging technologies and tools discussed below, retailers can reset and move forward to achieve substantial growth.
Data analytics and machine learning
With the growing amount of data generated by organizations, performing analysis and uncovering insights has become a necessity. Machine learning is critical to establishing a link between a business and its customers by helping the former better understand and predict what the latter wants.
For example, retailers can use machine learning data to identify shopping patterns, evaluate purchasing behaviors, adjust promotions and special offers, personalize product recommendations, and make forecasts based on previous trends and client preferences.
Data analytics is now used at every level of the retail industry, from tracking new products to projecting sales and predicting future demand, thus increasing revenue and business performance.
Artificial intelligence and conversational AI
Customers expect quick, high-quality customer service available 24/7. Artificial intelligence is a significant step toward providing this attentive level of service, and chatbots are retailers' 'go-to solution'.
Chatbots allow for the same level of service quality regardless of circumstances. Marketing activities are easier since the chatbot can engage with the consumer and provide suggestions powered by greater analytical capabilities. Moreover, chatbots can upsell or cross-sell products, pointing the customer toward merchandise that might interest them. The right method can significantly lower costs and increase revenue.
Our team is ready to help you with custom AI development to improve your service offering. Let's get together
Internet of Things
The retail industry is undergoing a rapid transformation with the implementation of the Internet of Things. It is expected to boost sales, increase customer loyalty, create a personalized experience and enhance inventory management.
It's hardly surprising therefore that the EY Reimagining Industry Futures 2022 report confirms how external factors have accelerated the pace of digital transformation in retail. According to the report, 71% of retailers say their organization is more interested than ever in 5G and IoT use cases that can improve supply chain visibility and management. At the same time, 75% agree that the Covid-19 pandemic has boosted their digital transformation plans.
For example, beacons have been a growing trend since their introduction by Apple in 2014. Beacon technology has revolutionized various industry verticals, particularly retail and e-commerce, to send customers location awareness alerts and promotional notifications. According to industry research, the beacon technology market will be worth more than $25 billion by 2024.
Unified commerce and omnichannel experience
Reconciling data pulled from multiple systems is time-consuming and resource-intensive. To effectively maintain data integrity intact and secure, data silos must be broken down, and data from disparate sources integrated into a single unified commerce system.
In addition, as discussed above, consumers use multiple channels and expect businesses to be available across all channels. According to a Harvard Business Review study, consumers who use 4+ channels spend nine percent more than those who use only one.
Omnichannel retailing improves customer retention and experience by delivering a consistent experience across multiple channels, allowing users to continue their queries across these channels while leveraging data from all channels to construct a unified perspective of the consumer.
Process mining
Process mining sits at the intersection of business process management (BPM) and data mining. Process mining applies data science to discover, validate and optimize workflows. By combining data mining and process analytics, organizations can mine log data from their information systems to evaluate the performance of their processes, revealing obstacles and other areas of improvement.
Process mining techniques have been utilized to improve process flows across various industries. For example, process mining solutions can help the retail industry gain insight into buyer behaviors and provide accurate sales recommendations.
However, increasing sales isn't the only way to generate revenue. Process mining helps businesses lower costs by measuring inefficiencies in their operational models, allowing leaders to make objective resource allocation decisions.
Virtual and augmented reality
AR and VR technology have extended beyond the gaming world, and the retail industry has found ways to leverage these technologies to create a one-of-a-kind shopping experience.
Since today's shopping experiences are happening in many different contexts — at home, on the go, and in store — AR shopping is enabling customers to engage with brands and products via digital experiences that allow them to try on, try out, interact, or personalize their product virtually. VR, for its part, creates a fully rendered digital environment that replaces the user's real-world environment, featuring body and motion-tracking capabilities.
These technologies can help customers feel more confident in their product selection if delivered effectively. In addition, the more customizable, the more valuable these experiences become to building confidence during the shopping experience.
Content management system (CMS)
Publishing accurate and relevant product and marketing content is challenging even before factoring in the growing number of consumer touchpoints.
Instead of implementing multiple, parallel content management system instances, for example, to support web and mobile channels, a single headless CMS instance can serve an unlimited number of digital channels.
The headless CMS is an essential piece of technology for organizations that are aiming toward an omnichannel world. In particular, in the retail industry, headless CMS allows online retailers to form 1:1 relationships with customers by connecting marketing and product content to purchase history and other data to provide a completely personalized shopping experience at scale.
What are the challenges with digital transformation in retail?
Retailers are not new to disruption: they have faced the entry of online competitors, startups, and marketplaces for years. However, many have not been on the cutting edge and have responded to, rather than anticipated, these risks.
Whatever digital transformation entails for the retail industry requires a solid foundation. Whether the focus is customer data management, increased product availability or order visibility, ROI evaluation and risk assessment should be taken into account, alongside the following challenges:
Culture change. Those with traditional methods of doing things sometimes resist change, while changes in responsibilities often lead to problems accepting accountability, with delays in ROI. With that in mind, retailers often hesitate to adapt to new operating methods.
Lack of expertise and commitment. Management must be honest about their technical skills and whether they have the experience to transform retail. Determine what can be done in-house and where outsourcing can ease the burden. On the other hand, many ongoing endeavors aren't revolutionary enough. Digital transformation involves leadership-level focus, budget assurance, and confidence in implementing the project.
Investment challenges. Liquidity issues are common for many businesses operating on low margins. This can lead to pushback from leadership, requiring sustained back-and-forth dialogue with stakeholders, partners, and customers.
Technology. Investing in the right technology that can add value is another significant challenge. It is critical to take calculated risks to understand which new infrastructure and technologies will suit an organization.
Take a look at our recent article on how to achieve digital transformation in supply chain and find useful insights
What are the three approaches to digital transformation?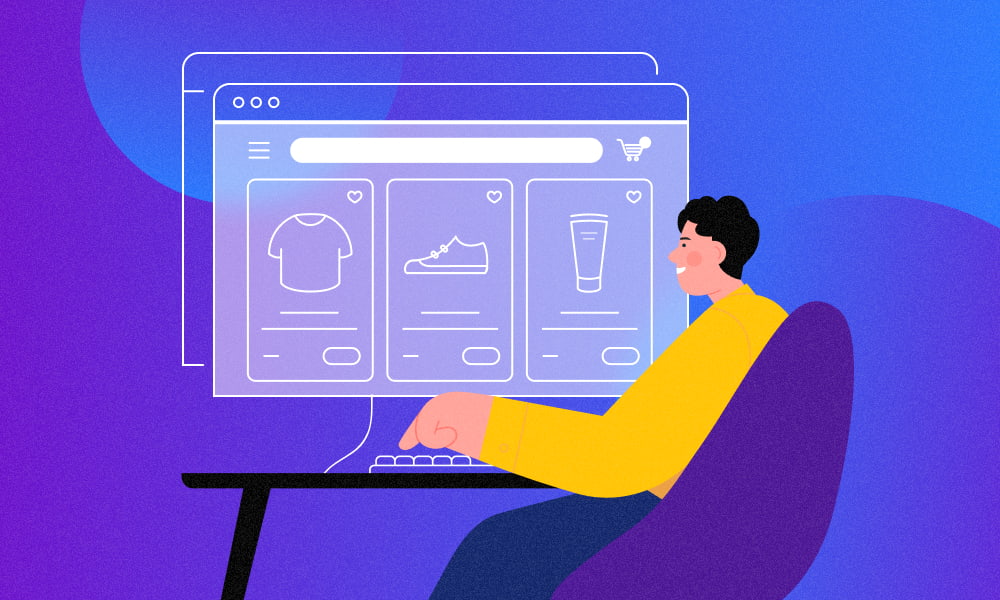 Digital transformation is a multi-faceted journey with differing goals depending on the industry and its digital maturity: like on any journey, you need to decide where to go first and how you will approach your end goals. Confirmation of digital success, all-inclusive digital strategy, and digital skill delivery in stages: which way forward?
Confirmation of digital success
This first strategy will benefit firms that are concerned with empirical findings. The challenge of this method is the danger of remaining inactive until your digital transformation takes hold. Competitors will gain a unique edge if their digital success occurs faster than yours.
Because most businesses have a combination of digital and non-digital solutions, this strategy is typically the first choice for most companies.
All-inclusive digital strategy
This approach prioritizes time: it focuses on changing the culture and rapidly implementing innovation. But it requires a robust long-term strategy. It is typically a costly approach with numerous risks that companies with a high level of patience and risk appetite can afford.
Digital skill delivery in stages
After selecting an initial target and route, this approach focuses on delivering benefits while the organization advances toward its digital destination, which may change drastically in the meantime. However, as the business grows, lessons are learned and fresh inputs evaluated, modifying the digital goal and, in some cases, the path to the destination. As a result, this approach focuses on producing a robust yet pliable strategy that can evolve with industry changes throughout its existence.
Peloton, for example, generates new revenue by extending its data-driven services to digital platforms. Peloton's products generate user-interaction data, which the company uses to facilitate exchanges between its digital customers and third-party entities outside its value chains. AI algorithms then match specific users to suitable trainers by analyzing product-user interaction data, in a similar way to how Uber matches riders with drivers using data from their apps.
However, this can be very challenging for firms operating with value-chain-driven business models and minimal exposure to digital platforms.
Real-life examples of digital transformation in retail
From groceries and consumer electronics to apparel and pharmaceuticals, all retail sectors are under pressure to keep up with rapidly evolving supply chains and customer habits. For the same reasons, the market for robotics developers and suppliers to serve these needs is flourishing.
Retailer conglomerates such as Amazon have deployed thousands of robots in dozens of distribution centers across the U.S., and other retailers have followed suit by partnering with robotics suppliers.
Trying on an outfit or imagining how a piece of furniture will look in your home can be time-consuming. The idea of Virtual Reality zones in physical locations is set to change that, and many brands have taken the initiative to establish VR digital showrooms.
Augmented reality apps are effectively an extended version of VR showrooms. In particular, cosmetics retailers are launching AR apps that allow users to browse their products by submitting photos.
Aside from optimizing product pricing, organizations can better balance supply and demand while maximizing profits. OroCommerce, for instance, streamlines integration between OroCommerce and external pricing sources while offering a powerful dynamic eCommerce pricing engine that allows companies to automatically calculate new price lists based on existing pricing data and specified business logic.
Closing thoughts
To enable digital transformation in retail, retailers should understand that emerging technologies cannot be considered in isolation. They require the right infrastructure and integration to run smoothly and consistently.
Having a sound digital transformation plan is also paramount, as is having the right advisory board to delve into your specific circumstances and bring R&D-based product concepts, safety, marketing strategies, practical roadmaps, whitepapers, and manuals to the table.
There's no chance you'll be left on your own, as PixelPlex developers are natural at providing tech that supports full business cycles – from manufacture to transportation to omnichannel sales.