Even though it's highly centralized and uses our private data to make money, social media has become an integral part of our lives. Is decentralized social media a better option?
Platforms like Facebook, Twitter, and Instagram are very familiar to most of us, causing our screen time to run high. It was reported that in 2022, 4.74 billion people had accounts on social media, which is 59.3 percent of the total global population.
Social media platforms are now very much intertwined with all aspects of our lives, from entertainment to work, so the fact that big corporations use them to collect and sell our private data, and even manipulate our thoughts, is very unpleasant and disturbing.
Is decentralized social media a solid solution able to fulfill our social media demands while handling the drawbacks of traditional platforms? Read on to find out.
What is decentralized social media?
Decentralized social media platforms aim to be censorship-free and allow users to regain full ownership over their private data.
Decentralized social media networks do not have a single center for managing and distributing data. Instead, they are located on independent servers and nodes that are usually blockchain-based, meaning that no single authority can manage the platforms as it pleases.
What are the pros and cons of decentralized social media?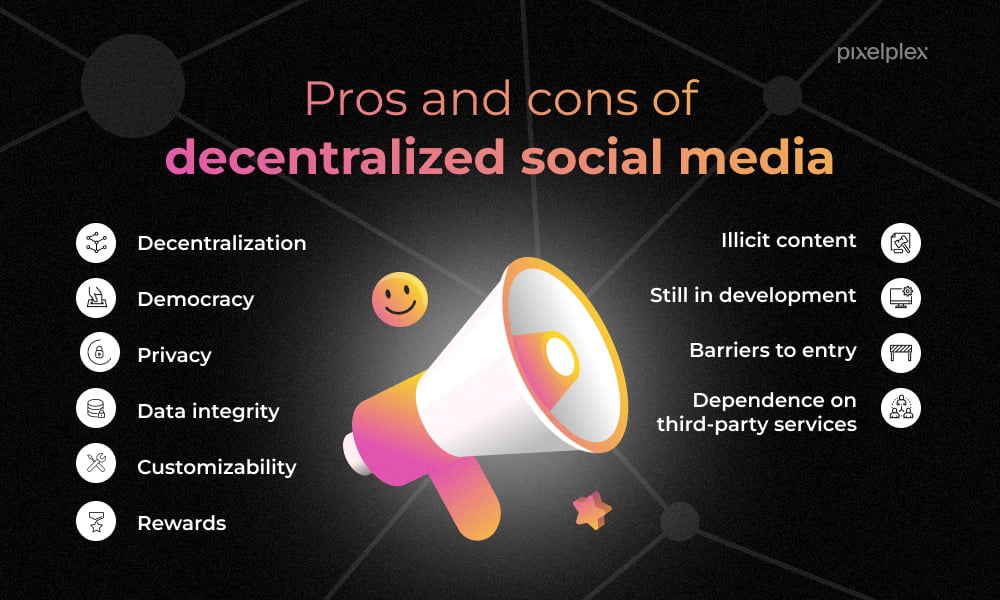 To have a deeper understanding of why people turn to decentralized social media platforms, let's take a look at what benefits they offer:
Decentralization — unlike traditional social media, decentralized platforms have no central server which not only means that there is no authority controlling the entire network, but also that it excludes the possibility of devastating cyber attacks impacting the whole platform.
Democracy — decentralized social media allows users to directly influence the platform's development by proposing and voting on issues relevant to the community instead of strictly abiding by the authority's regulations.
Privacy — to protect accounts from unauthorized access, decentralized social media uses public-key cryptography.
Data integrity — centralized social media platforms are frequently caught red-handed selling users' private data to marketers or even governments. Decentralized social networks don't collect or sell any information about their users.
Customizability — users can create their own networks on top of social media platforms and tailor them precisely to their needs, including terms and conditions of use.
Rewards — to encourage users to spend more time on the platforms and create high quality content, decentralized social media distributes rewards in the form of crypto tokens that can later be used as payment within the platform or exchanged for other currencies.
However, there are also some drawbacks you need to be aware of:
Illicit content — since decentralized social media platforms have no moderating authority, users may exploit the absence of censorship and post explicit content, hate speech, and illicit advertisements.
Still in development — decentralized platforms are only starting to gain popularity and don't yet have the number of users or variety of features that widely-known traditional social media platforms have.
Barriers to entry — non-tech-savvy users can find it difficult to understand how decentralized platforms function. This can lead to frustrating experiences and hinder the mainstream adoption of decentralized social media.
Dependence on third-party services — decentralized platforms often rely on third-party services, such as server providers and decentralized identifiers (DIDs) which create additional risks and dependencies.
What are decentralized identifiers and how do businesses leverage them? A detailed overview
Best decentralized social media platforms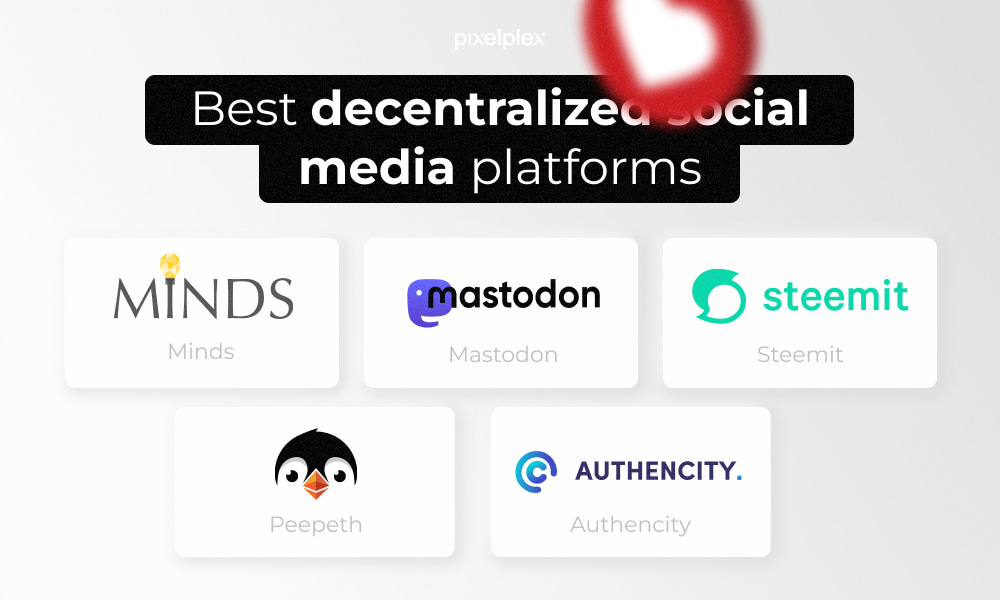 To better understand the concept of decentralized social media, we will take a closer look at the five prominent platforms: Minds, Mastodon, Steemit, Peepeth, and Authencity.
Minds
Minds is an open-source decentralized social media platform built on the Ethereum blockchain. The platform's users can earn rewards in the form of MINDS tokens for creating popular content, referring friends, or providing liquidity. The collected tokens can then be used to promote content or send tips to favorite creators.
Apart from content sharing, Minds allows end-to-end encrypted communication, including secure video conferencing and file-sharing.
Users can also opt for Minds Plus premium accounts, which have bonus features including unique channel layout and a splash page. Minds Plus members can also get tips in USD, BTC, or ETH.
At the time of writing, there are 6 million registered users on Minds.
Mastodon
An example of a decentralized social media platform that was not built on blockchain is Mastodon. This platform spiked in popularity after Twitter users didn't like the ways its new CEO, Elon Musk, handled the network, and fled to Mastodon. As of December 2022, there were 2.5 million active users on Mastodon.
Users can post and share audio, video, animations, and static images. To provide a touch of individuality to users' accounts, Mastodon issued animated avatars and custom emojis.
Mastodon is a federated network, meaning that it consists of many nodes or instances that run independently and have their own terms of service, privacy policy, privacy options, and content moderation policies. Instances can communicate and interoperate with each other, allowing users to message individuals on any node as long as they know their address.
What's more, Mastodon is a part of Fediverse — a cluster of independent decentralized platforms including projects such as PeerTube, Pixelfed, and Friendica.
Steemit
Steemit is a decentralized social network built on the Steem blockchain that allows users to communicate with each other and share content.
The platform has its own native token, STEEM, which is granted to users for active participation in the social media's activities: creating content, liking, and commenting. Users can then convert these tokens to other currencies, such as Bitcoin, and use them in online transactions or withdraw as cash. As of January 5, 2023, Steemit had 147,700 daily visitors.
Peepeth
Peepeth is an Ethereum-based social media platform aiming to shift the focus from self promotion to recognizing others' contributions. For example, users can pin other people's content to their profile page.
Each post on the platform comes with a blockchain fee, covered by Peepeth itself. But spammers will lose this privilege, making the platform very spam-resistant.
Peepeth users can "like" only one post per day, which encourages creators to produce high-quality content. What's more, the likes can't be removed.
As of January 2023, the Peepeth community consisted of 54,741 users.
Authencity
Authencity is a decentralized social network created on the Ethereum blockchain. Currently, the platform accommodates 7,600 registered users.
The platform allows users to post an unlimited number of messages, including audio and video content. Authencity has a native AUTH utility token which users can spend to "back up" favorite creators. Every time a user profile or message is "backed up", 30% of the amount goes directly to the user's wallet. Active users can also gain AUTH by posting and replying to messages.
Get to know what token types exist and how to create one for your project
How can your business embrace decentralized social media?
There are two scenarios you can choose from when introducing a decentralized social media concept to your business: building a decentralized platform from scratch, or implementing some decentralized elements into your already existing project. Let's have a look at each of them.
What to consider when building a decentralized social media network
Creating a platform from scratch is the most ambitious and demanding option. In this case you will need to account for all of the following aspects:
Unique idea — all popular social media platforms have a focus: videos on YouTube, microblogging on Twitter, business connections on Linkedin. You need to come up with a unique concept to stand out from the competition and attract users' interest.
Technologies — building a decentralized platform will require deep knowledge and expertise in the most advanced tools and technologies, including blockchain. We would highly recommend turning to professional developers who have a record of delivering high-quality blockchain solutions.
Design — appealing and easy-to-navigate design is a must if you want users to spend time on your decentralized social platform. And don't forget to create a prominent name and logo to attract users' attention right away.
Business strategy — come up with a clear strategy for how your project will raise funds and whether you will launch your own tokens, and if so, how you will distribute them.
Marketing — work out the ways to promote your decentralized social media and encourage users to join and stay. You can choose to speak about the project on relevant sites and social networking groups, engage celebrity influencers, launch giveaways and loyalty programs, and more.
All this takes a lot of time and effort, but if driven by passion and executed by top-notch specialists, such bold projects will eventually win out.
Here are the best token distribution methods you need to know about
What elements of decentralized social media can I implement in my business?
If you want to upgrade your already existing solution and add a number of decentralized social media features, here are the options to consider:
Token launch
Your project can benefit from its own tokens in several ways. For example, they could become a platform's currency and be used in peer-to-peer transactions between users, be distributed as a reward for dedicated content creators, and allow users to participate in governance activities.
You can also introduce your NFT collection and allow users to incorporate these tokens into their profile designs. Thus, users will be able to highlight their loyalty while spreading the word about your project. You could add some unlockable content to your NFTs to increase its desirability.
Governance activities
You will greatly increase users' engagement and interest in your project if you give them the right to decide on important aspects of the project's development. It is a win-win, since users will feel that they are active project participants and their opinion matters, while you get valuable insights on what direction you should take in order to satisfy the audience and multiply their number.
Gamification
A great way to boost user interest and engagement is the implementation of some kind of play-to-earn gaming model. Passing knowledge tests, accomplishing tasks and challenges, competing with fellow users — it can be almost anything as long as it is related to your project's theme.
What types of P2E games are out there? Learn more in our article
Conclusion
It is hard to imagine our lives without social media and that's unlikely to ever change. Yet a more sustainable user-platform relationship could significantly upgrade our experience.
Decentralized social media platforms offer a democratic and censorship-free space where we can stay connected, express ourselves, and share interesting content without compromising on our private data security and excessive exposure to advertising.
Thinking of building a decentralized platform or enhancing your business with blockchain technology? Our blockchain consultants and developers will readily assist you along the whole development process, from concept validation to public release.