In the rapidly evolving construction market, it's crucial to keep up with the latest trends in order to deliver successful projects. Harnessing the power of data analytics can prove a game-changer for construction firms seeking the competitive edge.
Construction businesses face numerous challenges, including tight deadlines, budget constraints, and complex regulatory requirements. However, it's looking clear that data analytics can become a vital tool for overcoming these obstacles.
The construction industry is among the most data-intensive markets, which is why there is a growing need for better construction analytics and big data management. It's via big data that construction firms can significantly improve their project management and optimize costs, which will ultimately lead to the wider adoption of the technology.
According to a report by MarkWide Research, a market research and statistical reports center, the value of global big data in the construction market is expected to reach $10.8 billion by 2025.
Read on to find out how the construction industry can benefit from data analytics. We will also explore the most prominent construction data analytics applications.
Looking to optimize your construction processes? Check out our custom software development offering and see how we can assist you
What is construction data analytics?
Data analytics in construction is the practice of collecting, analyzing and interpreting data to help construction firms get valuable insights and make more informed decisions.
It involves the use of statistical methods and data visualization techniques to process large sets of construction-related data, including project schedules, material usage, equipment performance, and safety records.
What is the value of data analytics for construction?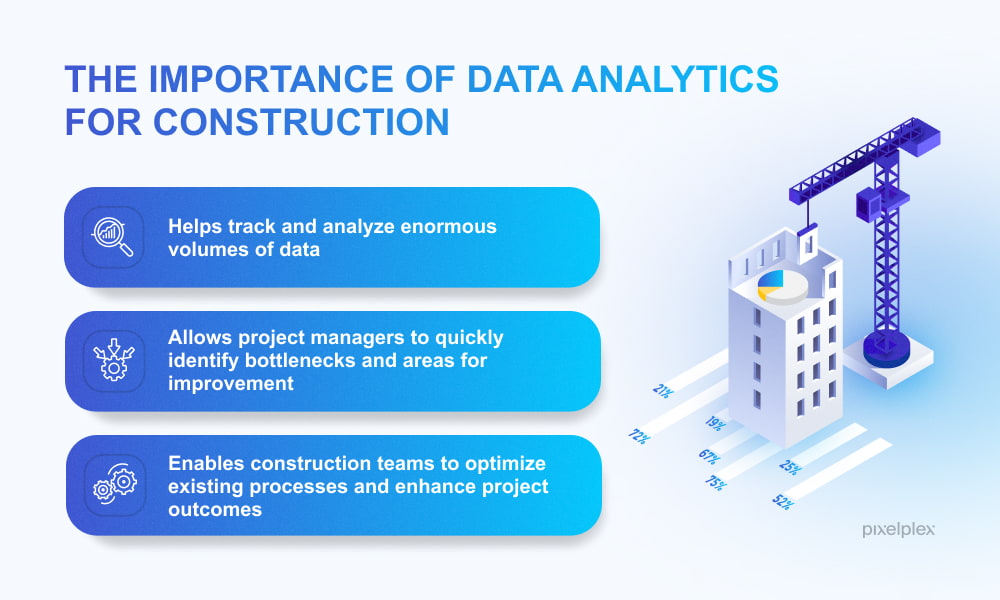 On a daily basis construction project teams have to track and manage materials, subcontractors, equipment, budgets and other activities. All of this generates enormous volumes of data that need to be filtered and analyzed, taking up significant time and resources if performed manually.
With data analytics, construction organizations can quickly extract meaningful patterns from generated data before optimizing existing processes, identifying areas for improvement, and ultimately enhancing project outcomes.
Find out how to improve your construction processes with the help of digital twins
12 examples of using data analytics in construction
In the realm of construction, data analytics has opened up a wide range of useful applications, from predictive analytics and accurate budgeting to subcontractor performance analytics and warranty analysis.
Below we take a look at 12 compelling examples that demonstrate how data analytics reshapes construction project management.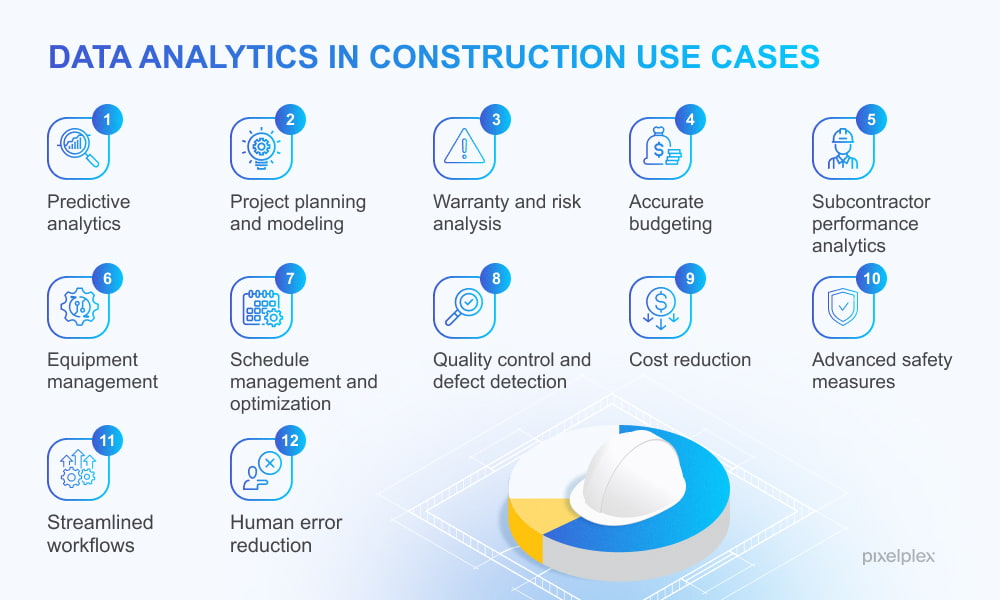 1. Predictive analytics
By having historical and real-time data at your fingertips, you can create predictive models that will forecast outcomes and avoid failures on future projects. For example, you can anticipate project delays based on such factors as weather conditions, resource availability, and past performance data.
You can also use predictive analytics to predict equipment maintenance needs, optimize procurement processes, and reduce cost overruns.
2. Project planning and modeling
Another interesting example of deploying data analytics and predictive modeling in the construction process is the use of Business Information Management (BIM) simulation software.
BIM allows project stakeholders to visualize an entire project before construction even begins. This includes detailed design elements, the planned materials, cost data and other project-related elements.
3. Warranty and risk analysis
Construction data analytics has proved to be a useful tool for risk analysis through the evaluation of historical data, industry trends, and external factors. With data analytics, you can assess the likelihood and impact of potential risks as well as create effective mitigation strategies.
Furthermore, you can apply data analytics to warranty analysis, including the assessment of warranty claims patterns, analysis of equipment performance, and identification of potential weaknesses in materials or the construction process. Having a handle on insights like these, you can take proactive measures to address potential issues, for example by sourcing higher-quality materials or improving product design.
4. Accurate budgeting
In the construction market, cost optimization should be performed throughout the entire process, from project planning through development to implementation. With data analytics, you can integrate data from various sources including project management software, financial systems, and vendor invoices. This real-time visibility gives you a complete picture of all your project expenses and the ability to address budget deviations promptly.
Additionally, construction analytics can be applied to model "what-if" scenarios for effective budgeting. By simulating different scenarios and adjusting cost parameters, you can assess the feasibility of project plans, optimize material costs, and ensure budget accuracy.
Explore how your construction business can leverage AR/VR technologies
5. Subcontractor performance analytics
Working with subcontractors can bring unique challenges, such as data gaps or the limited visibility of their activities. The integration of data analytics software will allow you to easily collect information on subcontractor activities and ensure that you're getting what you pay for.
Once you have data insights, you can evaluate contractor performance metrics, such as adherence to schedule, budget compliance, and quality of work. You can also make informed decisions when it comes to contractor selection and contract management.
What's more, you can use construction data analytics to incentivize contractors. For instance, you can align payment structures, bonuses and penalties with specific KPIs, thus motivating contractors to consistently meet project objectives and ensure that the delivered work is of a better quality.
6. Equipment management
Equipment failures can lead to significant delays in project schedules and result in additional costs. To avoid these difficulties, you can rely on data analytics and asset management tools that will enable you to track equipment data in real time and avoid over or underutilization.
The use of data analytics solutions is also effective for comparing equipment performance across industry standards. This will help you with the timely identification of underperforming equipment, and also give you the wherewithal to make informed decisions regarding equipment upgrades or replacements.
Other benefits include optimized equipment selection, reduced equipment idle time, and streamlined procurement processes.
7. Schedule management and optimization
The construction industry has to deal regularly with the complexities of coordinating personnel, materials, and equipment, all of which can be overwhelming. However, construction data analytics tools can come to the rescue by analyzing equipment and personnel activities as well as locations, and creating advanced reports
You can spot gaps or overlaps in schedules, adjust work hours, redistribute tasks, and optimize personnel assignments. This allows you to not only improve project schedules but also minimize bottlenecks and downtimes.
8. Quality control and defect detection
Quality control is one of the most crucial elements for delivering high-quality construction projects. Construction analytics empowers you to analyze a range of quality control data points, including adherence to project specifications, inspection results, and defect reports. Using this data, you gain a better understanding of quality issues and defect causes while being able to identify areas for improvement.
In a nutshell, data analytics enables you to take proactive measures to reduce defects and enhance the overall quality of your project.
Check out the IoT-powered solution for water hauling process management
9. Cost reduction
Data analytics enables construction project managers to easily track in real-time, monitor operational patterns, and get automated reports. With this data in your hands, you can pinpoint areas where your business may be falling short.
In addition, thanks to data analytics you can analyze historical cost data and develop more accurate estimates for future projects, which improves budget management and minimizes cost overruns.
10. Advanced safety measures
Through the power of construction data analytics, you can proactively identify safety issues, spot high-risk patterns, and mitigate potentially hazardous behaviors, thereby eliminating the risk of accidents.
For instance, you can implement reporting systems that track and schedule necessary preventive maintenance for construction fleets in real time, thus minimizing risks associated with equipment breakdown.
11. Streamlined workflows
With construction data analytics you will be able to identify opportunities for automation and streamline every stage of the construction process, from planning to payments.
By automating repetitive tasks and routine activities, you can digitize paper-based processes, reduce manual errors, eliminate unnecessary steps, and accelerate the overall workflow.
12. Human error reduction
When important data such as timesheets, reports, and delivery receipts are documented and managed manually, human error occurs all too often. However, by automating data collection and reporting processes, you can ensure higher-quality, accurate, and easily accessible data that will help you make well-informed decisions.
In addition, by using data analytics to automate your business processes, you can not only minimize the chance of human error, but also increase the efficiency of workflows, thus saving time and resources.
Find out how our team has developed a unique data-driven solution for the web3 community
Closing thoughts
Data analytics has emerged as one of the most powerful processes available to the construction industry. It offers a wide range of benefits and applications, including but not limited to better project planning, more accurate budgeting, efficient subcontractor performance management, and simplified warranty and risk analysis.
If you're looking to harness the power of construction data analytics but don't know where to start, why not consult our big data analysts? Benefitting from more than 15 years of experience and 450+ completed projects, our team is superbly equipped to provide customized solutions that drive results.
Contact us today to explore our data analytics expertise and take your construction project to the next level. Just provide us with a brief description of your business challenge in the contact form below, and our specialists will get back to you right away.