A digital twin offers a means to test "what-if" scenarios. So what if digital twins can succeed in dealing with the challenges faced by an agile construction industry?
According to estimates, the global digital twin market is expected to grow from $6.75 billion in 2021 to a staggering $96.49 billion by 2029. Digital twin technology has been steadily gaining traction in a number of industries — including the construction sector.
The construction industry has long been known for being slow to adopt new technologies, but the potential benefits of digital twin technology cannot be ignored. In construction, digital twins are used to bridge the gap between form and function, ensuring that digital building information is available throughout the entire life cycle of a property.
In this article, we will explore how exactly digital twins can revolutionize the construction industry and unlock its full potential. Read more to find out!
What is a digital twin in construction?
Digital twins are used in construction projects to create exact replicas of real-world spaces. Digital twin construction utilizes technologies such as the Internet of Things (IoT), cloud, extended reality (XR), and artificial intelligence (AI). These technologies create a digital representation, collect and store real-time data, and provide essential insights based on the information gathered.
This information can include physical orientation like shape, position, gesture, or motion, and also insights into other statuses, interactions, and updates, such as stress loads due to traffic or weather disruptions. This way, project teams can experiment digitally and analyze projected results before modifying the physical building, structure, or work location.
Moreover, digital twins in construction help improve the analytical capabilities of building information modeling (BIM). Digital twin technology elevates BIM models to a new tier of sophistication, allowing stakeholders to visualize data in real-time. Where BIM manages the dynamic systems that go into a large building project, digital twins are the foundation for its assets and utilization.
How does a digital twin work in construction?
A true digital twin has the operational and behavioral knowledge to simulate, predict and inform decisions based on real-world conditions. Over time they can progress towards greater levels of maturity and digital transformation, offering increased value to the construction process.
The basic concepts are as follows:
Capturing the right information: 2D plans remain the industry-standard deliverable for construction documents. However, these models are nearly useless since data is trapped in files. This analog and disconnected data is often an almost insurmountable challenge for owners and operators who need to monitor, manage, and fine-tune their assets. Digital twins can be captured with digital cameras, including mobile phone cameras, handing all the data and insights to the owner at the operator's fingertips.
Editing and documenting: Through increased integration with sensors and operations data, accurate visualizations of physical spaces are enabled to identify any potential issues.
Enabling collaboration: Digital twin models can be shared with remote teams and offices, minimizing the requirement for in-person site visits and helping remote teams to cooperate and coordinate more effectively.
Need assistance with creating a strategy for digital twins implementation? Contact our IT consultants
5 ways digital twins benefit the construction industry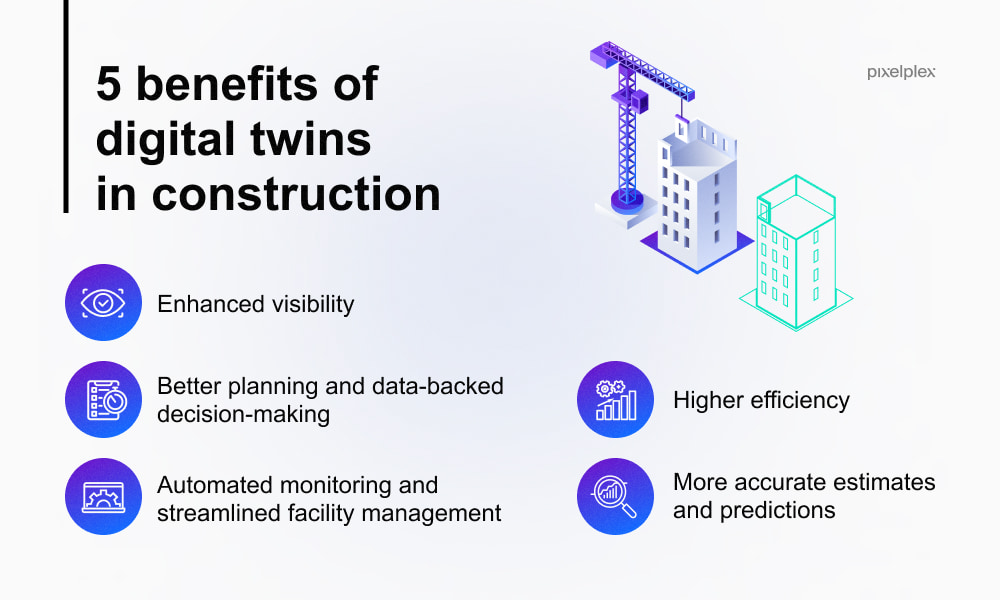 Adopting digital twins in construction leads to enhanced visibility, better planning and data-backed decision-making, automated monitoring and streamlined facility management, higher efficiency, and more accurate estimates and predictions. But what exactly do these applications entail?
Enhanced visibility
Construction progress tracking has always been manual and project-specific. Therefore, customizing progress monitoring to a specific project puts up a barrier to understanding what happens in each project.
A recent report shows that 35% of construction professionals spend time on non-productive activities, including looking for project information, resolving conflicts, and dealing with mistakes and rework, while 45% say they spend more time than expected on non-optimal activities.
This means that for the construction industry, a digital twin presents an opportunity to  integrate real-time data from a built asset with its digital representation to create enhanced visibility across the project lifecycle.
Better planning and data-backed decision-making
A digital twin can test "what-if" scenarios by collecting essential data in one environment.
Offered as a proactive planning tool, engineers can conduct more in-depth studies for things like duct placement and utility placement.  Meanwhile, architects can preview aesthetic concerns like paint color or lighting patterns.
In addition, using digital twins allows for the enhancement of design risk assessments and condition surveys, successfully enabling collaborators to move away from PDF reports and images by offering an immersive view to get a better understanding of site conditions and challenges.
Automated monitoring and streamlined facility management
Digital twins in construction provide accurate, virtual measurements of hard-to-reach or dangerous environments, removing unnecessary on-site employee risks.
They can also offload much of the burden of asset management. For example, a digital twin can pinpoint problem areas and share necessary specs with techs when a repair is required. It can even keep track of who should be charged for the work.
Higher efficiency
Leveraging data and utilizing innovative technology is increasingly vital in the construction industry. Leading construction firms are changing data overload into actionable information to increase project productivity and reduce costs. For example, when a project team systematically uses digital twins across projects, greater efficiency is achieved by mirroring and monitoring production systems.
More accurate estimates and predictions
Through smarter predictions with real-time sensor data and predictive recommendations via machine learning and artificial intelligence, digital twins in construction can replicate a real-world system, changing and adapting with that system over time. This allows businesses to draw insights from their equipment in order to determine what is working smoothly and what needs to be addressed.
What challenges prevent a wider adoption of digital twins in construction?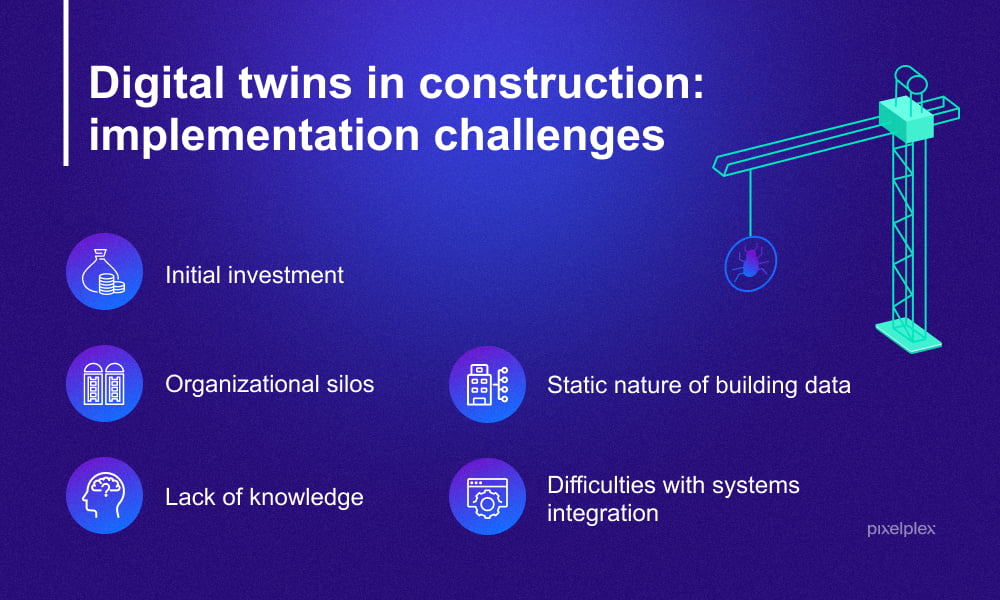 Some construction companies may have to overcome long-standing industry difficulties if they are to effectively employ digital twins, namely: initial investment, organizational silos, lack of knowledge, the static nature of building data, and difficulties with systems integration. This section will discuss these problems in a bit more detail.
Initial investment
From IoT sensors and platforms to edge computing and artificial intelligence, you need the right infrastructure — and this proves an early stumbling block. For many, these technologies represent a significant start-up investment that won't necessarily deliver a direct ROI. However, the enormous savings that result from reduced rework, increased effective collaboration, and minimized travel expenses more than compensate for the investment.
Organizational silos
Where the digital twin fits in is the question being asked now by executive teams, IT leadership teams, and certainly by various lines of business. And as a result of different definitions and execution strategies, it can lead to organizational silos.
However, any successful digital twin deployment must slot into existing workflows and the general operation of the business, yet at the same time span the entire organization. Surpassing particular organizational boundaries and different platforms can be challenging but, even so, highly necessary.
Lack of knowledge
A lack of knowledge and understanding of emerging technology can stoke up resistance to the acceptance and adoption of digital twins.
The nature of the construction industry in terms of project difficulties has a considerable impact when it comes to adopting some of these developing technologies. The industry consists of varied, fragmented trades and components, which on the whole stand in the way of the delivery of a comprehensive strategy for data integration.
As a result, companies will need to hire specialists or train their employees to understand how digital twin models work, how to read their data, and how to extract the most from this technology to benefit the company and the entire process.
Static nature of building data
The static nature of building data is a significant barrier to establishing digital twins. In contrast to BIM, which works with static data and provides a representation of the design of the building, digital twins in construction require real-time data to present the status and the character of the building or structure it reflects.
As shown in a case study that aimed to highlight the scarce integration with live data — in other words, data that changes at high frequency — it is imperative to have real-time dynamic data to create a digital twin so that buildings or infrastructure operations can benefit from a digital model updated with live data; this is the system already in place in other industrial sectors.
Difficulties with systems integration
One key challenge with adopting digital twins in construction has to do with the difficulties with systems integration. This refers to transitioning from an outdated legacy system and old equipment to a new cutting-edge technology: for example, from BIM to digital twins.
In addition, issues associated with data security in the application of digital twins also need to be taken into account. These include data acquisition, storage, exchange, processing, and intellectual property protection risks.
Since digital twins connect the physical and digital models, utilizing enormous amounts of data, data has become an essential component in a digital twin. As a result, industry practitioners and participants are concerned about the security and trustworthiness of data in this domain.
Check out the most common digital transformation trends and tips how to overcome them
Digital twins in construction: real-life examples
Let us look at some high-profile, real-life examples that illustrate the importance of digital twins in construction.
Developing Ezhou Huahu International Airport in China
The Ezhou Huahu International Airport is expected to function as an aviation logistics port and multimodal international cargo hub for China, with a planned annual capacity of 2.45 million tons of cargo and 1.5 million passengers by 2030.
This large-scale project presented coordination challenges that required the integration of numerous elements of process equipment, systems, and participants, compounded by complex geological conditions and a tight timeline. Involving 29 different disciplines and 25 million model components, the stakeholders realized it needed a digital platform capable of supporting large volumes of multi-sourced data and intelligent lifecycle operations.
The project integrated 25 million model components from the different software applications to develop a cloud-based digital twin capable of incorporating the innumerable and intricate engineering and data components.
Working under an open connected data environment, Ezhou Huahu International Airport not only streamlined multidiscipline collaboration, shortening model delivery time by 90 days, but also saved CNY12 million.
Reconstructing Morandi Bridge in Genoa, Italy
Italferr SpA, part of the Italian State Railways Group, was tasked with rebuilding a 210-meter section of the Morandi Bridge that had suddenly collapsed in August 2018. The bridge is part of a key roadway that links Italy and France and is a primary access point to a nearby airport, so it was critical to reconstruct it as quickly as possible.
Italferr faced the challenge of completing the design of the €202 million project in only three months and rebuilding the bridge on the same pattern as the previous one, with reinforced concrete piers positioned 50 to 100 meters apart.
To ensure the accuracy of the design while staying on schedule, the project team used BIM methodology and created a digital twin of the viaduct to streamline workflows throughout the design phase. The process resulted in a unified 3D information model that formed the basis for design, construction and operation. Along similar lines to those we saw in our previous example, Italferr also established an open, connected data environment.
Takenaka Corporation using digital twins for remote surveying and inspections
For Japanese constructor Takenaka Corporation, site surveys were necessary to help facility managers assess current building conditions. These surveys typically lasted for days and required taking many photos as well as measuring dimensions.
However, by utilizing digital twin reproductions, Takenaka Corporation reduced the time needed for taking photos by about 90%. In addition, teams also reduced the hours required for planning by remotely measuring spaces without needing to be on-site.
They can also use these digital twins as a reference for future renovation work. This will enable them to skip on-site surveys and proceed immediately to the renovation plan, thus saving time and money.
Find out how AR/VR can benefit the construction industry
Closing thoughts
The digital twin market shows a promising potential for growth, due to the increasing emphasis on digital twins in the construction industry to reduce costs and improve supply chain operations. The heightened focus on predictive maintenance further drives this trend.
However, the path to digital twins can be very rocky.  This is why you need PixelPlex developers. Whether it is workflow onboarding and training systems, hazard detection solutions, 3D settings visualization, or virtual site inspection software, we have got you covered.
We can craft architectural rendering, animation, or spatial planning software, according to your requirements. Let's do this in partnership: please don't hesitate to  reach out!