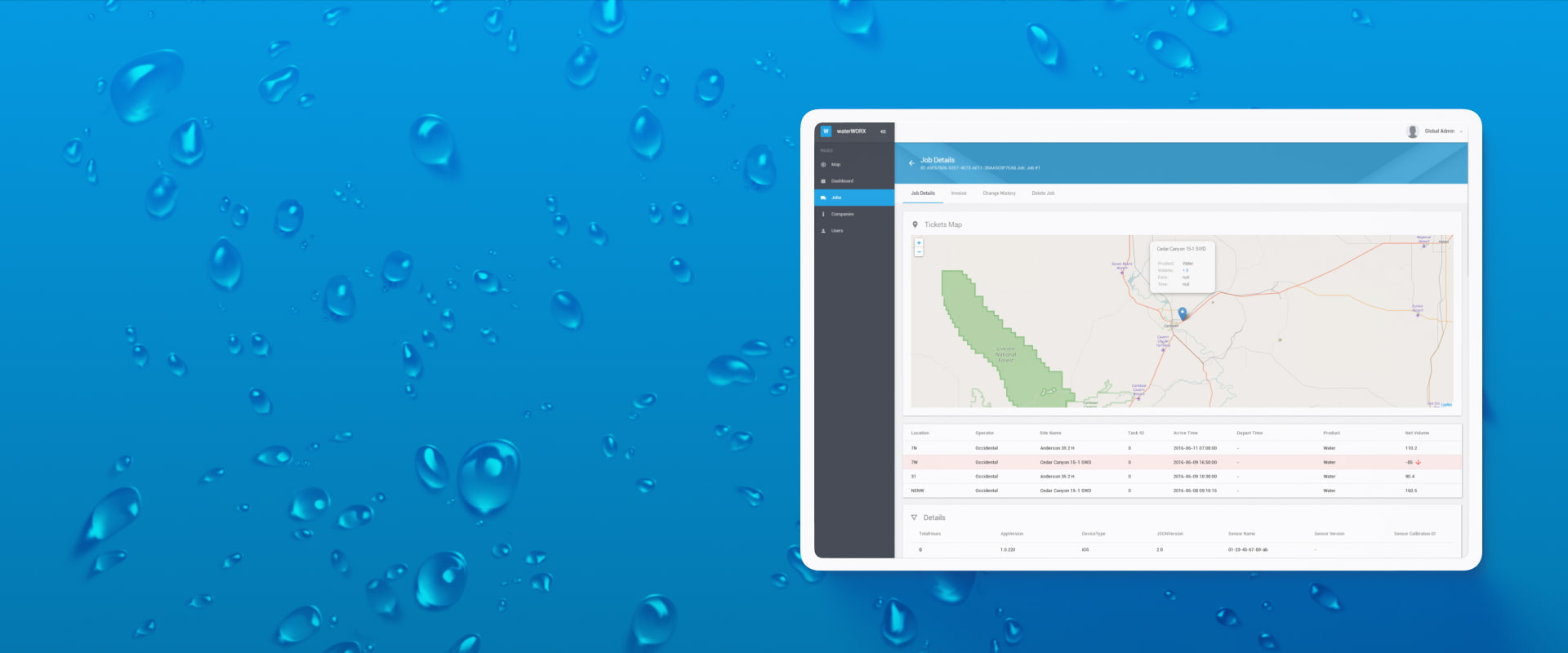 Return
WaterWORX
IoT Solution for Water Hauling Process Management
Blockchain
Web
Cryptocurrency
IoT
Hardware
Water Hauling
Blockchain
Web
Cryptocurrency
IoT
Hardware
Water Hauling
WaterWORX is a complete IoT, web and mobile solution for water hauling process management that streamlines business processes and increases efficiency
Work done
IoT hardware, software & firmware
Mobile app for water haulers
Complete web solution for management processes
Solution
We've designed and built a complete digital solution that provides transparent monitoring of the volume of water hauled, along with time stamps, geolocation and delivery confirmation to water recycling and disposal facilities.

Technologies used:
Details
Automated Compound Level Measurement and Calibration Digital Dispatch Center Customizable Management Dashboard UI Management Dashboard View
Client
An organization that focuses on enhancing the safety and efficiency of companies in the energy sector worldwide. The main priorities are to streamline operations, protect the environment and save lives. The company's solutions can be found in over 30 countries around the globe.
Challenge
The main challenge was to create a seamless and safe experience for haulers through a universal mobile app that would provide great UI/UX, as well as streamline water hauling management process by increasing profitability, efficiency and transparency.
Issues that needed to be addressed:
Extremely hazardous working conditions. Exposure to volatile organic compounds on a daily basis put the lives of haulers at high risk.
Transparency of the water hauling process is questionable when businesses have to rely on paperwork filled out by haulers and other intermediaries. In addition, illegal activity such as dumping of compounds by haulers has resulted in heavy fines for producers.
Efficiency and Profitability of the water hauling process are also under negative influence of time-consuming calculation and manual paperwork processes required for reporting and monitoring. This distracts haulers from concentrating on the road and may often cause unwanted incidents.
IoT
WaterWORX IoT sensors are installed right on top of thief hatches of trailers. As a result, there's no need for haulers crawling into tanks to take measurements. A guided wave radar and Bluetooth connection is used to measure and send compound volume information to the mobile app. This way the solution eliminates risks of exposure to hazardous fumes.
Mobile App
The mobile app provides smooth and seamless UI/UX even for users who are not up-to-date with modern technology, so training drivers to use the application is only a matter of minutes. Haulers are presented to a sophisticated digital dispatch center and dashboard with such convenient features as:
Load prioritization;
Recommended truck routing;
Confirmation of pick-up and delivery;
Seamless hand-off to accounting and integration with billing systems;
Digital tickets and shortened cash conversion cycle.
Web Solution
WaterWORX provides an end-to-end workflow for business operators, including hauler notification of loads to be picked up, and delivery confirmation. It's a key building block for automating and managing the processes of water hauling and disposal. Operators use the web solution to monitor these processes and can oversee a map of operating IoT sensors that provide their locations and all the data collected by those devices. The web platform provides a customizable UI where operators control the way the information is presented via tables and graphs.
Customizable Dashboard for Operators
Water hauling service companies and operators can now easily monitor and track all the processes and see the current state of operations. Information is displayed and updated live via a customizable dashboard that can be set up to display various information, including:
Average load/unload time period;
Number of drop-offs;
Pickup/drop-off  volumes by site;
Pickup/drop-off times for drivers and trailers;
Job distribution by driver and trailer;
Overrides by trailer;
Detailed map of the field, updated in real time.
All info is presented via graphs and charts, so it's easy for operators to get a grasp and focus on optimizing performance.
The dashboard also displays the full history of every water hauling job performed by the service company. This history data is recorded to an immutable ledger and contains:
Pickup site;
Drop-off site;
Job date;
Compound volume loaded;
Compound volume unloaded;
Operator;
Ticket count;
Driver name;
Total hours spent;
Job start and end time;
Manual gauge amount;
Volume data entry method (Sensor or Manual);
Compound being hauled.
The history data can also be presented in a convenient format, and can be customized. The precise route of every load is recorded and shown on a map. This way, service companies can optimize their driver's performance by tracking haul time and locating the fastest way to get from the pickup to the drop-off site.
Dispatch Board
The dashboard also has a dispatch board: convenient interface for operators to assign jobs to drivers and monitor their progress. The dispatch board displays all the relevant information on currently active loads. It also allows to easily create a new job and assign it to an available driver. After the job is assigned, the driver receives a notification from WaterWORX mobile app and can see all the info required to perform the load.
Backend
The back-end of the solution allows clustering and was designed to be deployed via Elastic Beanstalk, which enables to quickly deploy the number of instances required for maximum fault tolerance and Geo DNS support.
Got an idea? Let's work together
Project features
Receiving compound volume data from BLE device BLE device condition monitoring Load prioritization Recommended truck routing Digital tickets Hauler notifications Detailed reports with time stamps, geo-location and delivery confirmation Delivery time monitoring: departure and arrival Regular report synchronization with the server REST and HTTP API Automated data feed from SCADA tank level monitoring systems Possibility to integrate with and push completed loads to ERP and invoicing systems