Powered by smart contracts and governed by its own community members, DAO has the potential to revolutionize the decision-making process. But first you need to choose a DAO governance model that suits your business needs best.
Thanks to their decentralized and autonomous nature, DAOs ensure increased transparency in decision-making and better community involvement, making them an attractive option for businesses in the web3 environment. According to DeepDAO, a discovery and analytics firm that explores the DAO ecosystem, the total market capitalization of DAOs has surpassed $27 billion (as of April 2023).
If you're considering launching your own DAO, there are multiple factors to consider, the most important of which is your approach to DAO governance and decision-making. You need to evaluate the different DAO governance structures to find the one that best fits your goals.
Whether you are a seasoned DAO creator or a newbie in the field, this article is essential reading for everyone who wants to create an efficient decentralized autonomous organization.
Searching for reliable blockchain development services? Let's talk
What is DAO governance?
A DAO governance model is a collection of regulations that define how the organization operates.
Depending on the chosen model, DAO governance can take multiple forms, including, but not limited to:
Democratic voting
Delegate voting
Multi-stage decision-making processes
Hybrid models combining several governance mechanisms
Why is decentralized governance important?
An efficient DAO governance model is essential for the formation and operation of a decentralized organization. Moreover, a well-designed DAO governance structure can:
Ensure fairness and transparency so that everyone in an organization knows what's going on and how decisions are made
Provide a sense of order and predictability, thus establishing trust and smooth collaboration among DAO members
Empower the organization to quickly adapt to changing circumstances while aligning with its vision and strategic goals
Ensure that the organization is true to its decentralized principles
How does a DAO work?
Decentralized autonomous organizations function through a set of rules encoded into smart contracts. These rules are designed by a core team of community members and include the DAO's mission, strategies on how to raise funds, and other conditions.
When the smart contract rules are set, the organization creates a DAO treasury funded by native tokens that give their holders the right to vote on project governance statements. When the funding round is complete, a DAO is deployed.
Looking to gain deeper insights into how DAO works? Be sure to watch our video above, where our business analyst discusses the inner workings of DAO and offers valuable tips for successful DAO implementation.
Looking into a detailed explanation of how to create a DAO? Check out our article
What are the main DAO governance models?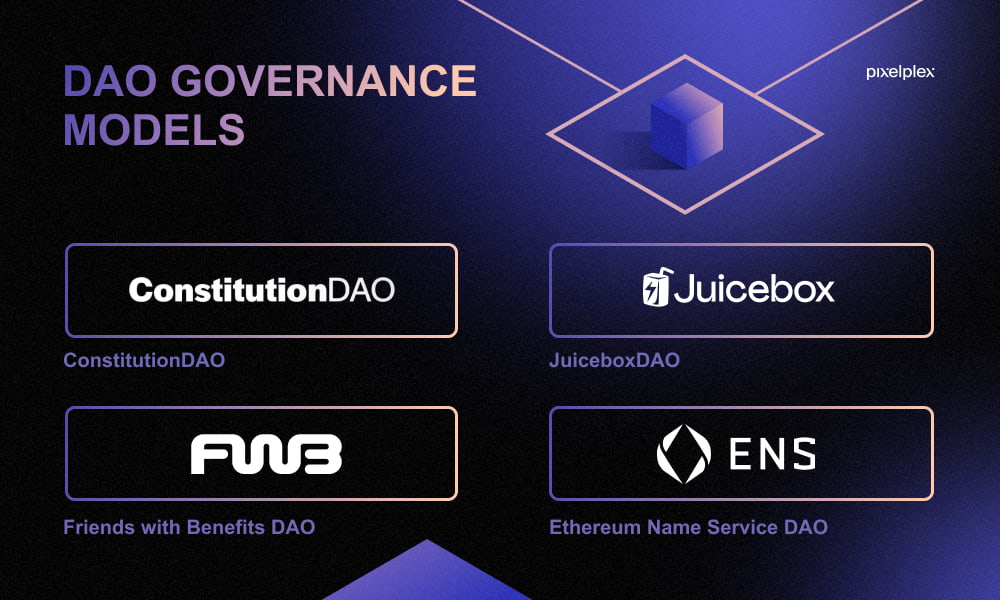 At present, there are four main DAO governance models, including ConstitutionDAO, Friends with Benefits DAO, JuiceboxDAO, and Ethereum Name Service DAO (ENS DAO). All these types of model came from real-life projects.
Let's take a deep dive into each DAO governance approach and unravel its strengths, weaknesses, and real-life use cases.
ConstitutionDAO
ConstitutionDAO is a governance structure that enables users to pool resources and gain shared ownership of assets via cryptocurrencies.
This DAO governance model ensures stability for its participants by providing an established set of rules defining how the DAO operates. These include voting, accepting new DAO members, and dealing with rule-breaking cases.
Benefits
ConstitutionDAO was one of the first DAO governance models, and has showcased the potential of decentralized organizations and the effectiveness of collaborative efforts in achieving shared goals.
Limitations
The success of a project relies heavily on the willingness of participants to invest in governance tokens and take part in decision-making.
Real-life example 
The ConstitutionDAO governance structure first appeared when a community of individuals sharing a common interest in preserving historical artifacts decided to encourage people to purchase a replica of the US Constitution. They created a decentralized autonomous organization with the goal of bidding on this rare copy, which was up for auction at Sotheby's.
The project almost managed to achieve its goal, and collected nearly $47 million in Ether. However, the auction house reduced this bid by taking into account taxation and other costs associated with maintaining the item. The ConstitutionDAO was ultimately outbid by an anonymous buyer who offered $43.2 million. The DAO gave refunds to everyone who donated their money to the auction.
Although it failed to achieve its goal, the ConstitutionDAO clearly showcased the potential of DAO governance and generated considerable interest in this model.
Friends with Benefits DAO
The distinctive feature of a Friends with Benefits DAO is the use of social tokens to promote community members' participation in a range of activities and initiatives within the project ecosystem. For example, by staking governance tokens, Friends with Benefits DAO members can not only vote on proposals but also earn rewards and get access to exclusive content or events. Projects using such formulas are known as Social DAOs.
The Friends with Benefits DAO governance model has evolved from basic governance with a consensus structure to a multi-group-based model that leverages Discord to offer proposals and Snapshot to vote on different recommendations.
Community members can upvote proposals that are of most interest to them. Then, the proposal team structures and cleans the ideas in preparation for community analysis and vote. The proposals with the most votes are put into action by the assigned team and publicly recorded on the blockchain. This helps maintain the structure and consistency of the proposal's format.
Benefits
This model ensures increased community engagement thanks to the use of social tokens and rewards.
Moreover, the use of digital tools like Discord and Snapshot provides a more efficient and streamlined decision-making process.
This governance model is also highly adaptable and can serve the needs of various organizations.
Limitations
Friends with Benefits DAO governance models can be complex to navigate for new community members and those who are not familiar with decentralized decision-making.
In addition, the democratic decision-making process common to this model can be time-consuming and less effective in situations when a quick decision is required.
Real-life example
Friends with Benefits, or FWB, is the original project that gave birth to the Friends with Benefits DAO governance model. The participants call themselves a new type of social network made up of creators and builders who believe in a better Internet.
The organization's members hold $FWB tokens as a way to collectively fund and govern their community. They organize and host various events and have a Discord chat room with dozens of channels focused on different topics, from culture to crypto.
A similar example to FWB is the Bright Moments DAO. It demonstrates how NFT development can be incorporated into a DAO initiative. Starting as an NFT gallery for local artists to showcase their work, this is now centered around a growing NFT collection known as Crypto Citizens. In contrast to many other Social DAOs that prioritize online communities and digital discussions, Bright Moments is focused on IRL events, in particular live NFT minting experiences.
Check out the Mantra DAO case study where we share how we built a community-governed DeFi platform
JuiceboxDAO
JuiceboxDAO is another type of governance structure that takes its name from the corresponding project. This governance model allows creators to crowdfund their projects and create native tokens for their communities.
JuiceboxDAO has a two-tier governance structure comprising a core team of stewards and a broader community of token holders. The stewards perform the day-to-day management of the platform and put into action the decisions made by token holders. Token holders, in turn, have the power to decide on DAO development by making changes to the codebase, adding new features, and allocating funds.
Benefits
The governance model is suitable for a wide range of cases from community-owned platforms to project fundraising initiatives.
Limitations
This type of governance is formal and centralized in nature. It relies heavily on token holders to make decisions, meaning that users with more tokens have more power to influence the decision-making process.
Real-life example
The JuiceboxDAO platform is representative of the JuiceboxDAO governance model. It's an unaudited platform that enables various projects to raise funds via Ethereum's public smart contracts. JuiceboxDAO allows users to create their own fundraising pages, set up fundraising structures, define token distribution models, and much more.
JuiceboxDAO takes 5% of all the funds raised for each project and then rewards initiatives with their native token JBX in exchange for the platform fee.
Ethereum Name Service DAO
The ENS DAO model utilizes a 3-layer approach which comprises:
Disclosure of proposals, with most of them coming from the Discord channel
Off-chain voting by delegates
Voting on the blockchain
There are three types of proposal that can be launched with an Ethereum Name Service DAO:
Social proposals such as fee changes or petitions to root holders
Executable proposals, for example, smart contract execution through the DAO wallet
Constitution amendment or proposals aimed at modifying the DAO constitution
Each proposal type is further categorized into DAO's four work streams:
Governance talks
Community-related proposals
ENS system promotion
Suggestions for public welfare
Each of the abovementioned work streams includes five stewards who manage operational tasks, develop and elaborate on the group's goals, request funds from the DAO, and approve financing for subgroups, workstreams, or contributors within a working group.
Benefits
This decentralized governance model allows for increased community participation while ensuring a transparent and democratic process for making decisions.
Limitations
Compared with other governance models, the ENS DAO's decision-making approach is slower and more complicated.
Real-life example
ENS protocol is a real-life project governed by an ENS DAO. The Ethereum Name Service DAO is responsible for managing protocol development, with community members and stakeholders being able to participate in the decision process via voting and proposal submission.
To pass a vote in the ENS DAO, a quorum of only 1% is required for executable proposals, social proposals, and constitutional amendments. This is a relatively low number by voting norms, since it allows a small number of delegates to effectively push proposals forward.
How to choose the right DAO governance model
When choosing a decentralized governance approach, you should understand that there's no one-size-fits-all solution. Making the right choice requires taking into account a wide range of different factors, such as the size of your organization, quorum requirements, token distribution mechanics, and the level of decentralization you seek to achieve.
Here's a guide that will help you choose a DAO governance model that will operate in line with your business needs.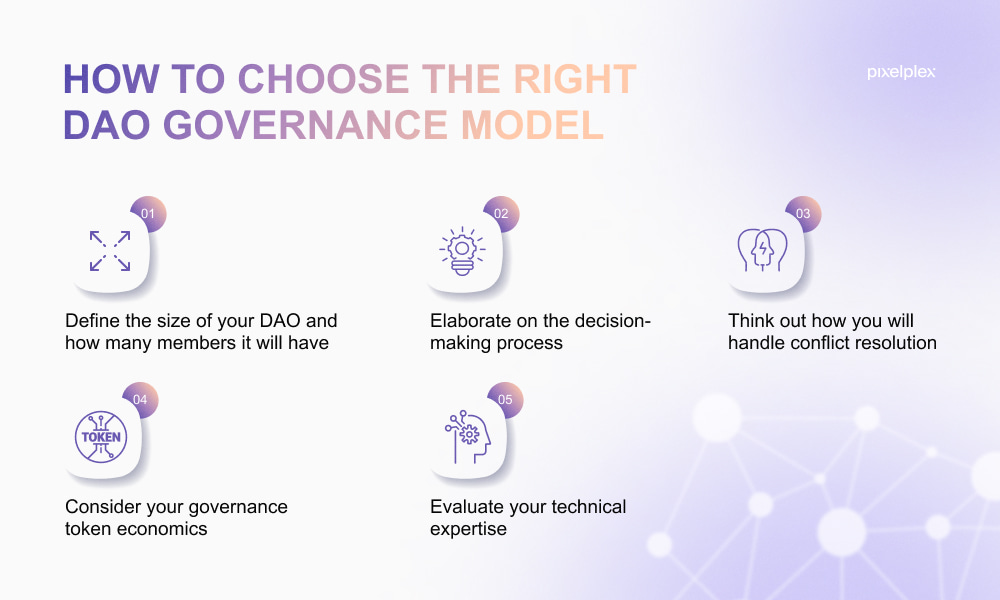 1. Define the size of your DAO and how many members it will have
A small DAO will benefit from a simple, consensus-based model, whereas a large DAO will require a more complex structure with clearly defined rules and regulations.
2. Elaborate on the decision-making process
You'll need to define the type of voting you will use. For example, to ensure fairness and transparency you may choose a quadratic voting system, where voting power is distributed based on a quadratic formula that takes into account the number of votes each member has. If you prioritize democracy and inclusivity, then a one-person, one-vote system will be a good fit. If you prioritize speed and agility, a delegated voting system will perfectly suit your needs.
3. Think out how you will handle conflict resolution
For example, you may create a specialized committee that will be responsible for resolving disputes. Alternatively, you can allow the voting majority to handle all disputes, thus ensuring transparency and democracy.
4. Consider your governance token economics
For example, if you plan to reward your users for participating in governance, then a Social DAO would be a good choice.
5. Evaluate your technical expertise
Before choosing your governance model you should evaluate the tech capabilities of your team, since certain models, for example those that apply quadratic voting, may require more technical expertise to implement.
Find out how to create a robust token economy through our comprehensive guide
Closing thoughts
Overall, there are plenty of examples of successful DAO governance models that you can adopt for your project. However, choosing a decentralized governance structure is a complex process that requires many different aspects to be taken into account, from the size of your organization to its voting mechanics.
By taking time to carefully evaluate and choose a governance model, you can ensure that it effectively aligns with your strategic goals and meets the needs of its members. If you seek assistance with developing DAO, our blockchain consultants can assist you with that.
With 10+ years dedicated to blockchain development, we have the necessary skills and expertise to handle any challenge. Our team can help you decentralize the governance of your organization and develop the smart contracts that will enable the DAO to function.
Feel free to contact our team of experts right away.