It seems that no industry can afford to ignore blockchain. Offering some notable advantages, blockchain is now conquering the real estate world, making its complicated processes more transparent and intelligible.
The global real estate market size is estimated to reach $3717 billion by 2025 and will continue growing, especially in cities, with 56.6 % of the world's population already being urban residents in 2021.
However, despite the trillions of dollars tied up in real estate, the processes of this industry remain outdated. Buying and selling property, refinancing a mortgage and other real estate operations are highly expensive and tiring because of systemic inefficiency: for example, document flow is not standardized, and too many middlemen are required to get papers verified and approved.
Blockchain promises to make these operations seamless and transparent. It will significantly reduce paperwork, exclude middlemen, and open access to new technologies such as property tokenization and smart contracts.
In this article we will investigate the most prominent use cases of blockchain in real estate and see which companies already leverage the technology to achieve best results.
Impactful use cases of blockchain in real estate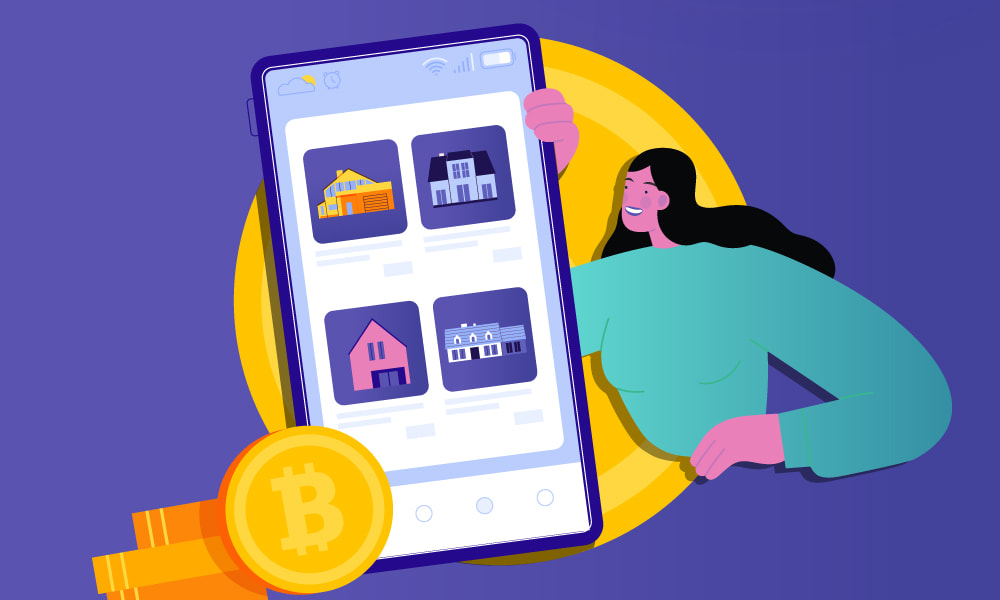 There are several aspects of the real estate industry that are undergoing major change due to the implementation of blockchain: document management, unification of databases, ownership confirmation, introduction of smart contracts and tokenization, and the rise of virtual property.
Let's take a closer look at each use case.
Document management
To close a deal involving immovables means collecting and submitting an insane amount of paperwork. It can take a considerable amount of time, not to mention straining the nerves.
Blockchain addresses this issue by making it possible to store all the necessary documents on the ledger. Thus the required data is accessible to all parties involved 24/7 and can be effortlessly provided to any institution upon request.
A successful example of a blockchain platform dealing with document management is ShelterZoom. The solution keeps records of everything related to real estate deals until the very moment of closing. Each paper is represented as a Document Token — a unique ID that identifies the file.
What's more, ShelterZoom offers a virtual negotiation room allowing the parties to make agreements in real time.
Take a look at Flact – a blockchain-based platform for document management that significantly enhances the decision-making process
Unified database
With thousands of immovables sold and purchased every day, there is still no common unified databank. This leads to unnecessary friction and confusion when it comes to executing transactions, and hinders document preparation.
However, blockchain can offer a decentralized way of storing all the data related to real estate transactions, including the history of the building or land, or the price.
Creating a blockchain-based repository will also enhance trust between the parties, because once information enters the ledger, no one has the power to change it. Thus all data is transparent and securely stored.
Proof of ownership
What can be more unpleasant and disturbing than to move into a new flat or house and then find out that there is someone claiming they have property title on your home?
To avoid such an unfortunate situation, it is mandatory to conduct a title search before landing the home of your dreams. Unfortunately, there is no standardized set of rules on this matter — different countries and organizations draw up titles in different ways, and the situation gets even more complicated due to multiple sources of information.
Given this fact, title search can take weeks or even months. And still there is no 100% guarantee against someone showing up to claim the ownership.
With blockchain, the owner's information is stored on the ledger and can be checked at any time, excluding the possibility of any dubious situations.
Ubitquity is among the blockchain solutions that help you avoid title disputes. The platform verifies the authenticity of data related to ownership history and keeps track of transactions, thereby making sure no one else may claim ownership over the property, and eliminating the chance of you inheriting any liens.
In 2021 it was announced that Ubitquity joined the American Land Title Association. The Association performs real estate operations at the national level working with members of Congress, state legislators, and other decision-makers.
Tokenization and fractional ownership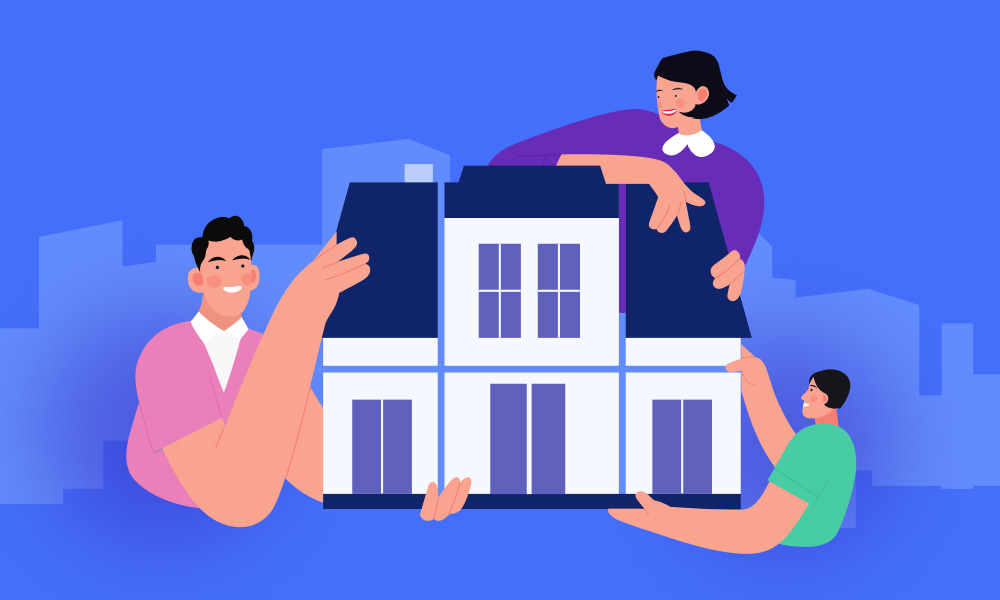 Non-fungible tokens are mostly associated with art, yet they are making inroads into the real estate industry as well. Conducting deals with property NFTs excludes any need for middlemen.  Consequently, costs and time-wasting are significantly reduced.
It all began with Michael Arrington's Kyiv apartment, which left its mark in history as the first residential property sold via a smart contract in 2017. Four years later it became the first real estate NFT in the world.
The trend continued in 2022, starting with news of a Florida house being sold for $653,000 as an NFT.
Another point worth making is that tokenization of assets also opens the door for fractionalization. Fractional ownership increases the liquidity of the assets in question and makes it possible for smaller investors to have a share.
There are a number of solutions offering fractionalization of real estate assets, such as Vairt, RealT, RealBlocks and Meridio.
We will take Vairt as an example.
Vairt is a blockchain real estate platform which aggregates properties available for sale and allows their fractionalization. Vairt achieves the best liquidity of the assets thanks to crowdfunding campaigns. The minimum investment amount is $1500.
The properties listed on the platform are chosen thoroughly with the help of a screening tool and independent third-party market data.
All properties on the platform are listed for 30 days to give investors enough time for fundraising. In case a property is not funded within that period, the investment will be refunded at no cost.
Wondering what else can be tokenized? Here are the answers
Smart contracts for enhanced workflow
Smart contracts can be effectively utilized to streamline such processes as payments, escrow management, transfer of title, loans, and mortgage procedures.
As smart contracts are self-executing and follow a fixed sequence of actions and rules, the operations are performed quickly without any middlemen. If there is a need to change the way a smart contract operates, the only way to do it is through a consensus mechanism.
Otherwise, the contract will simply reject the performance of an action not encoded into it. Thus smart contracts maintain a high level of security when dealing with real estate operations.
NetObjex is among the companies that leverage smart contracts. NetObjex's ecosystem contains several blockchain-based solutions, but we will pay special attention to TruDocs.
TruDocs is a smart contract platform that offers a wide variety of legal templates for storing details (e.g. names of the parties), jurisdiction data, termination dates, service level agreement parameters, and more.
TruDocs monitors every aspect of real estate contracts in real-time and, once certain conditions are met, triggers predetermined actions without manual intervention. As a result, the cost of monitoring significantly decreases, especially for legal disputes.
Looking for experienced developers to effectively implement smart contracts in your project? PixelPlex team is happy to help
Virtual real estate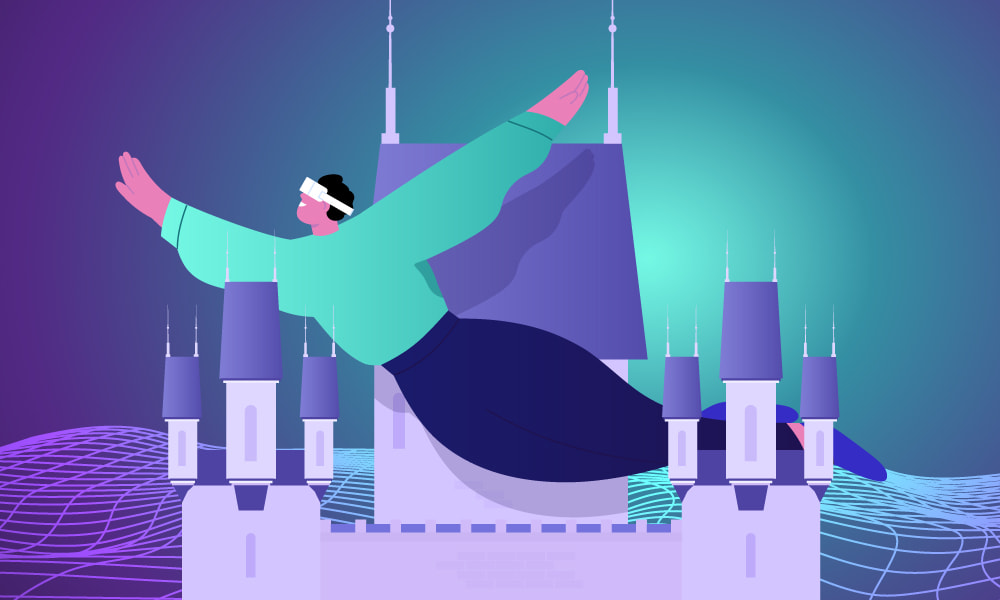 Development of metaverses is advancing at high speed with the potential to reach $800 billion in market capital by 2024.
With such giants as Microsoft and Meta (Facebook) joining the game, the concept attracts more and more people — from ordinary users seeking a new means of entertainment, to businesses considering real estate of metaverses to have great investment prospects.
Jason Rosenstein, CEO at digital art auction house Portion, bought a plot of land in Decentraland for a price equivalent to $1.2 million. He describes the current interest of brands and businesses in metaverses as a "gold rush".
It sounds true, with the overall revenue generated from metaverse real estate purchases reaching $500 million in 2021. Experts predict the amount will double by the end of 2022.
What should you do to build a metaverse? Check out this article where we dive deep into all aspects of metaverse creation
Conclusion
Blockchain makes it possible for real estate businesses to streamline and secure document management, ensure title rights, and create a common database for more efficient workflow.
Real estate transactions made with the help of blockchain are much faster and more cost-effective than traditional ones. Plus, all parties involved in the deal can feel certain about the authenticity of related data, as everything stored on the ledger is tamper-proof.
In addition, blockchain has brought with it a pair of innovative technologies: NFT and virtual property both open up new monetization opportunities. Now, the sphere that was always limited by real-world boundaries can significantly expand and allow property investors to break into new territory.
Feeling excited about the new opportunities blockchain creates for real estate? We share this excitement too. PixelPlex's team has been working with blockchain for seven years, making the most innovative blockchain-based solutions become reality. Come along and share your idea with us, and we will build the next big thing together.