Tourism is gradually reawakening after COVID-19 and travel leaders are searching for ways to rescue their businesses. Tourism market players have for some time shown an interest in AR and VR. But what sort of impact are these tools having on the post-pandemic industry?
As demand escalates for travel and hospitality services, we're seeing a heightened interest in AR and VR tourism. Travel and tourism companies are now investing in AR and VR development to increase bookings and provide more immersive experiences to their customers. Apps are being developed to help customers step into real-time versions of destinations that they want to visit.
Read on to find out how AR and VR technologies are benefiting the tourism sector, learn about their most promising applications and the key drivers in tourism — and much more.
Key drivers of AR and VR and their market volume in the travel industry
At present the major factors that drive the demand for AR and VR tourism are the increasing awareness of AR/VR, advances in technology, and rising consumer spending on these innovations.
The global AR and VR market is projected to grow at a high CAGR, reaching $304.4 million by 2023. Contributing to the figures is the growing demand for travel and tourism. For example, in 2020 tourism's direct contribution to GDP was about $4.7 trillion, despite the pandemic.
North America is currently home to the largest share of tourism-related AR and VR, due to growing investment by travel companies in advanced AR/VR tools. For its part, Asia Pacific is expected to prove the region with the fastest growth, thanks to government initiatives to promote and support the travel industry.
Some of the most promising areas of AR/VR in travel and tourism include travel booking services, games, navigation and hospitality.
What are the key challenges of AR/VR in tourism?
The unprecedented COVID-19 pandemic hit the tourism industry extremely hard, with innumerable countries closing their borders to travelers. According to a UN report, in January 2021 tourist arrivals worldwide were down 87% compared to January 2020.
As a result, tourism service providers had to change their business models and, because of the low return on investment, had to reduce the amount of money they spent on advanced digital technologies. Travel companies shifted their focus toward building safer infrastructure to ensure travelers' well-being.
Nonetheless, even in the face of these challenges, AR and VR tourism has enabled the industry to enhance their services, offering stay-at-home travel experiences for people who are not yet willing to travel.
How can AR technology augment travel apps?
The biggest benefit of AR travel apps is that they help alter and improve people's perceptions of their physical surroundings. They engage their senses to give them an interactive and immersive experience.
It is estimated that by 2023 the number of AR users will reach 2.4 billion. Travel agencies are likely to take advantage of this trend to create unique offers for their customers. Imagine you're offering a sightseeing tour to London: how about adding an augmented reality museum experience to create a unique adventure for your users?
Currently, there are three key types of AR applications that can add value to the travel experience. These include:
Location-based apps. These are AR apps that rely on GPS to track locations. Such apps are best suited to developing AR-based city tours and excursions or navigation solutions.
Marker-based apps. Also known as recognition apps, they provide users with detailed information about a specific object, once it has recognised it. A good example would be recognizing art pieces in a museum and providing relevant details about them.
SLAM software. Simultaneous Localization and Mapping Software, also known as SLAM, uses complex algorithms to identify objects around a user. It understands the physical world through feature points and enables instant tracking and scene recognition. For example, the Walt Disney Company gained a patent for a "Virtual World Simulator" that operates using SLAM technology and simulates a digital world within a real-world theme park.
WebAR — a new term in AR development. Check it out!
How does virtual reality travel enhance the user experience?
According to Statista, the size of the VR market is expected to grow to more than $12 billion by 2024.
Virtual reality technologies gave birth to a wide range of VR travel experiences by providing users with interactive 3D tours that enable them to have virtual walkthroughs around a range of locations.
VR is a great tool for travel agencies that want to encourage more bookings and increase their sales. For instance, Amadeus is already developing and testing its Virtual Reality Search and Booking Experience as a travel booking option. VR will also help customers by enabling them to "try" the location before spending money on an actual trip.
Alternatively, agencies can sell VR trips and provide users with special equipment like helmets and other hardware for delivering an immersive user experience.
Key players in the global AR/VR tourism market
At present, HTC Corporation and Microsoft Corporation are the two largest industry players in the AR/VR global market.
HTC Corporation is a leading global company focusing on virtual reality and connected technology. Recently, the corporation introduced a VR Headset HTC Vive equipped with an input controller to enhance the 360-degree VR experience.
Microsoft Corporation focuses primarily on the development and manufacturing of software, personal computers and services, and consumer electronics. Microsoft has recently launched its mixed reality mounted display, which provides holographic AR.
Some of the other key players in the global AR/VR in the tourism market include VizioFly, World Travel VR, Apple Inc., Google, Dell Technologies Inc., Oculus, Ascape VR, Zco Corporation, VARS, and EON Reality.
What are the main use cases of AR/VR in tourism?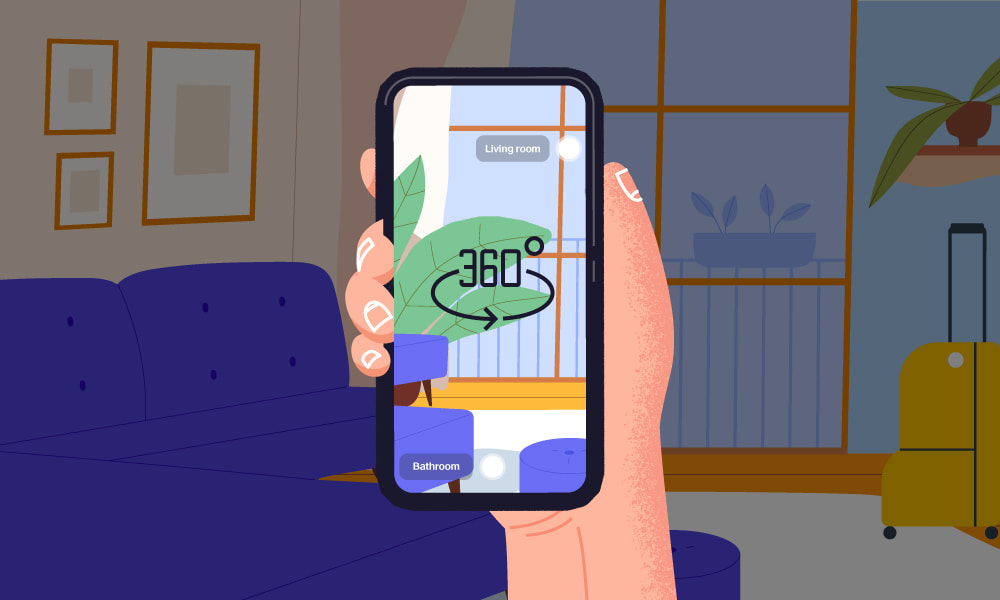 Among the applications of AR and VR in tourism with the most potential are virtual reality travel, virtual hotel tours, immersive navigation and guided tours, test drive excursions, enhanced museum experience and gamified tours. Let's see what each of them has to offer.
Virtual reality travel
VR tourism allows users to visit a new place without physically traveling there. Obviously, it will not be a replacement for the actual travel experience, but it will help people explore parts of the world virtually or at least check a destination before going there.
VR travel apps can help tourists visit places that are remote or difficult to get to. One of the successful examples is the Patagonia project. It's an Oculus 360 tour that allows users to visit Monte Fitzroy, Argentina's most famous mountain, and its glacial lake, Laguna Sucia.
VR tourism can benefit not only tourists but also travel agencies. According to research carried out in Germany by Statista, around 50% of people would use VR to choose their holiday destination provided it was free, while 13% of the interviewed were ready to actually pay for VR.
Virtual hotel tours
Based on the "try before you buy" concept, virtual hotel tours are generally designed for customers who want to size up a hotel in detail before booking a room. Several upscale destinations like the Maldives and Dubai are leveraging virtual reality to showcase themselves.
For example, Atlantis, the Palm in Dubai has created a 360 panoramic VR video which provides a whistle-stop tour of the hotel's main features. These include the lobby, the hotel's biggest suite (the Royal Bridge), the renowned Nobu restaurant and more.
Introduce yourself to VResorts — a 360-degree VR platform for hotel and resort owners
Immersive navigation and guided tours
AR travel is mainly focused on geolocation and navigation processes, especially for those who travel on foot. For example, Google Lens and Google Translate allow you to scan and translate maps, guides and street signs in real time, providing an AR overlay of the translation in multiple languages.
Google Maps is similarly equipped with AR functionality, which simplifies navigation for users who travel on foot by placing virtual signs with easy-to-follow directions on top of the real-world roads. The signs guide users on which direction to walk and where to turn, making direction-finding much easier.
American Airlines equipped its app with an AR overlay that directs users to key areas, be it a check-in desk or security checkpoint. Another example is Hub Hotels, which equipped their application with an AR london map. Hotel visitors can point their smartphone cameras at the wall in their rooms and look at routes and points of interest in London before they head out into the city.
Some companies offer guided educational tours to their users. Zaubar, for instance, has AR-powered tours which provide 3D learning experiences about a city's past and present.
Test drive excursions
Virtual reality travel can also include test drive excursions. Just like checking hotels before booking, users can test drive various trips and places with the help of VR.
On the one hand, test drive excursions will help users work out if they want to spend their time and money on a specific trip. On the other hand, they can help companies to promote bookings by providing travelers with a better idea of the offered trip.
For example, British travel company Thomas Cook experimented with VR travel experiences and allowed their consumers to try out various excursions. The company reported a 190% uplift in bookings for NY trips after their customers tested the 5-minute VR experience in their store.
The test drive use case also creates ample opportunities for VR-based tourism marketing. According to the research 'Virtual Reality and Implications for Destination Marketing',
"VR is a more engaging form of advertisement that helps people feel like they are in the destination participating in the activities. Destination marketers should consider using VR to engage and build relationships with potential visitors, but need to follow up with more traditional call to action marketing."
AR/VR-powered museums
Museums often suffer from a shortage of trained and experienced personnel, as well as from visitor congestion. What's more, the excursions provided by museums are often very generic, lacking in detail and too hasty. AR technology can resolve these issues by offering visitors comprehensive guided tours around a museum or exhibition.
The National History Museum, for example, has a Skin and Bones app using AR overlay and 3D technologies. By pointing their smartphone at a skeleton, the museum's visitors get a glimpse of how the specimen moved or looked, as well as learn the fascinating story behind it.
Similar experiences are offered by the American Museum of Natural History via the Explorer app, which has turn-by-turn directions to exhibits, customized recommendations and more.
Many popular museums, including Tate Britain and the Louvre, support Smartify — an AR app that enables visitors to hold up their smartphones to access more details and learn the history of specific art objects.
Gamified tours
You can also make use of augmented reality to create gamified tours. These tours require users to scan images to activate AR travel experiences or mini-games.
One example is provided by Ohio-based amusement park Cedar Point, which integrated the interactive gaming experience "The Battle for Cedar Point" into its app. When entering the park, guests can join different clans to compete with other visitors. They can scan ride signs and game symbols, which will trigger the AR experience.
The app not only keeps guests entertained but also improves dwell time at restaurants and merchandising stores, which eventually results in increased spending.
Find out what is the current impact of AR/VR on gaming industry
How does beacon technology enhance traveling?
VR and AR travel experiences can be also improved with beacon technology, which is being adopted by the hospitality industry in particular. Beacons are special AR technologies that use low Bluetooth connections to communicate with users' smartphones.
At present, hotels make up the majority of the businesses taking up this technology. They place beacons on physical objects and strategic locations such as hallways and lobbies. The technology enables visitors to receive real-time information on hotel activities, special offers and more. Beacons have a number of other uses too, such as allowing guests to unlock their rooms or streamlining the check-in process.
Hotels both large and small are already using the beacon technology.  These include The James Hotels, Starwood Hotels and Resorts, and Marriott International.
For example, The James Hotels offer their guests a personalized tour of their art collection, which is customized to the visitors' locations through beacons. Marriott incorporated beacons into their loyalty program, known as LocalPerks. As a result, visitors receive food and SPA discounts or golf deals in or around the hotel amenities.
If your business is considering implementing beacons, it would be wise to start with an analysis of the questions that your visitors frequently ask. Also, you should think about typical guest patterns for purchasing, and incorporate beacon technology in places where your guests often make a purchasing decision —  such as on the menu board outside a hotel restaurant.
How is the metaverse changing tourism?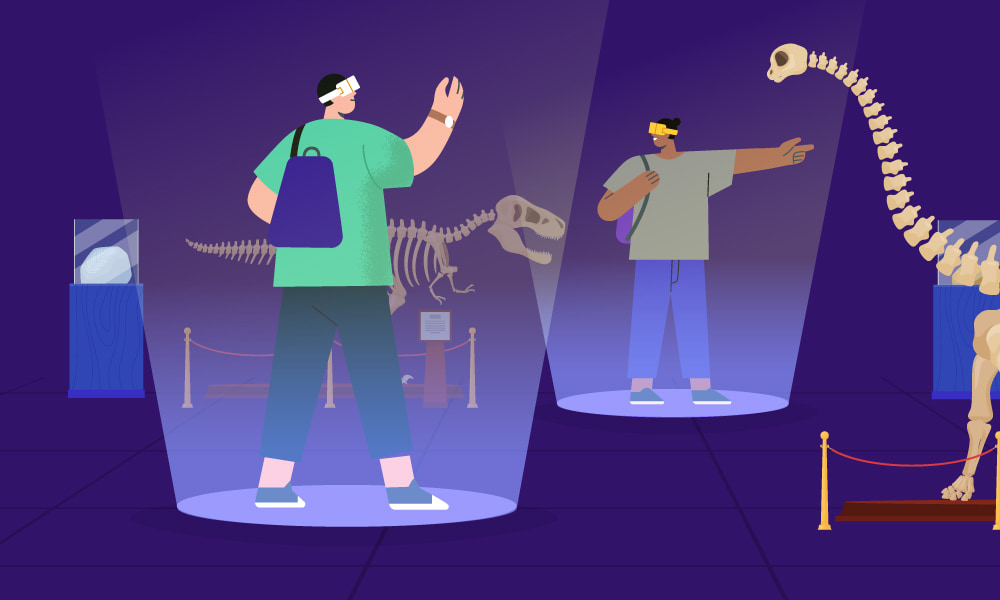 The metaverse is currently one of the hottest of topics, affecting multiple industries, so it's interesting to see the role it is playing in the development of the tourism and hospitality industry. In case you have missed hearing about the metaverse, have a look at one of our latest articles — Embracing the Metaverse: What Should You Know About the Growing Trend?
The concept of interactive virtual worlds supplied by the metaverse could help boost user engagement with different locations and inspire tourism-related purchases. In this sense, the metaverse may be considered an upgraded version of virtual reality. It can empower users and help them to get a clear idea of what they might expect when visiting a particular destination.
For example, using their digital avatars, users might walk around a realistic recreation of their hotel, and gain a sense of how big the rooms are and what facilities the hotel offers.
Restaurants can leverage the metaverse to take their potential customers on cookery experiences, while agencies offering fun excursions can offer realistic experiences of future trips. All this helps to increase the booking numbers.
Find out about the role of AR/VR in the development of metaverse projects
Closing thoughts
AR and VR are definitely well worth implementing in the tourism industry, as there is so much they can do to enrich the traveler's experience. From virtual reality travel to virtual hotel tours, test drive excursions and immersive navigation — there are plenty of exciting ways to apply the technology.
The AR/VR market continues to evolve, with many large corporations like Microsoft and HTC Corporation devoting themselves to developing AR and VR-based tools and to the related hardware (such as AR glasses and VR headsets).
If you're a player in the travel and hospitality industry, we recommend you try out the capabilities of AR and VR technology. For our part, we will gladly help you to develop AR/VR-based applications or provide you with advice on how to use these technologies to complement your business offerings. Contact our certified specialists to discuss your future project.