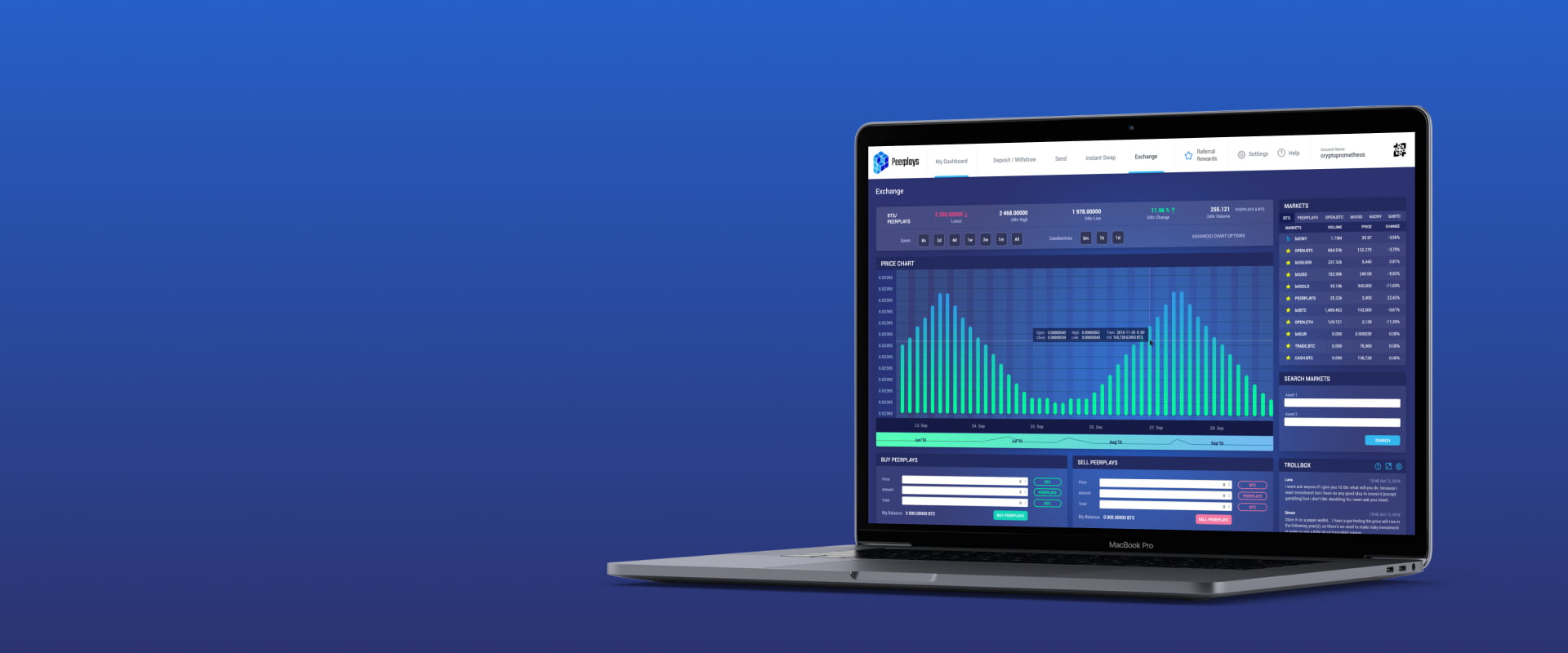 Return
Peerplays
Decentralized & Provably Fair Global Betting Platform
Blockchain
Mobile
Cryptocurrency
UI/UX
Game
Betting Platform
Blockchain
Mobile
Cryptocurrency
UI/UX
Game
Betting Platform
Key functionality development for the first decentralized and provably fair global betting platform based on Graphene blockchain with DPoS consensus
Project goals
Help our client support the integrity of the betting industry with the development of a global platform and tools for placing bets on any game from anywhere in the world, having real-time transaction transparency, high level of privacy, security, anonymity, and no third parties involved.
Work done
Peerplays core wallet
Front-end and back-end web app development for the platform
Protocol-level development on Graphene
Sidechain of Bitcoin added to Peerplays network
Game & app development for Peerplays global betting platform
Solution
Our blockchain protocol development was based on BitShares 2.0 technology and the powerful Graphene blockchain platform enabling high performance and reliability of the system. We also created essential tools (wallet, apps, and services) to shape the perfect and natural ecosystem for online betting.

Technologies used:
Details
Protocol-Level Development on Graphene
Our team has done several updates to Graphene blockchain protocol to further support and sustain efficient betting on the platform. We also implemented mechanics for asset/raffle ticket generation & random winner selection using the string hash mechanism for block generation to provide truly random values.
As a result of our work, PeerPlays provides a stable solution suitable for gaming and betting industries to base their applications on.
Graphene technology gives Peerplays financial market-grade performance and reliability with years of successful deployment logged as part of  BitShares technology.
The use of Delegated Proof of Stake (DPoS) consensus removes third-party betting operators from the equation (traditional sportsbooks and betting exchanges), creating a completely independent platform where 100% trust is inherent in the core technology.
Peerplays Core Wallet
The desktop wallet allows immediate access to funds and anonymous control over each transaction. It provides a simple and convenient UI for anyone to store, manage and use their PPY tokens.
Peerplays Core Wallet allows voting as well. Anyone holding Peerplays tokens can participate in voting by adding the name of the witness to the voting section of their wallet. The wallet then sends this information directly to Peerplays blockchain. Each token has a weighted vote, allowing the owner to be part of the community and help maintain the network.
Bitcoin Sidechain
The sidechain allows for blazing fast cryptographically-secured deposits and withdrawals in BTC.
Each transaction is publicly broadcasted on the blockchain in real time. As soon as a bet is placed, anyone can view its full audit trail, marking a revolutionary change in betting industry standards for transparency.
Game & App Development for Peerplays Blockchain
PixelPlex has already introduced and continues development of applications and games based on PeerPlays blockchain, including:
HelmBet RPS is an open-source, desktop version of the popular game Rock-Paper-Scissors. It has the same element of unpredictability and excitement  of a live game and is successfully adapted for the digital era, allowing players to participate in online tournaments and place bets.
Sweeps is an instant lottery ticket application. It allows buying  a lottery ticket right from your mobile device without having to visit a local gas station, supermarket or any other location.
Got an idea? Let's work together
Project features
Full ecosystem of tools, apps and services to support global betting Native wallet with voting capability for storing and transacting tokens Bitcoin sidechain for BTC deposits and withdrawals Graphene-based protocol with transaction speeds of over 10,000 tps String hash-based random value block generation to ensure betting validity Protocol-level asset-based lottery mechanics Block explorer UI for tracing betting transactions