As web3 keeps on evolving, the number of its applications and use cases has been growing exponentially. But which have been the most eye-catching so far?
With web3, the internet is your oyster. The ground-breaking tech concept offers users a host of benefits, the most prominent being greater freedom for interactions, enjoyable browser experience, better control over data ownership and privacy, enhanced cyber safety, and streamlined connectivity.
The proponents of Web 3.0 envision that it has yet to reveal its full capacity: given time, it will introduce us to an extraordinary spectrum of opportunities. Notably, it is also expected that the global web3 blockchain market revenue will reach the remarkable value of $23.3 billion by 2028.
But what about the current state of web3 and which web3 use cases and applications have already proven to be a hit?
Let's find out together!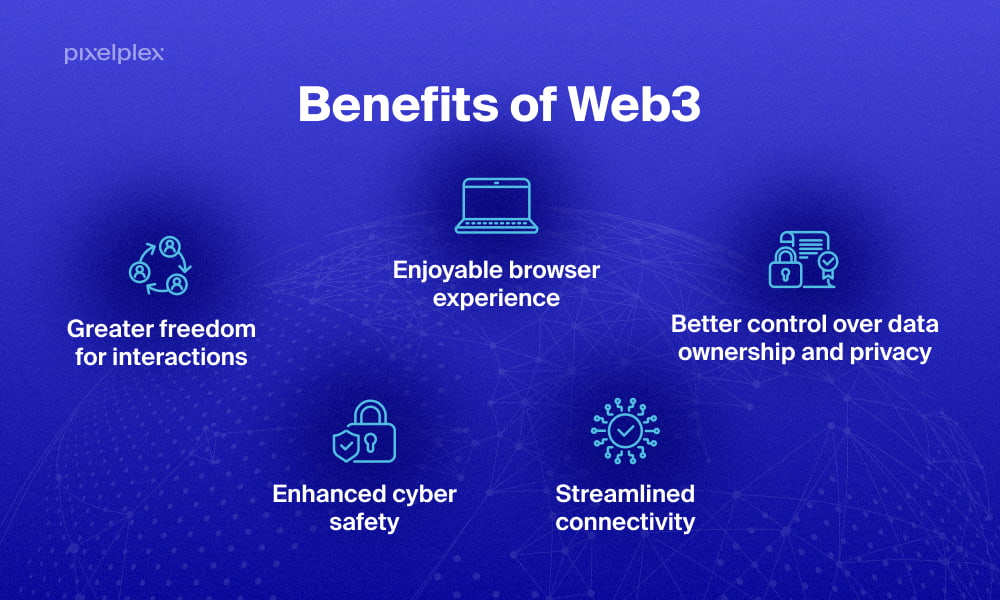 If you want to get details on what Web3 is, how it differs from Web2, and whether or not it's worth investing in it, check out the video below. In it, we discuss all important aspects related to Web3 and its use cases.
What are the top Web 3.0 use cases and applications?
So far, web3 has made its presence felt in a variety of areas, including (but not limited to) creator economy, social media, blockchain-based gaming, as well as decentralized science, browsers, storage, and streaming solutions.
Below, we will look into each of these web3 use cases in greater detail.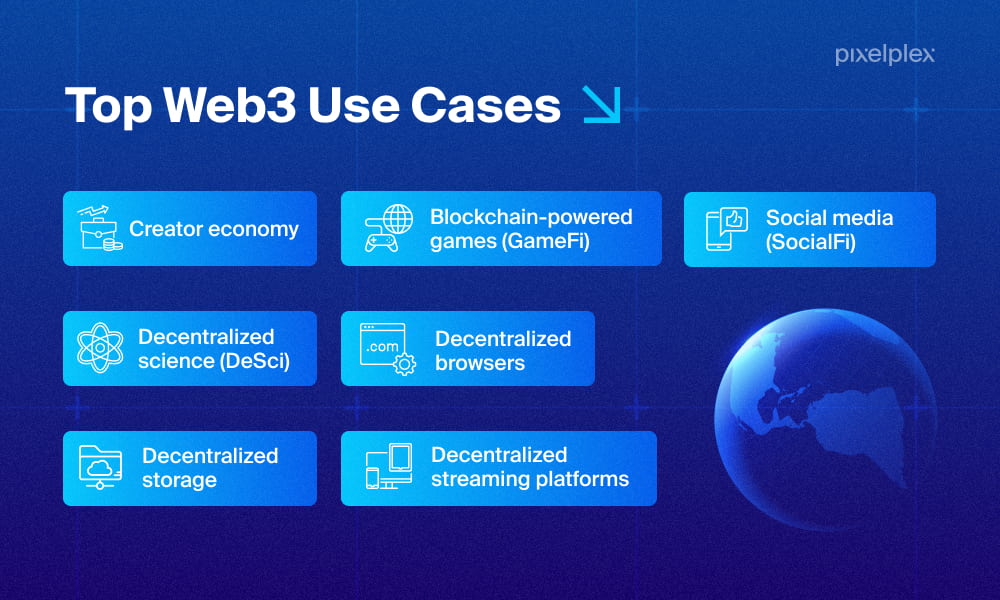 Creator economy
Factors such as the rise in internet usage and digital tools, the globalization of content consumption, and disruption in formal employment patterns have contributed to the development of the creator economy. This dynamic and booming industry is impossible to ignore — as of May 2021, its market size was estimated at $104.2 billion.
However, the current platforms, marketplaces, and the like, where creators produce and publish their works, are too centralized. They own and manage creators' data, brand, audience, and surely revenues. These platforms oblige content creators to strictly follow their terms and conditions, and they do not allow them to engage directly with their audiences and fans outside the platform's environment.
But with web3, the creator economy has a chance to upgrade to a whole new level and award content creators with more freedom and the power to retain full control over their works. Web3 will also help them do away with any intermediaries, and communicate with their fans directly while streamlining authentic creativity with no ad-driven content.
Real-life applications
Although there is still a long way to go before web3 creator economy platforms become commonplace, one can already come across nascent, yet fully-fledged platforms that are bringing content creators closer to the web3 era.
For example, today's NFT marketplaces such as Rarible and OpenSea enable content creators to produce, sell, and promote their content in the form of NFTs directly to their fans.
What's more, a solution called Rally has been specifically designed to allow creators and their communities to develop their own independent digital economies. It equips creators with the tools needed to mint and distribute social tokens and NFTs. Rally also encourages a network of developers and partners to build extra experiences for creators and fans on top of the existing Web 3.0 infrastructure.
Blockchain-based gaming
Blockchain-powered web3 gaming, which is also often referred to as GameFi, has made waves across the globe. Experts estimated that in the first half of 2022, an average of 800,000 users connected with Web 3.0 games on a regular basis.
Compared to traditional games which normally involve centralized authorities, web3 gaming solutions are decentralized by default. This means that users can establish absolute control over their in-game assets such as NFTs and easily trade them with other players without any intermediaries getting involved.
On top of that, the web3 gaming concept can be extended to the metaverse space where players will have the opportunity to create their own avatars and trade their collectibles amongst themselves.
Another significant point worth mentioning is that web3 gaming can be customized in accordance with players' likes and preferences and go beyond play-to-earn (P2E). Numerous concepts have been designed as a result, the most outstanding of which are learn-to-earn (L2E), move-to-earn (M2E), exercise-to-earn (E2E), and sleep-to-earn (S2E), among others.
Real-life applications
You have surely heard about the web3 game called Axie Infinity, currently the most popular game of its kind and rarely out of the news.
However, it isn't the only engaging game on the market. Other standouts include Skyweaver, Guild of Guardians, and Gods Unchained.
Besides this, as we have discussed earlier, GameFi has generated some cool alternatives to P2E. As a result, you can take your pick from top game apps such as Genopets (M2E), WIRTUAL (E2E), and SleeFi (S2E).
Check out our comprehensive guide on the play-to-earn gaming concept and see how to develop one
Decentralized browsers
Web3 decentralized browsers preserve the conventional features of common browsers, yet they also empower users to efficiently interact with decentralized applications (dApps) that are created on top of blockchain technology.
The new generation of browsers offers users multiple benefits, including better transparency and security, streamlined performance, guaranteed user confidentiality, and the opportunity to retain ownership of the data. What's more, when using web3 browsers, consumers can get rewarded financially for engaging with content or viewing adverts.
Modern web3 browsers are equipped with integrated web3 wallets which allow for frictionless functioning. However, traditional web2 browsers like Chrome, Safari, and Firefox can provide a gateway to web3 applications too. The only thing users are required to do is install either a web3 wallet like MetaMask or a special browser extension.
Real-life applications
Given that web3 is evolving at lightning speed, it is no surprise that the list of web3 browsers is growing too. The Brave browser is considered to be one of the best gateways to web3 so far. It possesses a robust decentralized ecosystem and is currently leveraged by around 59 million users. Brave's core features comprise ad blockers, integrated support for IPFS, and a built-in virtual currency wallet.
As regards other popular web3 browsers, it is worth mentioning Osiris, Opera Web3, Puma, and Beaker.
Need a reliable dApp development partner? Look no further. Our team will deliver a powerful app that will meet your requirements
Decentralized streaming
Video and music streaming has become a large and fast-growing industry. According to Fortune Business Insights, the global streaming market will be worth $1.69 trillion by 2030.
Even so, traditional streaming platforms are centralized. This implies that they pose numerous obstacles, and raise potential controversy related to monetization policies, unfair promotion algorithms, data collection and privacy concerns, and more.
Decentralized blockchain-enabled streaming platforms, on the other hand, offer privacy-focused approaches to users and creators. They also assist content curators in acquiring direct access to their earnings and independently broadcasting their content on the platform.
Real-life applications
HOAG is a modern streaming platform for web3 creators. It is set to make video streaming available to anyone while also providing a high level of security.
DTube presents itself as the world's number one decentralized, crypto-based video platform. It is built on top of the STEEM blockchain, alongside the IPFS P2P network.
Another top-notch project worth mentioning is Livepeer. This is an open-source video infrastructure service created on Ethereum. It makes use of blockchain's decentralization feature to help video engineers produce high-quality, low-cost video streaming models.
Decentralized science
Web3 is slated to upend not only the way we play, create, and socialize, but also to upgrade the scientific landscape and introduce us to the new movement called decentralized science, or DeSci for short.
DeSci relies on blockchain technology and web3 to tackle the lack of available research findings, help scientists access the right funding, bolster collaboration across the field, unleash new knowledge, and enhance many other bottlenecks related to research and scientific processes.
Real-life applications
Even if DeSci is still in its nascent stages, there are still plenty of projects keen to embrace this new, tech-powered scientific concept.
VitaDAO, for instance, is among the most outstanding biotech decentralized autonomous organizations (DAOs). Its core mission is to help raise early-stage funding for R&D projects in longevity science and drug development. To achieve this, VitaDAO collectively funds and digitizes research in the form of IP NFTs.
SCINET is another decentralized science research and development solution. It is set to facilitate funding for research and scientific projects in the health field and to foster the security of IP rights, peer review, and publishing. SCINET is powered by blockchain, which makes it possible for retail and institutional investors to invest directly and safely in life sciences research and technology.
Get more detailed insights about DeSci
Social media
SocialFi has been introduced to help confront and battle the challenges related to freedom of speech and content monetization and to bring novelty to the way we socialize and engage with content online.
Blockchain-enabled SocialFi per se is the combination of social media and DeFi. It aptly incorporates the web3 approach to enable users to produce, manage, and, importantly, own the content that they generate.
Real-life applications
Eager to tackle the challenges of traditional social media, innovators have been rolling out a range of SocialFi platforms. Diamond, for example, which is viewed as a decentralized version of Twitter, enables users to exert control over the content, build communities, and get rewarded for any engagement on the platform.
Entre is another web3 platform worth mentioning. This is a decentralized web3 professional community that boasts features such as AI introductions and matchmaking, and opportunities to host live streams, meetings, and events. It also offers direct and group messaging and rewards for being active.
Meanwhile, Torum is being heralded as one of the most promising SocialFi projects. It is a SocialFi metaverse ecosystem that is set to bring together crypto users and communities from all over the world.
Decentralized storage
The rise of web3 has also spurred the development of decentralized storage solutions that will empower users to efficiently and conveniently store, retrieve, and manage their own data.
In basic terms, web3 cloud storage, or decentralized storage, is data storage that is located on several servers and is operated by multiple participants who have no central authority and ownership over data.
Here are the key advantages of web3 cloud storage:
Absence of a single point of failure. This means that in web3 cloud servers, data is dispersed across multiple locations, which offers extra security and prevents hacking attempts.
Reduced costs. With decentralized storage, the cost of storing gigantic petabytes of data is substantially lower compared to traditional data storage solutions.
Enhanced privacy. In web3, cloud storage data is split among many nodes, which is why owner-only access is a valuable benefit.
Real-life applications
To date, a number of different web3 storage solutions have been rolled out, including IPFS, Filecoin, and Computecoin.
Filecoin and IPFS are two separate, complementary protocols created by Protocol Labs. They are intended for storing and sharing data on the distributed web. Both of them are free and open-source and share building blocks such as data representation formats (IPLD) and network communication protocols.
Computecoin is another web3 decentralized storage network. It has been specifically designed to help web2 users and developers effortlessly and smoothly transit into the web3 space.
Check out how our developers delivered this decentralized web3 storage infrastructure
Closing thoughts
Web3 is just at the beginning of its journey, but it has already managed to make progress in many different directions and prove that it can change the rules of the game.
The number of web3 use cases and applications has mushroomed, and these days we can see the cutting-edge technology concept being implemented in fields such as creator economy, gaming, science, and social media. Essentially, decentralized browsers, streaming, and cloud storage solutions have been gaining wider traction and it is likely that we will witness many more fully-fledged projects in the foreseeable future.
If you want to stay ahead of the game and become a driving force in the web3 space, contact our team of practiced PixelPlex blockchain experts. We can assist you in a range of areas, whether it is researching and analyzing the viability of your idea or developing a powerful web3 solution from scratch.
Disclaimer: The information provided in the article is for educational purposes only. It does not constitute advice or recommendations for embracing or investing in web3 and/or its constituents. Please seek professional advice before taking financial risks.