Website inclusivity is a legal imperative under the ADA, and neglecting its accessibility rules can lead to significant financial and reputational consequences.
Web accessibility violations often lead to more than just a dent in customer satisfaction, they can unleash a storm of legal repercussions.
Take the 2023 class action lawsuit against Target Corporation, for example. The retail giant was embroiled in a legal battle because its website is not accessible to visually impaired users.
However, Target's case is not just some isolated event, but a part of a growing trend of legal challenges. In 2022 alone the business community saw 3,255 website accessibility lawsuits filed, a 12% increase compared to 2021.
And what about the price for not following the ADA? It is too high, with initial fines starting from $55,000 to $150,000, not to mention the additional legal fees, plaintiff's costs, and the price tag for making a website compliant after the fact.
It all points to one thing: companies need to make digital inclusion a priority, or they will be in hot water.
Below we'll explore the major trends in website accessibility lawsuits to give you a clearer picture of the landscape.
Need expert assistance with accessible web development and design? Reach out to our team
Is your website at risk? Key trends in website accessibility lawsuits
The data suggests that we're in for another uptick in digital accessibility lawsuits this year.
According to the UsableNet's midyear report, 4220 website accessibility cases are predicted for 2023. These include cases filed in federal court as well as those filed in state courts in New York and California.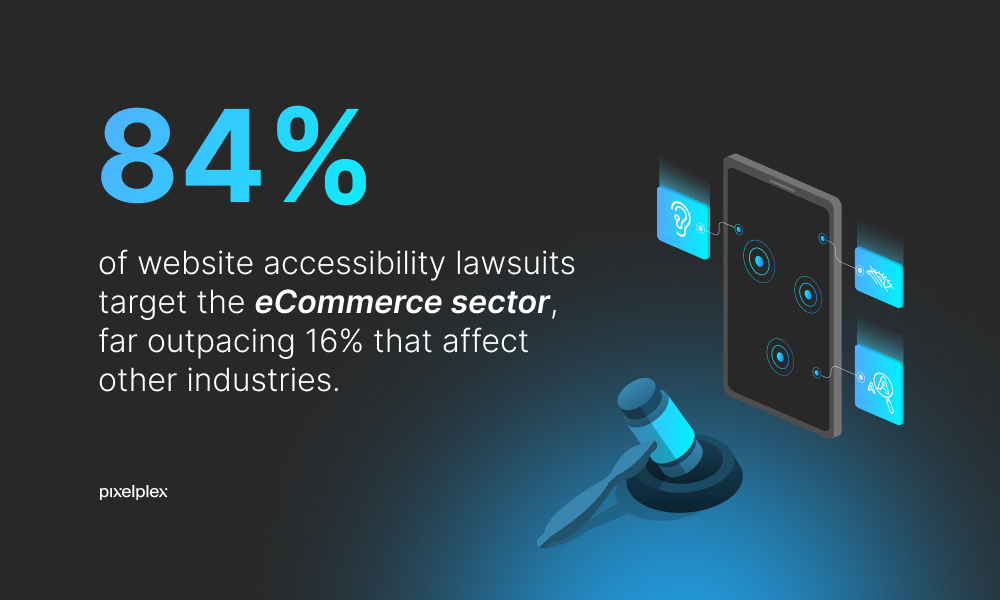 The assumption that a company once sued for website accessibility issues is immune to further lawsuits is a myth. In 2022, there was a striking 143% increase in companies facing multiple lawsuits over their digital spaces. This trend underscores the persistent gaps in web accessibility and the legal system's ongoing efforts to address them.
In 2023, 13% of the top 500 eCommerce giants have been called to court over website accessibility issues. And it's not just a one-off. Over the last four years, 81% of them have been hit with lawsuits.
When it comes to caseloads, the federal courts of New York, Florida, and California remained the most active in the nation.
Unsurprisingly, an overwhelming 95% of lawsuits target desktop websites, primarily because their accessibility can be easily tested and documented.
Also, in 2023, lawsuits against companies using accessibility widgets have surged, with plaintiffs filing 414 lawsuits compared to 315 in the previous year.
What are the costs of non-compliance?
Current data suggests that 77% of companies that received website accessibility lawsuits have annual revenue under $25 million, whereas the remaining 23% are companies with budgets more than $25 million, suggesting that smaller businesses are a primary target.
As for the financial repercussions, ADA stipulates that businesses sued and defeated by the Justice Department are not obliged to cover the Department's attorney fees. However, they could face civil penalties up to $92,383 for a first violation, with potential penalties doubling to $184,767 for subsequent violations.
If your business receives a website (or app) accessibility demand letter under the ADA, the typical bill you're likely to face could be around $25,000. This general breakdown includes:
$10,000 for the plaintiff's law firm fees (settlement amount)
$5,000 for your defense attorney fees
Between $5,000 to $20,000 for an accessibility audit and remediation.
Key violations leading to web accessibility lawsuits
Over and over again, businesses fall into familiar traps with website accessibility. Below, we outline the prevalent issues that often result in web accessibility lawsuits:
Lack of alt text on images and video
Website barriers to screen reading software
Poor color contrast
The absence of the ability to increase or decrease text size
No options to switch colors and contrasts
Inaccessible online forms
The absence of the ability to use the keyboard for navigation
Inadequately described website links and buttons
Besides, in 2023, there appears to be an emerging trend of lawsuits citing WCAG 2.2, recognized as the industry benchmark for digital accessibility.
Check out our ADA compliance checklist based on WCAG 2.2
Top examples of website accessibility lawsuits in consumer goods, services, and retail in 2023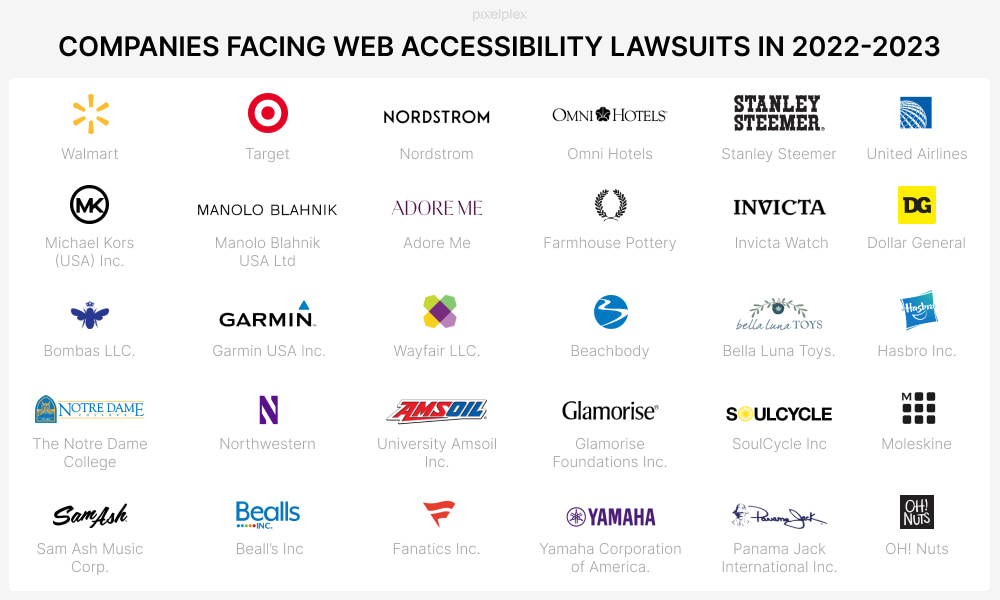 Below is a list of five notable web accessibility lawsuits that were filed against various companies in 2023.
Walmart
Who and where
The lawsuit was filed by Ali Abdulhadi against Walmart Inc. in the U.S. District Court for the Central District of California.
Lawsuit overview
Ali Abdulhadi, a legally blind individual, initiated a class action lawsuit, claiming that the design of Walmart's website was not fully accessible to blind or visually impaired consumers. The lawsuit states that this failure constitutes a violation of the ADA.
Key violations
Walmart's website has access barriers to screen-reading software, commonly used by visually impaired individuals to navigate the internet.
Walmart failed to remove the identified access barriers, thus violating California's Unruh Civil Rights Act.
Target
Who and where
The class action lawsuit was filed by Julie Dalton against Target Corporation in the U.S. District Court for the District of Minnesota.
Lawsuit overview
The web accessibility lawsuit claims that Target's website is not accessible to consumers who are blind or have poor vision. It further details that the website has several issues that prevent screen readers from accessing the full range of its features.
Key violations
Certain links and buttons on the website are not adequately described, making navigation difficult for screen reader users.
The lack of proper formatting requires individuals with visual disabilities to spend more time and effort to access the website, sometimes necessitating third-party assistance.
There are no corporate policies to ensure that the website remains accessible to all users.
Stanley Steemer
Who and where
Frangie Espinal filed a class action lawsuit against Stanley Steemer International Inc. in the U.S. District Court for the Southern District of New York.
Lawsuit overview
According to the lawsuit, the website is incompatible with screen reading software and denies blind or visually impaired individuals full and equal access to the products and services offered, in violation with the ADA. Espinal is seeking a jury trial and requests declaratory and injunctive relief, as well as compensatory, statutory, and punitive damages for all class members.
Key violations
The website lacks alternative text for images, which is crucial for screen readers to convey visual information.
The website has redundant and broken links that do not function properly or lead to the wrong destinations.
There are links on the website that contain no text, making it impossible for screen readers to understand their purpose or destination.
Nordstrom
Who and where
Sumaya Hussein filed a class action lawsuit against Nordstrom Inc. in the U.S. District Court for the Northern District of Illinois.
Lawsuit overview
The web accessibility lawsuit alleges that Nordstrom's website contains several access barriers that make it incompatible with screen reading software. These barriers prevent blind and visually impaired individuals from having full and equal access to the goods and services offered on the website.
Key violations
The website contains broken links that do not function correctly and disrupt the navigation experience for screen reader users.
Nordstrom contains hidden elements on web pages, making content inaccessible.
There are incorrectly formatted lists, leading to confusion and misinterpretation.
The website has unannounced pop-ups that appear without prior warning, which can disorient users who are blind or visually impaired.
Images on the website lack alternative text descriptions.
Omni Hotels
Who and where
Daniel Rodriguez filed a class action lawsuit against Omni Hotels Management Corporation in the U.S. District Court of New York, Eastern District.
Lawsuit overview
The plaintiff claims that the website is not compatible with screen-reading software. The web accessibility lawsuit states that the website must follow universally acknowledged guidelines published by website standards organizations and the federal government. Rodriguez is requesting injunctive relief and compensatory damages along with civil fines and penalties.
Key violations
Interactive elements on the website are not compatible with keyboard use, which is essential for individuals who cannot use a mouse.
The website's forms do not include label elements, which are essential for screen reader users to understand what information is required.
The website reportedly lacks alternative text for images.
Omni Hotels doesn't have any centralized accessibility policies.
How PixelPlex can help
We understand the importance of making websites accessible to all users, as this not only fosters digital inclusivity and enhances user experience, but also helps businesses mitigate the risk of legal penalties.
Here's what our PixelPlex team can do to help you achieve full web accessibility:
Website accessibility audit
ADA compliance testing
Issue reporting and resolution
Compliance re-audit
WCAG compliance certification
Accessible web design and development
Post-launch support and updates upon request
Feel free to contact our web accessibility consultants for further consultation.