Digital transformation (DX) integrates digital technologies into all areas of an organization to enhance current operational processes and develop new ones — while providing greater utility to consumers. But how is it redefining business value?
The numbers are interesting: digital transformation spending is predicted to reach $1,8 trillion by 2022 and to grow even faster after that, with forecasts exceeding $2,8 trillion by 2025.
Despite the economic downturn brought on by the Covid-19 outbreak, companies' efforts to adapt digitally have mostly begun and have been expanding since the start of the pandemic. And even though correlation does not imply causation, the pandemic has significantly accelerated digital transformation, putting the emphasis on more agile and intelligent ways of doing business.
Notably, while in 2018 digitally transformed enterprises accounted for $13,5 trillion of the global nominal GDP, in 2023 they are expected to account for $53,3 trillion.
What is digital transformation?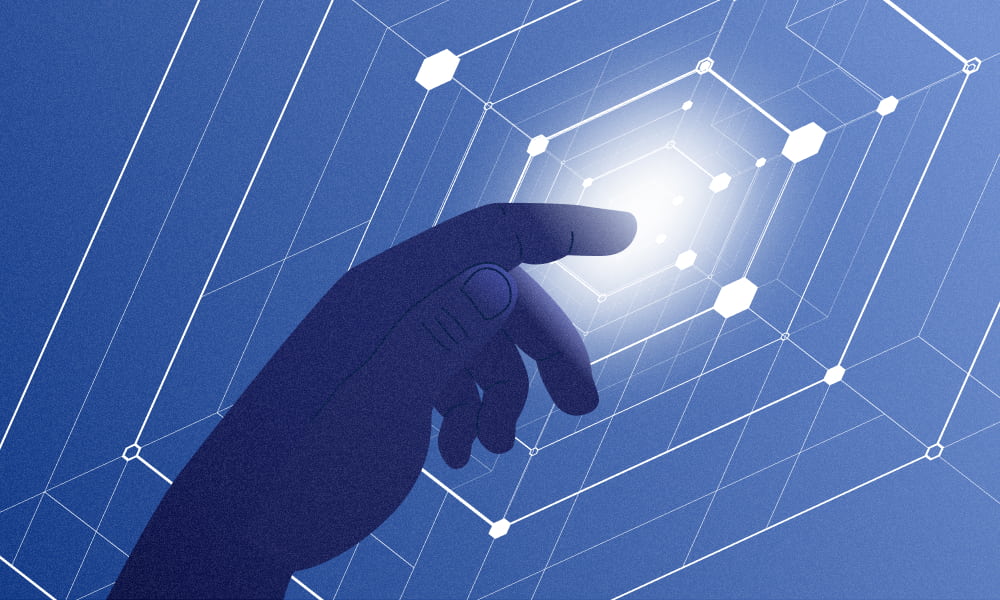 Digital transformation describes the business process of transitioning to digital systems for efficiency, scalability and cost-effectiveness. This process could translate into the shift of obsolete systems to third-party digital solutions that make these systems work more efficiently.
However, digital transformation generally requires a degree of restructuring for enhanced business operations. Some examples of this restructuring might include:
System migration to the cloud
Making the switch to advanced telecommunications
Integrating machine learning
Beyond this, it also involves a cultural change, with businesses needing to challenge the status quo, discard long-standing company processes in favor of new and undefined ones, and accept failure in the name of innovation.
Why is digital transformation important?
An organization may embark on digital transformation for a variety of reasons. However, the risk of being left behind is an especially compelling motivation. In the aftermath of the pandemic, the capacity to quickly adjust to supply chain disruptions, time-to-market pressures, and customer expectations has become essential.
Similarly, an IT spending survey of 501 IT executives worldwide suggests that leaders recognize digital transformation as a prerequisite for competing in today's market and a strategy for long-term success. For 75% of survey respondents it's their top priority, followed by cybersecurity (73%), and cloud migration (65%).
On the practical side, organizations stand to benefit from digital transformation in a variety of ways. Among these are:
Increased efficiency
Lower costs and a higher ROI
Improved network infrastructure
Modern architectures and business models
Increased potential for data visualization
Want to enable digital transformation in your business vertical? Then check out our blog page dedicated specifically to digital transformation
What drives digital transformation?
What is the key driver of digital transformation? Is it technology or strategy? Or both? As technology will never cease to play a role in business operations, the question is whether organizations employ it efficiently.
However, it is not just technology development that drives digital transformation. Other key factors include digital security, unlocking data silos, digital twins, digital culture, and tech-savvy leadership. Let's dive into each of them.
Digital security
Digital security remains a top priority for a successful business strategy. As cybersecurity is a fast-changing and complex issue to tackle, a successful digital transformation requires a transformation of security as well.
Unlocking data silos
Data and analytics are two essential components of digital business. Yet currently organizations sit on piles of unprocessed data, unsure how to store, handle and utilize this critical resource. Breaking traditional data pipelines and introducing a process-oriented, collaborative data management strategy is imperative.
Digital twins
The global digital twin market is projected to reach USD 48,2 billion by 2026. By using digital twins, businesses can have a complete digital footprint of their products across the product development life cycle, from design to deployment.
A technology once limited to manufacturing has now integrated with IoT, AI, and Data Analytics, and it's one of the top digital transformation trends.
Digital culture
The digital culture encourages employees to reach out to clients and partners to generate solutions. According to McKinsey Digital research, corporate culture is a significant barrier to digital transformation. Deliberate efforts to make cultures more responsive to customers, more willing to take risks, and better connected across functions, are no longer an option but in truth a necessity.
Digital-savvy leadership
Digital transformation must be implemented throughout the organization, not only in a few teams striving to strengthen their domains. It requires full leadership backing; without solid leadership from the top, digital reforms tend to be erratic and chaotic.
What are the main areas of digital transformation?
Although notions of digital transformation will differ, depending on organizational needs and challenges, most businesses will pay particular attention to the following areas:
Customer engagement
Understanding digital clients' behaviors and preferences is crucial. With digital transformation, companies can examine how digital environments impact or change the connected customer's journey and decision-making. Moreover, businesses can engage  customers across the board by incorporating customer-centric mindsets and techniques into operations.
Employee empowerment
New expertise is essential in accelerating continuing digital adaptation. This means that human resources must incorporate training, education and staff incentives, in order to help employers keep up to date with trends rather than being threatened by them.
Operational agility
Digital transformation is more than just digital: it's about remodeling businesses to be agile and innovative. One of the most effective strategies to improve organizational effectiveness and efficiency is IT infrastructure modernization.
Services and products
Technological advancements in areas such as IoT, AI, virtual and augmented reality, and 5G, have opened up new opportunities for value creation. But, more importantly, executives today acknowledge how they need to change the way they do business, and how feasible this is. They recognize the significance of transitioning from fragmented technological experiments to a more systematic approach to strategy and execution.
What are the key digital transformation trends?
As digital technology is an ever-developing field, it's not always easy to predict which changes will endure and which will fade away. Certain trends, though, seem to be shaping the future of the field. So let's take a closer look.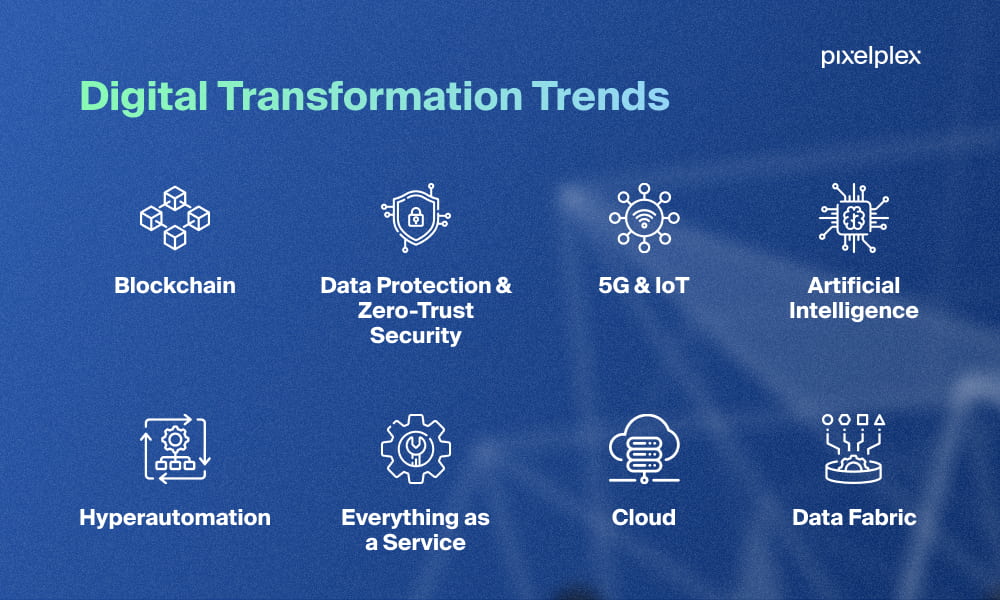 Blockchain
Blockchain technology has been around for years, yet it is most closely associated with cryptocurrencies like bitcoin. However, blockchain is used in a number of other industries too, including finance. The blockchain's most fundamental promise is increased security through immutable records. The decentralized structure, combined with cryptographic procedures, ensures that no information in the database can be secretly manipulated.
Via this approach, the blockchain fosters confidence in peer-to-peer transactions without needing an intermediary to monitor the exchange. The technology has the potential to become a powerful tool of digital transformation for B2B and B2C firms who want to migrate to a digital market.
The development of blockchain also led to the explosion of non-fungible tokens (NFTs). These unique digital collectibles can be purchased and sold like any other asset type. Although NFTs are typically focused on digital art and games, they are also used for real estate, equities, bonds, and data ownership rights.
Searching for a reliable blockchain service provider that can help you move your business to a new level? We got you covered
Data protection & Zero-Trust security
Although the Covid-19 restrictions have been mostly lifted, the concept of a hybrid workforce is still highly relevant. A Gallup survey revealed that 54% of employees who work remotely report that they prefer to split their time between working at home and working in the office, thus creating a hybrid arrangement. And as many organizations have adopted this hybrid or remote setup, the risk of cyberattacks has increased.
AI threat detection technologies, better encryption methods, and embedded system security are just a few technologies companies use to safeguard their critical information. However, to be resilient, zero-trust security must be introduced. Zero-Trust is a security model built on the notion of strict access controls and a resolve not to trust anyone by default, including those already inside the network perimeter.
Companies are already planning and implementing the transition to cloud-based, zero-trust security architecture. The new security solution will assist in the establishment of trust, authority, brand reputation, and the inception of secure B2B communications. And the way to do this is by:
requiring secure and authenticated access to all resources
adopting a 'least privilege' model and enforcing access control
inspecting and logging all activities using data security analytics
5G & IoT
Multi-peak data speeds, low latency, improved user experience, better connectivity and availability, and increased network bandwidth are among the primary characteristics of 5G technology. Increasing numbers of networks and devices are already transitioning to 5G to facilitate the expanded demand for faster connectivity. But there is more to 5G than this.
Technologies like AI, drone-initiated inspections, and video inspections will automate daily operations while avoiding network issues. Meanwhile, 5G use cases in the IoT domain include:
Remote patient monitoring: 5G connectivity will allow for smooth remote patient monitoring. What's more, health professionals can provide assistance anytime and from any location.
Connected automobiles: The low latency and high bandwidth of 5G will enable cars to store and initiate bi-directional communication.
Shipping and logistics: Accurate tracking of shipped items; This will enable the updating of specific delivery timeframes, improving customer experience.
Artificial intelligence
The pandemic created a new sense of urgency when it came to getting AI projects completed or more business solutions powered by AI. As indicated by recent findings, in 2021, 76% of organizations were saying they prioritized AI/ML over other IT initiatives, while 64% reported that the priority of AI/ML has increased relative to other IT.
Furthermore, as AI begins to leverage more marketing and sales tools, we are seeing many businesses adopting the technology as part of their digital transformation strategy. For example, AI has proved to be a valuable time saver when creating personalized content experiences, which translates to better customer experience and more potential revenue.
AI is also expected to have widespread adoption and implications for every industry; for example, AI in the technology, media and telecommunications industry is forecast to increase global GDP in 2030 by 12,5%, with 5,5% from gains associated with productivity, and 7% from gains related to product enhancements.
Meet the CheckNFT project. An intelligent solution that applies ML and AI algorithms to value NFTs and help businesses detect fraud
Hyperautomation
Hyperautomation uses artificial intelligence, machine learning, and robotic process automation (RPA) to analyze and manage IT and business processes. The tools operate with structured and unstructured data to provide businesses with actionable insights.
RPA handles repetitive work tasks using software robots. As a result, RPA can provide in-depth observations of background processes that companies would otherwise not be able to identify. This way, businesses can bring their data-driven decisions to the next level and improve their operational capacities.
It's no surprise, then, that RPA is one of the most popular automation technologies, with adoption expected to be near-universal in the coming years. By 2023, 93% of business leaders are expected to implement this technology.
Everything as a service
Everything-as-a-Service, also known as Anything-as-a-Service (XaaS), is the latest digital transformation trend that pushes the "as-a-service" model. XaaS extends the basic cloud service concept by including additional services such as:
Security as a Service (SECaaS)
Function as a Service (FaaS)
Unified Communication as a Service (UCaaS)
Video as a Service (VaaS)
Storage as a Service (STaaS)
Containers as a Service (CaaS)
XaaS also paves the way for "Servitization," providing a combination of products and services in a single package. Amazon's Alexa, which offers AI-driven services alongside portable hardware items, is a simplified example of servitization.
The most recent real-world example of XaaS is a collaboration between Hewlett Packard Enterprise (HPE) and Veeam. The joint HPE GreenLake and Veeam offering provides customers with a robust "as-a-service" experience.
The platform matches customers' evolving demand for the cloud experience. It also enables enterprises to streamline their data transformation strategy with the safeguards of backup and replication. With their partnership in place, Veeam and HPE seek to keep  data secure irrespective of where you store it, on or off-premise.
Cloud
Companies are shifting their focus away from on-premise data centers and toward cloud services, thereby helping to accelerate the organizations' digital transformation.
Cloud computing is being used by businesses of all sizes and industries for a range of purposes, including data backup, disaster recovery, email, virtual desktops, software development and testing, big data analytics, and customer-facing web apps.
Cloud computing is significant for several reasons:
The need for vital information to be stored on paper has been dramatically reduced — as has the carbon footprint.
Cloud computing enables remote work. This method of storing and retrieving company data was especially beneficial during the Covid-19 pandemic; but as discussed earlier, remote work is going to remain a fixture.
Over the last two years, businesses have increasingly used a combination of public and private clouds to mitigate the cyber risks associated with employees accessing business networks from home.
Last but not least, new prospects for a more efficient analysis of customer behavior have emerged by enabling the storage of large amounts of data in a single location.
Data fabric
Data fabric is an integrated layer (fabric) of data and connecting processes. It leverages human and machine capabilities to access the data in place or to support its consolidation where appropriate. It continuously identifies and connects data from disparate applications to discover unique, business-relevant relationships between the available data points.
In this interesting analogy, we're asked to consider two scenarios.
In the first, the driver is active and focuses on the path, and the car's autonomous element intervenes slightly. In the second, the driver is lazy and loses focus, and the car shifts to semi-autonomous mode and makes course corrections.
Both instances encapsulate how data fabric works. It monitors the data pipelines as a passive observer and suggests more effective options. When the data "driver" and the machine learning are comfortable with recurring scenarios, they complement each other by automating improvisational tasks that usually take too many manual hours, allowing the leadership to focus on innovation.
Closing thoughts
Today's organizations are in different places on the road to digital transformation, but as the demand shock resulting from the pandemic demonstrated, the digital transformation era has arrived and is here to stay. To remain competitive in this rapidly changing landscape, organizations must quickly adapt their strategies and welcome the fact that "business as usual" is no longer an option.
However, one of the most challenging questions is how to shift from vision to execution. And that is why you need PixelPlex consultants to embark on this journey alongside you. With blockchain, AI, IoT, and big data among our signature techs, we can guide you along a smooth and iterative pathway, helping you enable digital transformation.