As security breaches and ransomware attacks are becoming more widespread, businesses are continually searching for new ways to secure their assets. Is zero trust architecture the go-to solution?
Zero trust architecture (ZTA) is commonly defined as a security model that eliminates the idea of a trusted network within any given perimeter and instead focuses on verifying each user and device.
Zero trust revolves around protecting data, services and enterprise assets, which is why many organizations adopt this approach to ensure increased security and avoid potential cyber threats.
Read on to find out about the core principles of zero trust and learn how to implement zero trust architecture within your organization.
Get business insights into the benefits and use cases of zero trust approach
What are the 8 pillars of zero trust architecture?
Zero trust architecture is based on eight foundational pillars that together represent the focus area for implementing a zero trust environment.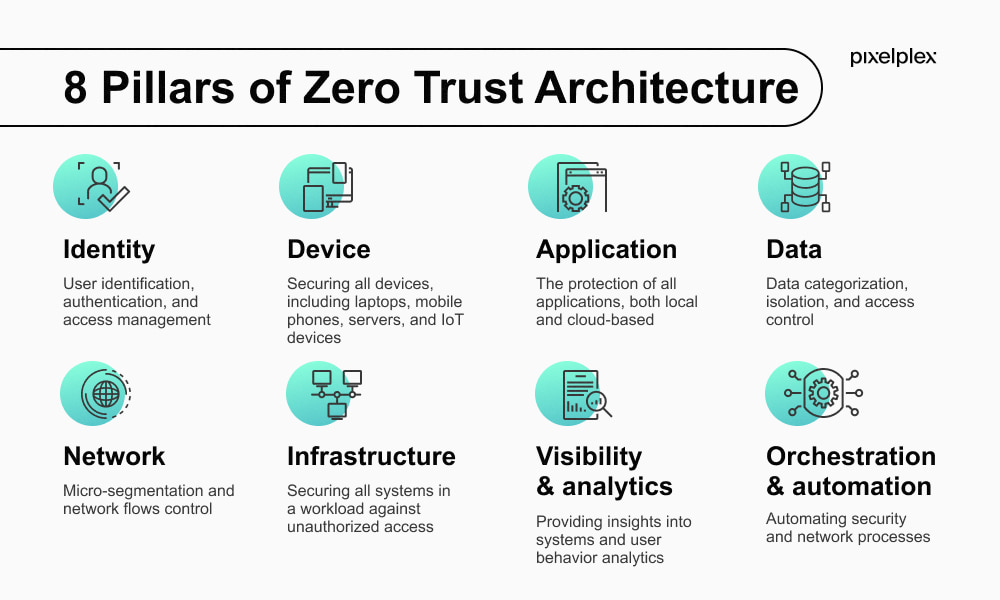 1. Identity security
This pillar is focused on user identification, authentication, and access management. It involves incorporating access control policies to validate users that connect to the network. To ensure that the right users receive access at the right time, identity security utilizes dynamic and contextual data analysis.
2. Device security
Device security, also known as endpoint security, involves the validation of user-controlled and autonomous organizations to ensure trustworthiness. It presupposes that companies secure all devices, including laptops, mobile phones, servers, and IoT devices. This helps prevent unauthorized devices from accessing the network.
3. Application security
The application security pillar encompasses the protection of all your applications, both local and cloud-based. It requires you to adopt security and preventative measures for each compute container and workload to avoid unauthorized access across the network.
4. Data security
The data security pillar is focused on data categorization and isolation from everyone except those who require access. It involves data encryption, information rights management, data loss prevention, and compliance with industry standards.
5. Network security
Network security presupposes isolating sensitive resources, deploying micro-segmentation techniques, and managing network flow. It also requires the encryption of end-to-end traffic to avoid unauthorized access.
6. Infrastructure security
The infrastructure security pillar deals with all systems and services within a workload and ensures their protection from potential vulnerabilities. This can be achieved via, for example, cloud workload protection or implementing microservices.
7. Orchestration and automation
This pillar concerns the automation of security and network operational processes across ZTA, which is achieved by orchestrating functions between both disparate and similar security systems and applications.
8. Visibility and analytics
Visibility and analytics will make it possible to provide insights into system and user behavior by observing real-time communications between each component of zero trust architecture.
Check out our custom software development offering and let's see how we can assist you with your future project
How to implement zero trust in 5 steps
The process of implementing zero trust architecture can be divided into five key steps. Let's take a look at each in detail.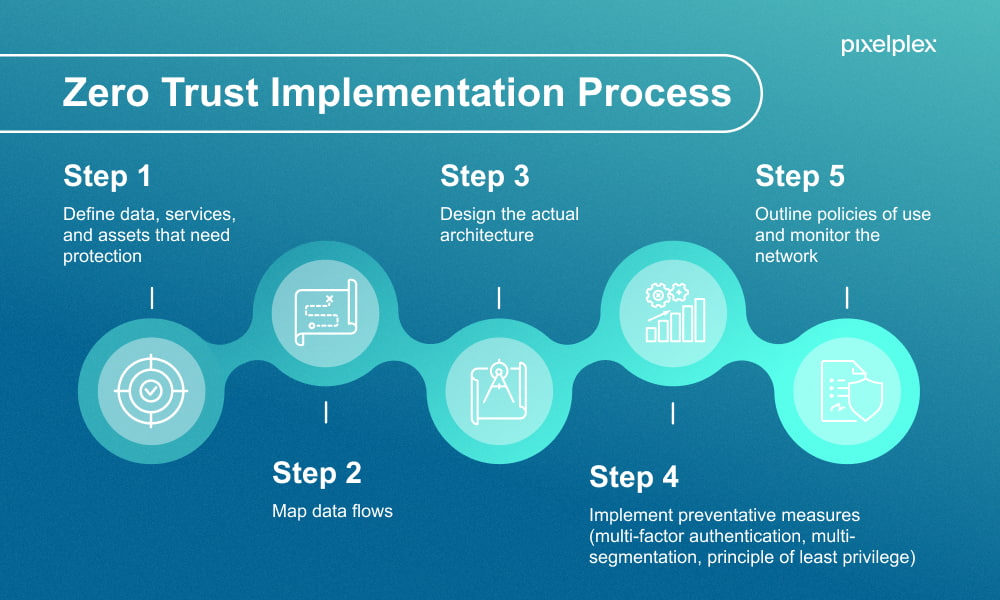 Step 1. Define data, services, and assets that need protection
You should clearly specify the protection surface that you will focus on. Think about what assets are most crucial for your business and at the most risk in the event of a cyber attack. In most cases, your protection surface would include data, applications, assets and services — or DAAS for short.
Step 2. Map out data flows
Mapping data flows presupposes tracking the way your business data moves within the network. Mapping flows will allow you to spot vulnerabilities and potential security threats that make it necessary to enforce controls to protect information. As you do this, try to include as many details as possible related to the data exchange pathway. This will help you plan your security measures accordingly.
Step 3. Design the actual architecture
The actual ZTA design process comprises multiple iterations, such as:
Setting up controls to manage access, and applying micro-segmentation
Continually monitoring access and identifying which controls need improving
Making the network secure from remote access
Step 4. Implement preventative measures
Zero trust architecture involves using a set of preventative measures, including but not limited to:
Multi-factor authentication (MFA). MFA brings an additional layer of protection by verifying each user inside and outside your organization.
Identity segmentation. This presupposes adding micro-perimeters that act as border controls within your systems and prevent any unauthorized activity. You can add segmentation based on user group/role, account type and other criteria.
Least privilege access. After identifying where your business's sensitive data rests, you can grant users the least amount of access required for their roles with continuous verification. You should review and modify privileged accounts regularly.
Step 5.  Outline policies of use and monitor the network
You need to document policies specifying how devices and applications will be used and how their credentials will be verified. To create an efficient zero trust policy, ask yourself the following questions:
Who can access the resources?
What internal applications will be used?
When will they be accessed?
What type of data will be restricted and why?
How will the network access be taking place?
What are the challenges of implementing zero trust?
While many organizations acknowledge the value of zero trust architecture, there are still those that put it off due to various difficulties that accompany the process. These include dealing with complex infrastructure, phasing out legacy systems, and defining access controls.
Complex internal infrastructure
Many organizations have complex infrastructures that consist of multiple servers, proxies, databases and applications that may be running both in the cloud and on-premises. Securing each element of your infrastructure can become a tricky process that will raise a lot of challenges.
Outdated legacy systems
Having a mix of legacy and new hardware and software is another obstacle for organizations wanting to implement zero trust architecture. Moving to zero trust would require you to phase out all your legacy solutions and invest in new technologies.
Challenges with defining access controls
Defining access controls is another challenging process that demands a lot of time and effort. You'll need to learn how your resources are being used so that you can define access controls accordingly.
Zero trust principles checklist
Zero trust architecture requires you to adopt a new approach to security that prioritizes continuous verification and access controls. Below we've collected the core zero trust principles that you can adopt to enhance your organization's security angle.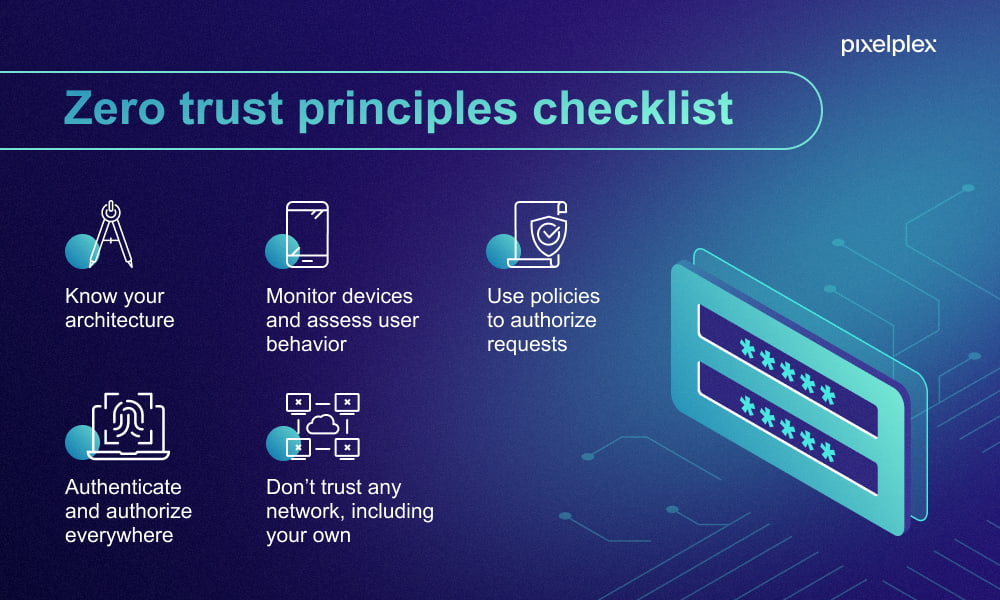 Know your architecture
You need to know each component of your architecture, user and device. This knowledge empowers you to quickly identify sensitive information, as well as to minimize risks and prevent data breaches.
Monitor devices and assess user behavior
User behavior and device health are crucial indicators that you need to take into account to ensure the security of your systems. You should implement a monitoring strategy and make sure that you have everything you need to measure user behavior and analyze device and service health.
Use policies to authorize requests
An important aspect of zero trust architecture concerns authorizing each request for data or service against a specific policy. Such policies can help you simplify risk-managed data sharing with guest users and partner organizations.
Authenticate and authorize everywhere
To ensure secure access to data, assume that the network is hostile and that therefore all connections seeking to access your data and services require authentication and authorization.
Don't trust any network, including your own
Use a secure transport protocol for all network communications. This helps you ensure that your traffic is secure in transit and is less vulnerable to potential security threats.
Closing thoughts
To sum up, zero trust architecture is an efficient approach that can help you protect your business against a wide range of cyber security threats and vulnerabilities. By adopting zero trust principles, such as the least privilege approach or never trusting anyone, you can succeed in guaranteeing the safety and integrity of your network.
If you wish to ensure that your network aligns with zero trust principles or need advice on how to prevent security breaches, contact our team of experienced consultants. Having been in the technology market for 16 years, we've gained solid expertise in multiple business domains and can provide you with actionable insights.