Virtual reality can be used in employee training across a variety of industries, allowing workers to safely and effectively acquire all sorts of operational skills and learn crucial safety and maintenance techniques.
The continuing adoption of virtual reality comes as no surprise, as the technology offers a wide range of opportunities and can be applied to many different workflows across a variety of domains.
So far, one of the most sophisticated and eye-catching use cases for the technology is VR-enabled employee training, which, according to PwC, will contribute $294 billion to the global economy by 2030.
In this article, we will delve into virtual reality employee training and its benefits, see which industries can adopt the technology in their operations, and take a closer look at some real-life examples of how various organizations leverage virtual reality training.
What is virtual reality training and when to use it?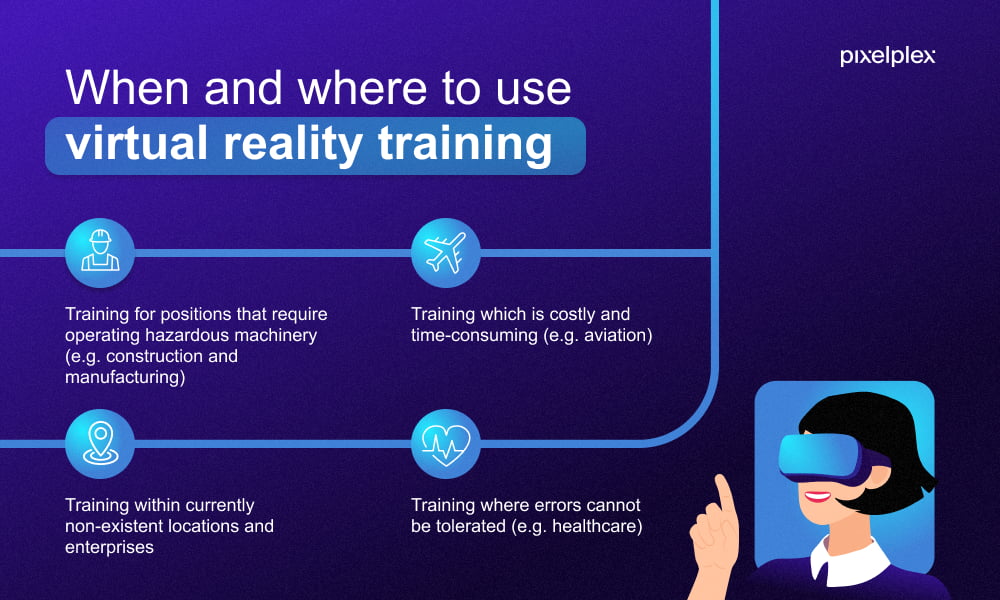 Virtual reality (VR) training is the immersive digital simulation of real-life workplace situations, settings, and scenarios. It allows employees to practice and gain professional skills in a 360°, active, and risk-free environment, and interact with simulated real-world equipment, machinery, other trainees, and instructors with the help of specialized VR headsets and controllers.
Virtual reality employee training is of particular value in contexts and situations such as:
Training for positions that require operating hazardous machinery (e.g. construction and manufacturing)
Training which is costly and time-consuming (e.g. aviation)
Training within currently non-existent locations and enterprises
Training where errors cannot be tolerated (e.g. healthcare)
See how our experts delivered this VR platform for hotel & resort owners and tour agents to showcase locations in 360° virtual tours
Benefits of virtual reality training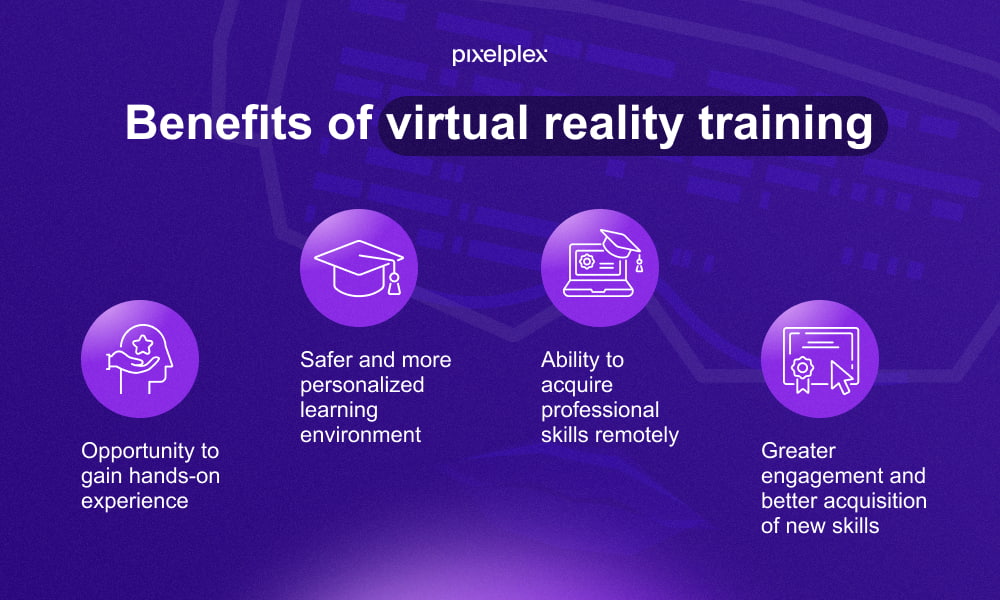 Virtual reality employee training offers a host of advantages, the most outstanding of which are the opportunity to gain hands-on experience, a safer and more personalized learning environment, the ability to acquire professional skills remotely, greater engagement, and better acquisition of new skills.
Opportunity to gain hands-on experience
Some roles and positions require employees to obtain real-life experience before getting started with their actual duties. Otherwise, unskilled workers may break costly equipment or, even worse, do harm to themselves.
Luckily, virtual reality complies with the requirements and needs of today's workers and allows for flexible and autonomous learning with little set-up time and practice space. Sophisticated VR controllers and headsets help employees effectively pick up professional skills, enabling them to fully immerse themselves in settings and go through real-life scenarios.
Safer and more personalized learning environment
One of the best things about virtual reality training is that it allows employees to safely develop skills that imply a certain degree of danger with no fear of making mistakes during training sessions.
Trainees can practice different skills in hazardous and complex situations, learn how to operate machinery and tools, and err without negative consequences or judgment from others. This results in better preparedness for future responsibilities, higher overall productivity, and increased self-confidence.
Crucially, virtual reality training can be customized and fine-tuned in accordance with the capabilities and preferences of each and every trainee. VR solutions can also provide personalized feedback on trainee performance and offer valuable recommendations.
Ability to acquire professional skills remotely
An outstanding advantage of virtual reality is that it allows for remote training. This means that employers will not have to gather whole teams in a single location and think through all the financial and logistical aspects. Instead, VR will empower staff across the globe to undergo the exact same training session, learn at their own pace, and obtain all the necessary skills.
Greater engagement and better acquisition of new skills
Virtual reality makes training more engaging and fun, helping workers to stay focused on the learning process.
According to a PwC study into the effectiveness of VR for soft skills training, V-learners complete their training four times faster than those doing classroom training. The research also indicates that V-learners were four times more focused during training than their e-learning peers and 1.5 times more focused than their classroom colleagues.
Take a look at this VR real estate platform for generating 360° virtual tours
Examples of how different industries can use virtual reality in employee training
Virtual reality training has made inroads into multiple business domains and prompted stakeholders to revise or even completely upend their employee training methodologies in favor of a more advanced and efficient approach.
So far, virtual reality employee training has been embraced by industries such as healthcare, automotive, aviation, retail, manufacturing, construction, law enforcement & security, and offshore.
Let's delve into each sector and see how it leverages the capabilities of virtual reality training.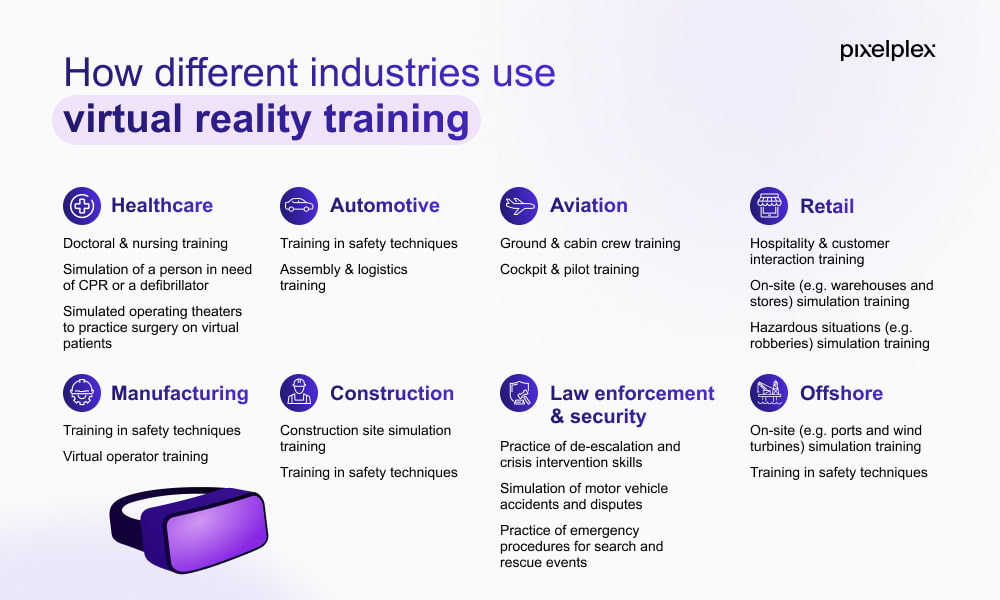 Virtual reality training in healthcare
Virtual reality can be applied in a variety of directions within the healthcare domain.
VR can create a realistic environment for doctors, paramedics, and clinicians working in accident and emergency departments, enabling them to acquire the skills they need to save people's lives in stressful and dangerous situations.
In fact, virtual reality technology is already being used in healthcare at full throttle, empowering healthcare professionals to do their job at the highest level. Johns Hopkins School of Nursing has implemented VR training at all levels, from doctoral to prelicensure nursing. In 2021, during Covid, the organization leveraged VR software produced by Oxford Medical Simulation and managed to train about 400 students in a short time frame.
As another example, GigXR, a developer of holographic healthcare training, partnered up with Morlen Health, a subsidiary of Northwest Permanente, P.C., and delivered holographic basic life support training. This solution has been designed to help save patient lives by simulating a person in need of CPR or a defibrillator. It is intended to be used to provide remote or in-person training for medical and nursing students, public safety professionals, and community members.
Healthcare professionals could also make use of VR to undergo comprehensive training in simulated operating theaters before performing real operations. Companies like Osso VR, a validated virtual reality surgical training and assessment platform, allow surgeons to effectively operate with medical devices in VR environments and practice surgery on virtual patients.
Another solution is FundamentalVR, a cutting-edge immersive simulation platform for medical and healthcare professions that has been designed to boost skill transfer and surgical proficiency via virtual and mixed reality applications.
Virtual reality training in automotive
The global automotive VR market is forecast to reach more than $14 billion by 2027, with VR training capabilities generating specific interest among leaders in this industry.
Virtual reality training, indeed, can be extensively used across the car manufacturing sector, from safety and assembly to logistics training.
Audi, for example, has launched Audi Spaces, a virtual 3D world for learning and work designed specifically for its employees. It encourages staff to leverage digital tools from their own computers in different ways: as a tool for learning and training, as a means of coaching and consulting, and for digital collaboration and communication.
Meanwhile, Volkswagen Commercial Vehicles is also experimenting with VR, in order to streamline the efficiency of its pre-training program.
Volkswagen assembly line trainees were encouraged to wear SenseGlove Nova haptic force feedback gloves in a virtual environment to physically feel the virtual parts of the vehicle, explore the details of the virtual door, and interact with them in a natural way. As a result, this helped save time — as employees did not have to come to the physical site to train — and allowed Volkswagen to keep the expensive pre-series vehicles in the professional showroom while their employees were becoming qualified.
Virtual reality training in aviation
The global pilot training market is predicted to hit $20.21 billion by 2029, with virtual reality likely to elevate the adoption of these training systems.
KLM Royal Dutch Airlines, for instance, embraced virtual reality training for the ground crew responsible for operating jetway bridges connecting the departure gate to the plane for passenger boarding. Lufthansa launched Airbus virtual-reality cockpit training for A320s. Meanwhile, Alaska Airlines became one of the first-ever US airlines to use VR technology to help train pilots on their Boeing 737s, thus combating the countrywide pilot shortage.
Dubai-based airline Emirates is also catching up with the latest tech trends. The carrier is said to be planning to train thousands of new cabin crew in a virtual reality environment. However,  trainees will still have to attend the airline's aviation training college in order to complete practical hands-on sessions like aircraft evacuation, ditching, and medical emergency scenarios.
Virtual reality training in retail
Virtual reality training has introduced new opportunities for learning and development within the retail sector as well. It has provided engrossing interactive scenarios that bring common retail challenges to life and have revolutionized the way retailers teach, assess, and enhance their staff's skills.
For example, retailers can employ virtual reality to produce videos that imitate customer interactions and give employees feedback on their performance. As a result, staff can acquire and hone the skills they need to successfully interact with customers and provide them with excellent service.
McDonald's, for example, reached out to Tantrum Labs — a virtual reality training software and real-world scenario system — to implement hospitality training. The goal was to help McDonald's employees undergo various scenarios with multiple-choice options and learn how to deal with customer complaints and conflicts.
As well as this, VR training makes it possible for staff to learn how to interact with complicated retail environments such as warehouses and stores. This allows employees to acquire a better understanding of how to correctly and effectively operate with different layouts, products, and store shelves without having to travel to the actual locations.
Furthermore, VR allows for situational training and teaches retail employees how to act and react in stressful and hazardous situations. Verizon opted for Strivr — a developer of an end-to-end immersive learning platform — to train its employees in how to better cope with robberies.
Check out how our retail solutions developers provide tech that supports the full business cycle
Virtual reality training in manufacturing
Manufacturers the world over are striving to adopt virtual reality training so that their employees can bolster their situational awareness as well as their knowledge of core safety protocols. Plus, it substantially minimizes training time and the number of safety incidents.
DyeMansion, a global leader in delivering post-processing solutions for industrial polymer 3D printing, got in touch with Siemens to develop virtual operator training for its employees. The Siemens team created 3D service instructions for use on desktop PCs, tablets, or other mobile devices, enabling literally all employees to access training materials wherever and whenever.
New Holland Agriculture, a global full-line agricultural machinery manufacturer, decided to go the extra mile. It created its own knowledge center equipped with a virtual reality space to train its operators and provide a safe learning environment, both for newcomers and experienced staff.
Virtual reality training in construction
Employees engaged in the construction sector work in extremely hazardous conditions (e.g. working at height) and they need to be highly proficient to avoid any risks. Virtual reality training can teach workers to obtain essential skills in an immersive but totally safe environment. Employees can, therefore, make risk-free mistakes and hone their skills through safe practice.
Victoria University researchers teamed up to create a construction simulator with virtual reality, called COSI, as well as a cloud-based platform for building inspections. The two innovations are set to modernize the Australian construction industry and contribute to better safety for employees.
Trainees utilize specialized goggles and other equipment to enter a detailed simulation of a construction site in order to learn more about safety rules and techniques. Meanwhile, the cloud-based platform will enable photographs and 360° scans of a building or site to be uploaded and accessed remotely in real time.
Another interesting case worth highlighting is from Malaysia. Back in March 2021, the East Coast Rail Link (ECRL) project launched its inaugural safety campaign. Its primary objective was to make substantial improvements to its safety management system, which included the training of around 1,000 employees via simulation and reactive safety exercises in centralized safety training centers located in Kemaman, Maran, and Bentong.
The training centers were equipped with cutting-edge virtual reality simulation, with nearly 100 potential hazardous on-site situations, and offered real-life experiences, such as tunnel evacuation, electric shocks, safety helmet crashes, and collapse of retaining walls.
In February 2023, Malaysia Rail Link Sdn Bhd, the project owner, reported that the initiative had achieved the milestone of 10 million safe man-hours without any lost-time injury.
Find out more about how AR/VR technology can benefit the construction industry
Virtual reality training in law enforcement & security
Virtual reality training has been on the rise in police departments in different corners of the globe, as it helps officers learn how to operate under pressure and act in life-threatening circumstances.
Law enforcement officers from the Montgomery County Sheriff's Office are using the Axon virtual reality simulator to practice de-escalation training techniques, crisis intervention skills, and mental health encounters.
New London Police, for their part, are leveraging the new Apex Officer trainer. This solution grants officers full control over various simulated scenarios (e.g. a motor vehicle accident or a dispute in an apartment or an alleyway) to train in real time for situations they might face while on duty.
Another VR training solution worth highlighting is from VirTra, a global provider of judgmental use of force training simulators. It provides training for police personnel in simulated scenarios filled with visual, auditory, and physical stimuli (e.g. the solution can simulate barking dogs, street noise, and other disturbing factors).
In addition to these, CHC Helicopter, a provider of search and rescue helicopter services, adopted next-gen VR simulations to train its technical crew members in emergency procedures for high-risk search and rescue events in a safe, controlled, and realistic environment. This ground-breaking method was even accepted and acclaimed by the European Aviation Safety Agency (EASA) and Irish Aviation Authority (IAA).
Virtual reality training in offshore
With its demanding and risk-laden characteristics, the offshore sector stands to benefit enormously from virtual reality training.
Vinci, a tech VR training startup, has developed VR simulations of ports and wind turbines to replace the hands-on training elements of key global wind organization courses, such as Basic Technical Training and Slinger Signaller. The software empowers trainees to realistically manage a wind turbine and direct crane lifts of heavy loads such as turbine blades.
In addition, back in 2020, together with Siemens Gamesa Renewable Energy (SGRE), a global provider of offshore wind turbines, Vinci was awarded funding from the Massachusetts Clean Energy Center to design VR training simulations for the nascent offshore wind sector in Massachusetts and on the East Coast of the US.
An Irish VR startup, VRAI, is also bringing VR simulation training to the offshore wind sector, aiming to scale the offshore workforce and tackle the global energy crisis.
Closing thoughts
Virtual reality training has established itself as a powerful game-changer across domains. It allows employees to safely and effectively acquire professional skills in an engaging and safe environment while empowering businesses to boost overall productivity and reduce training time and costs.
Should you wish to develop your own virtual reality solution, reach out to our seasoned AR/VR development team for help. Whatever your business goals, timeframes, and resources, we will figure out how to balance them all so that you can translate your initiative into a transformation for your business.
Disclaimer: The information provided in this article is for educational purposes only. It does not constitute advice or recommendations for embracing or investing in virtual reality technology. Please seek professional advice before taking financial risks.