Financial innovation is an ongoing process and if you ever stopped, you'd soon be out of the game. Today, financial companies make widespread use of fintech apps, or even build their own. But what does it take to create one?
Who doesn't use an internet banking app to make instant payments and check how much money they have left in their digital pocket? It's a rhetorical question, since almost every bank has gone digital, and their customers are used to performing all kinds of financial operations on the go.
Statistics say that the use of online banking will only increase in the coming years. Asia will remain the largest market and will have as many as 1 billion active online banking users by 2024. Meanwhile, in the US, 64.6% of citizens used online banking in 2021, and this number is bound to grow.
These apps are just a small part of the entire fintech industry. Let's learn more about all types of finance applications, find out what features they should have, and study the development process.
What is fintech and how does it work?
Fintech stands for financial technology. This field is all about creating innovative applications and platforms to streamline and automate operations, simplify the work of finance specialists, and digitize and improve the delivery of financial services.
What really brings clients to financial platforms is the possibility of saving a lot of time and money. Traditionally, they would have to go to a bank or possibly other financial institutions, but with fintech apps, customers can send funds and receive payments without even stepping out of their homes.
What is the state of the fintech industry?
The Global Fintech Market Research Report says that the size of the global market is gradually increasing and will reach approximately $324 billion by 2026, growing at a CAGR of 25.18% between 2022 and 2027. The fastest growing region will be Asia Pacific, while the largest market at the moment is North America.
The report also analyzes what services existing fintech platforms provide. The most popular of these are:
Digital payments
Fund transfer
Personal finances
Loans
Insurance
Wealth management
Looking specifically at digital payments, these solutions are also the largest market segment in the US, with a total transaction value of $1.8 million in 2022.
Why do more businesses choose to build fintech applications?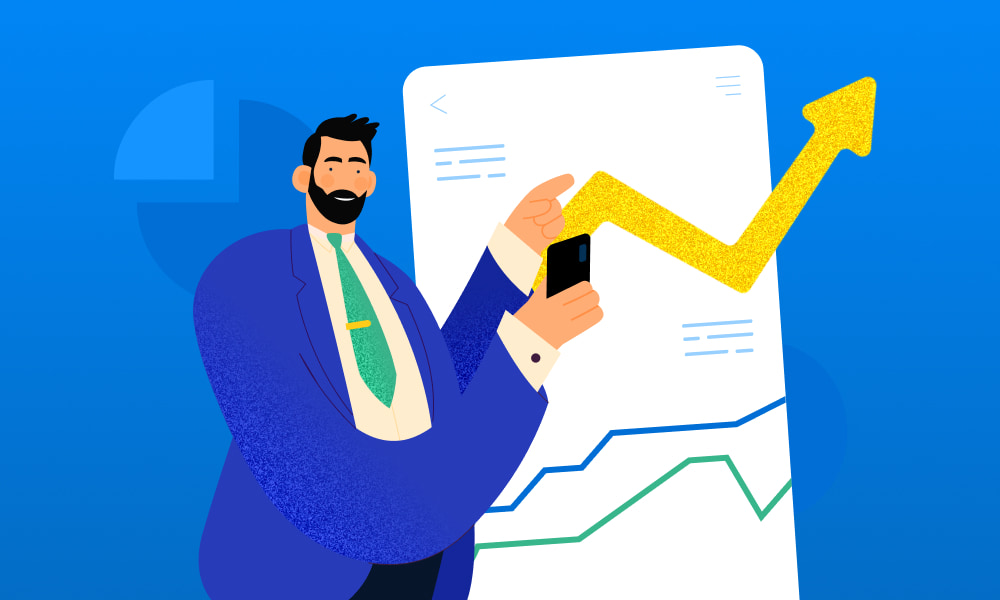 There are at least three reasons why financial companies and institutions opt for banking software: it reduces costs and time that would usually be spent on manual operations, it allows for more flexible and efficient processes, and it helps attract and retain more customers.
Let's take a closer look at each of these benefits.
Fintech software saves time and money and boosts productivity
Although the creation of an application does cost time and financial resources, there's no comparison to how much time employees spend if they continue to do things in the old-fashioned way. Delays in task completion along with possible human error lead to financial inefficiencies as well.
The same goes for customers. By allowing them to use the platform instead of making them go to your office, stand in line and talk to a specialist, you save them precious time that they can now spend with family and friends. Take good care of your customer and they will literally pay you back ?.
Fintech apps can attract more users and increase customer loyalty
Bug-free finance apps with aesthetically pleasing design and a lot of useful functions are bound to attract new customers to your business. It will work especially well if you develop a platform suitable for all kinds of smart devices, including mobile phones. Why so? Because there are 6.64 billion smartphone users in the world today, 84% of the world's population.
If your services are still not digitized and cannot be conveniently reached through mobile devices, it's highly likely that more innovative competitors will outpace you very soon.
This highly secure and efficient DeFi solution enables users to take control of their own finances
Fintech platforms allow you to be more flexible
Your employees can quickly respond and solve customer requests and problems, no matter where the customer is located at the time. Workflows become more agile and financial operations are easier and faster to conduct.
In addition to these benefits, a good fintech solution also enables you to analyze processes and data and thereby draw conclusions and constantly improve services. Your employees will also be able to detect and eliminate possible security vulnerabilities.
What are the current trends in fintech app development?
As in any other technology-related field, financial trends are changing rapidly. However, some technologies are likely to stick around for the long term. These are blockchain, AI, big data, regtech, and quantum computing. Let's find out how exactly these technologies are driving the fintech industry.
Blockchain in fintech
Blockchain stands out among other technologies due to its secure and reliable record-keeping, immutable transactions, and disintermediation. It time-stamps every transaction and makes it impossible to alter any information once it's recorded. This prevents fraud and helps eliminate corruption in financial services.
As for disintermediation, blockchain allows you to remove third parties and perform direct transactions. In traditional financial systems, multiple parties are involved in transaction validation, while in blockchain-based fintech apps, transaction verification occurs automatically. So neither your company nor your users will have to spend extra money and time on intermediaries.
Our portfolio of blockchain-powered fintech apps is quite impressive. Check it out!
Artificial intelligence powering fintech apps
Artificial intelligence (AI) in fintech gathers data, recognizes its patterns, analyzes them, and ultimately helps improve the delivery of services and customer satisfaction. AI-powered chatbots, for example, tackle issues and respond to complaints while employees are busy with other work.
AI implemented in finance software can also spot suspicious activities and stop them before an actual fraud happens.
Big data analytics for fintech platforms
In 2021, the amount of data created globally exceeded 70 zettabytes, and 90% of it was produced in the last two years. Imagine how much that is, when one zettabyte is 1021, or 1,000,000,000,000,000,000,000 bytes. It's hard to get our heads around this kind of volume, really.
Most of this information is unstructured, which creates problems for financial service providers. Big data analytics tools can help financial organizations analyze both structured and unstructured data, find patterns in customer behavior and thereby predict it. With these findings your company can develop strategies to improve its workflows and grow revenue.
Using both AI and big data is the most beneficial combination.
Regtech + fintech
It goes without saying that finance companies need regulatory compliance tools. Since regulations are frequently updated, these tools can help keep you up to date with the changes not only within a country but also around the world.
Some experts separate these two technologies. Some say that regtech is the new fintech, and others think that regtech is a subset of fintech. However, it is still possible to use them both or combine their best practices.
Quantum computing in fintech
Quantum computing can significantly increase the speed of calculations and transactions. The calculations that quantum computers are able to perform are not even possible with traditional computing tech, as quantum computers are much faster and more powerful.
There are a lot of use cases for quantum computing in the fintech industry, including asset management, risk analytics, market predictions, and cybersecurity.
What are the main types of fintech apps?
Familiar to everyone, PayPal was one of the first fintech companies to connect their services to the internet, and led the revolution in digital payments. Later on, numerous mobile payment apps appeared, including built-in payments in social media, blockchain-based wallets, and networks.
Since digital payments are not new to us, let's look beyond them and find out more about applications for banking, lending, investment, crypto operations, and personal finances.
Digital banking
Digital banking apps allow bank clients to access financial services anytime and anywhere. As a client, you can open an account, order physical and digital bank cards, check your balance, make any kind of payment, and even take out a loan and pay it back right in the app.
These apps are not limited to platforms created for governmental or private banks. There may also be banks that exist only digitally.
Nubank is a great example here. This digital bank currently has more than 48 million users with 35 million of them located in Brazil. Using this banking app, customers can open digital accounts, get a credit card, send and receive payments, and earn interest while holding money in their accounts.
Lending services
The greatest benefit of fintech lending apps is that they enable lenders and borrowers to interact with each other directly and sometimes even negotiate loan terms such as interest rates, repayment schedules, and so on.
For example, Avant, established in 2012, offers online borrowing services and aims to improve the lending-borrowing experience, especially for middle-income clients. The platform has helped more than 1.5 million people receive the funds they needed. The overall amount of borrowed money is $6.5 billion to date.
Digital investment
Investment apps are designed to help potential investors, both wealthy and those with limited funds, make informed decisions about investing in financial assets and stock markets. These platforms generally make the whole process of investing more accessible, affordable, and convenient as they are also associated with lower costs and fewer balance requirements.
Take a look at Wealthfront, an automated investment service that offers 239 investment options in various categories such as technology, cryptocurrency, and green energy. Plans are available that are designed specifically to save for college and retirement.
Crypto operations
Some apps support crypto and fiat currencies, and others were created only for crypto operations. Revolut, for instance, is a banking platform that makes it possible to save money, make payments, and invest in numerous currencies, including crypto.
At the same time, there are services like Coinbase, a platform designed only for crypto exchange. It is available in more than 100 countries and has over 98 million verified users. Coinbase is a real industry veteran as it was established in 2012.
Check out Echo DeFi — a sophisticated decentralized finance solution with a unique approach to token distribution
Personal finance management
These apps are helpful for all categories of user, from financially literate people looking for cool automated analytics to those who are just starting to learn how to manage their expenses.
MoneyPatrol does just that. It allows users to connect credit cards, input information about savings, keep track of loan repayments, and invest. It can also set alerts and reminders about spending limits, interest charges, and late payments. Such applications can really lift some of the burden off your shoulders.
What features should a good fintech platform have?
When developing your financial application, first make sure it's secure and scalable. It will also help to make it simple and easy to navigate, provide the ability to switch on push notifications, and enable users to interact with the platform through chatbots.
Since a fintech solution deals with users' personal information and large amounts of money, security must be a top priority for a finance company and the hired fintech developers. In addition to encryption and other security solutions, means such as 2FA and biometrics should be implemented.
No matter how great your fintech software is, if it doesn't have a well-thought-out and easy-to-use design, users are not gonna love it. Make your application simple, arrange functions in a logical and intuitive order, and provide users with understandable instructions — and then both you and your customers will be happy.
Imagine it's 3 am. Your employees are sleeping like babies but some of your clients are night owls and they are making an investment decision right now. But they are facing some minor problems that need to be solved straight away. Here is where AI-powered chatbots come to the rescue.
Customers can interact with bots and get their questions answered 24/7. So you can let your employees enjoy their personal time, and customers are satisfied with nearly instant issue resolution.
Push notifications are a great way to keep your customers up to date with news, additional features, and changes as well as promote new products and services.
Moving on from there, it would also be a great idea to add features such as API integration, voice recognition, QR code scanning, and data visualization.
Step-by-step guide to building a fintech application
The development of any finance-related platform requires a thoughtful approach and careful implementation, as the company's reputation and funds, as well as users' data and money, are at stake.
So how do you build a successful fintech? Well, there are eight steps you need to follow:
#1 Define the type of fintech solution
You will need to find your niche in the market, choose the type of application you want to develop and analyze existing solutions so that you can create something more unique, useful and attractive.
#2 Investigate laws and regulations regarding your future finance app
Now is the time to get legal advice. Think about the countries and regions where you want to launch your fintech application, study the laws and regulations, and make sure your platform will comply with them.
Be extremely careful and take this step seriously, because ignorance of the law is no excuse and you can't avoid responsibility. Legal problems and fines are not something a successful business wants to deal with, right?
#3 Hire a fintech app development company 
If you are an owner of a financial company or a representative of an institution that doesn't have its own team of fintech software developers, you will need to find a reliable partner who specializes in this field. Once you have chosen several potential candidates, check their portfolio and reviews from their clients before making a decision.
#4 Determine the vision and scope of your project 
At the project discovery phase, you will need to work closely with project managers, business analysts and developers of your chosen IT company. Together, you will determine what features and functionality your application will have, what monetization model will be implemented, and how your business goals will be achieved.
#5 Choose a technology stack
From a technology standpoint, you'll have three types of apps to choose from: native apps based on iOS or Android, cross-platform apps, and hybrid apps.
Native apps are created exclusively for a single platform, for example Android. If you choose this mobile operating system, your app will be developed with Java or Kotlin. If you want it to be an iOS mobile app, developers will work with Swift, Objective-C, and Apple XCode.
Cross-platform apps are developed to work on multiple platforms. Compared to native app development, this process is more cost and time efficient. Developers usually use React Native and C# to build these applications.
Hybrid apps, for their part, are a combination of both web and native mobile applications. There are many different frameworks for hybrid app development: React Native, Flutter, Ionic, Xamarin, and others.
Experienced developers will consult you on different options and help you choose the most suitable tech stack for your fintech software.
Meet Qtum Wallet — a multi-currency mobile wallet for Android and iOS with advanced security features
#6 Come up with a good UX/UI design 
Even if your future app features are unique and super useful, it will be hard to navigate your platform without good UX/UI design. Great fintech app design should be user-centered, intuitive, and pleasing to the eye.
#7 Create, test and launch an MVP
Now is the time to start developing an MVP of your future fintech solution. At this stage of the development process, you will also be cooperating with the QA team who will test your application and suggest improvements.
Once you've launched an MVP, you will be able to test market demand for your platform, receive feedback from users and find out what features you need to add or focus on.
#8 Continue to improve your fintech application
Improving banking applications is a never-ending process. We don't mean that there will always be bugs and mistakes, no! This only means that in order to make your business prosper and stay competitive, you will need to constantly make your application better.
New technologies may emerge, or your users may suggest some interesting features, or your company will expand the business and you will need to connect new services to the application. Be ready for updates and improvements to make your business grow accordingly.
How to monetize your future fintech app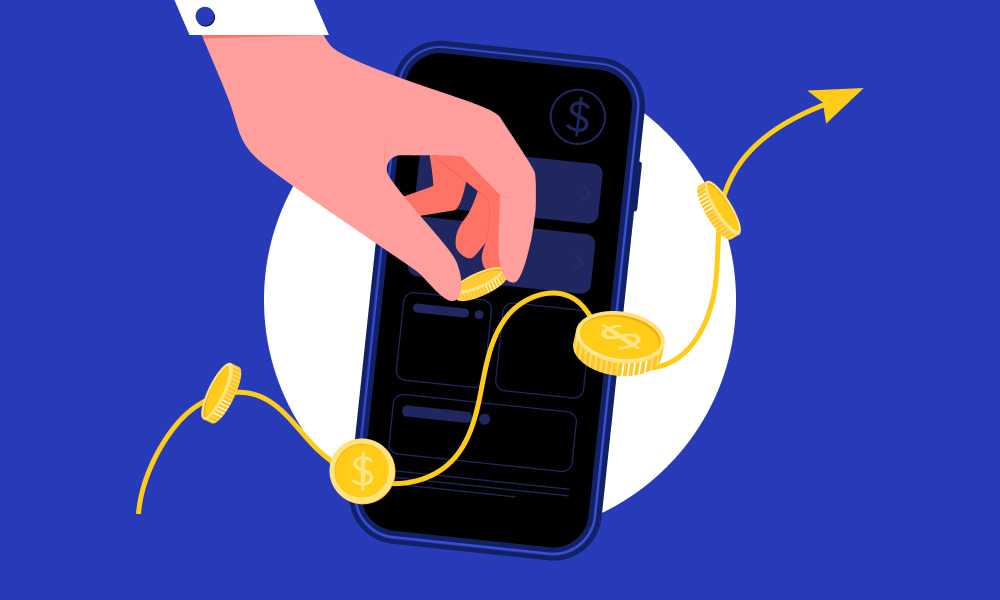 You have many options to choose from to start generating revenue from day one, and you can even combine several of them together. Before you launch your finance app, you should decide on a core monetization model, and once your platform starts attracting users, you can add new features that will create new revenue streams.
Here are the most common yet effective ways to monetize your fintech solution:
Regardless of what kind of application you have, be it a lending platform, digital payments, or software for investment management, you can charge users a transaction fee.
If you choose this model, give your customers a chance to try out your application first, that is, implement a free trial period. If your platform proves to be useful, your clients will stay with you and pay for a subscription once their trial period is over.
This is a way to generate income from other app developers. This model is especially popular with open banking platforms.
You can provide paid access to APIs so that other companies can use your infrastructure to create their own apps. This is a win-win solution for both parties, as you earn income and other developers save time and money that would be spent on development from scratch.
You can partner with third parties whose products are relevant to your users. These could include merchants, financial consultants, legal services, and others. By placing ads on your platform, you will receive money from your partners. You could also receive money every time the user clicks on the ad.
Final thoughts
Sooner or later, every financial company and institution will come to implement a fintech solution in their workflows in order to stay competitive, cost effective, and profitable. As the world is rapidly becoming digitized and the number of financial applications is constantly increasing, it is essential to start innovating before your competitors do.
If you have a unique idea for your own finance application, turn to our custom fintech software development services. First of all, speak with our PixelPlex IT consultants who will advise you on current trends, technologies, and possible solutions.
After fintech consulting, you can embark on the journey and meet our fintech software developers who will accompany you throughout the process of creating the platform up until its official release and even after.
Innovation doesn't tolerate delay. Start working on your groundbreaking fintech project now!