It turned out that blockchain can greatly improve our healthcare system, making it faster, cheaper, and more trustworthy. In post-COVID-19 times, healthcare providers seize this opportunity to be better prepared for any future threats to our well-being.
The COVID-19 pandemic has exposed many drawbacks and limitations of our healthcare system: from hospitals being understocked with vital medication and equipment to frequent cases of drug counterfeit. All this greatly damaged the reputation of healthcare providers.
Luckily, blockchain technology can help revive patients' trust and suggest valuable solutions to current industry issues. More and more healthcare establishments realize the technology's potential resulting in $531.19 blockchain in healthcare global market value in 2021. The experts say the number will become even bigger, reaching $16.30 billion by 2031.
Read on to find out what are the benefits of using blockchain in healthcare and what top-of-the-agenda blockchain use cases in the healthcare industry exist.
What are the benefits of blockchain in healthcare?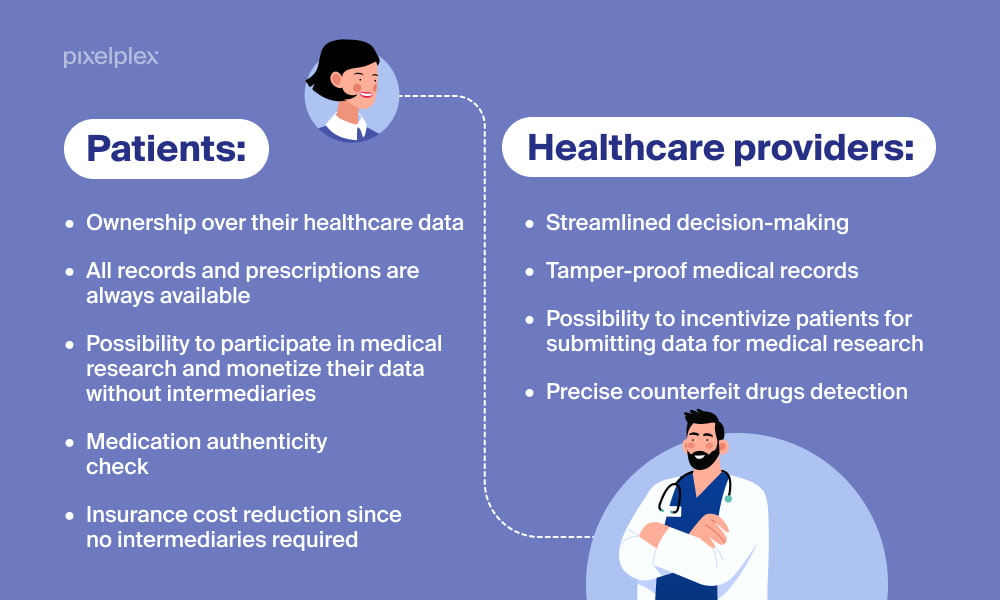 Healthcare blockchain can provide the industry with an enormous range of opportunities, significantly boosting productivity across different sectors of healthcare. Both patients and healthcare providers benefit from healthcare blockchain, and here is how:
Patients:
Ownership over their healthcare data
All records and prescriptions are always available
Possibility to participate in medical research and monetize their data without intermediaries
Medication authenticity check
Insurance cost reduction since no intermediaries required
Healthcare providers:
Streamlined decision-making
Tamper-proof medical records
Possibility to incentivize patients for submitting data for medical research
Precise counterfeit drugs detection
What blockchain in healthcare use cases are there?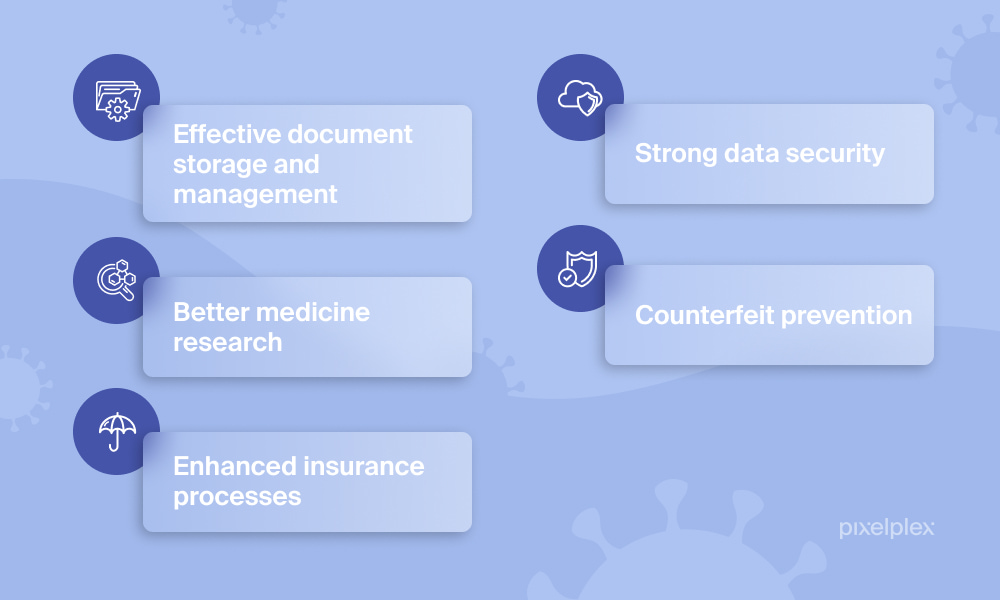 There are lots of use cases of blockchain in healthcare, from data management to better scientific research. We will take a look at five most interesting and valuable applications and understand how exactly the technology is beneficial in this or that case.
Effective document storage and management
Poor and outdated approach to healthcare document management can lead to multiple problems, from precious time wasted to fatal errors in treatment.
Blockchain makes it possible to store unlimited amounts of medical documents, making it easy to track records throughout years and get access to the needed information in a few clicks. These documents can be presented to any healthcare establishment across the globe and are always at hand.
Besides, in complex situations requiring additional opinion or consultation from niche experts, doctors from different locations can get access to all data necessary for making an accurate diagnosis.
An effective blockchain-based document management tool is DocFlow. The solution is equipped with advanced smart contract mechanisms that guarantee authenticity of documents and ensure high-level data security. In healthcare, DocFlow can be used in electronic health records (EHR) access protection, insurance management, and encryption of clinical research data.
Thinking of implementing an EHR system in your healthcare facility? Don't miss our detailed guide
Strong data security
In the 2021-2022 time period 692 healthcare data breaches were reported, exposing private data of thousands of people. With private blockchains, only approved users can access sensitive data, excluding the possibility of third parties taking hold of documents. Also, health records and other medical documents stored on blockchain are safe from any data tampering since it is impossible to make discreet changes on the ledger.
One of the blockchain solutions helping to ensure safety of healthcare records is Patientory. It is a mobile application that serves as a reliable depository of healthcare documents and grants users full ownership of their health data.
Apart from the documents from appointments and lab tests, users can put in their lifestyle data and get further actionable insights. All data is stored securely on the private PTOYMatrix blockchain network.
Better medicine research
Blockchain can serve as a universal database of medical research. This way, researchers all over the world will be able to gain access to enormous volumes of advanced information, invaluable for upgrading patient treatment.
For example, Nebula Genomics actively leverages blockchain in their genetic studying. The company is building a giant genetic database and incentivizes users to safely sell their encrypted genetic data for further analysis.
Get acquainted with AIRA — a next-gen healthcare solution helping to detect retina diseases
Counterfeit prevention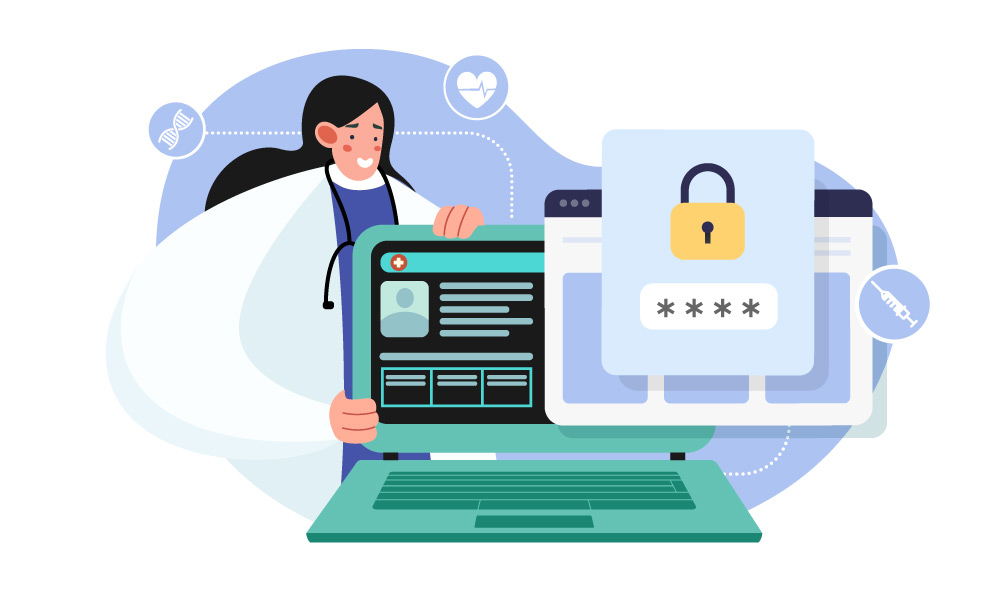 Once documents on medical equipment and drugs are on blockchain, anyone can verify that the item is genuine and was crafted and delivered in accordance with requirements. It will help combat counterfeit which not only causes financial and reputational damage but can be lethal for a patient.
Blockckfarma is among the blockchain solutions that fight against medical counterfreight. It is a mobile application that can plug into pharmaceutical companies' information systems and copy drug information and QR codes into the blockchain. Thus app users can instantly verify the authenticity of medicine they buy.
Enhanced insurance processes
Thanks to blockchain's smart contracts — special algorithms programmed to execute specific tasks — insurance management can become faster and more transparent. Smart contracts are able to automatically process insurance requests and fulfill or reject them following the predetermined rules.
This way, insurance settlements are executed faster and are less prone to falsifications or human error. Besides, since no middlemen are involved, insurance costs are smaller.
There are already blockchain-based insurance solutions, with Etherisc being one of them. It is a decentralized insurance protocol allowing companies from different industries, including healthcare, to build insurance solutions. Thus they can cut down on inefficiencies, such as high processing fees and long settlement procedures.
Conclusion
Blockchain is undoubtedly changing the healthcare industry for the better. Among the biggest benefits that healthcare blockchain offers are better document management, storage and sharing of data, greater transparency and security, and more efficient supply chain management.
Ready to join the ranks of businesses leveraging innovative blockchain technology? Reach out to our blockchain consultants for an in-depth discussion. Our seasoned developers and consultants will readily assist you along each step of blockchain implementation and make sure it suits your needs the best way possible.