Manufacturers the world over are deploying cutting-edge digital twin technology in numerous ways, all aimed at boosting performance and driving value. But how exactly do digital twins make a difference in the manufacturing sector?
Given the transformative power of digital twins, over 72% of executives from different business domains are planning to incorporate the technology into their operations by 2026. They all intend to enjoy its myriad benefits such as better productivity, cost savings, and more effective cooperation.
However, it is the manufacturing sector that is projected to engage the tool at full throttle and make the most of it. According to Statista's research into the global digital twin market size between 2020 and 2025 by industry, the manufacturing digital twins market is expected to top the list and hit $6.69 billion by 2025.
Check out this article to find out more about digital twins in manufacturing and how exactly the industry stands to benefit from the technology.
Here is everything you need to know about digital twins, how they work, and what technologies they rely on
What is a digital twin in manufacturing?
Digital twins in manufacturing are digital replicas of manufacturing physical assets, processes, production lines, and environments, designed to fulfill certain business purposes. They help manufacturers make their end products and processes smarter, better performing, and cost-efficient.
Using digital twins, manufacturers can better handle their production processes, view a component's status and condition, and substantially improve their performance, which is especially important in the Industry 4.0 era.
5 applications of digital twins in manufacturing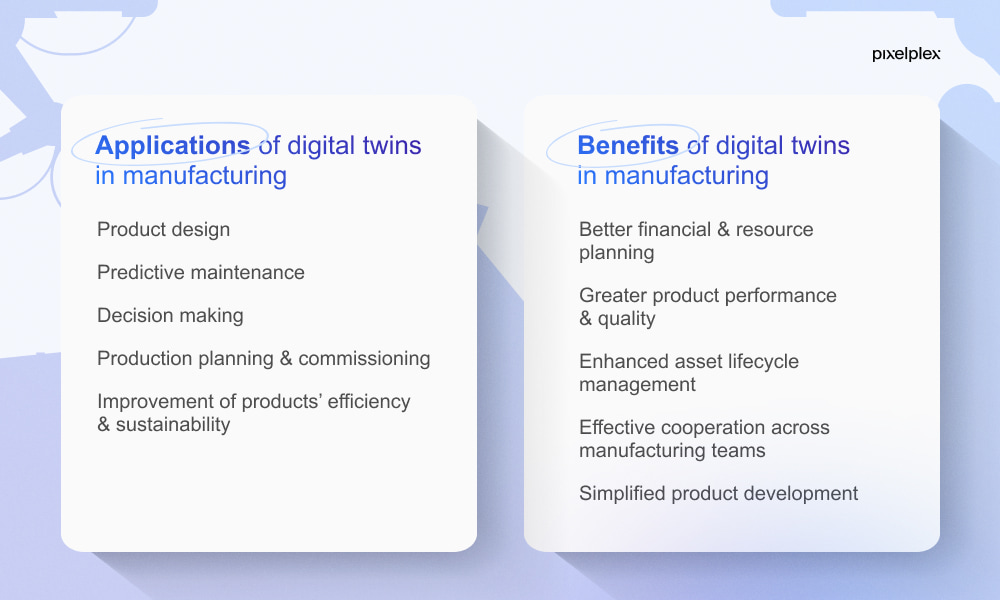 Digital twins are transforming manufacturing in a number of areas. So far, the technology has been implemented in manufacturing processes such as product design, predictive maintenance, data analysis, production planning, commissioning, and enhancement of products' efficiency and sustainability.
Let's explore each application of digital twins in manufacturing in greater detail.
1. Digital twins in product design
Digital twins allow for more sophisticated product design by helping manufacturers create a virtual replica of their product-to-be, visualize it inside out, and gain insights into its operating attributes and properties, part numbers, and so on.
With a digital twin, manufacturers can test and assess how a future product will function in the real environment and make specific adjustments to the digital replica before the release of a product.
The chief advantage of digital twins in product design is that manufacturers do not need to create multiple physical replicas. In the long run, this reduces operating costs and time-to-market and ensures that a manufactured product is of the highest quality.
2. Digital twins in predictive maintenance
Digital twins can help manufacturers to collect vital data such as the state and condition of machinery or a product and to issue alerts if they have spotted changes or abnormalities in an asset's temperature, functioning, motion, or behavior.
This is possible thanks to special IoT sensors attached to physical counterparts that transfer received real-time data to a single system accessible to all parties involved. In this way, if malfunctions in a product have been spotted, engineering teams will be able to react to them in time and resolve the issue immediately, thus preventing financial and operational damages.
See how our IoT development and consulting services can power your business
3. Digital twins in decision making
Performance digital twins enable manufacturers to extract and examine valuable data regarding the assets' functioning that can be used for more fruitful decision-making in the future.
A digital twin captures data from manufacturing assets and systems, analyzes it, and transforms it into in-depth, actionable insights that allow stakeholders to make more informed, data-driven decisions. This will consequently enable manufacturers to experience a great number of benefits and help them to:
Enhance product efficiency
Open up new business opportunities
Establish a continuous optimization process
Investigate historical trends
4. Digital twins in production planning and commissioning
Digital twins' capabilities help manufacturers create a digital replica of their manufacturing equipment and machines and visualize material flows, which is very useful in production planning and commissioning.
For example, digital twins are used to simulate material and energy flows during production processes, and they even imitate the Programmable Logic Controller (PLC) code needed for automating hardware. As a result, manufacturers can choose the necessary equipment, commission new production cells, identify which parts work well together in a production cell, and figure out how each individual device impacts the performance of the production line.
5. Digital twins in boosting product efficiency and sustainability
By relying on digital twins, manufacturers stand to optimize the efficiency of their products and systems. Technicians can constantly monitor the progress of different assets and see what can be done to get them performing at their peak while reducing excessive energy consumption.
Beyond this, digital twins bring manufacturers closer to achieving their sustainability goals. Before releasing a finished physical product, manufacturers can design a virtual prototype and calculate and predict the scale of resources and energy needed to produce it.
Digital twins in manufacturing: how to get started?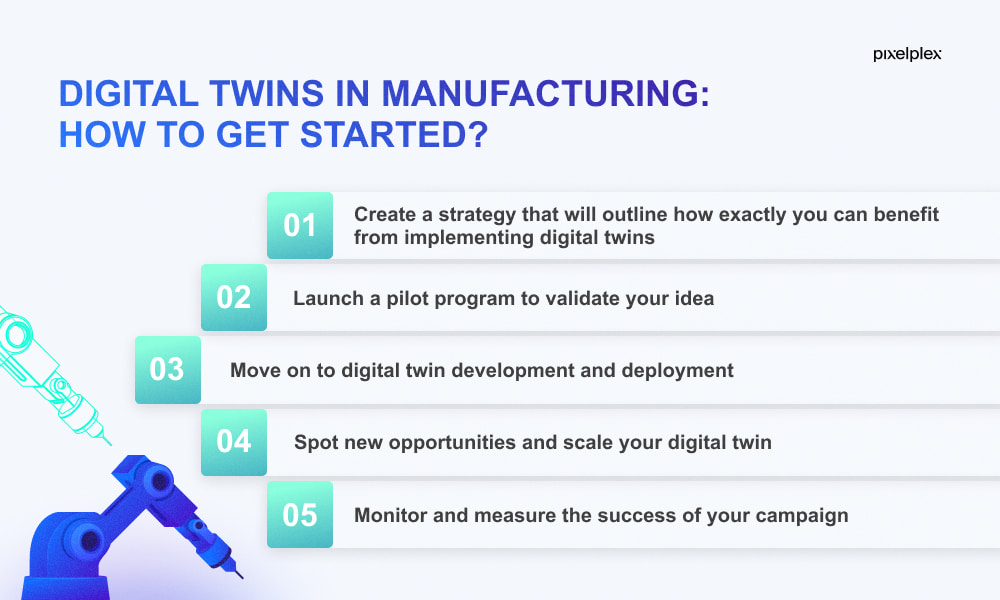 Digital twins are, in a sense, too advanced. This makes them quite difficult to implement in business workflows right away.
However, you might consider taking the following steps when getting started with digital twins:
1. Create a strategy that will outline how exactly you can benefit from implementing digital twins
This implies that you will have to get together with operational, business, and technical teams and stakeholders to create different scenarios concerning the particular areas in which you can adopt digital twins and what impact they will have on your business. Also, make sure you provide information about the particular goals you are planning to achieve with digital twins as well as why you have chosen this specific technology for your business.
2. Launch a pilot program to validate your idea
Run a pilot program to test the waters and see how digital twins will fit into your workflows and integrate with your existing systems and structures. Don't forget to demonstrate and report the preliminary results to your team members and staff.
3. Move on to digital twin development and deployment
During this step, you should use sophisticated tools and technologies to make sure that you will meet the expectations of your pilot stage team. What's more, you should report on the updates and insights of the digital twin process.
4. Spot new opportunities and scale your digital twin
If your digital twin campaign has been a success, you may well start thinking about scaling it further. Pinpoint adjacent and interconnected processes that are related to the pilot, and leverage the acquired expertise to ensure hassle-free expansion.
5. Monitor and measure the success of your campaign
Find out what you have achieved with the help of digital twins. For example, have you generated sufficient ROI, enhanced product quality, boosted your processes, and so on? Then make relevant adjustments to identify the best digital twin configuration possible.
Not only digital twins: see which technologies manufacturers can use to transform their workflows
Closing thoughts
Digital twins are set to continue making headway in the manufacturing sector and exerting a positive impact on its numerous workflows. With the help of sophisticated technology, manufacturers can ramp up the efficiency of their production cycles, save financial resources, enhance product quality and performance, and gain a deeper understanding of the state of their industrial assets.
If you are ready to kickstart with digital twins and implement them in your business, reach out to our software development team for help. We are well-versed in the best development practices, digital tools, and code bases and will deliver a powerful solution that will enable you to disrupt the conventional industry scene.