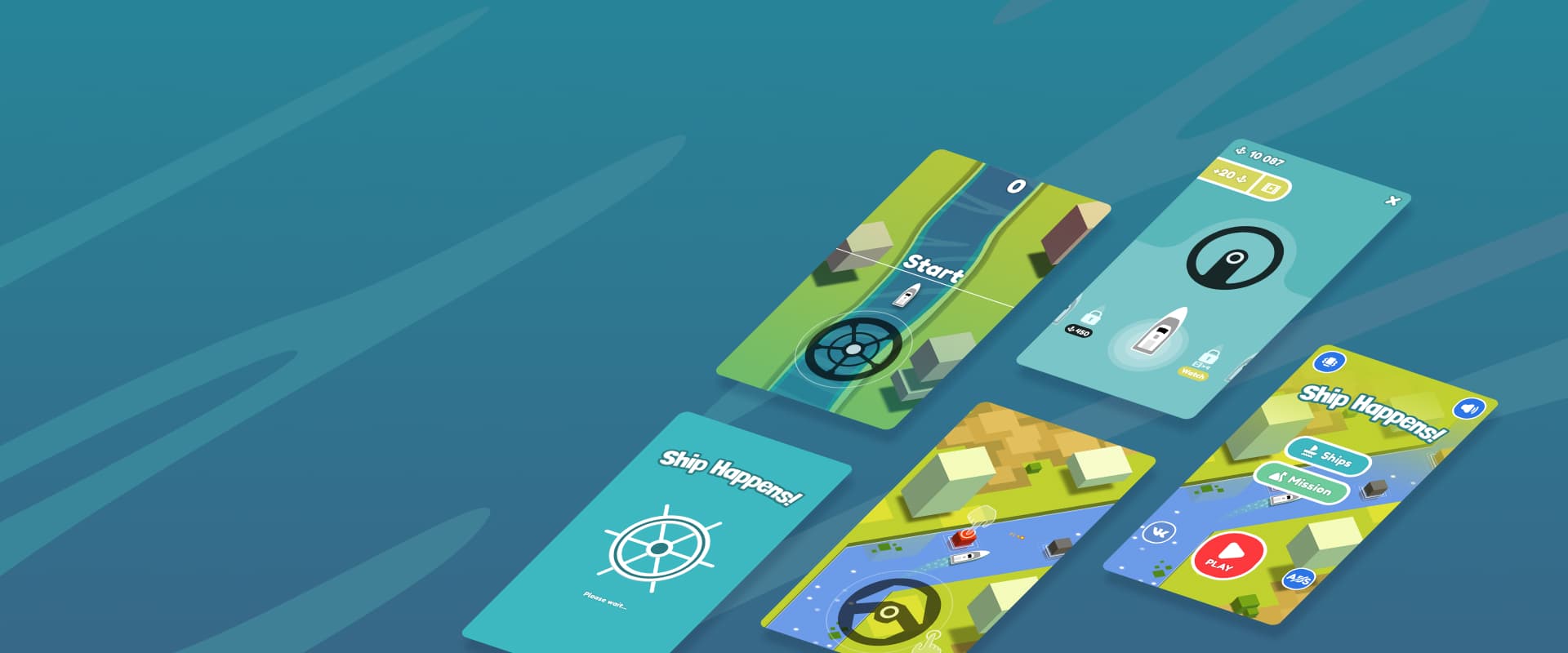 Return
Ship Happens!
Mobile Arcade Game for iOS and Android
Simple engaging mobile arcade game that allows to earn rewards and track progress through completing various missions in endless gameplay
Solution
Ship Happens! is a new concept arcade game with endless mission gameplay. The goal is to sail the ship as far as possible without crashing it. The game offers interesting quests, different types of boats and extra bonuses.

Technologies used:
Details
Classic arcade games are loved by all generations as they are fascinating, stylish, and bring back pleasant memories. It's a way to have some fun while commuting, waiting in long lines or for the coffee pot to fill. Inspired by the entertaining old-school arcade games, our team wanted to create a similar captivating experience.
So we started our own internal 'Ship Happens!' project with the aim to deliver a game that engages players despite its simplicity. While maintaining some classic elements and a certain level of challenge, we were guided by our primary goal: to make a truly exciting mobile arcade game.
Ship Happens! combines all of the main qualities of endless runners and real arcade games:
Simple interaction;
Intuitive controls;
Enjoyable gameplay;
Consistent challenge.
As any other arcade game, it's not really focusing on a story, but rather on the fun of the gameplay itself, while the player aims to beat the best score each time.
Gameplay
Ship Happens! is easy to learn. The player controls the ship by turning the steering wheel at the bottom of the screen. As the game progresses, the playspace fills with collectibles and obstacles. Maintaining control of the steering and keeping the ship from crashing into river banks, the player must also be careful to avoid barrels that appear on the screen or tap the barrel to destroy it. If the ship is wrecked, the game is over. Along the path, there are anchors to be collected.
Anchors can be used to unlock new boats and missions, much like in-game currency. The quota to unlock ships increases after every new one is purchased.
Choose a boat, pump your skills and go on a journey! The free game is available on Google Play & App Store and has got 10,000+ installs already.
Got an idea? Let's work together
Project features
50 different missions 32 ship and handwheel skins Endless gameplay In-game bonuses and gifts