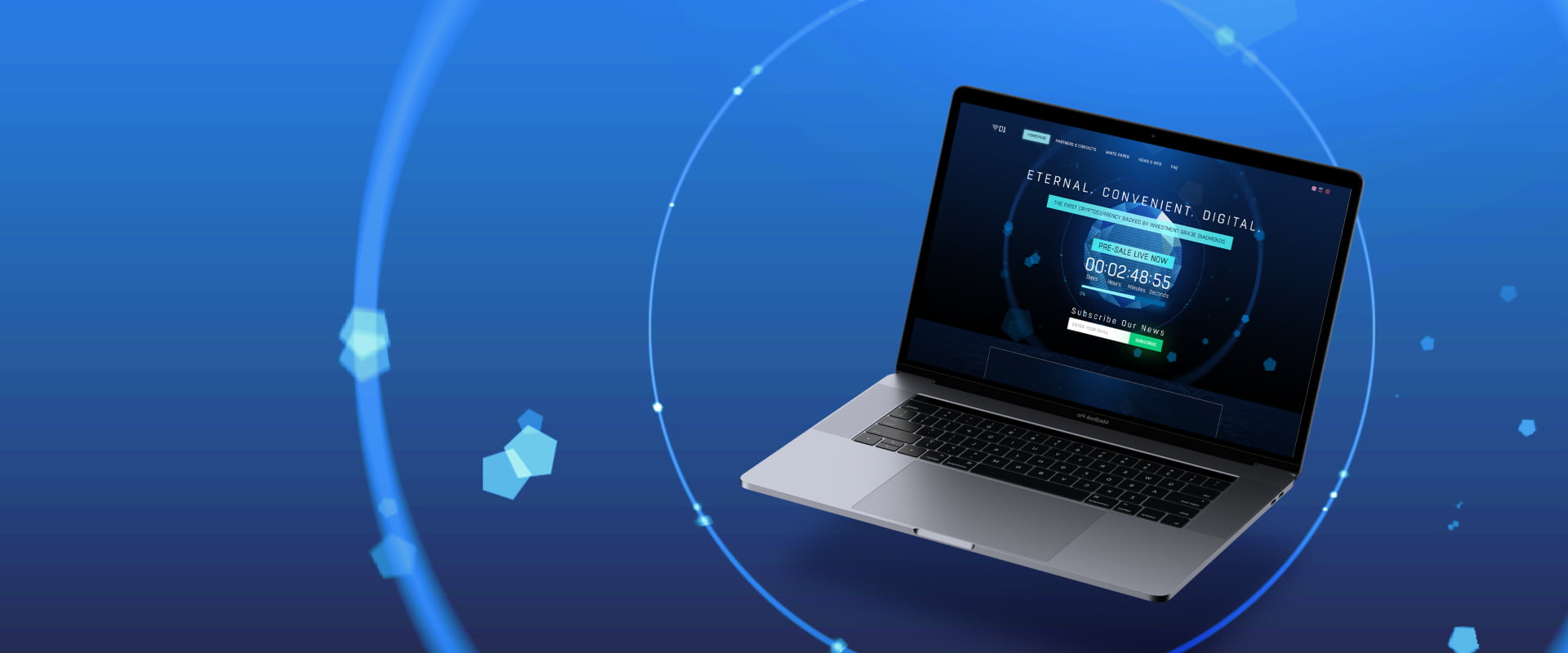 Return
D1
ICO Platform for Cryptocurrency Backed by Diamonds
Blockchain
Cryptocurrency
Smart Contracts
Ethereum
ICO
Token Development
Blockchain
Cryptocurrency
Smart Contracts
Ethereum
ICO
Token Development
ICO platform built on Ethereum blockchain that ensures robust market liquidity and high security by pegging each token to the value of authentic diamonds.
Project goals
Build a solution that would combine the convenience of digital currencies with the stability of traditional fiat currencies and real assets;

Create a PoC for a cryptocurrency with limited liquidity tying its value to the market price of real diamonds;

Tie investment in diamonds directly to specific cut and polished stones;

Bring transparency to diamond prices, thus opening a whole new investment opportunity for businesses across the globe.
Work done
Blockchain PoC
ICO smart contract
ICO website
Solution
D1 is an ICO blockchain platform for creating and launching diamond-backed tokens called D1 Coins.

D1 Coin is a cryptocurrency that is pegged to the value of authentic natural diamonds. Buying a diamond-backed coin gives a person ownership over a fraction of a real diamond. Each diamond is valued using a proprietary pricing algorithm, the D1 Matrix, to obtain an unbiased and fair diamond price. By translating traditional industry parameters of shape, carat, cut and clarity, the algorithm determines the ratio used by crypto investors to exchange their D1 tokens for selected diamonds.

Technologies used:
Details
Client
D1 Mint Ltd. is a Singapore-based blockchain company with decades of investing and technology experience. The creator of D1 Coin diamond-backed crypto asset, Hogi Hyun, Yale and the University of Bordeaux graduate, founded D1 Mint to help businesses all over the world manage their assets and investments. The company provides advisory services on handling private equity, corporate restructuring, business strategy planning, distressed debt trades, capital raising and fixed income.
Ever since the launching of D1 Coin, Hogi Hyun keeps sharing his ideas and vision with investors, blockchain experts and cryptocurrency enthusiasts worldwide. He successfully presented the D1 decentralized platform at the financial roadshow across Asia while visiting a series of big FinTech events and conferences.
Challenge
Not all cryptocurrencies can serve as a good store of value and means of exchange. Their value is ever-changing being subject to considerable volatile price movements. Considering entering the crypto space, investors search for a secure alternative to protect their wealth.
To solve the liquidity issue and protect cryptocurrency investors from adverse market movements, D1 Mint Ltd. turned to PixelPlex to help them address these shortcomings.
Token Liquidity Management
Asset-backed tokens are worth exactly what they are backed by. The D1 platform allows investors to place their funds within a fungible, stable currency and thus own a material value. A share of the world's diamond reserve, digitally represented in the form of a cryptographic token, is a lot more resistant to devaluation than USD. While the tokens' dollar price may drop, the exchange rate for stored diamonds always remains fixed.
D1 enables users to easily utilize their diamond-based tokens, store their wealth or exchange them for actual stones from the D1 Reserve. Built on the Ethereum blockchain, the platform incorporates all basic blockchain capabilities like high transaction speed, greater privacy, lower fees, and the ability to take control over the investments, which also helps solve the liquidity issue.
Having such an asset-backed token, investors looking to enter the crypto market can have a peace of mind that comes from diamonds' price stability with cryptocurrency's flexibility.
Got an idea? Let's work together
Project features
5 ICO stages Multi-currency acceptance KYC verification