The brand new web3 technology has the capacity to revolutionize loyalty programs, helping businesses enhance customer experience and lift some obstacles which prevent them from achieving their full potential.
In today's highly competitive business world, customer loyalty and engagement are among the top priorities for many companies. Most marketing and sales efforts are directed toward retaining existing customers. Among many tools that companies utilize, loyalty programs — when done right — can have long-lasting effects.
Loyalty programs have been adopted across many industries, including retail, travel, and financial services while the global loyalty management market size is projected to hit $24 billion by 2029.
However, while loyalty programs are desirable, they are getting outdated and facing challenges such as low redemption rates, high account inactivity, and low customer retention. Luckily, the capabilities of web3 technologies — blockchain, smart contracts, and non-fungible tokens in particular — can improve this situation by solving some of the fundamental issues of traditional loyalty programs, making them more robust, modern, and sophisticated.
Read on to find out more about how web3 stands to transform and benefit loyalty programs and check out which companies have already embraced the technology in their loyalty offerings.
Why are loyalty programs important?
According to Yopto's 2022 State of Brand Loyalty survey, loyalty programs make around 60% of global shoppers more loyal to a brand.
A well-designed loyalty program can provide a stable foundation for a fruitful customer retention and engagement strategy. Customers love good discounts and offers that are tailored to their preferences and needs. At the same time, brands enjoy lower attrition rates and more organic relationships that eventually lead to higher profits.
Considering the popularity of loyalty programs, 63% of executives that took part in the PwC Customer Loyalty Executive Survey 2023 admitted that their company's loyalty program budget increased in the latest planning cycle and that they considered loyalty as a growth engine just as much as a retention tool.
This blockchain-powered app allows users to place bets on their training plans and get rewards for committing to workouts. Check it out!
What are the downsides of traditional loyalty programs?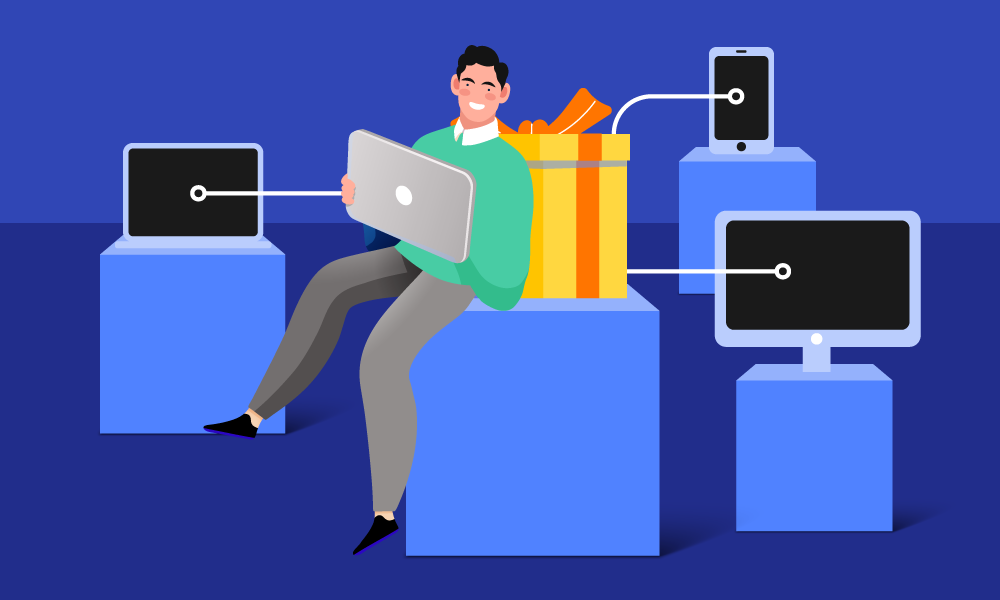 In spite of their widespread adoption and popularity, a number of existing loyalty programs are characterized by low redemption and account activity rates, high transaction costs, and poor customer retention.
What's more, customers are often signed up with several different loyalty programs, where loyalty points are not interchangeable and transferable, leading to low redemption rates of earned rewards.
Crucially, the space is getting more saturated by the day, and companies continually seek new ways to differentiate themselves.
With regard to the aforementioned challenges, it's fair to admit that loyalty programs need the kind of technological innovation that will make them easier to use and alleviate other associated issues. And this is where web3, blockchain in particular, steps in.
What benefits can web3 bring to loyalty solutions?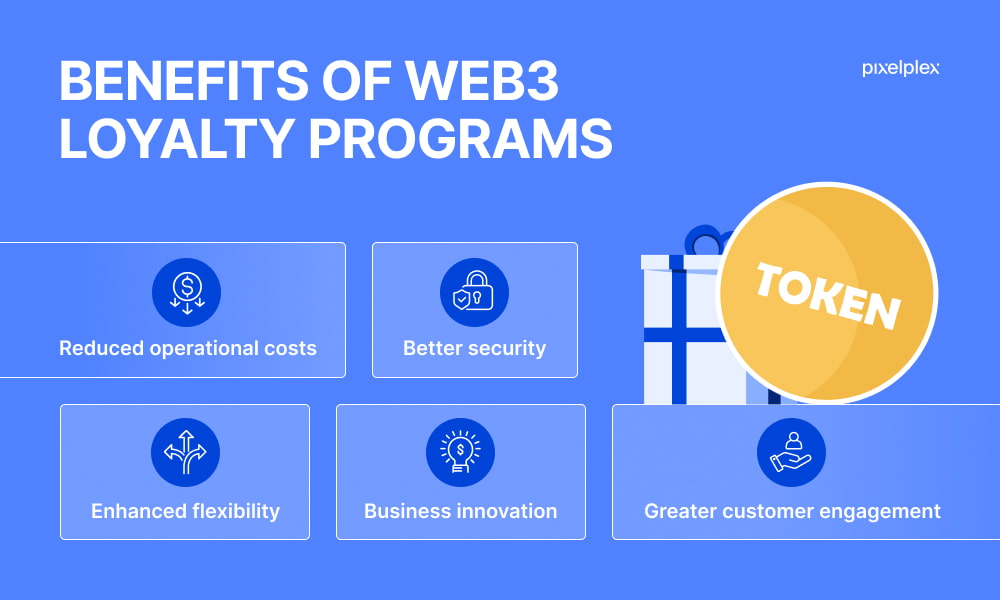 Web3-enabled loyalty programs have many advantages over traditional loyalty programs. They can reduce the cost of operations, improve security, increase flexibility, open doors to business innovation, and, chiefly, enhance customer engagement.
See how our smart contract development and audit services can improve your workflow
Reduced operational costs
Implementing a blockchain-based loyalty program will incur upfront infrastructural and development costs. However, these can easily be justified through long-term cost savings. Blockchain loyalty platforms help enterprises reduce management, acquisition, and transactional costs.
Blockchains can help loyalty program managers reduce system management costs (of administration and personnel) through the execution of smart contracts. In essence, smart contracts are a programmable part of the agreement between the company and customers that are executed when both parties fulfill certain conditions. In addition, automated smart contracts between two businesses and a customer, a so-called B2B2C loyalty token, can help reduce the administrative costs of processing and verifying transactions.
Better security
Blockchain has become a modern synonym for security. The transaction data on the blockchain is immutable and cryptographically secured. At the same time, public blockchains also increase transparency so that transactions are easily traceable and verifiable by all participants. Blockchains also prevent double-spending, abuse, and fraud. As well as the transactional data, customer data is also protected, and only tokens for blockchain loyalty rewards are exchanged.
Enhanced flexibility
The basis of flexibility in loyalty blockchains is the ability to exchange reward points with a much larger ecosystem of businesses.
The provider of loyalty points is still the one who decides how customers can spend their loyalty points. Nevertheless, customers are given more transaction flexibility through simplified access and management of points.
One of the significant issues with the current loyalty programs is the reward points' short expiration dates. Blockchain loyalty programs can alleviate this issue by operating as cashback programs, allowing customers to store their benefits as tokens and redeem them whenever they wish.
Business innovation
One of the most prominent benefits of an extensive and interconnected blockchain loyalty network is the business opportunities. Loyalty program providers can offer unique, value-added services to other companies, increasing the reward points' value.
Blockchains also lower entry barriers, enabling smaller businesses to start offering loyalty programs quickly, and to develop innovative services for utilizing reward points.
Greater customer engagement
By integrating blockchain-enabled non-fungible tokens into loyalty programs, both businesses and their consumers stand to enjoy a wide range of unique opportunities and experiences.
With NFTs, brands can discover more engaging digital interactions with their consumers and uncover new revenue streams. Customers, for their part, can participate in more sophisticated loyalty programs, accumulate NFTs and redeem them for cool perks such as discounts, merchandise, free goods and services, and get early access to special exclusive products and digital communities. Noteworthy is that NFTs can be swapped for rewards without compromising users' personal data.
Those businesses that are eager to go the extra mile may well consider incorporating metaverses in their loyalty offerings. They can hold different events there such as fashion shows, live demos, conferences, and exhibitions and invite their customers to join in.
Need a reliable blockchain partner? We have you covered
Examples of web3-powered loyalty programs
More and more companies around the world are starting to implement web3 into their customer loyalty programs. Let's take a close look at some of the most successful examples.
FootballNet — blockchain loyalty platform for football club owners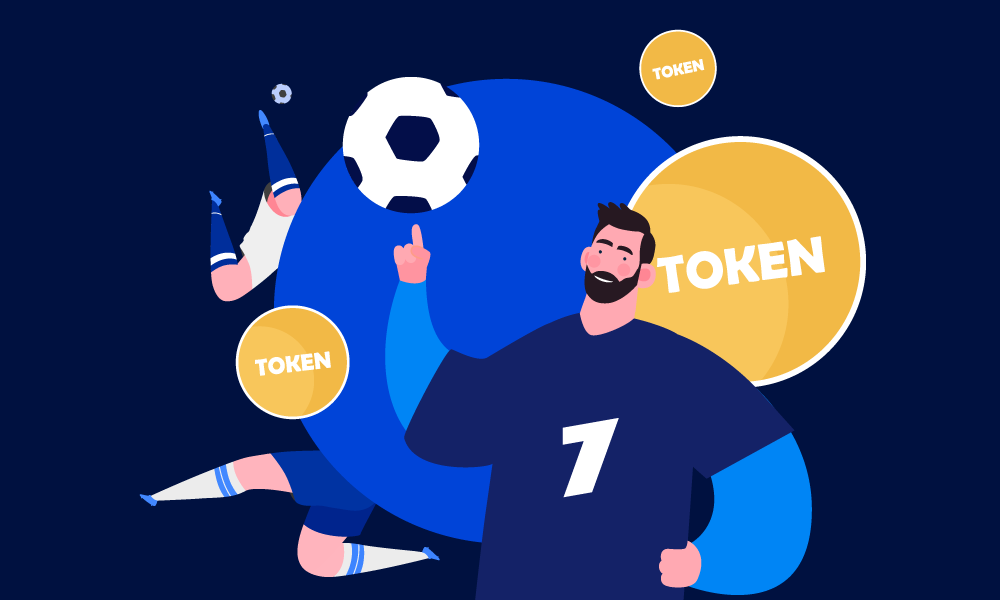 FootballNet is a next-gen, Hyperledger-based loyalty and ticketing platform for clubs and fans globally.
FootballNet maximizes revenue opportunities and enhances the fan experience through tailored loyalty-building experiences. The platform uses gamification techniques and motivates fans to participate in various challenges in order to receive rewards in the form of NFTs. Some of the platform's activities include completed quests and quizzes, stakes on half-time or full-time scores, watching live streams, and club merchandise purchases.
Afterwards, tokens and reward points are accumulated and determine the fan's profile level. When a new level has been achieved, the user gets an account upgrade which unlocks new challenge sets and also brings more rewards such as discounts for game tickets and merchandise, free snacks and beverages, signed posters, VIP lounge entrance, and season passes.
Starbucks
Starbucks launched the beta version of its blockchain-powered loyalty program alongside a digital NFT community called Starbucks Odyssey where members will have the opportunity to interact with each other and share their love for coffee.
The initiative is regarded as an extension of Starbucks' existing loyalty program, Starbucks Rewards, yet makes the most of web3 technology to reward its participants in innovative and extraordinary ways.
The loyalty solution is aimed to educate Starbucks customers about coffee and the company's history. It also encourages them to enroll in different activities like watching videos or completing quizzes, solving puzzles, or sampling new drinks that Starbucks is set to promote and get NFT rewards for their active participation that can be exchanged for perks envisioned by Starbucks.
AirBaltic
The Latvian airline airBaltic is set to expand its existing airBaltic Club loyalty solution by issuing 10,000 blockchain-powered non-fungible tokens called Planies Holders whose holders will be able to receive and accumulate airBaltic Club points alongside other perks.
Planies NFTs include one-of-a-kind animated aircraft designs containing different elements such as mouths, eyes, wings, and engines. The tokens can be obtained via a dedicated website, with the initial sale conducted on the OpenSea platform.
Balmain
The French luxury fashion house Balmain partnered up with the MINTNFT minting platform to introduce The Balmain Thread, an NFT-based membership, loyalty, and rewards program created on top of the XRP ledger blockchain.
The Balmain Thread has been designed to offer users a wealth of constantly evolving NFT offerings and access to Balmain's special events and moments such as house collections and surprise drops. As well as this, the loyalty program foresees access to different rewards and community voting privileges, and lots of other cool perks that will keep Balmain's consumers engaged and motivated to keep up with the brand.
Adidas
Adidas has been a staunch supporter of tech innovations and has been eagerly incorporating them into its workflows.
Recently, the sports goods manufacturer announced that it was going to launch ALTS, a web3-based loyalty program focused on creating a hyper-personalized experience for its customers.
With ALTS, users will acquire access to several new brand perks, such as private usage and exclusive commercial IP rights. They will also have the opportunity to customize their virtual wearables, attend exclusive Adidas events in both physical and virtual formats, and get unique rewards based on the number of accumulated points.
How to create and launch a successful web3-based loyalty solution?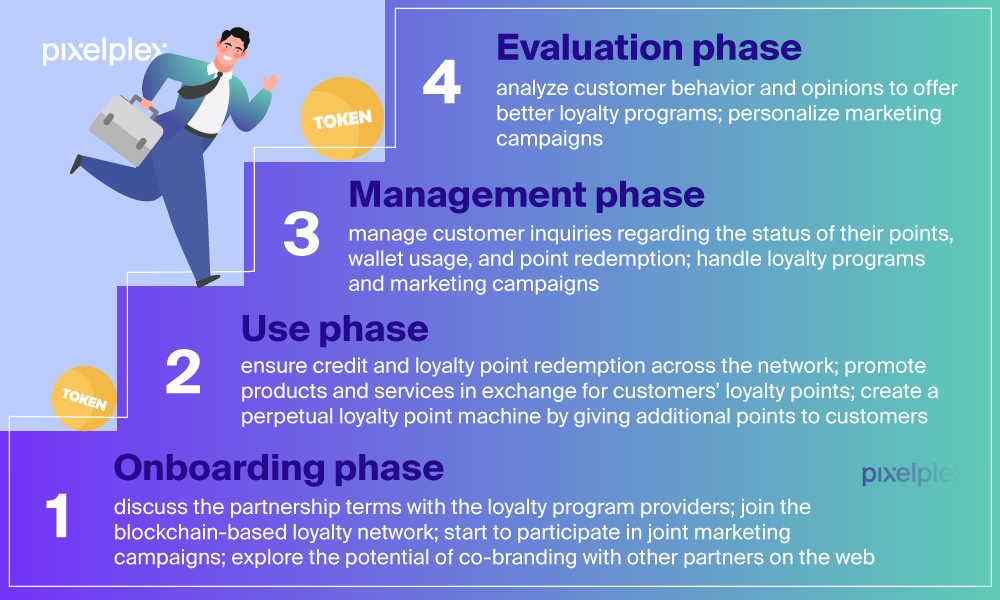 Web3-based loyalty programs are relatively new and do not have full traction. Despite the many boons they offer to early adopters and the already successful use cases, the reach of these loyalty solutions is still tiny compared to their potential.
Furthermore, due to their limited popularity, the journey of a participant on a blockchain-enabled loyalty network is still relatively unknown, but some best practices have proved to generate positive results. A partner's journey on a loyalty network consists of four distinct phases. Let's take a look at them.
1.  Onboarding phase
In the onboarding phase, partners initially negotiate the partnership terms with the loyalty program providers. The next step is to join the blockchain-based loyalty network. Upon entering, partners start to participate in joint marketing campaigns and explore the potential of co-branding with other partners on the web.
2. Use phase
During this phase, the credit and loyalty point redemption is enabled across the network. Partners then start to promote products and services in exchange for customers' loyalty points. In addition, partners may choose to create a perpetual loyalty point machine by giving additional points to customers based on their marketing campaigns.
3. Management phase
The management phase, where partners manage customer inquiries about the status of their points, wallet usage, and point redemption, happens in parallel. At the same time, partners are actively managing their loyalty programs and marketing campaigns.
4. Evaluation phase
This phase fuels the continuous delivery of improved loyalty services and benefits. Based on customer surveys and transaction data collected from the blockchain, partners can analyze customer behavior and opinions. The analytical insights obtained from the data can be used to offer better loyalty programs. However, the real power lies in the ability to personalize marketing campaigns based on customer preferences. The resulting positive customer feedback can be used to enhance sales.
The main advantage of a blockchain-based loyalty program is that all participants maintain the ledger of transactions and can track how points are earned, spent, and transferred across the network. Participants can make innovative use of this data to improve existing customers' sales and quickly acquire new customers.
Get to know more about this trailblazing blockchain-powered solution
Conclusion
Web3 loyalty programs have many advantages. They reduce operational costs, enhance security, increase flexibility, boost innovation, and allow for greater customer engagement.
Understanding, developing, and fostering web3 loyalty solutions is complex and requires tight collaboration between technology companies and businesses.
Luckily, PixelPlex blockchain developers can help you build a sophisticated loyalty program that will meet your business needs and contribute to the growth of your customer base.
Contact us today to chat with us about your next loyalty program.