Blockchain technology has penetrated the dauntingly complex world of real estate. It has introduced the industry to tokenization capabilities, bringing the potential for greater transparency, liquidity, and inclusiveness.
Over the past decade, real estate has been experiencing considerable growth, with its global market expected to reach $4,923.3 billion by 2031, registering a CAGR of 5.3% from 2022 to 2031.
Despite the fact that this growth can be largely attributed to the upsurge in investment, property investment has long been considered something reserved for an exclusive group of wealthy individuals. It has also been behind the times in liquidity, automation, and regulation.
However, thanks to blockchain and tokenization, in particular, all these and many other related challenges have been successfully overcome.
Read on to find out more about the essentials of real estate tokenization and the value it brings to issuers and investors, and learn about the most popular real estate tokenization platforms.
What is real estate tokenization?
Real estate tokenization is the process of transforming the value of physical real estate assets into blockchain-powered digital tokens, allowing for their digital transfer and ownership.
These digital tokens, often referred to as security tokens, normally represent shares of a real estate property. When the token is offered for sale on the market, it can be purchased by investors who will be given fractional ownership of the property. These investors also have the right to sell as many shares as they need and/or want.
Want to better understand the concept of real estate tokenization? Take a look at our video guide on real estate tokenization. It uncovers multiple aspects of real estate tokenization, from how to tokenize assets to the analysis of real-life examples.
The benefits of real estate tokenization
Real estate tokenization offers lots of benefits, the most significant being increased asset liquidity, greater transaction transparency, and access to a bigger pool of investors.
Increased asset liquidity
Tokenization enables fractional ownership of real estate properties, making it possible to purchase and sell smaller portions/fractions of an asset, which results in its better liquidity. Plus, investors are able to sell tokens representing a fractional share of a specific property without the need to sell the entire property. This facilitates their easier access to funds and enables them to effortlessly exit their investment if they wish to.
Greater transaction transparency
Blockchain records each and every transaction that takes place on it. Whenever a single token undergoes a transaction, all the participants become aware of it. Therefore, investors can look at the token's history, pricing, as well as other transaction details at any time.
Besides, after a transaction has been recorded and confirmed, it doesn't allow anyone to make any changes or alter the transaction details. This proves extremely useful when investors want to ensure that no one has falsified the information about the transaction.
On top of this, smart contracts remove the need to involve any intermediaries to execute a transaction, which allows for a higher level of trust and transparency and cuts extra costs.
Access to a bigger pool of investors
Fractionalization of real estate properties makes real estate investment available to a wider pool of investors, even for those with limited funds. In addition, tokenization removes any geographical boundaries by empowering literally any investor from any part of the world to invest in the desired property.
See how PixelPlex consulted the client on the development of a real estate STO platform aimed at enabling fractional ownership of housing markets
Aspects to consider before tokenizing real estate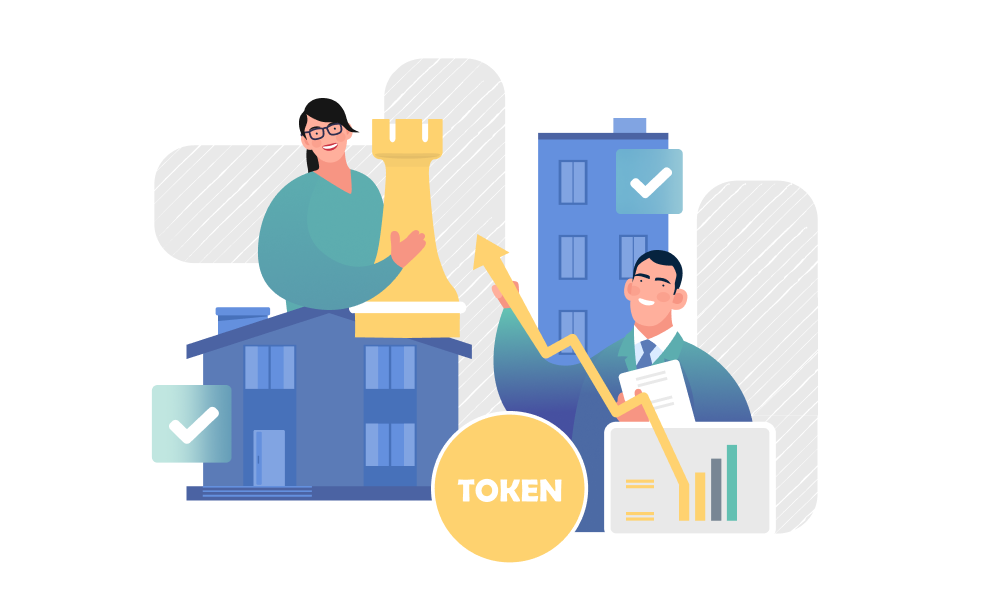 Before getting down to the development of real estate tokens, it's important to consider and define lots of crucial components.
Let's take a look at some of them.
Asset type
First of all, you need to choose what exactly you're going to tokenize: a real estate property itself, an equity interest within a legal entity that owns the real estate, a mortgage of the real estate property, a right to share in profits created by the property, and so on.
It's important to remember that depending on the asset being tokenized, regulations applicable to the token may vary. That's why, before tokenizing your asset, you must make sure that you're fully aware of its specifics and requirements.
Smart contracts functioning
Smart contracts automatically implement and enforce agreements between users without the involvement of any third parties.
To ensure their smooth and correct functioning, it's worth considering which features the issuer wants for the token. For instance, if token holders wish to receive dividends or share their profits, then the smart contract must be designed in such a way as to fulfill these requirements.
Regulation of securities
Given that real estate tokens qualify as securities under state and federal law, they must be registered by the Securities and Exchange Commission, also known as SEC. In some cases, it's possible to obtain an exemption from registration. Failure to register could land you with civil penalties and other problems.
Tax requirements
It's important to be fully aware of the requirements relating to tax and reporting. Both issuers and investors are strongly advised to consult a tax professional who will be able to assist them in developing a comprehensive and reliable tax strategy.
Property location
Naturally, the location of real estate property matters. You'll have to consider the location parameter not only from a practical point of view but also from a legal one. For example, not all countries grant protection for private property rights. As a result, fewer investors will be interested in obtaining property in these locations. It's important to consider carefully whether the location of the property will satisfy all parties involved.
Mortgage considerations
If the property that is being tokenized is subject to a mortgage, the issuer is obliged to either get the mortgagee's consent or to redeem the mortgage. However, if the tokenization of this property is a mortgage itself, you'll have to consider and familiarize yourself with the relevant laws.
AML/KYC requirements
Compliance with Anti-Money Laundering and Know-Your-Customer (AML/KYC) requirements and regulations is extremely important in the real estate tokenization process since they help protect investors, property owners, and tokenization platforms from fraudulent activities. That is why you need to implement robust KYC and AML mechanisms to maintain and ensure a high level of trust among all parties involved.
Gold can also be tokenized! Here's everything about the gold tokenization process and its benefits
How to tokenize real estate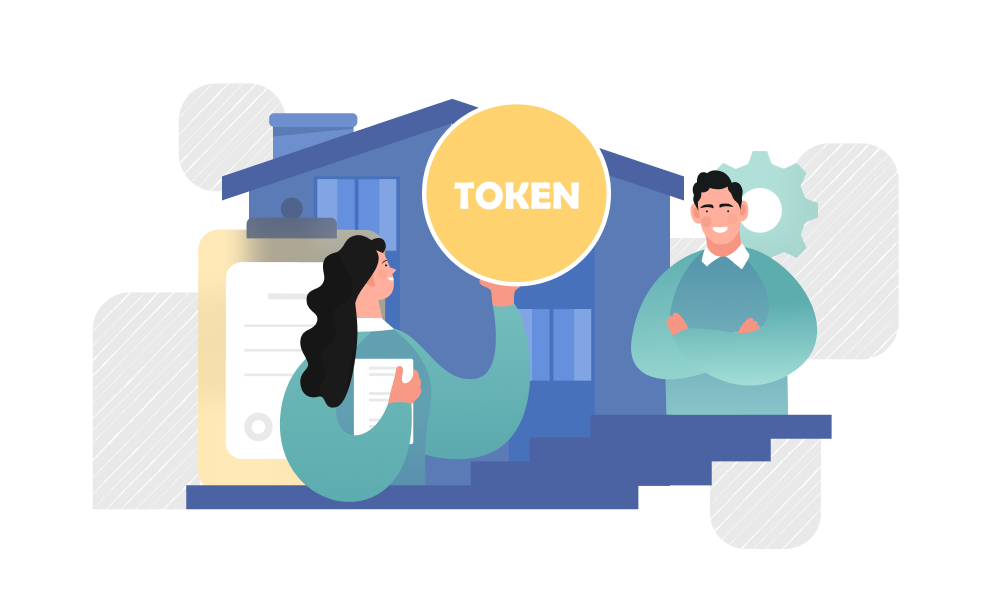 Real estate tokenization is a serious and demanding process that requires attending to lots of technical, financial, and legal minutiae.
There is no one-size-fits-all approach when it comes to digitizing real estate property. Yet, there are certain steps that are universal and you may well consider them when launching your own tokenization campaign.
Step 1
Decide on the asset type that you intend to digitize and select the jurisdiction where you will launch your campaign. Also, don't forget to specify shareholder type and relevant regulations that will play a significant role during the initial phase of structuring your project.
Step 2
Deal with the legal structure of your tokenization project and create a legal wrapper over the real estate property to ensure full compliance with applicable regulations.
Step 3
Choose the most suitable technology to underpin your tokenization project. As well as this, do not forget to carry out the due diligence procedure before tokenizing your real estate asset. This will help you ensure that there are no legal issues that could affect or harm the investment.
Step 4
Tokenize your real estate asset. Then you can get down to distributing real estate security tokens that will represent either ownership or investment in that asset and can be listed and traded on specialized digital exchanges.
Companies that have successfully launched real estate tokenization projects
Even though real estate tokenization is considered to be relatively new, there're already quite a lot of companies and startups across the globe that are getting involved. They are coming up with advanced and effective solutions that offer considerable benefits to investors and token holders. Apart from tokenization assistance, they supply many other blockchain-related services aimed at streamlining complicated real estate processes. Let's take a closer look at some of the companies and their projects.
Ubitquity
Ubitquity LLC, a US-based company that specializes in creating blockchain-secured solutions for real estate transactions, has designed a Blockchain-as-a-Service (BaaS) platform for the secure record and tracking of property. The platform enables title companies, municipalities, and clients to view a record of ownership via blockchain. All the transactions are automatically recorded on the blockchain, which integrates easily with other UTXO-based blockchains such as Bitcoin, Ethereum, and Hyperledger.
What's more, Ubitquity assists its clients in tokenizing their properties, creating Non-Fungible Tokens (NFTs) as well as developing Decentralized Finance (DeFi) solutions for real estate, mortgage, and title companies.
Take a look at this advanced asset tokenization and smart contract platform
Red Swan and Polymath
Red Swan, a platform used for investing in tokenized commercial real estate assets, together with Polymath, a blockchain created for security tokens management, has tokenized over $2.2 billion in real estate assets. The tokens that have been issued are for 16 properties, encompassing mid-rise and high-rise apartments in California, New York, and Texas as well as a 150-acre hemp farm in Ontario, Canada.
According to the New-York-based Red Swan, it's planning to go even further and tokenize $4 billion in property, as it hopes to profit by gaining interest from the sold equity.
KlickOwn and Bitbond
To complete its first STO for a property, German KlickOwn, a real estate crowdfunding platform, has partnered with Bitbond, a Fintech that offers security token management solutions. In March 2020, KlickOwn listed a digital bond for the "Historisches Lüneburg" building located in Lüneburg, Germany. The company has managed to raise €1.5 million for digital security that is expected to yield an annual return of 5%. In addition, thanks to the relatively inexpensive blockchain-based securitization process, investors are able to take part in the offering procedure for just €10.
REINNO
In 2020, REINNO introduced a marketplace for tokenized commercial real estate, which also involved five offerings valued at over $237 million available to accredited investors around the world. Investors have an opportunity to obtain a fraction of expensive real estate using US dollars or cryptocurrency. Among the properties that can be purchased are medical facilities, apartment buildings, and warehouses.
It's worth mentioning that all properties are managed by expert real estate professionals, in order to maximize the returns from passive investments. As a result, REINNO is gradually getting closer to its aim — to establish an ecosystem for tokenized commercial real estate.
Smartlands
In 2019, Smartlands — a global blockchain-based platform for crowdfunding investments in various asset classes with the help of security tokens — successfully completed its pilot STO worth £12.06 million. It also became the first company to tokenize a UK-based property, a student accommodation block in Nottingham.
The key goal of Smartlands is to enhance the investment experience for all the parties involved, from investors and issuers to asset and fund managers, by automating and digitizing different operations related to real estate management.
Overview of some real estate tokenization platforms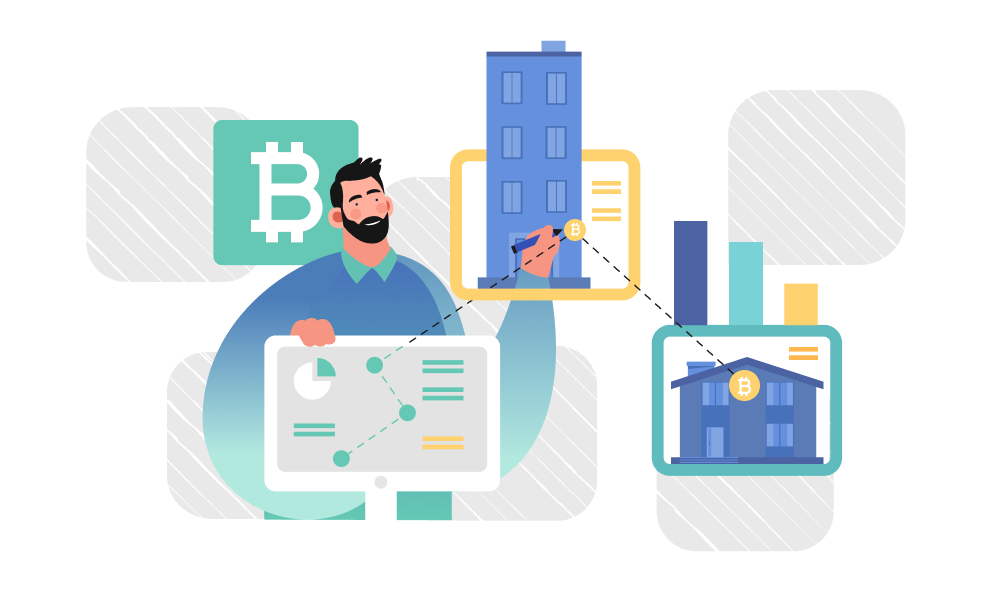 As tokenization in real estate gathers pace and becomes an ever more popular use of blockchain, we're seeing plenty of companies and startups around the world getting involved in the issuance and selling of real estate-backed tokens.
Below we provide a brief overview of some existing real estate tokenization platforms.
What does the future of real estate tokenization look like?
Real estate tokenization is becoming increasingly popular and is demonstrating a huge potential for further growth. Prior to its introduction, only a small number of both accredited and institutional investors had an opportunity to participate in investment projects. Now the situation has changed, and the real estate market has become more inclusive and democratic thanks to blockchain-enabled tokenization.
Tokenization is bringing about greater liquidity and transparency. As technology advances, it's abundantly clear that real estate, which for so long was resistant to change, will quickly catch up with other industries.
In the months and years ahead, more and more tech startups and companies will appear on the horizon to offer their unique solutions for real estate tokenization, in their turn helping the whole real estate industry to make great strides.
Of course, there'll be some challenges and pitfalls along the way. But the crucial point is that right now barriers to a wider tokenization adoption are being removed, knowledge and experience are being enriched, and customized real estate tokenization platforms and other solutions are improving. So there's every reason to be optimistic about what the future holds.
Discover how PixelPlex real estate software development and advisory services can help your business get ahead
Conclusion
The real estate industry has yet to realize the remarkable potential of blockchain-enabled tokenization for tackling the existing market challenges. But even now, it's evident that tokenization has already provided the industry with substantial benefits — most obviously, in terms of improved liquidity, transparency, security, inclusiveness, and management.
Apart from real estate, tokenization represents a go-to tool for many other industries that are in need of change and disruption. It will set them on a new path, enabling them to achieve much-desired and long-awaited improvements and efficiencies in their workflows.
We at PixelPlex have been helping an array of businesses find their individual routes to success. You too can take advantage of our elaborate security token offering and digitize any type of asset in order to build the ecosystem you need for your own security token offering campaign.
Don't be shy — knock on our door whenever you need us, and we'll be glad to guide you towards the brave new tokenized world.