With business intelligence platforms, companies can harness vast amounts of data and transform it into actionable insights for strategic decision-making. But with so many BI platforms on the market, how do you know which one to choose?
The global business intelligence market is expected to reach $54.27 billion by 2030. This growth has led companies to seek better methods for data-driven decision-making. Business intelligence platforms are central to this trend as they offer tools for data collection, analysis, and visualization and empower organizations to discover trends, patterns, and insights that are essential to their success.
This article provides an overview of the ten best business intelligence platforms of 2024 along with valuable tips to consider when selecting the right BI solution for your organization.
Let's start!
What is a business intelligence platform and why do businesses need it?
A business intelligence platform is a specialized tool that enables organizations to analyze and interpret complex data to make informed decisions. It integrates data from various sources and presents it in formats like reports, dashboards, graphs, and charts. This integrated view aids businesses in understanding their operations, market trends, customer behaviors, and financial performance comprehensively.
Traditional data analysis methods are time-consuming and often inadequate for capturing the full picture, which can lead to suboptimal decision-making. BI platforms, conversely, address these challenges by providing clear, actionable insights. They help businesses gain a comprehensive understanding of their operations, assess customer sentiments about their services, identify areas for improvement, and promptly detect minor issues before they escalate into major problems.
Check out our detailed guide to the top 10 data visualization tools for 2024
Aspects to consider when choosing a business intelligence platform for your business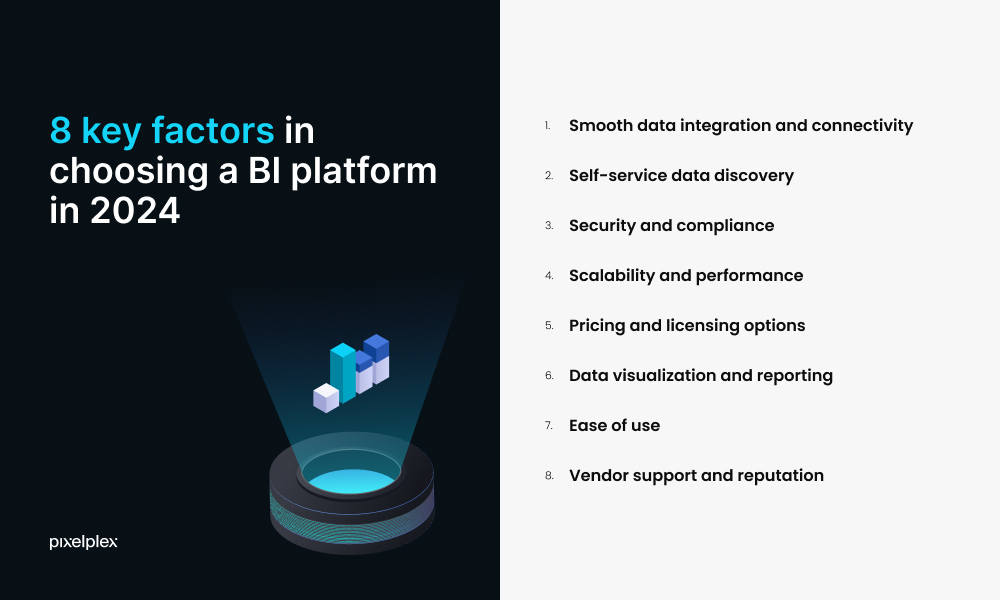 Before selecting a business intelligence and analytics platform, it is essential to assess a range of parameters, from technical characteristics to vendor feedback.
Below are some key aspects to consider in selecting the best business intelligence platform software for your organization.
Smooth data integration and connectivity
A business intelligence platform should seamlessly connect to various data sources, including structured, semi-structured, and unstructured data. Plus, it should integrate with existing data warehouses and data lakes to help you establish a holistic view of your data landscape.
Self-service data discovery
A BI solution should equip employees across various departments with self-service data discovery tools that are intuitive and user-friendly. This approach enables them to independently explore and analyze data, thus significantly reducing the reliance on external assistance.
Security and compliance
With the growing importance of data security and compliance, a BI platform must meet all relevant requirements, including data encryption, role-based access control, and audit trails. As well as this, business intelligence software should offer continuous monitoring and regular updates to ensure compliance with the latest data protection regulations and industry standards to safeguard sensitive information against emerging cybersecurity threats and vulnerabilities.
Explore how RegTech helps businesses deal with their regulatory processes and operations
Scalability and performance
As your business grows and data volumes increase, the business intelligence platform software should have a high scalability capacity. It must handle large data volumes and complex queries, and expand user bases without performance degradation.
Pricing and licensing options
The cost of the BI software should align with your budget and provide a return on investment. Therefore, you are to evaluate various pricing models and licensing options to find the most cost-effective solution for your needs.
Also, consider free trials and demos to test the platform's features, evaluate its usability, and ensure it aligns with your business needs before making a financial commitment.
Data visualization and reporting
A BI platform should offer robust data visualization tools with charts, graphs, and dashboards. It should also have the capability to generate comprehensive reports and presentations.
Moreover, the business intelligence software should allow for the customization of these visual tools and enable businesses to tailor the presentation of their data in a way that best aligns with their specific analytic goals and stakeholder needs.
Unleash the full potential of your data with our PixelPlex data visualization services and consulting
Ease of use
Ease of use has become an unspoken requirement for all modern apps and software, and business intelligence tools are no exception. Therefore, pay attention to whether a BI platform will be convenient for both technical and non-technical personnel, and whether it possesses intuitive interfaces, drag-and-drop functionality, mobile accessibility, and comprehensive documentation among others.
Vendor support and reputation
Another crucial aspect is checking and finding reviews about the vendor's reputation and their history in providing BI solutions. This will help you understand whether other users are satisfied with the BI software and the support provided by the vendor.
As well as this, ensure that the vendor commits to delivering ongoing updates, patches, and enhancements, which are essential to keep the platform up-to-date and aligned with evolving business needs.
Take a look at the top 15 business intelligence trends for 2024 and beyond
Overview of top 10 business intelligence platforms in 2024
Below, we present a list of the best business intelligence platforms for 2024 and beyond, each carefully selected by our team for their alignment with core BI software requirements and ready for you to consider implementing in your business operations.
1. SAP Business Objects
SAP Business Objects is a business intelligence platform suitable for medium and large enterprises as well as small businesses with complex data analytics needs and the resources to support a sophisticated system.
This business intelligence solution features scalable architecture and robust security and allows businesses to transform their data into actionable insights. It also offers a comprehensive range of features for data integration, cleansing, and preparation, alongside advanced data visualization, self-service data discovery, analytics, and reporting.
2. Sisense
The Sisense business intelligence platform transforms complex data from multiple sources into actionable intelligence. The BI software is also good at efficiently processing and analyzing large data volumes, which benefits organizations, especially those with limited technical expertise.
Sisense's user-friendly interface and robust data integration capabilities stand at the core of its appeal. Moreover, it enhances data analysis with interactive dashboards, easy-to-use drag-and-drop data visualization, and AI- and ML-powered analytics, offering comprehensive and predictive insights needed for efficient business operations.
3. Qlik Sense
The Qlik Sense business intelligence platform offers features like automated insight generation and natural language interaction, which simplify data analysis and engagement. It also offers AI-assisted creation and data preparation, along with automated machine learning and predictive analytics, to forecast trends and aid in proactive decision-making.
The interface of Qlik Sense accommodates various skill levels, while its self-service analytics ensure broad accessibility. In addition, its scalable architecture and comprehensive data integration capabilities allow it to support diverse analytical needs, from individual projects to complex, multi-departmental data analysis.
See how our industry-wide data analytics services can elevate your data's potential and fuel operational excellence
4. IBM Cognos Analytics
IBM's Cognos Analytics BI platform provides an extensive range of tools for data integration, discovery, advanced analytics, and reporting.
Harnessing the power of IBM Watson AI, the platform enables users to delve into their data for innovative insights. It is particularly adept at analyzing unstructured data, such as customer feedback and social media posts, and capable of revealing trends and patterns that are not easily discernible with traditional tools.
Beyond this, Cognos Analytics streamlines the data analysis process by automating complex tasks, freeing users to focus on strategic, high-value activities. This blend of advanced AI and ease of use makes Cognos Analytics an invaluable asset for organizations aiming to base their strategic decisions on deep and meaningful insights and enhance their corporate governance.
5. Looker
The Looker business intelligence platform empowers users to explore, analyze, and visualize data through self-service. Its foundation is reliant on LookML, a proprietary modeling language that centralizes data model definition and management. This centralization simplifies data insight sharing across an organization and maintains a unified source of truth.
What's more, Looker's features for data discovery and analysis include a powerful query engine for detailed data exploration, diverse data visualization options like charts, graphs, and dashboards, and the capability to build custom reports and dashboards. It also allows for the sharing of data insights through embedded analytics and dashboards.
Explore our comprehensive guide to enterprise business intelligence and see how to implement it in your organization
6. MicroStrategy
MicroStrategy, an enterprise business intelligence platform, suits data-intensive environments and optimizes the use of large data volumes to drive strategic business outcomes. It manages complex and large data sets effectively and serves as a valuable tool for organizations across various sectors, such as retail and healthcare.
The platform provides advanced analytics, interactive dashboards, mobile access, and robust data integration capabilities, which enhance aspects like strategic planning, risk management, market intelligence, compliance and reporting, customer insights, and so on.
7. Board
Board business intelligence and corporate performance management software helps companies enhance their strategic insights, increase productivity, and boost operational agility. It provides a range of functionalities that benefit various industries, including retail, manufacturing, finance, and healthcare.
This BI solution includes tools for detailed reporting and comprehensive analysis, vital for strategic planning. Plus, Board supports advanced financial planning with budgeting and forecasting features, which are crucial for financial management and future trend prediction. The software also features interactive and customizable dashboards for real-time performance tracking and data visualization.
8. Oracle Analytics Cloud
Oracle Analytics Cloud is a cloud-based business intelligence platform that supports in-depth data analysis and management and offers self-service analytics for the easy creation of personalized reports and dashboards.
The business intelligence software features predictive analytics to assist businesses in forecasting trends and making data-informed decisions. It also integrates artificial intelligence solutions and machine learning, which enhance data insights and automate analytical processes.
Enhance your solution's capabilities with our expert machine learning development services
9. TIBCO Spotfire
TIBCO Spotfire specializes in data visualization and analytics, adept at turning complex data into interactive graphics for easy understanding. The software offers real-time analytics and enables quick decision-making based on the latest data.
Apart from its predictive analytics capabilities, which enable forecasting of market and customer behavior trends, TIBCO Spotfire also features a user-friendly interface that simplifies data integration. Moreover, it provides tools for data governance that assist organizations in ensuring data integrity and security.
10. Domo
Domo's SaaS business intelligence software helps companies integrate, analyze, and aggregate data from various sources and ensures its efficient management and accessibility.
The Domo BI platform provides collaboration tools for effective team insight sharing and features real-time data visualization for timely decision-making.
Importantly, businesses stand to benefit from Domo's extensive customization options and advanced security measures for data protection while the BI solution's mobile compatibility ensures access and analysis of data on the go.
Ready-made vs custom business intelligence platform: which option suits your business best?
When deciding between a ready-made or custom business intelligence platform, several factors come into play.
Let's explore the most significant aspects to consider when choosing the right platform for your organization.
Understanding specific business needs and requirements
Businesses with standard reporting and data analysis needs often find ready-made BI solutions adequate. However, companies with specialized data processing requirements or those in niche markets might benefit more from a custom BI platform, tailored to their unique needs.
Evaluating cost implications
While ready-made solutions usually present a more cost-effective choice upfront with less investment in development, custom solutions, despite their higher initial costs, can be more economical in the long term for businesses with specific needs not efficiently met by off-the-shelf options.
Scalability and flexibility considerations
The flexibility of custom platforms allows them to evolve with your business and adapt to unique growth patterns. On the other hand, ready-made BI tools, although typically scalable, might have limitations in adapting to specific business changes.
Integration with your existing systems
Integrating seamlessly with existing systems is a strong suit of custom BI solutions, especially beneficial for businesses using niche or legacy software. In contrast, ready-made solutions may face challenges in achieving smooth integration.
Maintenance and support needs
The vendor support and regular updates that come with ready-made BI tools ease the burden on IT teams. Custom solutions, while offering more control over the support process, require a dedicated team for maintenance and updates, which could be a resource strain.
Time to deployment factors
The quicker deployment times of ready-made solutions are vital for businesses needing immediate analytics capabilities. Custom-made business intelligence software, although aligned perfectly with your business processes, takes longer to develop and deploy.
Struggling to determine the best option for your business? Don't hesitate to contact PixelPlex's IT consultants for personalized advice and guidance
How PixelPlex can help
For additional guidance or support in the BI realm, our expert PixelPlex business intelligence services are available to aid you.
Our team specializes in BI consulting, enterprise BI solutions development, and BI implementation. Plus, we assist companies in customizing and integrating BI platforms to align perfectly with their business objectives and industry requirements.
Let us help you unlock the full potential of your data.
Contact us today to explore how we can tailor a BI solution that fits your unique business needs.