The Aptos blockchain is generating buzz within the global blockchain community as its launch draws near. Aptos aims to address the limitations of other blockchain technologies by offering unparalleled security and reliability. But does it truly have the capability to live up to these claims? In this article, we'll take a closer look at the Aptos blockchain and examine its potential to revolutionize the industry.
Blockchain has quickly become a very competitive technology, with long-standing networks like Bitcoin and Ethereum hotly pursued by new-gen platforms such as Solana and Avalanche.
Aptos is a new and very ambitious project that strives to rank among top blockchains. Or even outperform them?
In this article we will explain the origins of the Aptos blockchain, and show how its features compare favorably with other networks. In addition, we will provide an overview of Aptos-based projects.
What is the Aptos blockchain?
Aptos is a Layer 1 blockchain developed by Aptos Labs. Its aim is to become the safest and most scalable Web 3.0 solution.
"We've known for a while that, due to issues like outages and downtime, current blockchains are not fit for purpose when it comes to mass Web3 adoption. That's why we're building a blockchain to be the reliable foundation for Web3 that ushers in users from around the world to experience the benefits of decentralization." ― Mo Shaikh, co-founder and CEO of Aptos.
Preparing to venture into the mainnet in fall 2022, Aptos is currently running a series of testnets. It invites node operators, developers, auditors, and ecosystem builders to try out the blockchain's functionality and security and promises rewards in Aptos tokens for active contribution. Yet to date, Aptos coins have not been launched, with testnet tokens issued as dummy versions.
How is Layer 1 different from Layer 2? Find out in our detailed overview
Who is Aptos Labs?
Aptos Labs was established by former Meta employees working on the Diem blockchain project. In January 2022 Diem was reported to shut down, with all the blockchain's assets sold to crypto-focused bank Silvergate.
However, Aptos Labs still leverages elements of the Diem blockchain, including its smart contract language Move.
Is Aptos worth investing?
Even with no ICO date announced yet, the hype around Aptos coin is wild. ICO Drops rates the future coin's ROI as high and estimates that risks are mild. Such favorable evaluation is based on Aptos' unique features such as Move technology and parallel transactions.
The Aptos project managed to attract $4 billion in funding and gain support from noteworthy investors such as Binance, Andreessen Horowitz, and Multicoin Capital.
How does the Aptos blockchain work? Key features
Though it's not fully operational yet, Aptos already has several impactful features that help it stand out from all other blockchains. These include: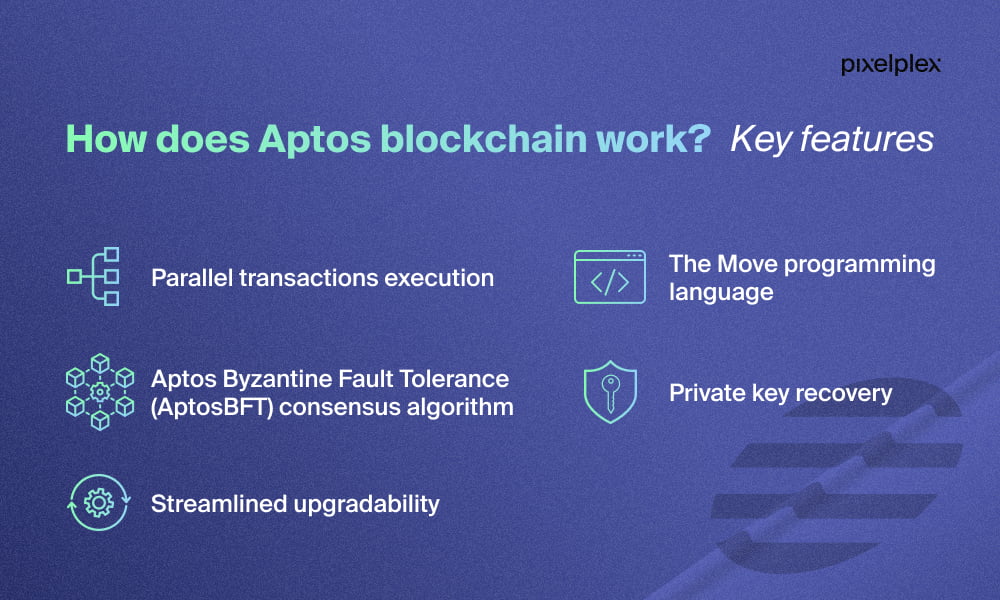 Parallel transaction execution
Aptos utilizes a Block-STM smart contracts engine that can process multiple transactions at once. As no failed transaction will halt the whole chain, this significantly boosts transaction speed. Currently, the Aptos testnet can manage 160,000 transactions processed simultaneously, with less than 1 second time-to-finality. This will also affect transaction fees, making them very low.
The Move programming language
Move is a flexible language helping to efficiently handle the needs of Aptos developers. For example, it allows software engineers to define custom resources that can't be copied or discarded, making it very difficult for fraudsters to tamper with the blockchain.
Aptos Byzantine Fault Tolerance (AptosBFT) consensus algorithm
Aptos leverages two consensus protocols: Proof-of-Stake and AptosBFT, its own custom-made consensus algorithm based on the HotStuff protocol. This algorithm analyzes the on-chain state and automatically updates leader rotations to adjust for non-responsive validators without any human intervention.
Private key recovery
Aptos users have the ability to rotate their private keys to make them more theft-resistant. Validators can periodically rotate their consensus key as well.
Streamlined upgradability
The blockchain team puts great emphasis on upgradability, so the network can be enhanced without any downtime. This is achievable with Aptos' modular architecture and embedded on-chain change management protocols.
Overall, Aptos can offer benefits such as high transaction speed, enhanced scalability and security measures, and low transaction cost. All this makes Aptos an attractive option for businesses of all sizes.
How is Aptos different from other blockchains?
The Aptos blockchain stands out in terms of transaction speed, security, and sustainability. To have a more detailed picture, we will take three popular blockchains and make a side-by-side comparison with Aptos.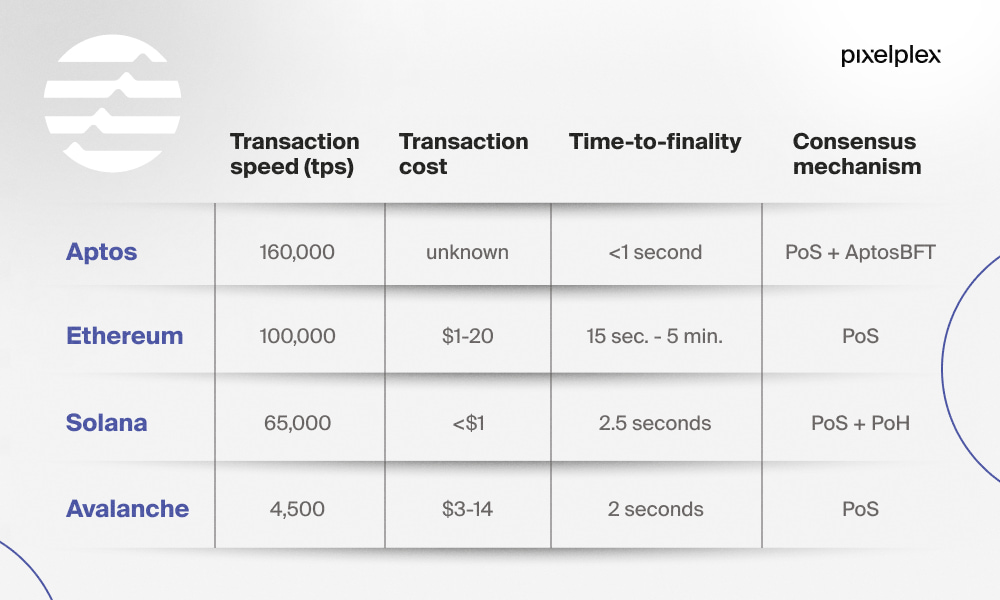 Aptos vs Ethereum
Ethereum is a top blockchain boasting an extensive ecosystem and 500,000 daily active users. On September 15, 2022, Ethereum went through a massive upgrade and shifted from the Proof-of-Work (PoW) algorithm to Proof-of-Stake (PoS).
Now both blockchains use the Proof-of-Stake consensus mechanism, which is one of the most eco-friendly. Thus, the environmental impact of Apos and Ethereum is the same.
PoS also boasts high transaction speed — Ethereum is now projected to be able to process 100,000 transactions per second. But even with this increase, Aptos wins, able to handle 160,000 tps. In addition, Aptos' time-to-finality is less than a second compared to Ethereum's 15 seconds to five minutes.
Ethereum has one of the highest transaction fees, ranging from $1 to almost $200. Maybe the update will also help reduce the fees, but it's hard to tell right now. In the meantime, there is still no information about Aptos' transaction fees as the blockchain hasn't entered the mainnent yet. However, the blockchain's high throughput points to low transaction costs.
So, Aptos has great potential to outrun Ethereum in terms of transaction speed and, most likely, cost. They both leverage the same PoS consensus, minimizing their environmental impact. Yet Aptos still needs to reach the mainnet, while Ethereum is a well-established network with a large community and great influence in the blockchain industry.
Aptos vs Solana
Both Aptos and Solana run on the Proof-of-Stake consensus but each of them has an additional algorithm: Proof-of-History on Solana and Byzantine Fault Tolerance on Aptos. This helps achieve high throughput and greater scalability: Aptos can process 160,000 transactions per second in contrast to Solana's 65,000 tps. Solana also falls short of Aptos' time-to-finality: 2.5 seconds against less than a second.
Solana's transaction cost is one of the lowest — $0.00025 per transaction. Though there is no information yet on the Aptos transaction fee, it is also expected to be less than a dollar.
2022 was a tough year for Solana since it experienced several outages. These were caused by spamming bots clogging the network. There were also two wallet hacking incidents. These events significantly damaged Solana's reputation, making users look for more secure alternatives.
Aptos looks like a good option since the development team is focused on ensuring high security standards. For example, they make wallet assault almost impossible by allowing users to rotate private keys.
Aptos vs Avalanche
Avalanche is another new-gen blockchain, running on Proof-of-Stake. It can boast a pretty fast transaction speed — 4,500 tps — yet Aptos is way ahead with its 160,000 tps. Aptos also has faster time-to-finality: less than a second, while Avalanche requires two seconds.
Since many play-to-earn games run on Avalanche and players constantly transact in-game tokens and claim rewards, the blockchain's transaction cost has increased to $3-14.
The Aptos blockchain is therefore more efficient in terms of functionality, allowing faster and less costly transactions. However, Avalanche has a solid ecosystem, which includes a large number of dApps from DeFi applications to play-to-earn games.
What projects run on Aptos?
The Aptos blockchain code is open-source, so lots of different projects are now being built on the testnet and are preparing to join the ecosystem. Let's take a look at some of them:
Martian Wallet — a crypto wallet for Aptos digital asset management and access to the blockchain's decentralized applications.
Topaz — an NFT marketplace.
Liquidswap — the first Automated Market Maker built on Aptos.
Aries Markets — a decentralized borrowing, lending, and margin trading protocol.
Econia — an on-chain order book for digital asset trading.
Meet Echo DeFi — a decentralized platform providing top liquidity and fair token distribution
What is the future of the Aptos blockchain?
Aptos' claim to become the most secure and scalable blockchain has definitely caused a lot of buzz in the blockchain community. Up to now, it has managed to keep its commitments, demonstrating impressive transaction speed and delivering a well-thought-out and reliable network architecture.
With such a solid development approach and a team of seasoned professionals, it looks like Aptos can really become one of the top blockchains. However, before we can say for sure, the missing parts, such as tokenomics details, must be clarified.
Want to deliver a top-notch blockchain project? We are ready to help! PixelPlex can boast 80+ successful blockchain-based projects across a variety of industries, from finance to healthcare.
Share your idea and we will help to turn it into an awesome blockchain solution.