The wave of NFT hype doesn't look like it's going to stop any time soon, as more and more people join the craze. Now we also see big fashion names grabbing the opportunity to raise brand awareness with NFT collections.
NFTs are no longer only for artists seeking to fairly monetize their works, or blockchain enthusiasts taking delight in the new technology. Celebrities, game developers, real estate agents and even financial experts — all see the potential that NFT has to offer. At the time of writing the NFT market is valued at $20.45 billion.
Fashion brands do not stand aside and enter the world of NFT fashion using non-fungibles as a great tool for engaging customers and hitting the headlines. Among the companies that have already presented their NFT collections are the iconic fashion houses of Gucci, Louis Vuitton, and Dolce & Gabbana, along with fast-fashion brands such as Adidas and Forever 21.
This article will answer the question of what exactly your brand can achieve with the help of NFTs, as well as unpack what practical applications buyers see in NFT fashion. And we won't forget to take a look at how different fashion corporations utilize the technology to their advantage.
Why are fashion brands adopting NFTs: key benefits
Fashion always follows the trends, so news of brands making collaborations with top NFT collections or releasing their own tokens comes as no surprise. But what are the intentions behind the mix of fashion and NFTs? Is it simply for the sake of hype? Let's take a look at the main reasons.
It takes lots of resources to manufacture a single item of clothing: materials, employee wages, logistics, marketing — all these add up to a pretty penny. In contrast, virtual clothes require a minimum amount of input yet generate the same or even a higher income.
Covid-19 caught the world off-guard and locked people inside their homes. Unable to go out, people cut down on buying new apparel, which resulted in Europe's clothing industry suffering a 43.5% decline in sales in 2020. Therefore, it makes good sense for the industry to think about a backup strategy in case anything goes wrong again (hopefully not).
"It (NFT wearables) really took off when COVID started and loads of people went more online" ― Steven Vasilev, RTFKT's co-founder and CEO.
New marketing opportunities
NFTs open the door to large communities of collectors and metaverse users. Brands can significantly increase their customer base and reach out to younger audiences once they establish their presence in the Web3.0 world.
Besides this, brands can sell backstage photos, fashion videos, sketches of collections as NFTs, thus creating an additional stream of income both from the initial sale and from royalties.
Brands can supplement their loyalty programs with NFTs, as a result increasing customer engagement. What's more, it is common for fashion companies to add some unlockable content to their non-fungible tokens: physical goods or invitations for real-life or virtual events. People really appreciate these unique experiences and forge strong connections to the brands.
How does NFT fashion deal with sustainability issues?
The modern approach to manufacturing clothes is utterly unsustainable. The garment industry is responsible for approximately one third of all microplastics found in the ocean and causes more emissions than international plane travel and shipping combined.
Once big brands shift some of their attention to making virtual clothes, some of the fashion-related waste can be avoided.
But minting NFTs is not 100% ecological, is it? As we all know, it takes quite a lot of energy to create a non-fungible token, but these days more and more platforms are taking steps to minimize their carbon footprint by switching to more sustainable blockchains, such as Solana and Cardano, or buying carbon offsets.
Thinking about investing in NFTs? Check out our article where we explain all pros and cons
Challenges faced by fashion NFTs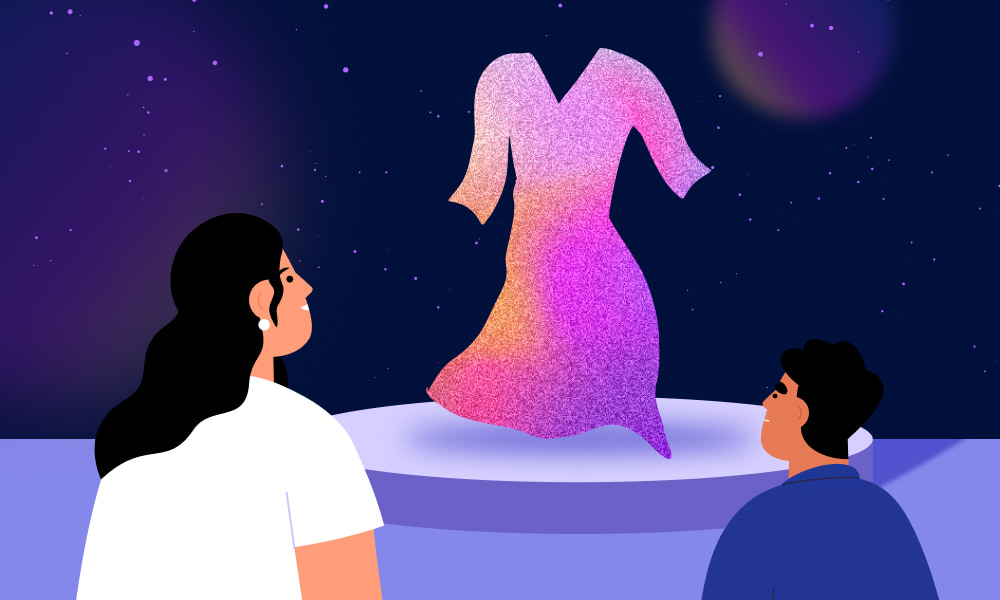 Despite a substantial list of benefits, fashion NFTs still have a few flies in the ointment: lack of interoperability and regulation, high implementation costs, and the fact that NFT is still a niche technology.
Lack of interoperability — there is still no common agreement or mechanism allowing different NFT wearables to be used across multiple platforms.
Lack of regulation — there is no legal framework for fashion NFTs yet, which may result in dubious situations such as independent artists turning famous items or logos into tokens without receiving an agreement from the copyright owner. There is already such a case involving Hermes' Birkin bags.
High costs — to successfully introduce non-fungible tokens to your brand require a considerable investment in equipment and staff. This can be an obstacle for smaller companies.
Lack of involvement — NFT is still a very young technology and not many people understand what it's all about. According to statistics, 70.6% of people in the United States are not sure what an NFT is. As a result, even though the hype is massive, fashion NFTs are only available to a tech-savvy minority.
What are the major applications of NFTs in fashion?
There are a number of applications of NFTs in the fashion industry, ranging from creating digital collectibles and wearables to implementing fractional garment ownership. In addition, NFTs can serve as proof of ownership and authenticity, and they have also introduced a wear-to-earn concept. Let's get acquainted with each of the applications in detail.
NFT collectibles and digital wearables
The growing popularity of metaverses is boosting the demand for digital wearables, which is good news for companies launching NFT clothes and other NFT fashion items.
Some NFTs can be of high scarcity and uniqueness thus representing significant value for collectors. A prominent example is Dolce & Gabbana's "The Impossible Tiara" and "Dress from a Dream".
Yet there was no common marketplace where you could choose from multiple collections — until MetaWear came along.
MetaWear is a platform that allows users to create avatars similar to their body measurements and try on virtual clothes. MetaWear produces virtual clothes designed by some of the biggest brands in luxury and fashion, such as Gucci, Prada, LVMH and Armani.
Fractional ownership
Fractional token ownership creates new opportunities both for those who create NFTs and those who own them.
First, several creators can work on one virtual garment, with each contributing something to the piece — textures, patterns, or garment accessories. Then, each time this NFT is sold, all the creators get their share of royalties.
DIGITALAX uses this approach to create NFT wearables. They collaborate with independent artists who develop ERC-1155 tokens and contribute to material, pattern, and texture libraries.
Meanwhile, individuals can collaborate to buy some expensive fashion NFT, with each person owning a fraction of the piece. This way they obtain virtual outfits that are not otherwise affordable.
Wear-to-earn concept
The wear-to-earn concept suggests that brands give incentives (money or privileges) to their customers for wearing NFT clothes. This way, companies can establish loyal relationships with customers while promoting themselves.
An example of the wear-to-earn model is the DAVA project. It is an NFT project creating 10,000 avatars (Davas) and 30,000 wearables of various scarcity. The owners get exclusive event invitations and participate in special giveaways and airdrops in exchange for wearing the Dava NFTs.
Proof of ownership and authenticity
Proof of ownership and authenticity are very important concepts in the world of fashion, as this industry is flooded with fakes. Brands' NFTs are impossible to duplicate or counterfeit as every detail of its origin and history of owners is stored in the metadata.
This is a win-win: consumers can be 100% sure of the authenticity of what they buy, while fashion companies cut off the stream of fakes and thereby save their money and reputation.
Here you can learn even more about NFT use cases in fashion and beyond. Plus, you can check out what collections were converted to NFTs and how successful they were.
Which top brands are using NFTs?
These days it is quite difficult to name a big NFT brand that hasn't entered the world of NFT fashion. Gucci, Karl Lagerfeld, Louis Vuitton, Burberry and Prada are just a few fashion giants that produce NFT clothes.
Let's find out how exactly these fashion brands leverage non-fungible tokens.
How does Gucci use NFT?
Gucci was the first fashion house to present their own non-fungible token — not as a collaboration with already existing NFT collections or in partnership with popular games, but completely independently. As a result, Gucci may be called the first NFT brand to bridge fashion with NFTs.
Gucci NFT is a short fashion film titled "Gucci Aria". The NFT was put up for auction and sold with a winning bid of $25,000. The revenue was donated to UNICEF USA. Moreover, Gucci has partnered with Offsetra, a company providing carbon offsets, to reduce the environmental impact caused by minting NFTs.
Following the success of the first release, Gucci proceeded with its experiments in the NFT domain and launched a collection of versatile digital collectibles — this time it is a collaboration with SUPERPLASTIC.
The owners of NFTs from the SUPERGUCCI collection also got an exclusive 8-inch tall white ceramic sculpture, hand-crafted by ceramicists in Italy.
In March 2022 the iconic fashion house announced another NFT project — now in the metaverse. Gucci will release fashion accessories able to be worn in New Tokyo, a virtual world created by the 10KTF project. These will be the first NFT wearables by the brand.
Karl Lagerfeld and its first NFT collection
Luxury brand Karl Lagerfeld announced its first NFT collection in 2021. The collection featured 777 (7 being the lucky number of Lagerfeld) digital figurines of Karl Lagerfeld himself, each priced at €77. The sale was held on the Dematerialized marketplace.
The owners of digital Karl are able to change his outfit using the NFT clothes from the subsequent drops.
Now, a year since the initial release, the fashion NFT brand is preparing what will be the fourth edition of the collection so far, this time with a real-life experience. Apart from the newly designed figurines, 7 buyers will be invited to a real-life cocktail party.
What's more, a mangrove tree is promised to be planted with every purchase of the Karl Lagerfeld NFT. This initiative is arranged by The Dematerialised and RE:EARTH to offset the brand's carbon footprint.
How does Burberry enter the world of NFT fashion?
Burberry started its NFT journey with a collaboration with Mythical Games, and launched an NFT collection in their flagship game, Blankos Block Party. Blankos are digital vinyl toys living on a blockchain.
Burberry NFT is a shark named Sharky B that can be purchased, upgraded, and sold within the game's marketplace. Besides, Sharky B can be trained to master a set of skills, ensuring the toy's uniqueness and rarity.
Burberry also launched in-game NFT accessories: a jetpack, armbands and pool shoes. The players can apply these items to any Blanko they own.
750 Burberry Blankos were sold out within 30 seconds of launch. Now the secondary market price is at least $1,000 for a single Sharky B. It all makes Burberry one of the biggest NFT brands in the fashion industry.
Louis Vuitton and its NFT game
Louis Vuitton is another example of a fashion industry leader establishing its NFT brand. It followed the example of Burberry and ventured into the world of gaming NFT. But in this case it is not a character or accessories that's been issued by the fashion house, but a whole game.
Louis the Game is a mobile game with a protagonist named Vivienne. She travels through six different worlds to collect 200 candles to commemorate the anniversary of Louis Vuitton.
Louis Vuitton NFTs consist of 30 collectibles that can only be found in the game, and cannot be sold. Ten NFT fashion items were designed by Beeple.
How does Prada apply NFTs?
Prada's approach to NFT fashion is quite curious — the iconic luxury brand has collaborated not with an existing NFT brand or some game or a metaverse but…with Adidas. The project is called Adidas for Prada re-source and is a unique NFT platform featuring both user-generated and creator-owned art.
The users submitted their photographs and used a filter designed by digital artist Zach Lieberman to contribute to the project's collection. Participation in this whimsical campaign was completely free, with contributors maintaining full ownership rights over their NFT tiles. Afterwards, 3,000 NFT photographs were compiled by Lieberman into a mass-patchwork NFT and auctioned via SuperRare.
The result was an image of a distorted lookbook shot of a model in Prada and Adidas' NFT clothes — track jacket and bucket hat. The proceedings from this one-of-a-kind сollage were earmarked for climate-focused charities Slow Factory and UNESCO Sea Beyond.
What other technologies are reshaping the way we perceive fashion? Find out in this article
Metaverse and GameFi — the major contributors to mass adoption of fashion NFTs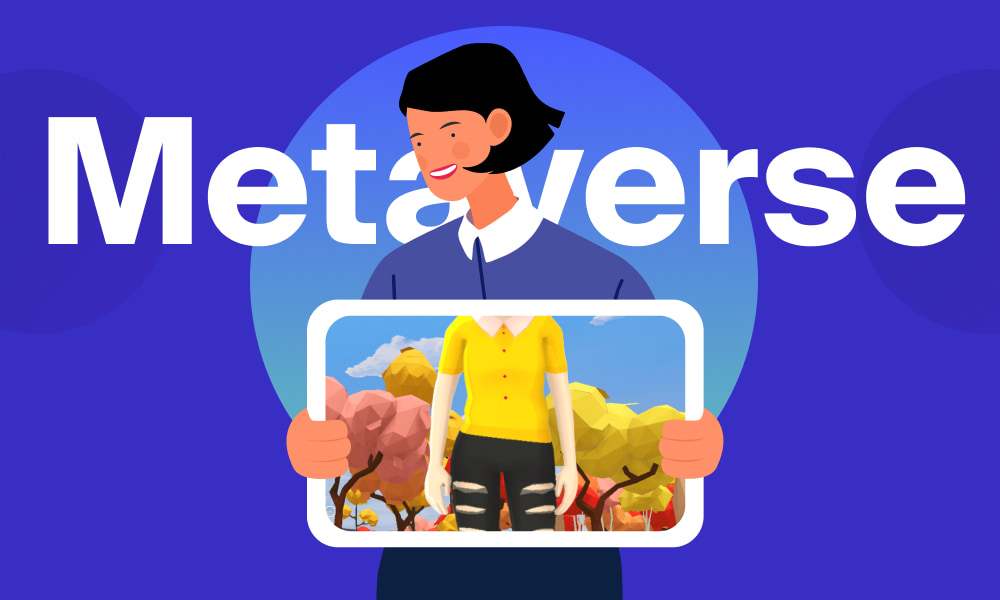 Fashion companies owe a lot to metaverses and games when it comes to popularizing NFT fashion. It is estimated that 1.1 billion people will be engaged in virtual worlds in 2022, and they will want to look fashionable.
The gaming community always cherished the concept of virtual clothes, spending thousands on skins for favorite characters. But the problem is that these garments exist only in a particular game and can't be transferred anywhere else. Also, some games don't allow trading of wearables, which is irritating if you no longer need them.
Fashion NFTs tackle these issues by making it possible to apply wearables across different platforms and trade them on marketplaces.
So, it seems like gamers have the power to make fashion NFTs thrive, since they treat them not only as fancy collectibles but as purposeful elements of virtual worlds.
What top fashion brands are already in the metaverse?
Several big brands have already opened their stores in metaverses: Ralph Lauren and Forever 21 on Roblox, Gucci on The Sandbox, Balenciaga on Fortnite, Phillip Plein on Decentraland, and H&M on Animal Crossing. We will take Forever 21 and Phillip Plein as examples.
Forever 21
Popular fast fashion brand Forever 21 has established a whole city in the Roblox metaverse. Forever 21 Shop City is a location with the brand's products and non-player characters (NPCs) as staff.
It's intended that the brand will simultaneously release new collections in the physical stores and Forever 21 Shop City. However, some pieces such as a knit beanie, zip-up jacket, and a backpack from the Kendall and Kylie collection, are featured exclusively online.
Forever 21 Shop City also includes four themed districts: entertainment, obstacle course, food court, and yellow carpet. This is the environment where users can socialize, look for rare items and build their community.
Phillipp Plein
Phillip Plein has built Plein Plaza — a district in Decentraland with the brand's virtual stores. The upcoming collection is being prepared in partnership with Portion, the NFT auction house, and digital artist Antoni Tudisco. Some of the pieces will be available both as NFTs and real-world items (for example, sneakers).
At the time of writing Plein Plaza has opened its first site — M.o.N.A. (MUSEUM of NFT ART). The museum currently exhibits a collection of NFTs featuring six monsters created by Plein and Tudisco.
However, the best proof of fashion companies' big interest in the virtual worlds is the Metaverse Fashion Week taking place in March 2022. More than 50 luxury and digital brands (Elie Saab, Tommy Hilfiger, Roberto Cavalli, Paco Rabanne, etc) will showcase their new collections alongside holding discussions, concerts and afterparties.
The Fashion Week will take place on Decentraland's Boson Portal, in a venue designed to resemble Paris's iconic Avenue Montaigne.
"As we further explore the metaverse and all it has to offer, I'm inspired by the power of digital technology and the opportunities it presents to engage with communities in fascinating, relevant ways."― Tommy Hilfiger, founder of Tommy Hilfiger Corporation.
What else is going on in metaverses? Read our article to find out
How to invest in fashion NFTs
So, you've decided to issue your own fashion NFT collection. But how to do it right? First of all, you should determine the budget and conduct thorough research to address these questions:
Are your customers interested in NFTs, and how much are they willing to pay for them?
What platforms will your NFTs be compatible with?
What marketing strategy will you use: influencers, wear-to-earn, etc?
On what marketplace will the NFTs be listed?
How will your NFTs  be sold: on an auction or for a fixed price?
Will these NFTs be virtual only or will a physical copy of an item be offered too?
Will there be unlockable content in your NFTs?
The answers will help you work out if the idea of launching NFTs is viable in your particular case. The next step is to muster an experienced team of developers and consultants to make sure your collection of fashion non-fungibles makes a hit.
Future prospects
Fashion NFTs have proved themselves to be very useful when it comes to drawing media attention to brands and generating a stream of new customers. But this is not the only reason fashion NFTs are on their rise: tokens serve as a backup, open new marketing channels, strengthen customer loyalty and have the potential to lessen the impact of fast fashion on the environment.
For their part, customers get the utterly new experience of owning garments or accessories to show off in the digital worlds.
All this sets the stage for NFT wearables to become one of the most in-demand technologies of the future.
Thinking about launching your own NFT collection and looking for experienced consultants and developers to make it happen? PixelPlex team is here to help. We can handle a full cycle of NFT creation, from developing a custom token to building an entire ecosystem for its promotion. Get in touch with our blockchain developers right now and we'll launch the next outstanding NFT collection together.