Having first emerged as a technology for decentralized financial operations, blockchain has now become an all-encompassing solution that revolutionizes processes across multiple spheres and industries.
Blockchain has gained great economic and social importance. It sets new standards for managing finances, ensuring data security and transparency, building communities, interacting on the web, and much more besides.
We've collected some interesting blockchain statistics and thoroughly analyzed blockchain trends across different domains. Check out our insightful infographics to be up to date with the latest blockchain innovations.
Blockchain 2023 market overview
The blockchain market continues to grow, even despite the ongoing crypto winter. Experts estimate that it will reach $99.37 billion in 2027, at a compound annual growth rate (CAGR) of 55.0%. This is almost ten times more than its 2022 worth, evaluated as $10.13 billion.
Here are some blockchain statistics that demonstrate its increasing significance in the market: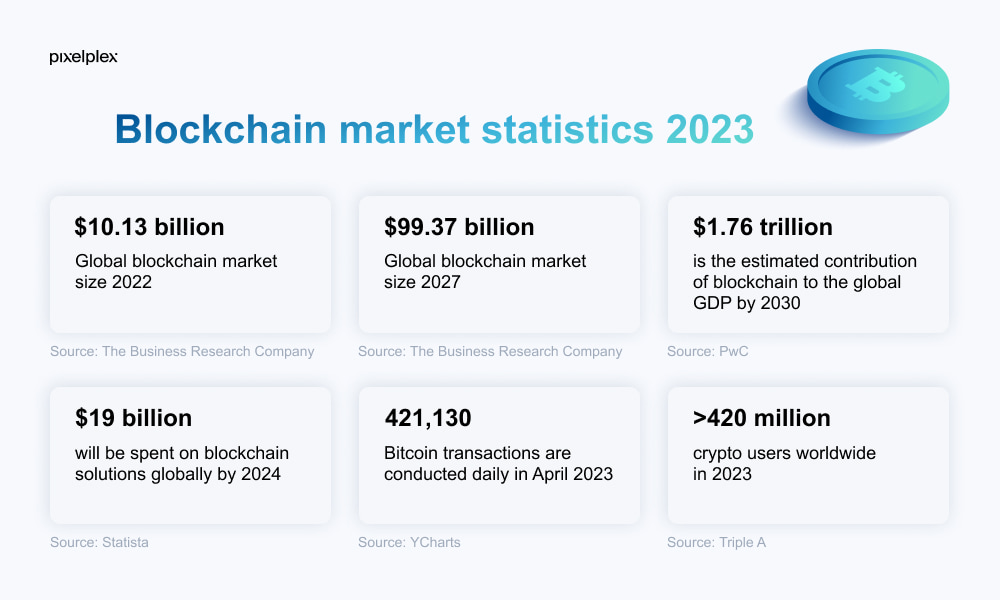 The key factors that determine such steady growth are:
Blockchain adoption rundown
People all over the world realize the influence of blockchain on finance and banking and its great potential to transform many other domains.
According to Triple A, the countries at the forefront of blockchain adoption are the US, India, Pakistan, Nigeria, and Vietnam. Here is active users statistics from each country: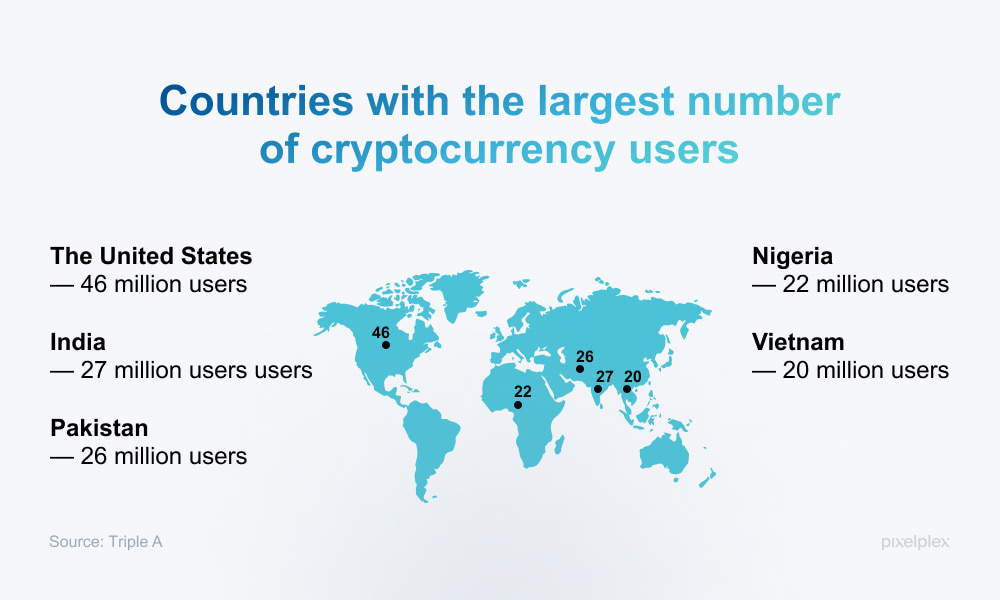 Top 5 blockchain platforms
Based on the analysis from CoinMarketCap, the two most popular blockchains are Bitcoin with $552.43 billion of market cap and Ethereum with $54.81billion of total value locked.
You can find the extended lists of the top blockchains in the infographics below: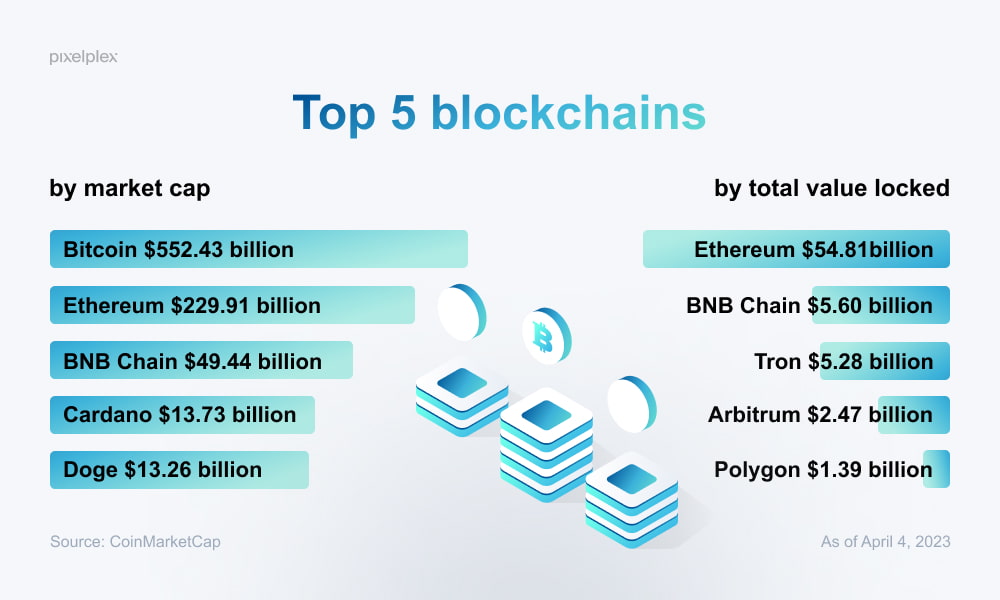 Major blockchain trends for 2023
To stay ahead of the curve, get familiar with the list of key blockchain trends to look out for this year: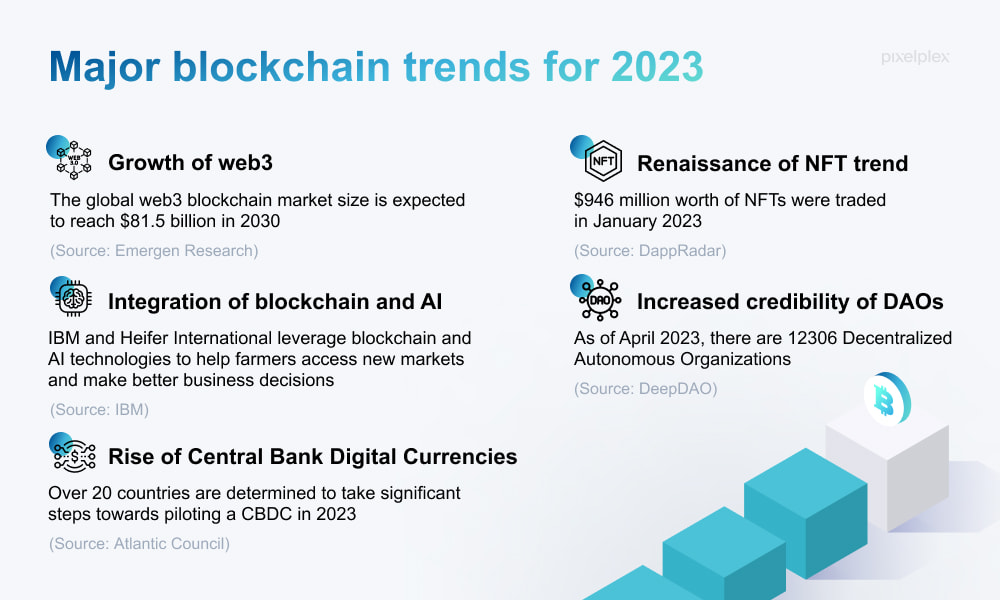 Get acquainted with the concept of CBDC in our article
Blockchain statistics across industries
In 2023 a blockchain presence can be found in any domain, from finance to healthcare to entertainment. Let's see how exactly the technology fits into such distinct industries.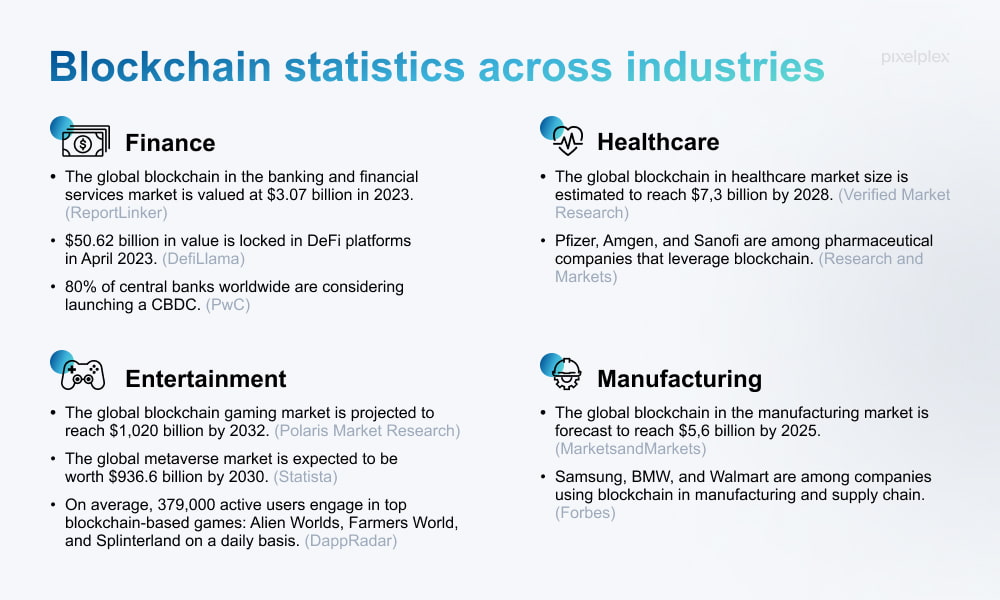 Conclusion
Blockchain is a versatile technology able to enhance a variety of industry processes. Finance, entertainment, healthcare and many more domains have already started adopting various blockchain-based concepts, and the influence of the technology is going to strengthen further in 2023 and the coming years.
Our experienced blockchain consultants and developers will be happy to consult you on how blockchain can upgrade your business to ensure you keep a step ahead of your competitors.