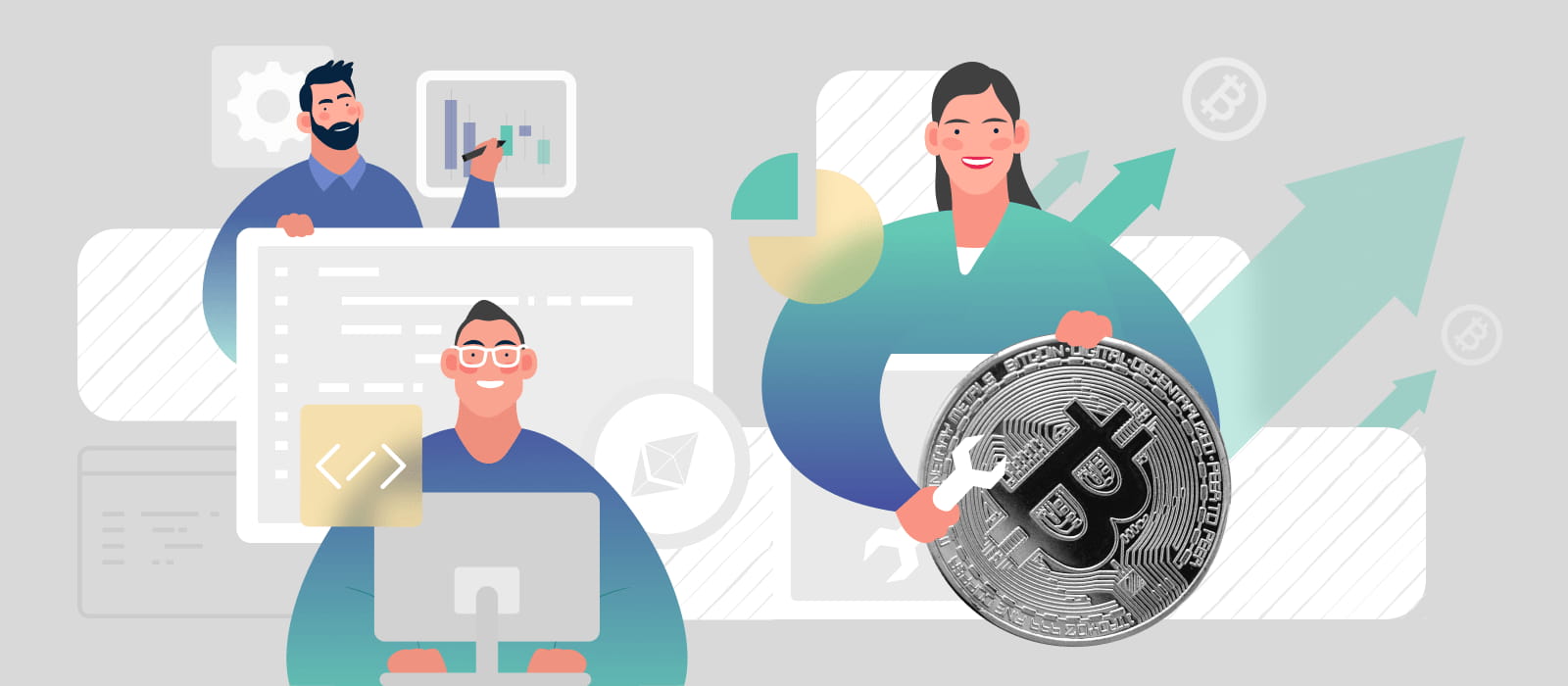 How We Use Our CryptoGateway API to Communicate With Exchanges
1 April, 2021
Interacting with multiple exchanges is challenging because there's no universal standard for API development. Each exchange has its own unique interface. Creating a gateway API allows the application to access data in a uniform manner.
Cryptocurrencies are known to be extremely volatile with market prices constantly changing across multiple exchanges. This creates the opportunity to profit from trading these coins and also means that traders must be very committed to their craft, performing deals around the world every hour of the day.
To make the job easier, cryptocurrency traders now use a variety of tools to help them make the most of their holdings and increase profits. Applications such as crypto trading bots use trade and order book data to make trading decisions on behalf of their users. That's why developers are always on the lookout to provide the fastest ways of delivering that information from the top exchanges to user applications.
Creating applications that involve trading cryptocurrency is fairly challenging since every crypto exchange has its own API. This makes it that much harder, as integrating with each of them means you need to write an abundance of code and learn the specifics of each platform.
Our team at PixelPlex has a lot of experience developing these types of applications, and we know the hardships of dealing with multiple exchange APIs. Luckily, for all those struggling with trading app development, we can offer a smart way out.
Read on to find out how we built a crypto API gateway that enables quick and easy access to the top exchange platforms and their market data.
Problems and challenges with accessing crypto exchanges
Developing apps that rely on crypto market data is fairly complicated. As mentioned, every exchange provides a unique set of methods for developers called the application program interface (API). The API is basically a set of rules that helps the exchange interact with other software. It gives access to real-time market data which is used to make trades and manage user accounts.
If you're working with a particular exchange, figuring out the API and using it to feed data to your application might not seem to be a problem. The trouble is that most modern apps, like crypto trading bots, need access to multiple platforms. This means that developers will have to read the docs and write a ton of integration code for every exchange.
Another issue that comes with integrating with multiple exchanges is speed. That's why most developers prefer to go with WebSocket-powered APIs. This allows them to provide traders with the latest market prices and order book data without having to constantly poll for new data from exchanges. Since not all exchanges provide a WebSocket API, it's much more thoughtful to use a unified crypto API gateway.
The solution: unified crypto exchange API gateway
A crypto API gateway, like the one built by our expert blockchain development team, integrates access to multiple exchanges under one roof. It provides the most relevant crypto market data via a fast, reliable, and unified WebSocket interface. This means that developers can access live data from various markets, analyze trends, and provide bots with the insights needed to execute trading deals.
Using applications based on the gateway, traders can easily exchange cryptocurrency, get live data from their accounts, manage their portfolio and risks in one place, and successfully implement complex trading strategies, such as arbitrage trading.
The crypto API gateway serves as the infrastructure for building blockchain-related applications, such as:
Crypto wallets. The API can be used to allow users to trade their funds right from their wallets at a suitable exchange rate.
Crypto mining software. In addition to information about created blocks, transactions, and fees, the mining software will also require exchange rates and volume data provided by the gateway.
Crypto lending solutions. Lending platforms like BitGo and Nexo rely on live market data to help manage billions of dollars worth of assets. Using a crypto exchange API gateway makes building similar solutions quicker and easier.
Crypto trading platforms. An API gateway is key to building trading software such as Zenbot and Cryptohopper as it provides direct access to current rates, quotes, trades, etc. from the top exchanges.
See how our portfolio management solution uses the CryptoGateway to the fullest
About our CryptoGateway API
Our CryptoGateway API supports streaming indicative prices for currency pairs from the top exchanges, including Binance, Kraken, Coinbase, Bitfinex, and Bittrex. It allows developers to leverage the full package of market data, including trades, OHLCV (Open, High, Low, Close, Volume) candlesticks, crypto exchange rates, and order book data.
The API enables developers to equip their applications with bold features like real-time portfolio tracking, balancing funds across exchanges, executing and perfecting trading strategies.
CryptoGateway has microservice architecture deployed as a set of Docker containers connected to each other with GRPC. This makes it more lightweight and scalable. There is an adapter component for each exchange that extracts and normalizes data. Here's an example of how a trading bot application can be integrated with the gateway to implement trading strategies: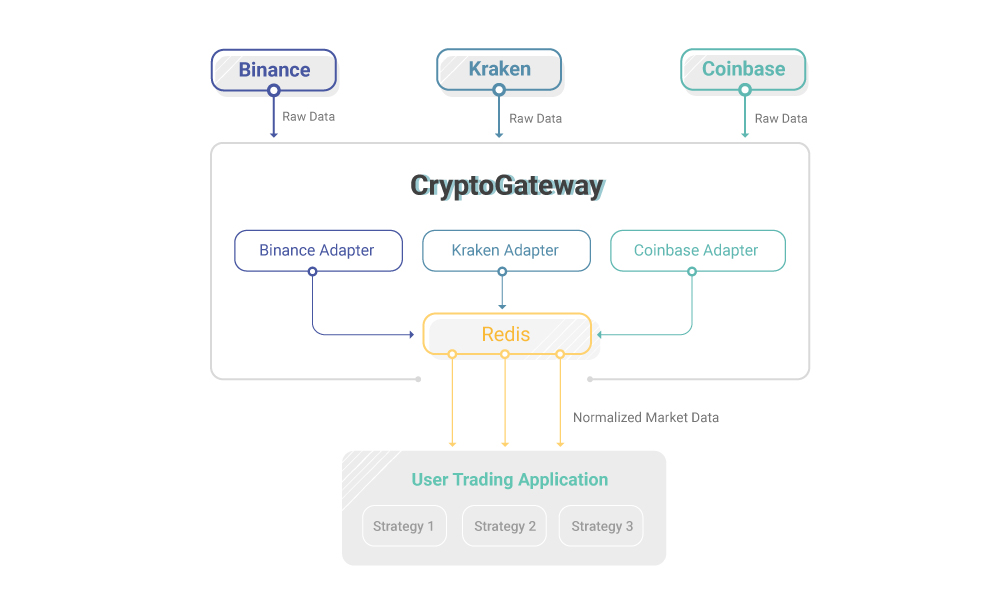 The gateway's exchange interface allows applications to interact with exchanges, manage account data, and subscribe to and extract market data. For instance, you can get the available trading pairs, show the balances for the account, show the list of orders for the account, create and cancel orders on the exchange, and so on.
Check out a real case study of an arbitrage trading bot platform based on CryptoGateway
Leverage our CryptoGateway API for your project
Without having to deal with every exchange and multiple integrations, our gateway API can accelerate and streamline architecture design and development processes. All that hassle that eats away time and drags out launch and delivery dates can be avoided. Not to mention, it's a whole lot of weight off your shoulders in terms of development expenses. Our team of blockchain development engineers can not only tune our CryptoGateway API to your project needs, but we can also jump on board and help you build your application.
Get front-row industry insights with our monthly newsletter
Blockchain
PixelPlex Custom Blockchain Development Company. 50+ blockchain projects delivered. 100+ experienced blockchain developers. Offices in New York & Europe.
Blockchain
PixelPlex Custom Blockchain Development Company. 50+ blockchain projects delivered. 100+ experienced blockchain developers. Offices in New York & Europe.
Get front-row industry insights with our monthly newsletter